Design ložnice na míru pro vilu v Maskatu, Omán
Ručně vyrobená ložnice Royal Bedroom. Šatní skříně, noční stolky a křesla do ložnice vnesou do vašeho pokoje šmrnc a zároveň poskytnou úložný prostor a pohodlí. Tento nábytek do ložnice ve zlaté barvě je elegantně vyrobený a odolný.
Ideální design nábytku do ložnice je takový, který je zároveň relaxační a elegantní. Abyste toho dosáhli, zvolte styl, který kombinuje klasické motivy a oživuje je. Klasický design interiéru ložnice je jedním z příkladů takového pojetí.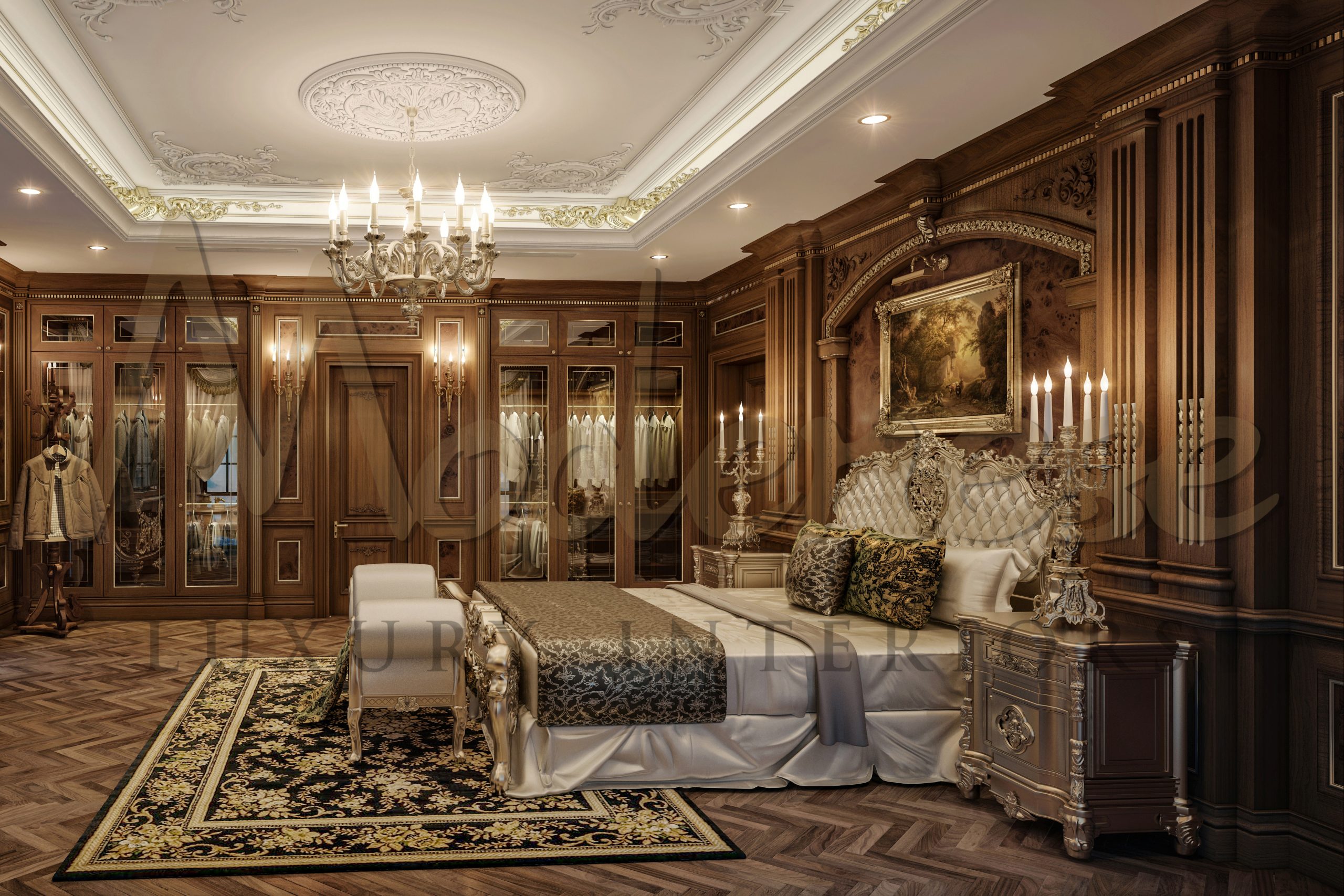 Uvolněný klasický design hlavní ložnice
Pro ty, kteří rádi kombinují, je ideální klasický styl pro interiér ložnice. Výsledkem bude možnost vytvořit něco jedinečného s klasickým nádechem. Budete chtít, aby to bylo místo, které podporuje odpočinek a omlazení, což by měla být každá ložnice. Klasické styly interiérového designu to plně vystihují. Útulná atmosféra vytvořená nábytkem vám navíc umožní cítit se dokonale jako doma.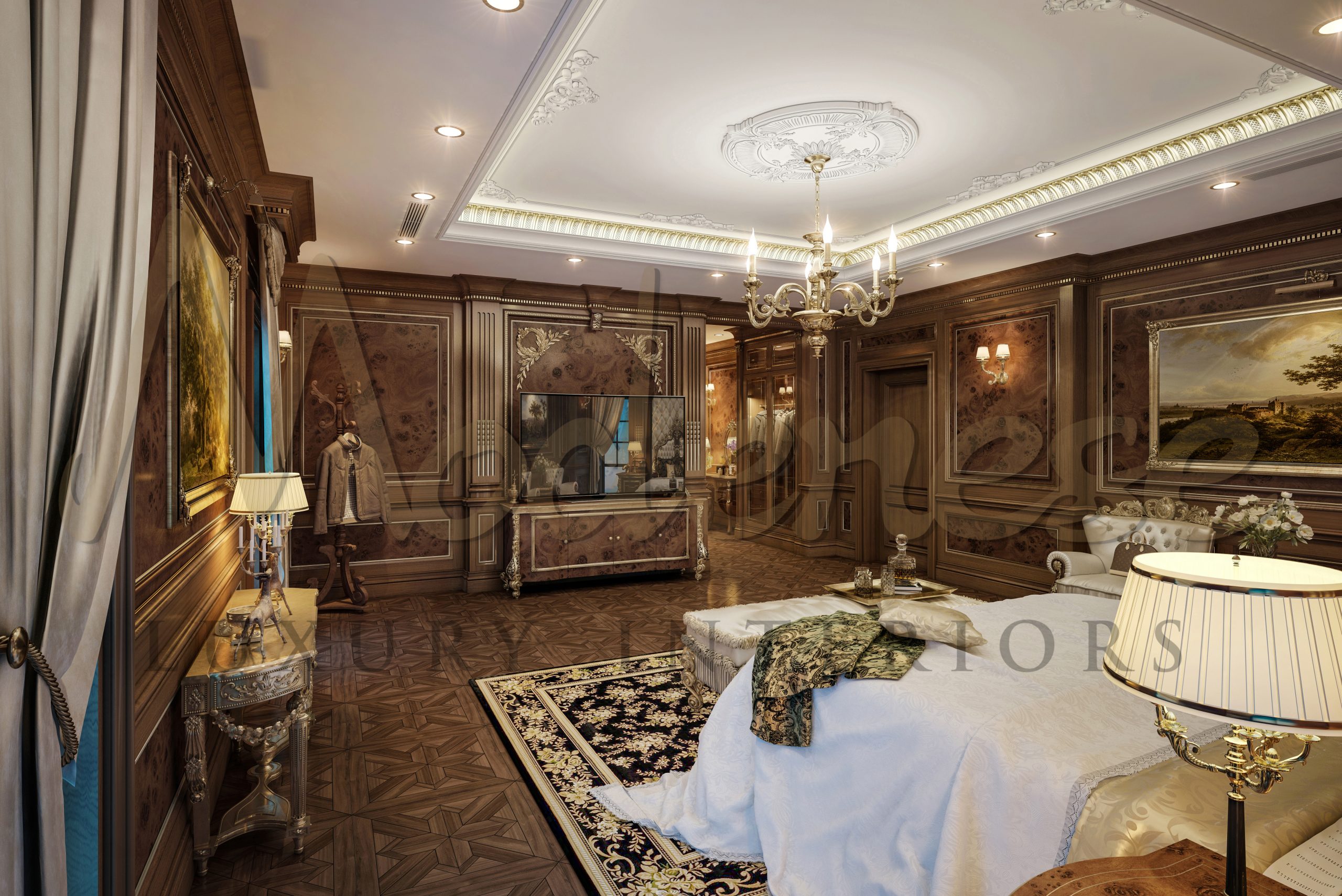 Prvky klasického domu v benátském stylu
Koncept, který skutečně odlišuje klasický interiérový design, je jeho nenápadný vizuální účinek. Místnost je vizuálně přitažlivá a vyvážená. Prostor je navíc zařízen tak, aby se vzájemně doplňoval. Pokud jde o výběr vhodného nábytku, tradiční styl je tou správnou cestou. Nábytek by navíc měl být navržen v klasickém stylu. Celkově kombinujte tradiční a moderní prvky. Vybraná postel je toho skvělým příkladem. Měla by mít všechny důležité atributy jako hlavní atrakci.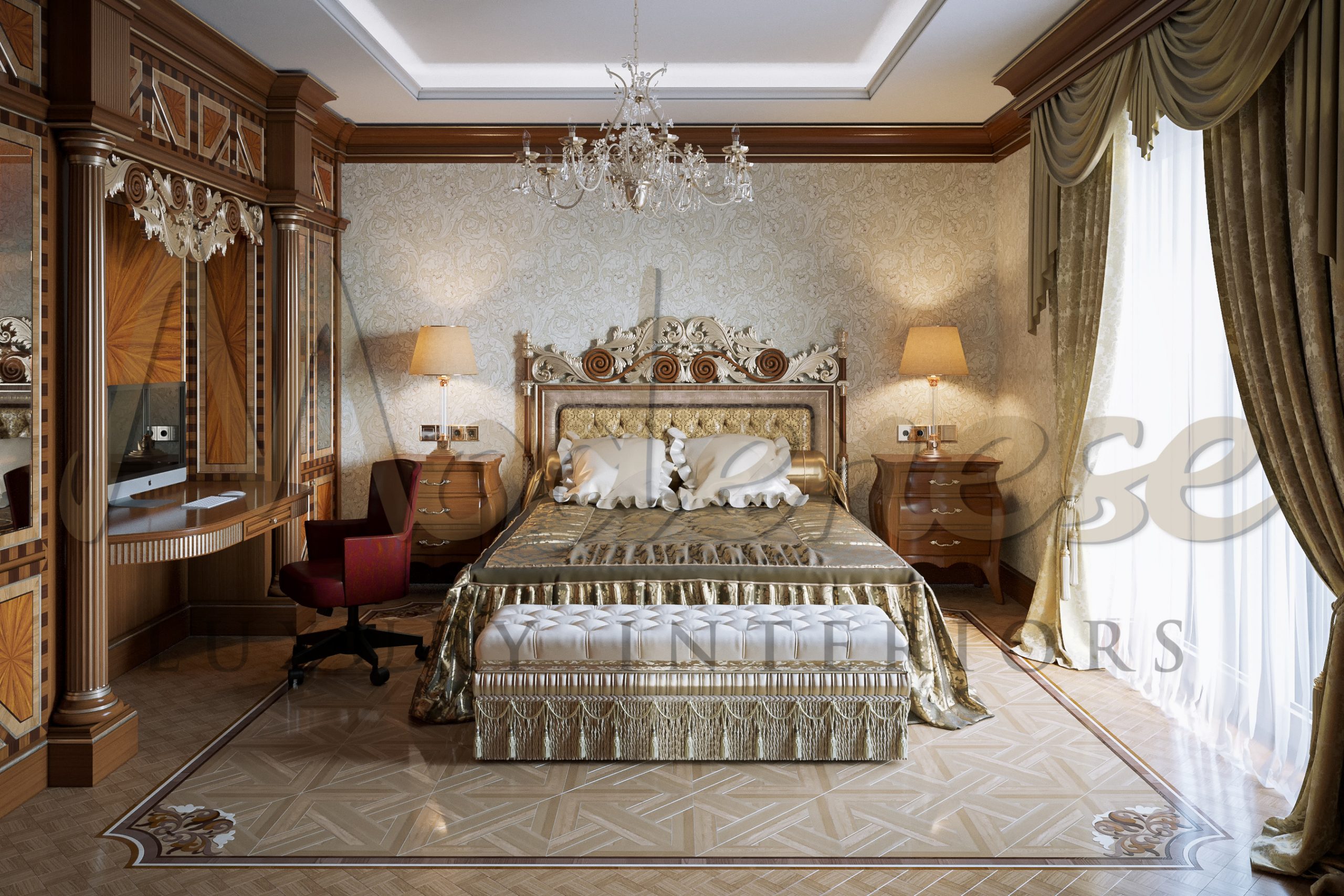 Elegantní nábytek pro klasickou ložnici
Pokud jde o další vlastnosti místnosti, je třeba najít správnou rovnováhu. Měly by být použity jednoduché ozdobné prvky, jako jsou skříně, závěsy, lampy a další dekorace. Hledejte textury, které vyniknou a dodají vašim kouskům osobitost. Po celou dobu udržujte čistý a jednoduchý vzhled. Dalším pojmem, který odlišuje klasiku, je její celkový upravený vzhled. Mějte na paměti, jak vše v místnosti přispívá k celkovému vzhledu. Pokud tak učiníte, budete vše moci rozmístit na vhodných místech. Zvažte zřízení místa, kde je prostor volný a plynulý, jak je to jen možné.
Další radou z oblasti klasického interiérového designu je používání vůdčích linií. To obnáší použití nábytku k tomu, aby přitahoval pohled po celém prostoru. Dovolte nábytku, aby vás vzal na výlet. To nepochybně doplní představy o rovnováze a eleganci místnosti.
Romantická estetika klasické ložnice
Do celkového designu ložnice je nutné přidat několik jedinečných prvků. Béžové ložní prádlo a závěsy mohou pomoci rozjasnit osvětlení místnosti. Použijte koberce, lampy a další drobné dekory, které doplňují způsob, jakým místnost přechází z jednoho prvku do druhého. Jakmile objevíte ideální dokončovací prvky, které doplní celkovou sestavu, bude klasický romantický styl vaší ložnice navazovat sám na sebe.
Návrh interiéru hlavní ložnice v romantickém stylu je v jeho luxusním přístupu k výzdobě, protože je bez námahy půvabný a nádherně přitažlivý. Každou část místnosti si zamilujete.
Visit our online showroom

[wps_collections link_to="shopify" limit="15" pagination="false"]