Luxusní design vily v Maskatu, Omán
Detaily jsou pro nás důležité! Každý návrh Modenese Luxury Interiors musí zohledňovat extravaganci a luxus! Nezapomínáme ani na luxusní detaily, které by byly užitečné a dostupné. Pro mnoho klientů jsme vytvořili spoustu nádherných a neuvěřitelných návrhů! Myslíme si, že ideální návrh interiéru pro rodinu mohou zajistit naši neuvěřitelní designéři. Modenese Luxury Interiors je vám k dispozici! Jsme odborníci na to, abychom našim klientům poskytli co nejluxusnější domovy. Ano, i obyčejný prostor by se proměnil v nádherné zlato! S cílem vytvořit strukturu s identitou, způsobem života a krásným designem vytváří Modenese Luxury Interiors bezproblémové, jedinečné portfolio pro soukromé i komerční prostory.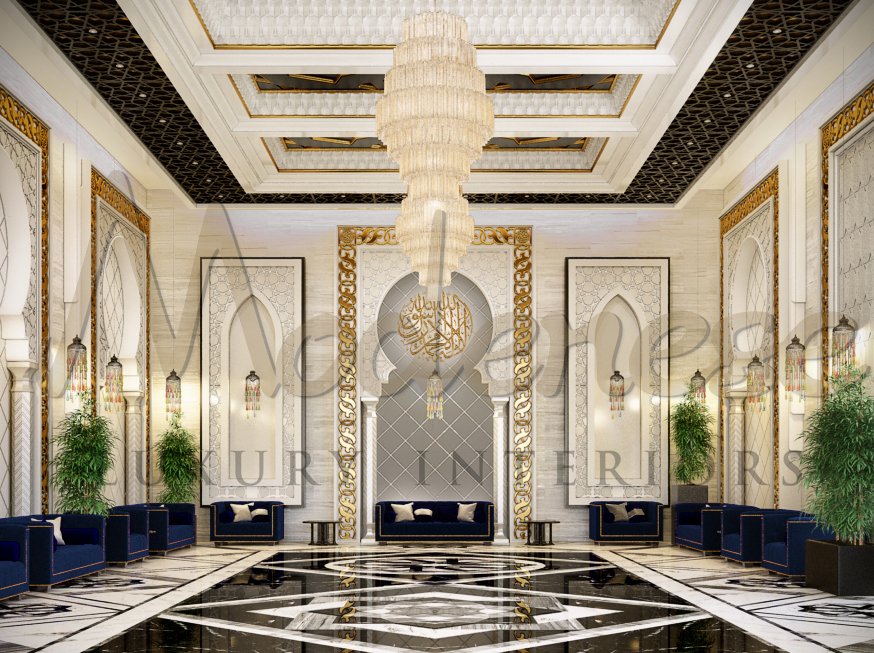 Extravagant Hall Design
Amazing gilded decorative plaster stucco moldings of various shapes and forms, which are visible on all the walls and the ceiling, combine to create a compositional center and set the accents in the right place, displaying the room's classically inspired interior design.
The majlis's furnishings include magnificent royal blue upholstered sofa sets that are accented with gold details in the interior to create a lovely contrast, exquisite and fashionable coffee tables with marble tops, a contrasting beige motif that is carried out in the room's wall and ceiling decorations, and magnificent velvet curtains in a delectable light royal blue shade with golden fringing.
The majlis interior is illuminated by a stunning crystal chandelier in the middle of the room, which is complemented by chic wall lamps. Together, these elements combine to create a hospitable, pleasant, and warm environment, making the area suitable for any social or informal gathering.
Spectacular Majlis Interior Design
The traditional majlis is a gathering area where hospitality was prioritized. From the dawn of time to the height of the silk route, it served as the location for conferences and discussions. Hundreds of years ago, a majlis was often a sizable room with carpets on the floor and cushions against the wall, with a fireplace, where food could be prepared and guests could be entertained. However, times have changed.
Majlis is now thought of as a separate room in the house, one that should be the largest and most inviting. It continues to be the custom for home owners to meet their visitors, have in-depth conversations, and exchange news there.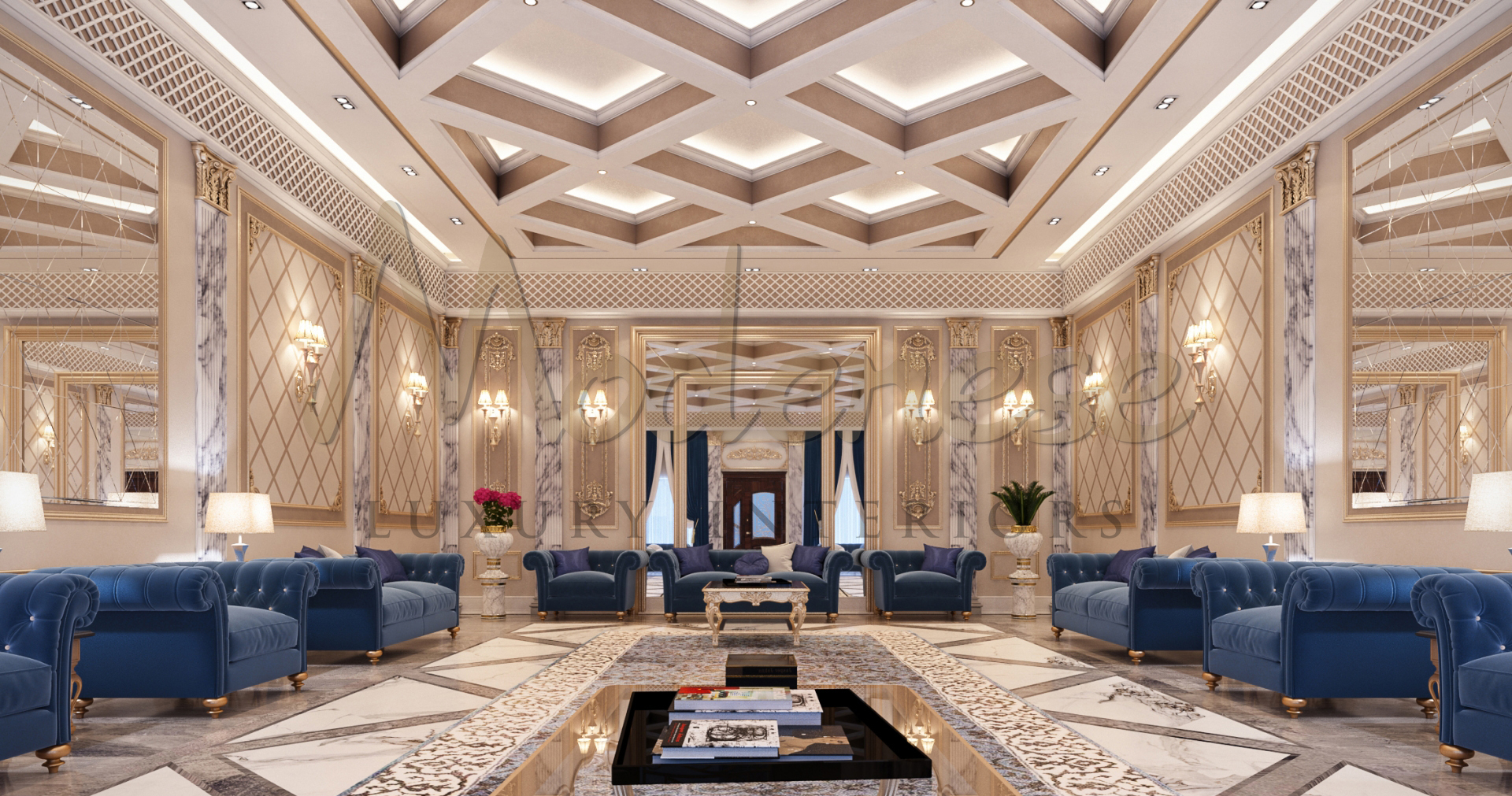 Noble Living Room Design
The interior design of the hallway was painstakingly created by our skilled designers at Modenese Luxury Interiors in order to give it an attractive, opulent, fancy, and stylish appearance. The foyer in this house design project serves as a waiting area, a place to unwind, and a place for gatherings. It is situated between the front (hallway) and the living room and acts as both an entrance to the upstairs and a passageway connecting the other rooms.
Visit our online showroom