STYLOVÝ DESIGN VILY S OBÝVACÍM POKOJEM A JÍDELNOU
RUSKO
Klasika je vždy atraktivní, ale vytvořit takový interiér není snadný úkol.
Je důležité vzít v úvahu staleté tradice, investovat spoustu trpělivosti a talentu.
Klasický styl v interiéru nejvíce ocení ti, kteří dosáhli prosperity. Je to úctyhodný, luxusní a slavnostní styl, který si může dovolit jen málokdo.
Vytvoření interiéru v klasickém stylu představuje pro designéra jeden z nejtěžších a nejzajímavějších úkolů – dokonale skloubit luxus a propracovanost detailů a jednoduchost linií, správně použít ušlechtilé materiály a obratně do nich zakomponovat moderní technologie.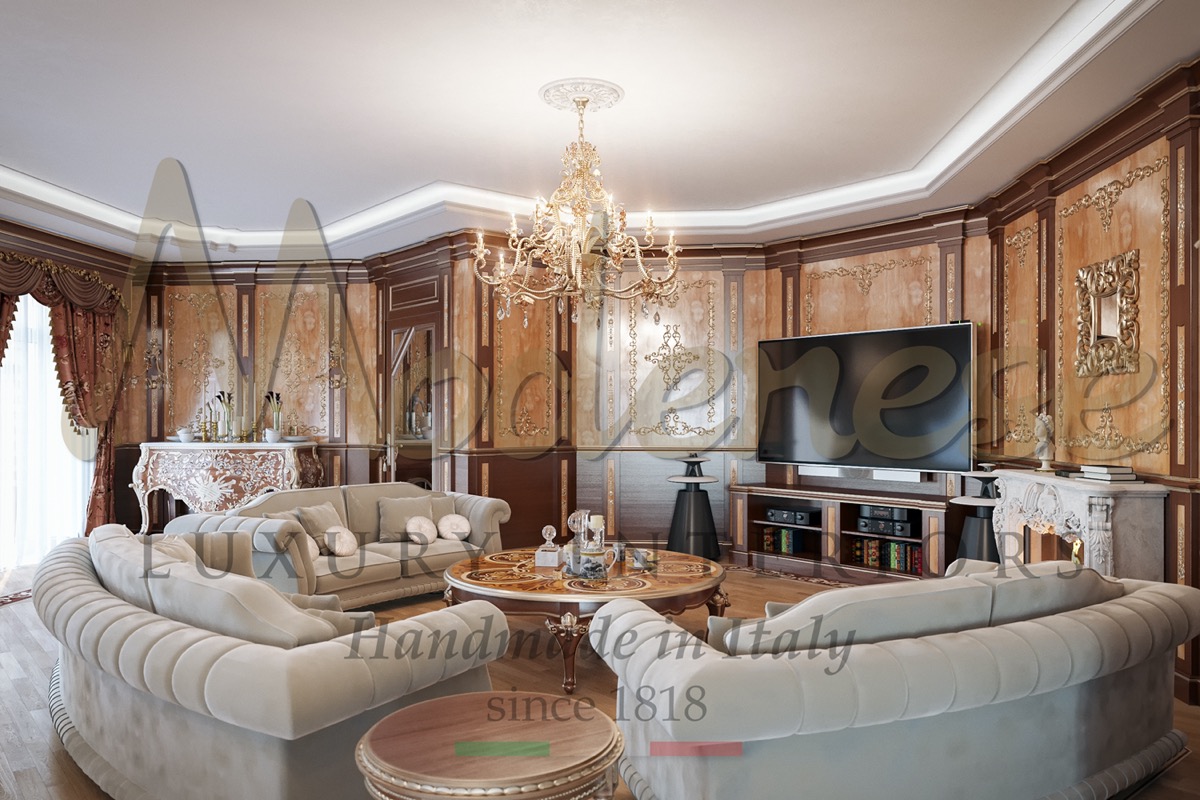 ÚTULNÝ DESIGN OBÝVACÍHO POKOJE OD SPECIALISTŮ MODENSE GASTONE INTERIORS
Obývací pokoj – ústřední místnost každého domu
Největší místností v bytě nebo domě je vždy obývací pokoj, protože je to místo, kde se každý den schází celá rodina, aby společně odpočívala a byla v příjemné útulné atmosféře. Kromě toho je obývací pokoj místností, kde hosté slaví svátky nebo jiné výjimečné události.
Nejčastěji je právě obývací pokoj první místností, do které se hosté dostanou, takže jeho interiér umožňuje vytvořit si první dojem o majitelích domu. Proto by se k designu prostoru mělo přistupovat se zvláštní pečlivostí, aby vše v místnosti působilo harmonicky a zároveň bylo pohodlné a útulné se v ní nacházet.
Pro vytvoření správného designu je důležité vše: osvětlení, zónování prostoru, kombinace barevné škály, množství dekorativních prvků, ale nejdůležitějším prvkem je samozřejmě nábytek do obývacího pokoje. Jako největší prvek v každé místnosti je to právě nábytek, který přitahuje první pozornost ostatních, takže k jeho výběru je třeba přistupovat se zvláštní odpovědností.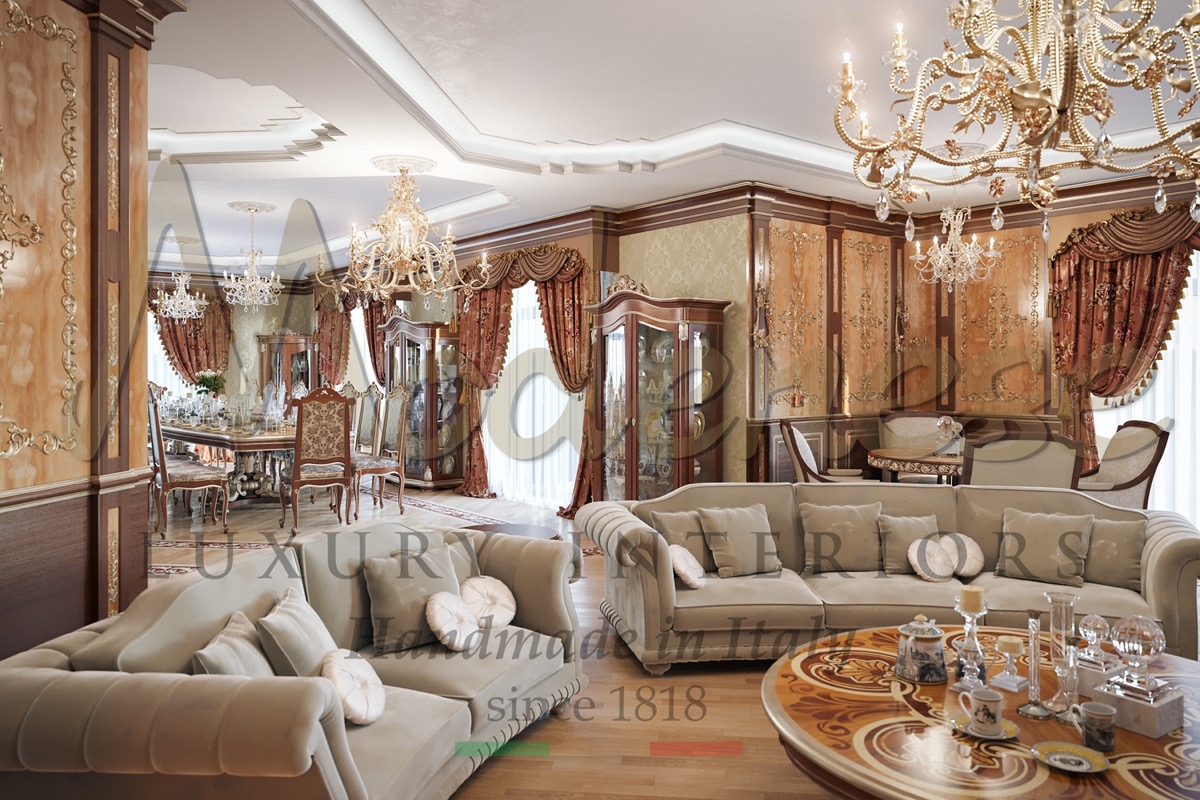 RAFINOVANÉ ŘEŠENÍ INTERIÉROVÉHO DESIGNU OBYTNÉHO PROSTORU
Několik důvodů, proč si koupit klasický nábytek do obývacího pokoje.
Obývací pokoj je tváří vašeho domova, proto by měl být výběr nábytku do něj promyšlený a vyvážený. Pokud tedy nevíte, co je lepší zvolit, kupte si samostatné kusy nábytku do obývacího pokoje nebo kompletní sestavu, zařízenou v klasickém stylu. Klasický nábytek má řadu pozitivních vlastností:
– prokazuje vytříbený vkus majitelů;
– ukazuje na bohatství rodiny;
– originální design s propracovaným dekorem a řezbami;
– atraktivní a zároveň funkční, protože má mnoho úložných prostor;
– klasika je věčná a nikdy nevyjde z módy.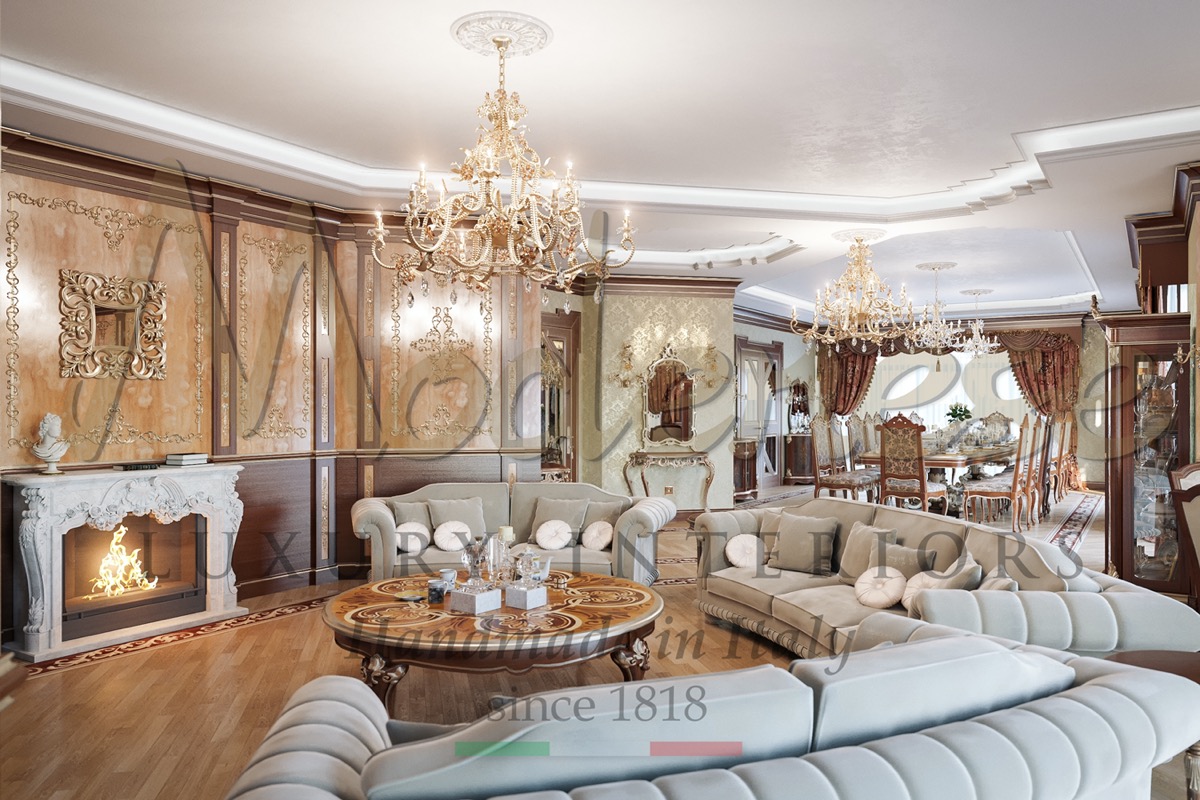 POHODLNÁ A STYLOVÁ ATMOSFÉRA OBÝVACÍHO POKOJE
Čalouněný nábytek do obývacího pokoje prémiové kategorie má reprezentativní vzhled a dokonalou kvalitu. Luxusní měkké sedací soupravy se mohou stát akcentem vašeho interiéru a přitáhnout pozornost zákazníků i partnerů. Kvalitní čalouněný nábytek vytvoří příjemné prostředí pro setkávání.
Nabídka luxusního nábytku do obývacího pokoje představená v našem showroomu osloví ty, kteří hodlají spojit estetiku a pohodlí. Hlavní důraz při zařizování atmosféry vašeho obývacího pokoje bude kladen na luxusní nábytek nejlepší italské výroby.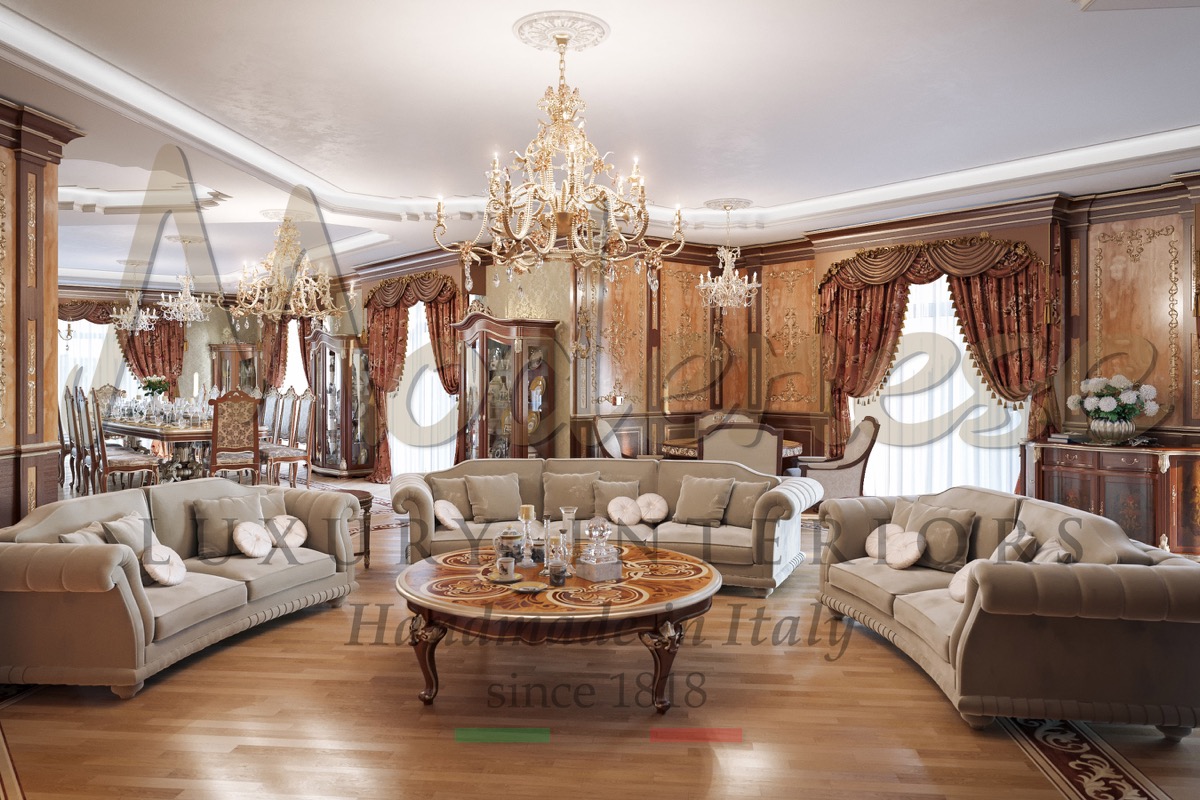 KLASICKÝ DESIGN OBÝVACÍHO POKOJE A JÍDELNY PRO VILU NA MÍRU
Hlavním rysem našich nabídek je nejen to, že nábytek do jídelny lze zakoupit jako celou kolekci – ale tkví i v kompatibilitě prvků z různých kolekcí v jednom designovém promyšleném klíčovém stylu ve stejné místnosti. Od klasického kuchyňského nábytku z ušlechtilého přírodního dřeva až po moderní sestavy jídelního nábytku pro dům u moře – takový je rozsah naší nabídky pro vaši jídelnu.
Elitní jídelní nábytek to je především kompletnost, kvalita, design a spolehlivost. Spolehlivost je charakteristickým znakem designového nábytku. Různé tvary, velikosti, barvy… Ze dřeva nebo skla a kovu – nábytek do jídelny je vždy místem setkávání rodiny a přátel. Modenese Gastone Luxury Interiors vám dává dostatek příležitostí k výběru unikátního nábytku.
Visit our online showroom

[wps_collections link_to="shopify" limit="15" pagination="false"]