Design majestátní vily v Džiddě, KSA
Při výrobě nábytku se používala vzácná dřeva, bohaté potahové látky a čalounění. Klasický nábytek je vždy účelný a příjemný a vybavení postrádá "přídavné ozdoby". Dřevěný nábytek je často leštěný, což dodává interiéru lehkost a vzdušnost. Vhodné je použití zlaté řezby jako ozdoby.
Objednání návrhu domu v klasickém stylu znamená vytvoření jedinečné umělecké kompozice, v níž je každý prvek pečlivě vybrán v souladu s ostatními.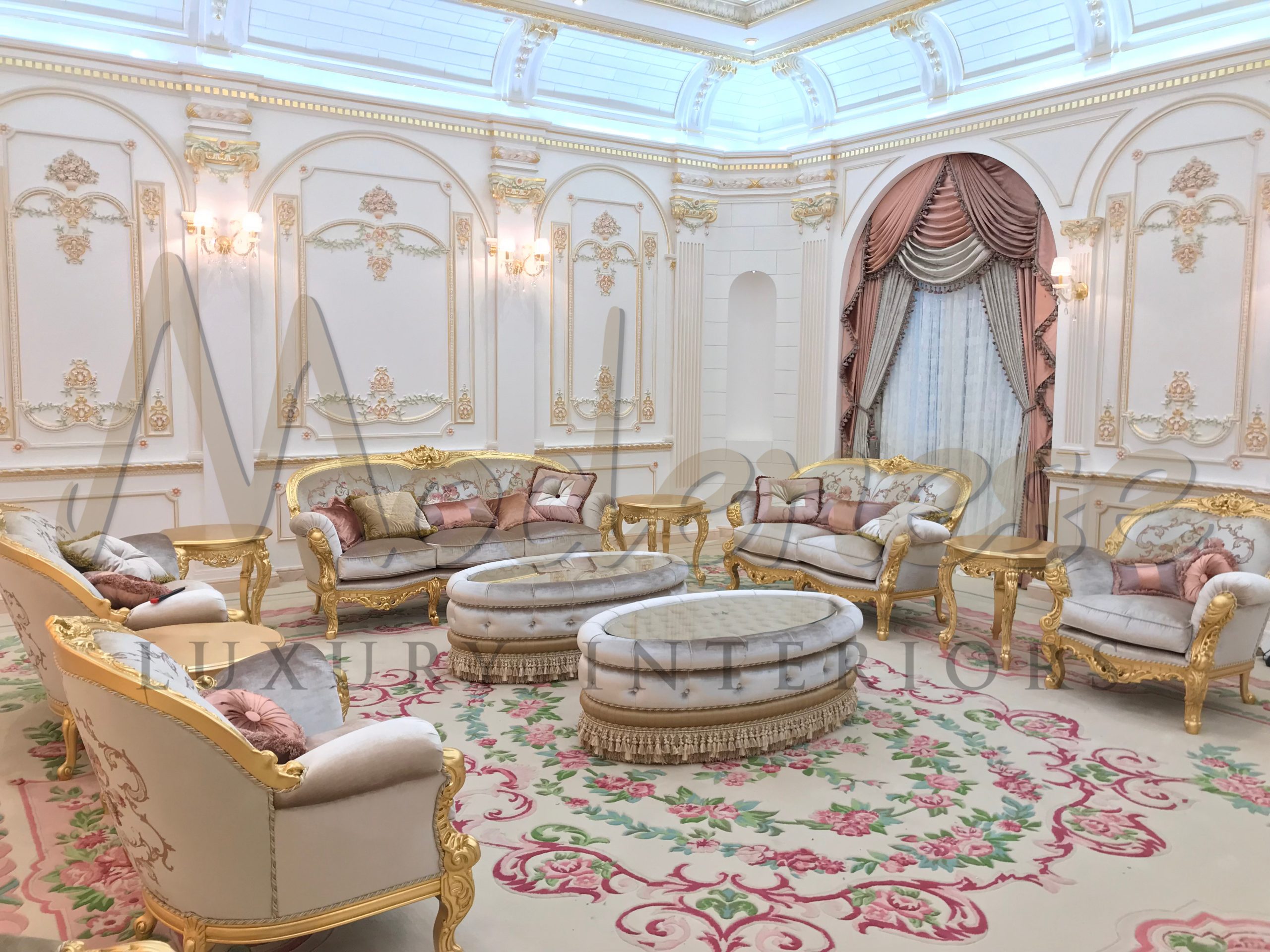 Klasický design na míru Majelis
Klasický styl je styl interiérového designu, který vždy dokázal vytvořit vytříbenou atmosféru. Volba interiérového designu v klasickém stylu dodává prostoru velkolepý dojem. Budete chtít, aby hlavním prvkem vašeho obývacího prostoru bylo něco poutavého a nezapomenutelného. V této situaci se budou dokonale hodit klasické sedací soupravy.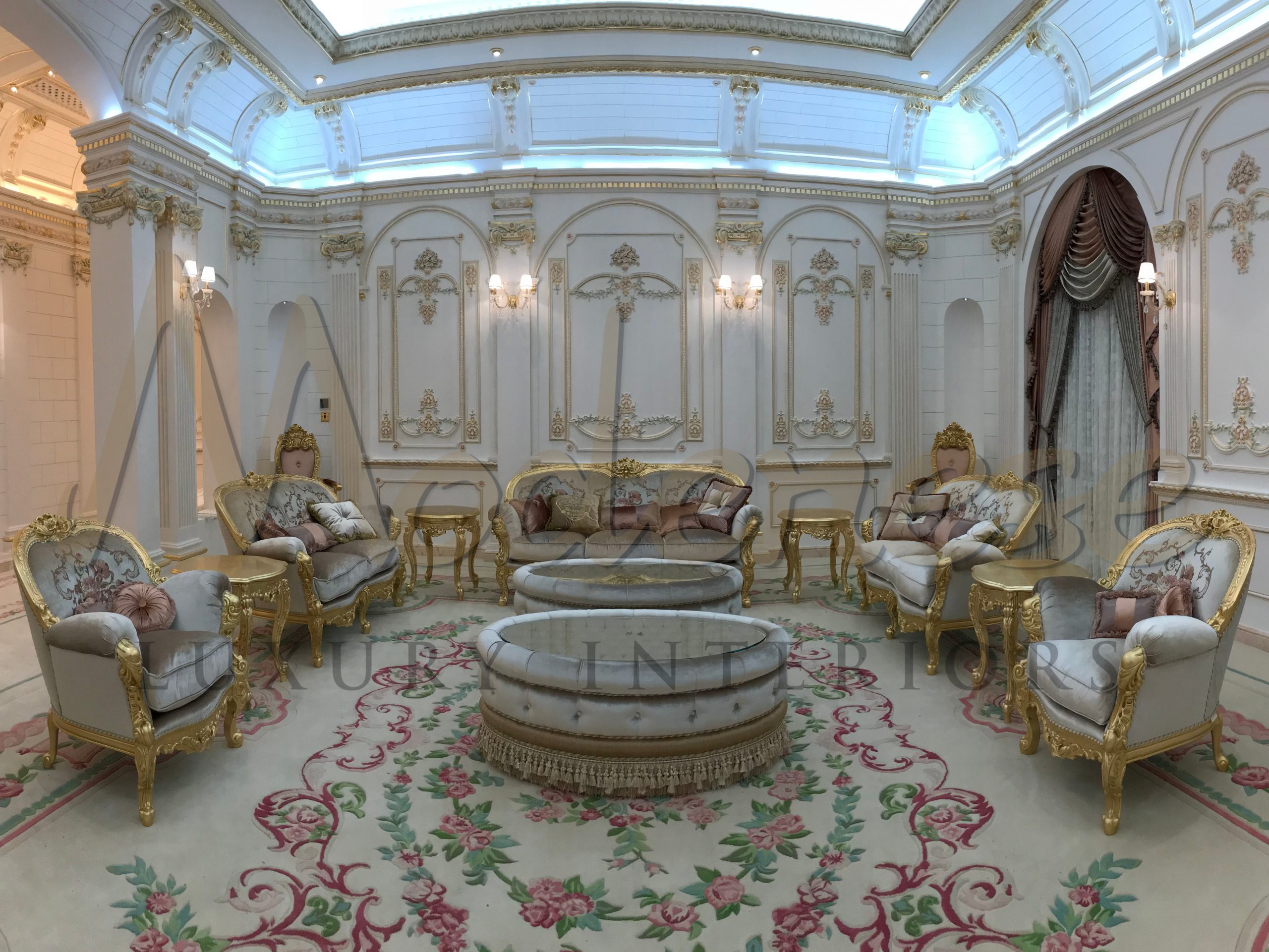 Návrh interiéru na míru pro obývací pokoj
Pokud jde o vybavení velké místnosti, jako je dům nebo palác, budete potřebovat nábytek, který hladce vyplní prostor. To obvykle obnáší výběr možností ve větším měřítku, které vypadají kompletně, ale nejsou přeplněné. Jednou z možností je klasická pohovka. Takové rozhodnutí pro pohovku do obývacího pokoje efektivně využívá podlahovou plochu. Nebudete mít pocit, že je prostor přeplněný drobnostmi. Je to dáno tím, že pohovka bude středem pozornosti. Výběr nábytku v barokním stylu navíc dotvoří atmosféru místnosti tím, že do designu zakomponuje umělecké dílo. Celkově se jedná o umělecké dílo s krásnými detaily, které místnost perfektně sjednotí.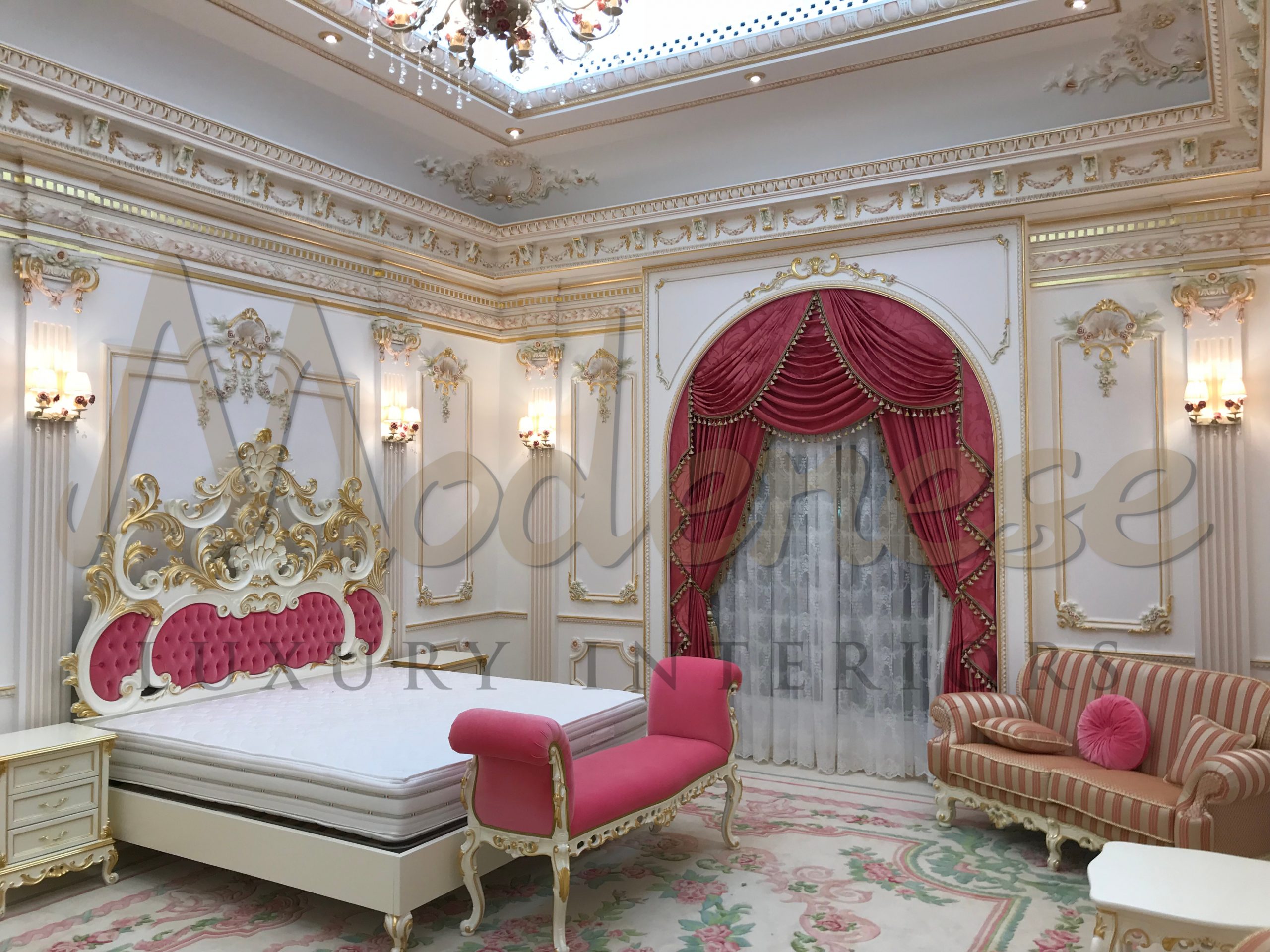 Úžasný design ložnice pro interiérový design
Hra s texturami, barvami a světlem vytváří klasické prostředí domu. Pokud jde o texturu, budete chtít něco s hloubkou. To obnáší práci s látkou. Všimnete si, že design vynikne a je hedvábný na dotek. Tato textura přispívá k atraktivitě výrobku. Pokud jde o barvu, budete chtít něco divokého a dramatického ve spojení s něčím skromným a klasickým. V tomto případě jemná růžová barva doplňuje zlatou a vytváří v interiéru příjemnou barevnou rovnováhu. Pokud jde o osvětlení, budete chtít dostatek přirozeného světla, které prostor zvýrazní a zároveň zvýrazní odvážné a jemné odstíny. Toho obvykle není možné dosáhnout v kombinaci s osvětlením. Při nedostatku přirozeného světla by se měla používat teplá světla.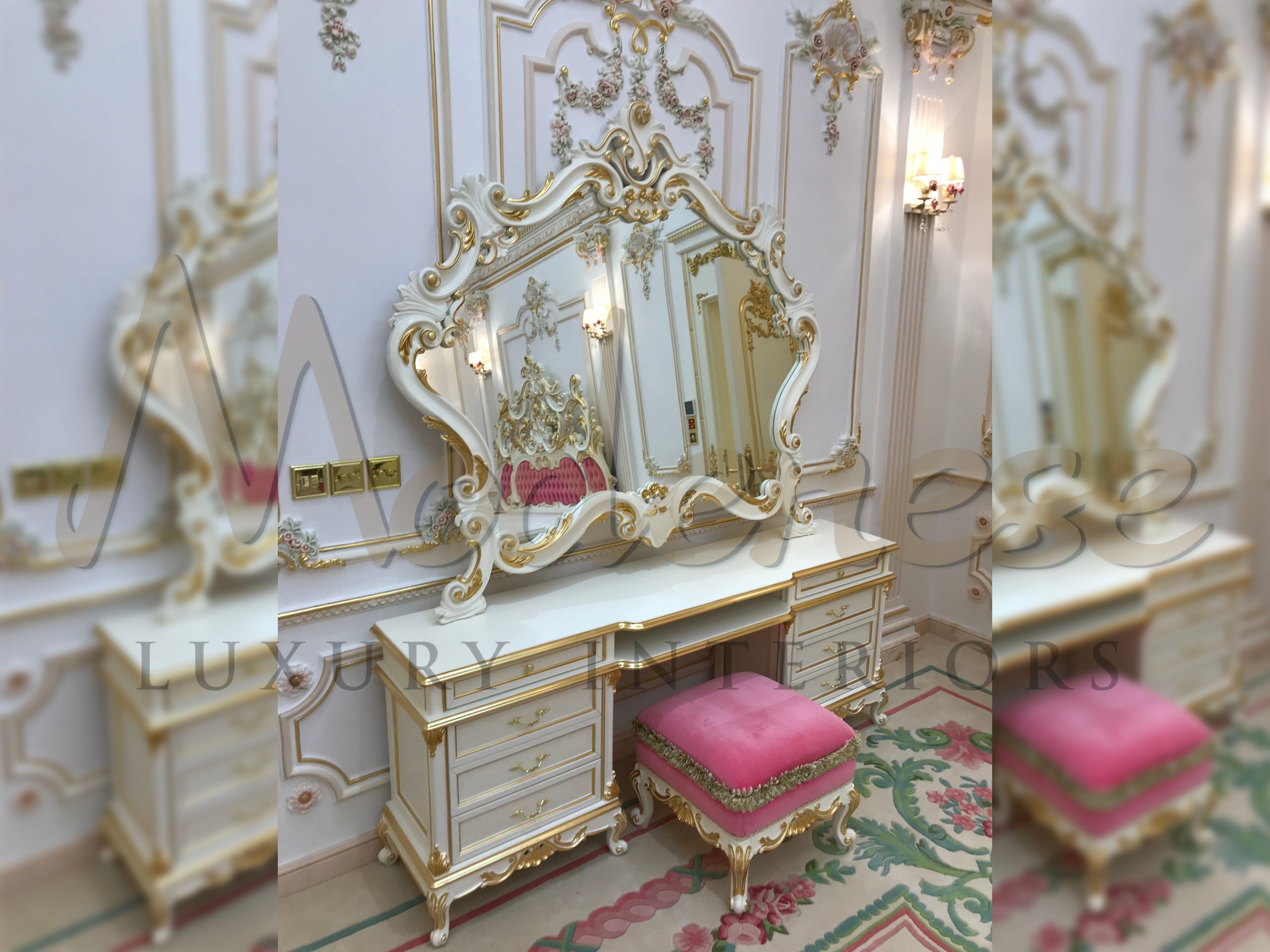 Toaletní stolek, díky kterému se budete v ložnici cítit luxusněji
Nejdůležitějším faktorem, který je třeba zvážit, je, zda se vám nový toaletní stolek bude dobře hodit do ložnice. Tento velkolepě postavený luxusní toaletní stolek nepochybně doplní celkový honosný design vaší domácnosti. Je to kousek, který lidem utkví v paměti a bude je motivovat k tomu, aby si ho zařídili stejným způsobem jako vy.
Visit our online showroom

[wps_collections link_to="shopify" limit="15" pagination="false"]