Ohromující design vily v Pákistánu
Masivní design vykazuje úžasný umírněný styl, který je současný i tradiční. Úžasný design doplňují elegantní béžové ozdoby. Béžová je barva, která je tradičně spojována s vitalitou a naléhavostí a dodává domovu klasický ráz. Využití našich prvotřídních služeb znamená, že budete na špici své komunity a přijdete s prvotřídními návrhy pro svůj budoucí dům. K naší známé firmě vám poskytneme kvalifikované interiérové designéry z celého světa. Dokonalost přitahuje brilantnost. Jsme hrdí na to, že můžeme poskytovat jedny z nejvyhledávanějších služeb v oblasti interiérového designu v zemi. Jedním z nejdůležitějších důvodů, proč je společnost Modenese Luxury Interiors úspěšná, je to, že její pracovníci poskytují vedení od začátků až po plné využití. V našich kancelářích nebo prostřednictvím webových síťových médií budete spolupracovat s inspirativními a ambiciózními designéry, kteří se tvrdě vypracovali tam, kde jsou nyní, a věnují se vytváření dokonalého domu pro vás, spotřebitele.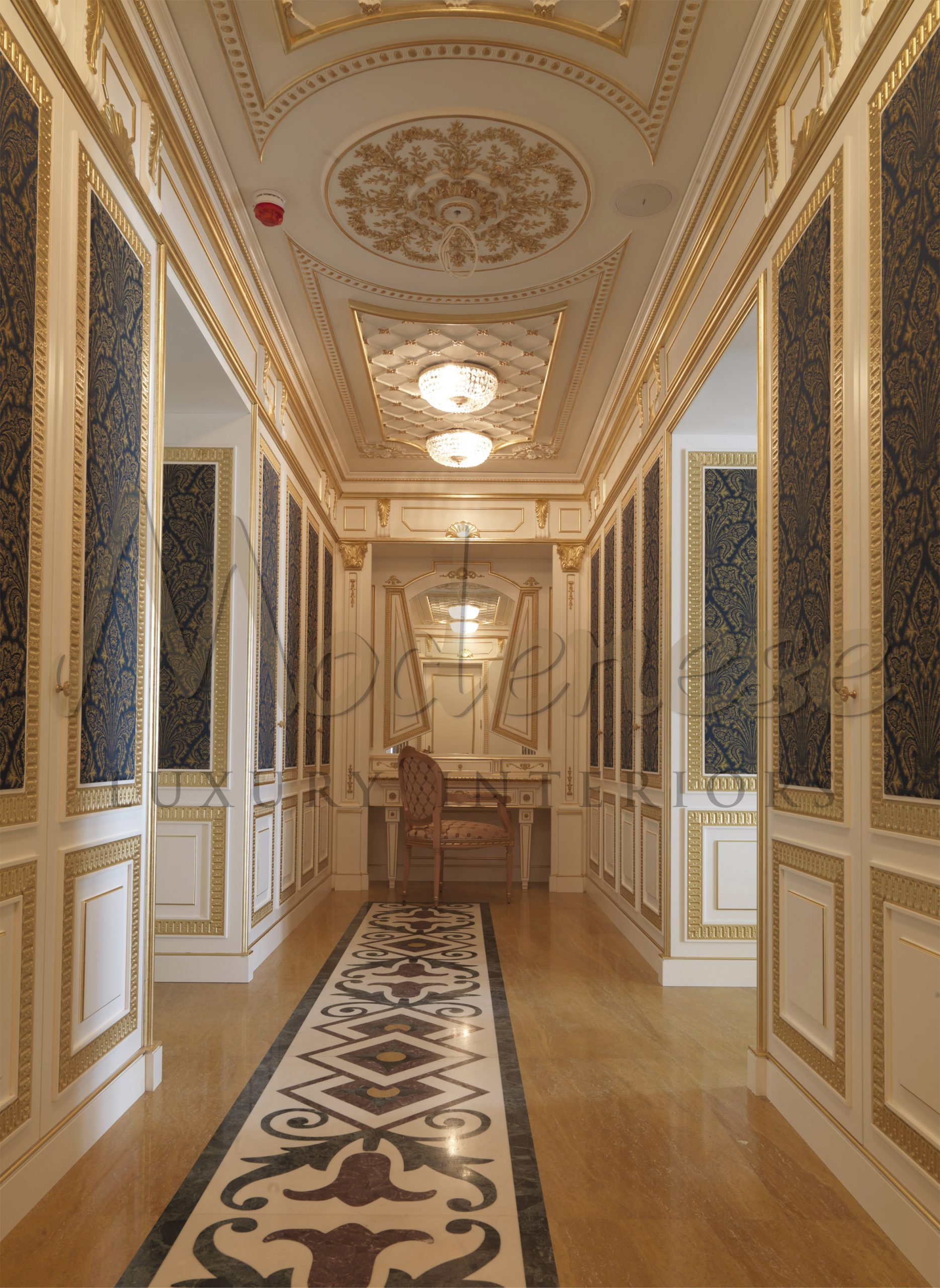 Klasický design interiéru domu
Úžasný obývací pokoj Modenese Luxury Interiors má výrazný motiv. Béžová je krásný a honosný odstín, který vyvolává širokou škálu emocí. Je to fantastický odstín, který lze zahrnout do domácnosti: tmavé palety interiérů vypadají, že poskytují sladkou tečku právě pro luxus a bohatství. Design místnosti má uvolněnou a zároveň klasickou atmosféru, kterou umocňuje rozmanitý výběr nábytku a ozdob shromážděných z nejrůznějších období a stylů. Nebojí se používat pevné světlé prvky a ozdoby, zejména proto, aby oslovil luxusním, ale klasickým pojetím.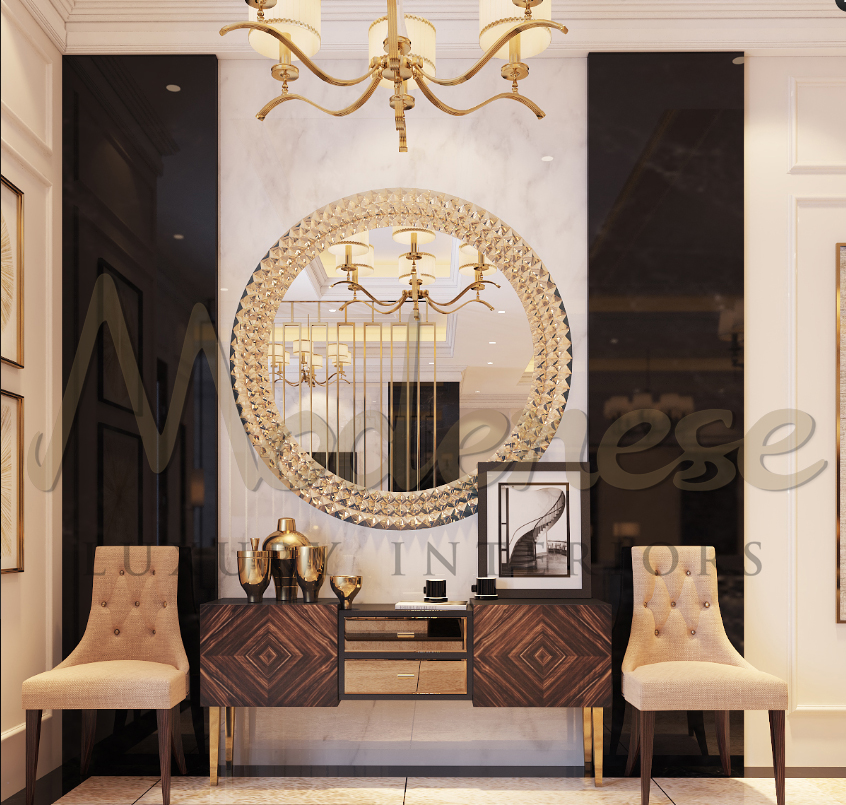 Elegantní design chodby
Hala je jednou z hlavních místností ve fantazijním domě. Je jednou z prvních věcí, kterých si návštěvník všimne. Je to místo, kde se lidé scházejí a vítají, proto musí být hala atraktivní, honosná a elegantní. Hlavní návrhy haly se zaměřují na její krásné a vzorované stěny. Společnost Modenese Luxury Interiors je vytvořila nádherně. Propracované řezby a forma jsou opravdu dobře promyšlené a tento sál se vám bude bezpochyby líbit!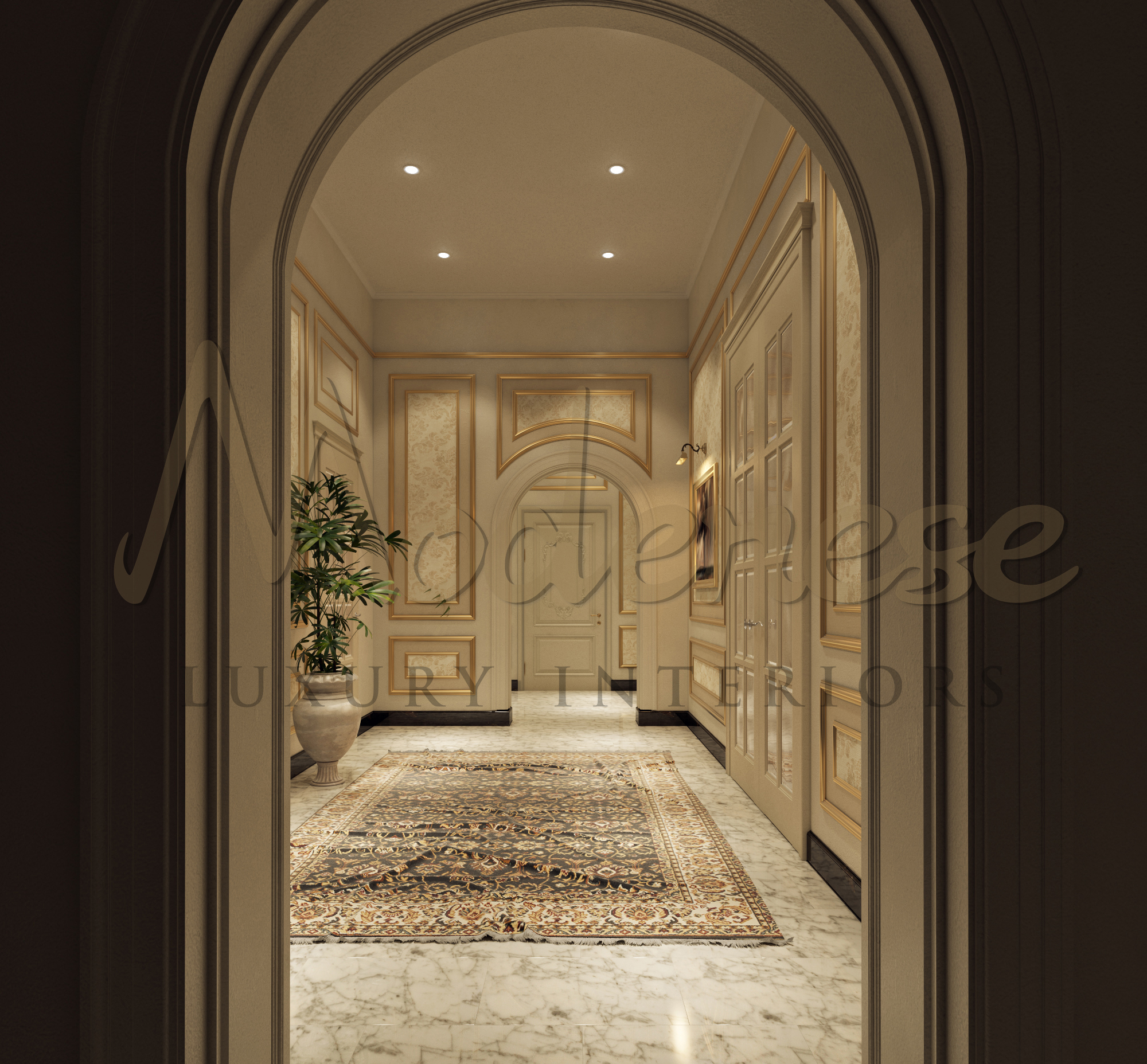 Elegantní design interiéru
Aby bylo možné reprodukovat tradiční styl, tým Modenese Luxury Interiors pečlivě vybírá barevnou paletu pro tento prostor, přičemž se vyhýbá ostrým barvám a zaměřuje se na teplé a jemné tóny. Jemný béžový odstín při výběru čalouněného nábytku a textilií v podobě nádherných závěsů působí nesmírně krásně a vznešeně.
Jemná a teplá klasika s tradičními boiserie panely a přísným štukovým dekorem – příklad dobrého vkusu a elegance. Čisté, rovné linie a přírodní odstíny azurové barvy nábytku v kombinaci s béžovou barvou stěn a stropu vytvářejí v klasickém obývacím pokoji příjemnou atmosféru, symetricky rozmístěné párové dekorační prvky uspořádávají prostor a ergonomický nábytek poskytuje pohodlí.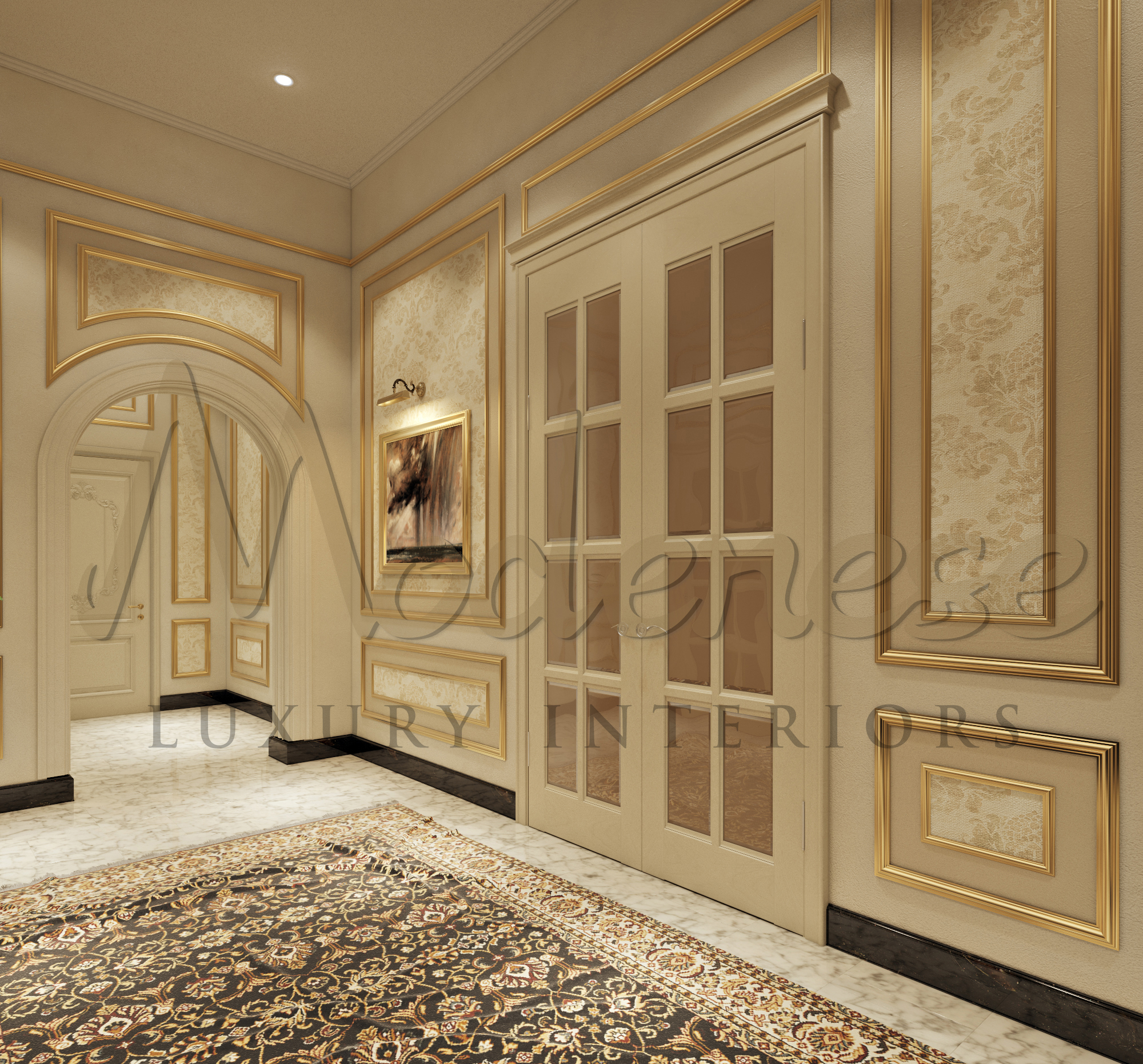 Stylový design interiéru domu
Tato místnost je plná světla a vzduchu a s fantastickou podlahou z vysoce kvalitního a trvanlivého přírodního materiálu – mramoru s úžasným uměleckým designem – to vše přispívá k její hřejivosti a slavnostnosti. Nad čajovými stolky se nachází ohromující křišťálový lustr se závěsy, který dodává příjemnému lakonickému dekoru luxus a vážné stylové prvky. Tento designový prvek interiéru, kromě svého estetického účelu, napomáhá vizuálnímu rozdělení prostoru na funkční zóny.
Visit our online showroom

[wps_collections link_to="shopify" limit="15" pagination="false"]