Skvostný design luxusních apartmánů v Keni
K tomuto luxusnímu interiéru obývacího pokoje neodmyslitelně patří útulná a jemná nálada. Interiéry od Modenese Luxury Interiors mají zvláštní kouzlo a sofistikovanost. Designéři vytvořili nové představy o kráse a pohodlí. Dokonalá harmonie tvarů, linií, dekorativních prvků a osvětlení lahodí oku. Vrcholem projektu byla organizace prostoru u okna. Tento interiér je skutečným uměleckým dílem, malebnou scénou, která vyvolává neuvěřitelné pocity štěstí a radosti.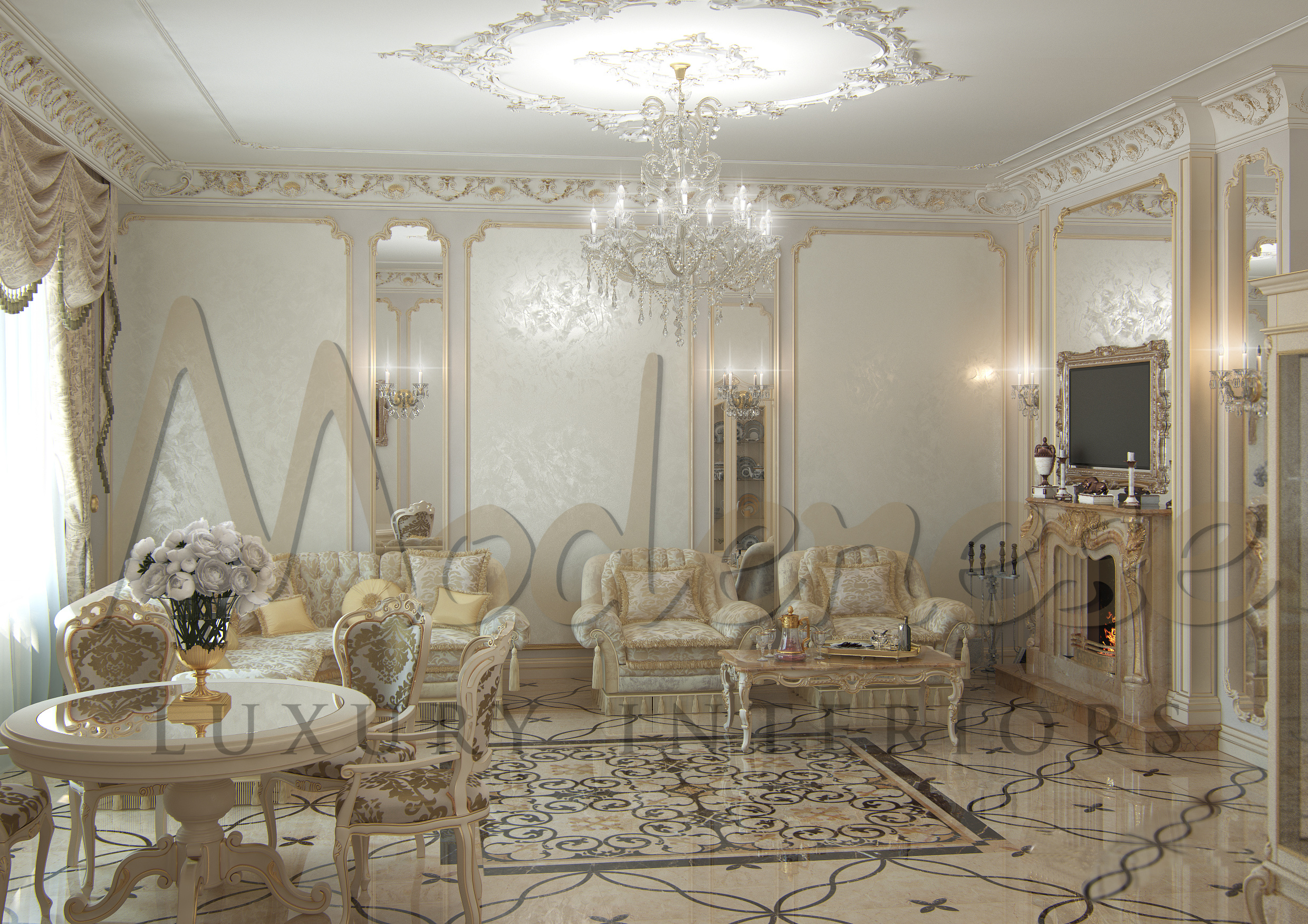 Pohodlný design obývacího pokoje
Lehkost a elegance nejluxusnějších interiérů. Klasická móda se mění v něco rafinovanějšího a sofistikovanějšího. Tato krása představuje zcela nový a inovativní přístup k designovým dekoracím. Designéři společnosti Modenese Luxury Interiors kombinují to nejlepší, přidávají vlastní jedinečný design a vytvářejí nový směr, který se stává novou vizí luxusu. Vizuální celistvost interiéru je vytvořena dokonalou harmonií a vztahem mezi jednotlivými fragmenty a jednotlivými kudrlinkami dekoru. Standardy krásy jsou stále jemnější a hlubší. A v tomto projektu lze vysledovat jemné gentilní motivy, které vytvářejí luxusní domov v rodinném sídle předků.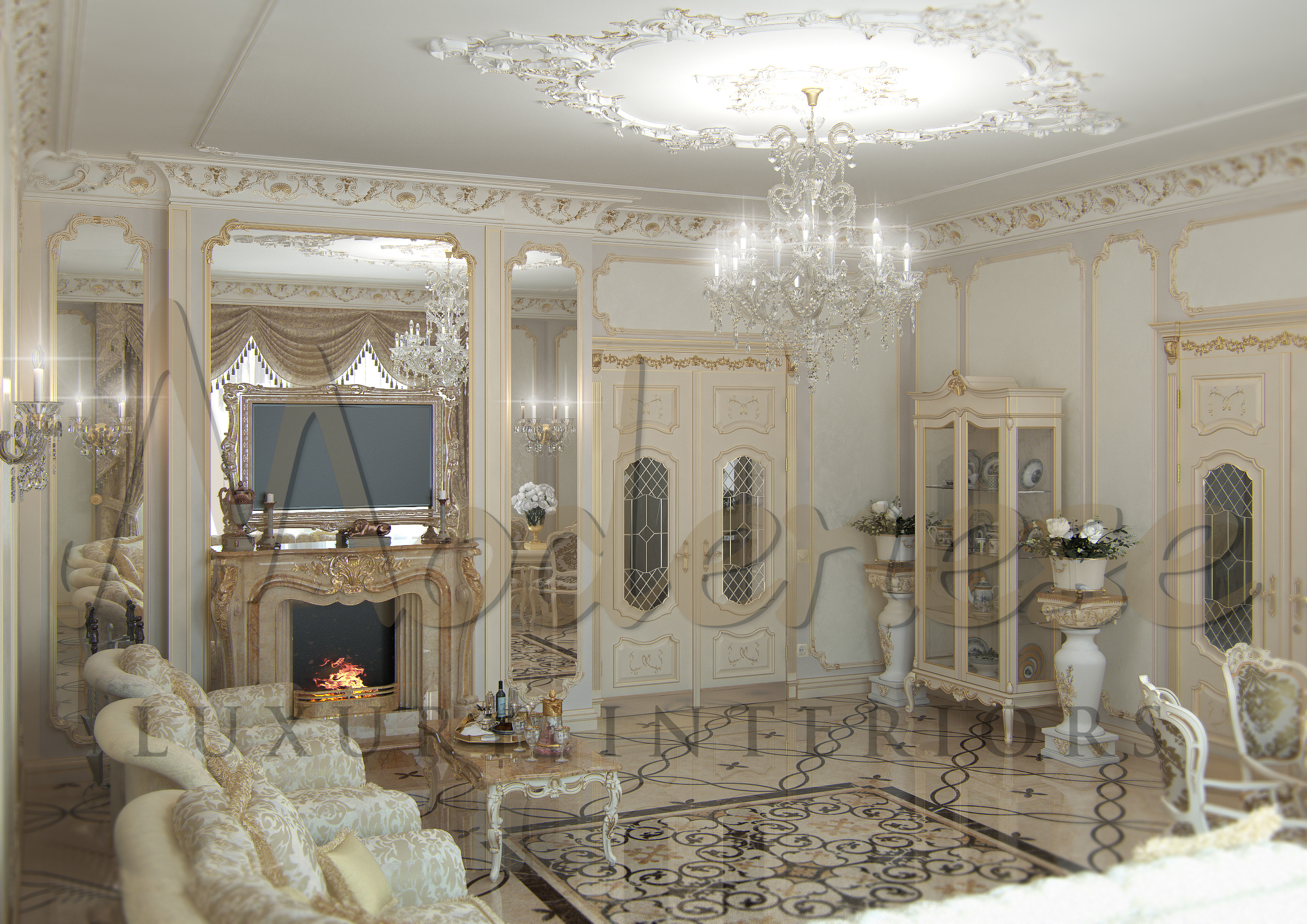 Klasický luxusní design obývacího pokoje
Svěží a elegantní interiér vytváří nádhernou náladu. Luxusní nábytek se stal hlavní ozdobou místnosti. Luxusní čalounění z krémové látky se zlatou výšivkou dokonale ladí s krásnými závěsy. Lehký a nenucený dekor stěn a stropu založený na váze bílých a zlatých odstínů.
Útulný design jídelny pro byt v Keni
Luxusní bytové interiéry od Modenese Luxury Interiors přinášejí majitelům domů a bytů radostné pocity z vlastnictví jejich jedinečně krásného interiéru. Interiéroví designéři přistupují ke každému projektu s velkou pozorností. Dokážou se dotknout nejjemnějších strun duše zákazníků a dát jim přesně to, co si vysnili. A to luxusní interiér s náladou lehkosti a svěžesti. Velkolepost interiéru je založena na bohaté výzdobě stěn, luxusním nábytku, nádherné výzdobě oken a velkolepém designu stropů.
Nejlepší služby interiérového designu v Keni
Do tohoto interiéru jsme vnesli kus své duše. Panuje zde neuvěřitelně příjemná a útulná atmosféra. A každý z našich zákazníků ji cítí. Tým skutečných virtuózů se snaží tento svět vyzdobit, dát svým klientům pocit absolutního pohodlí a obklopit je krásou. Moderní aristokraté si vybírají Modenese Luxury Interiors, aby získali domov, který bude chloubou nejedné generace rodiny.
Visit our online showroom

[wps_collections link_to="shopify" limit="15" pagination="false"]