Bespoke Bedroom Design For Villa In Muscat, Oman
Royal Bedroom made by hand. Wardrobes, bedside cabinets, and bedroom chairs all bring flair to your room while also providing storage and comfort. This gold coloured bedroom furniture is elegantly made and built to last.
The ideal master bedroom furniture design is one that is both relaxing and elegant. To accomplish so, choose a style that combines classical themes and brings them to life. Classical bedroom interior design is one example of such a notion.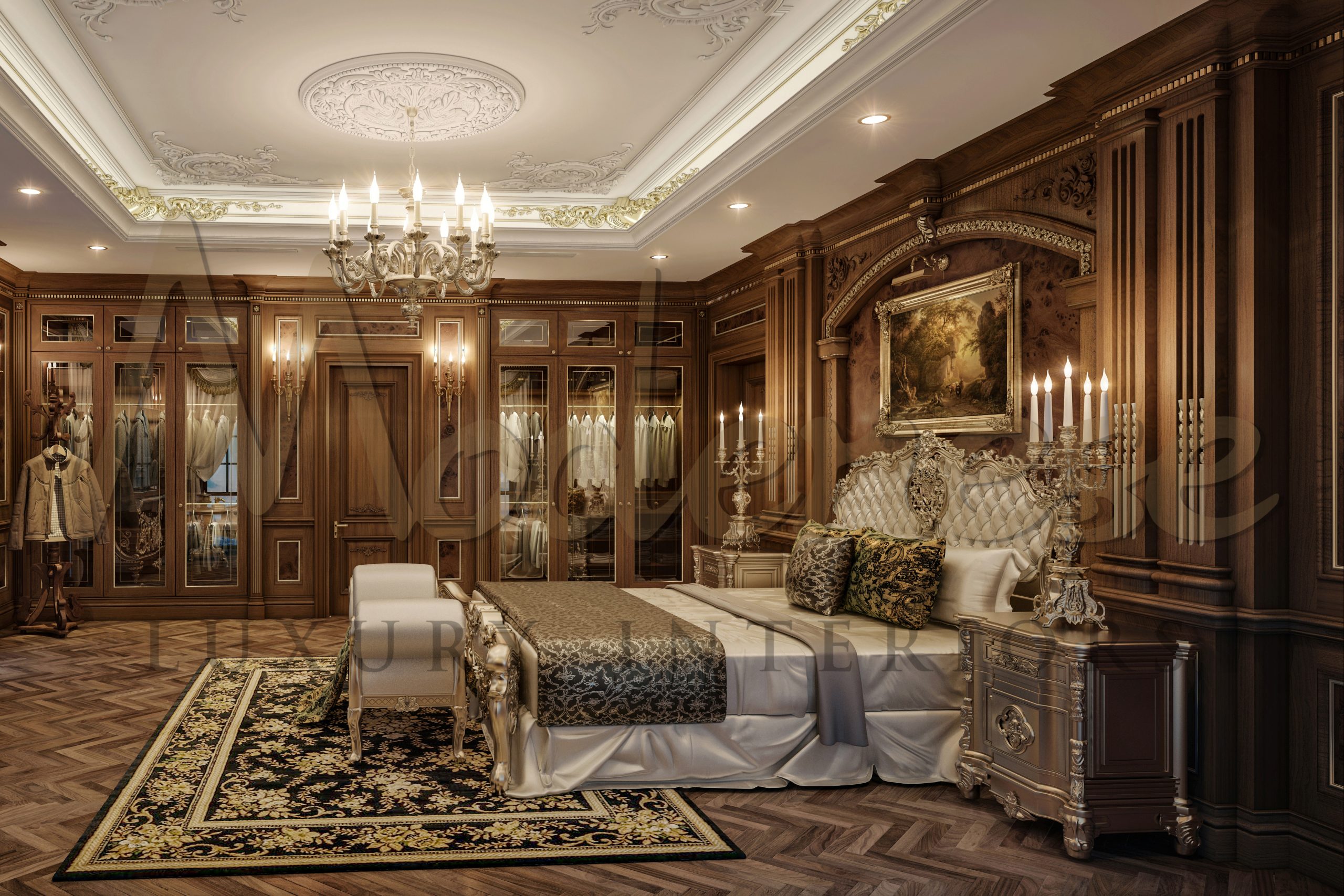 Relaxed Classical Master Bedroom Design
For those who like to mix things up, the classical style for your bedroom's interior design is ideal. The ability to produce something unique with a classical feel will be the result. You'll want it to be a place that promotes rest and rejuvenation, as any master bedroom should be. Classical interior design styles bring this out to its full potential. Furthermore, the cozy atmosphere created by the furniture will make you feel perfectly at home.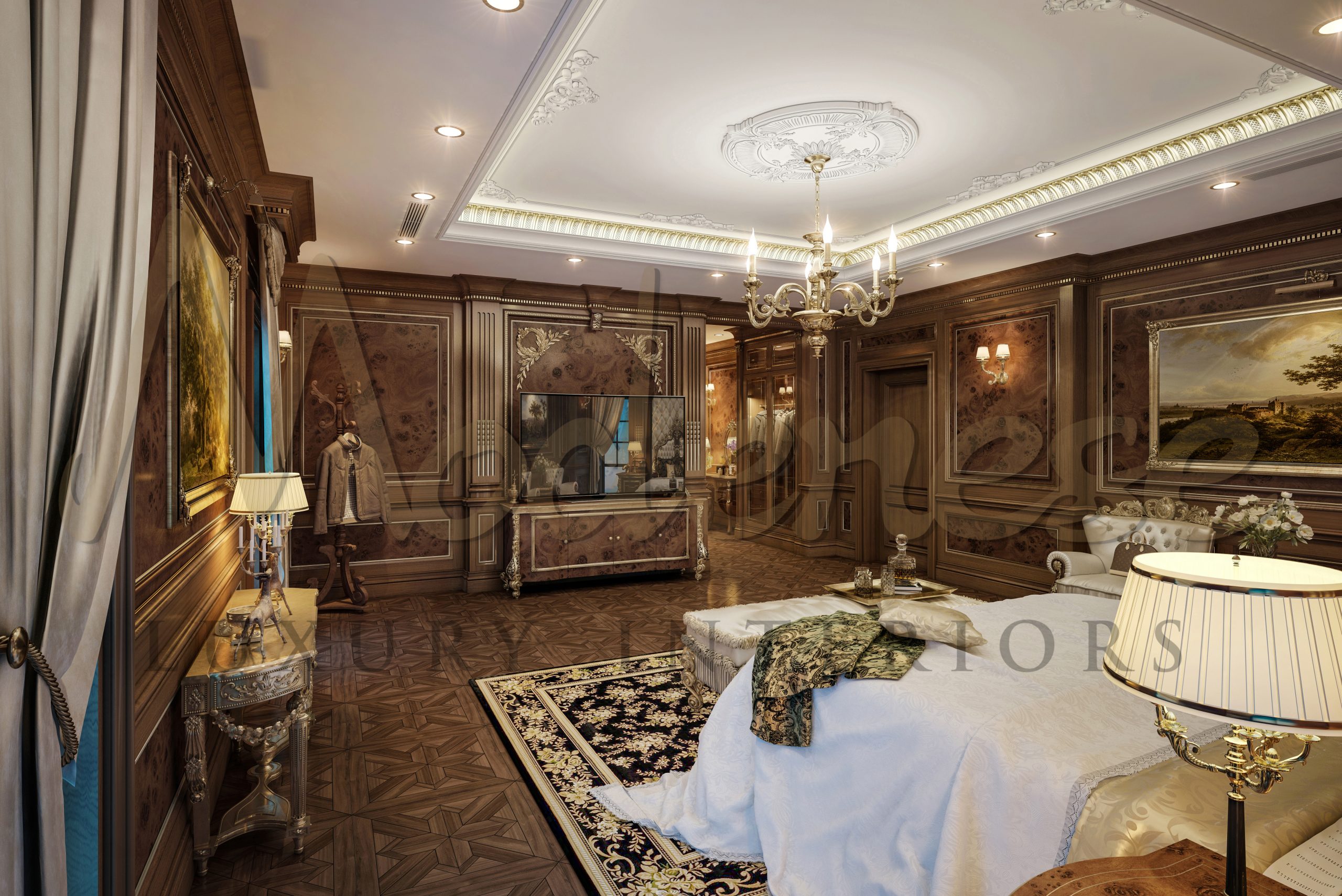 The Elements Of A Classic Venetian Style Home
The concept that truly distinguishes classical interior design is its understated visual effect. The room is visually appealing and well-balanced. Furthermore, the space is furnished in a way that complements one another. When it comes to choosing the proper furniture, traditional style is the way to go. Furthermore, the furniture should be designed in a classical style. Overall, combine traditional and contemporary elements. The bed you select is an excellent example. It should have all of the vital attributes as the major attraction.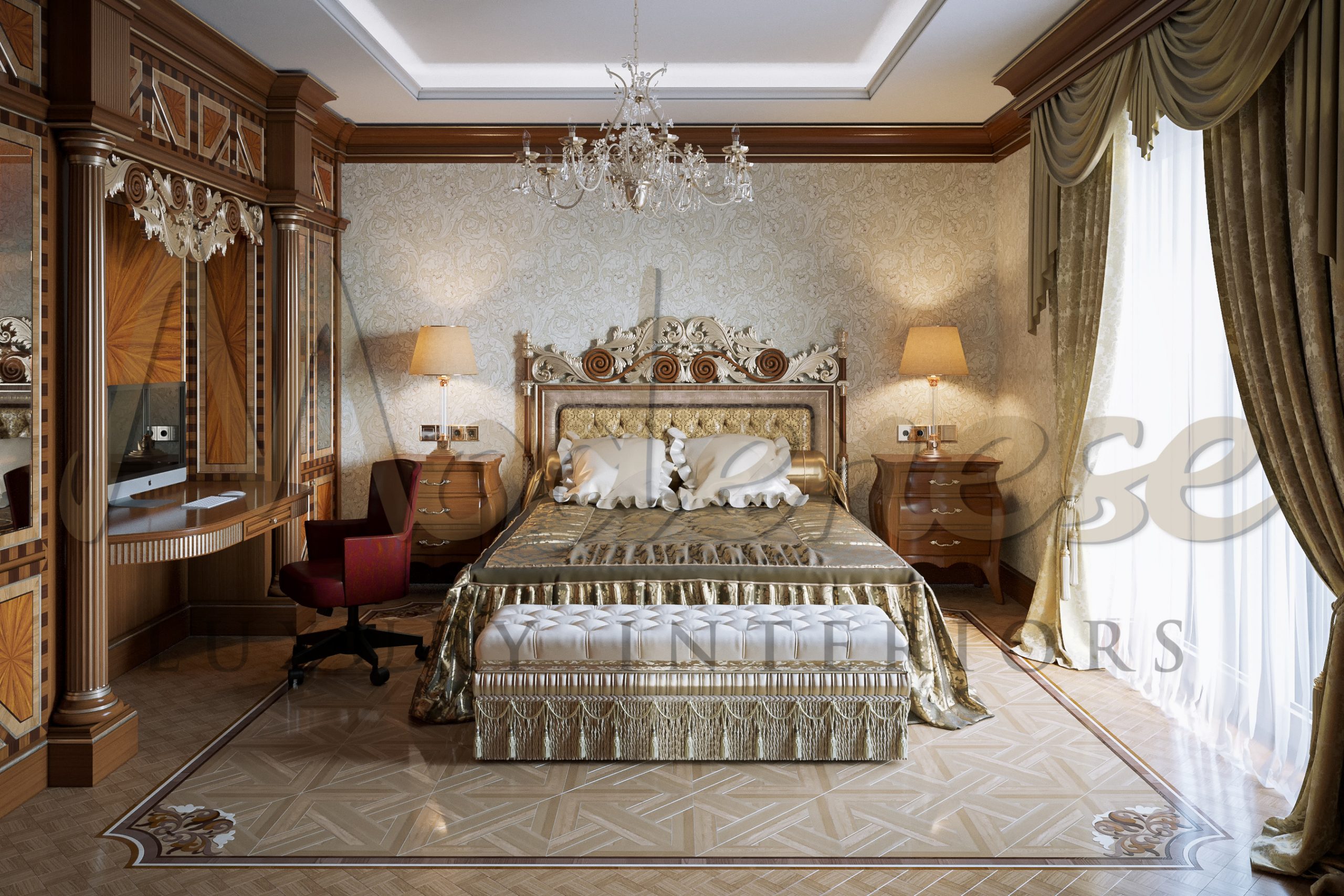 Classy Furniture For Classical Bedroom
When it comes to the room's other characteristics, you'll want to strike the right balance. Simple ornamental elements such as cabinets, drapes, lamps, and other decorations should be used. Look for textures that stand out and add personality to your pieces. Maintain a clean and simple appearance at all times. Another concept that distinguishes classical is its general tidy appearance. You'll want to bear in mind how everything in the room contributes to the overall look. You will be able to arrange them in the appropriate areas if you do so. Consider establishing a place where space is free and flowing as much as feasible.
The next piece of classical interior design advice is to use leading lines. This entails employing the furnishings to draw the eye around the space. Allow the furnishings to take you on a trip. This will undoubtedly complement the room's notions of balance and elegance.
The Romantic Aesthetic Of Classical Bedroom
Adding some unique touches to your master bedroom's overall design is essential. Beige-colored bedding and drapes might help to brighten the room's illumination. Use carpets, lamps, and other little decors that complement the way the room flows from one element to the next. Once you discover the ideal finishing touches to complete the overall set, your master bedroom's classical romantic style will build on itself.
A Romantic style interior design for your master bedroom is a luxurious approach to decorate, as it is effortlessly lovely and delightfully attractive. Every part of the room will make you fall in love with it.
Visit our online showroom