CENTRU DUBAJE – UAE
Otevíráme dveře do světa luxusu a pohodlí.
Vila je často místem společenských událostí, a proto věnujeme náležitou pozornost výběru nábytku. Měl by být nejen krásný, ale také pohodlný.
Jsme připraveni vyrobit pro vás nábytek na míru. Nádherná křesla, skvostné stoly a božské lustry vytvářejí jistotu, že se nacházíte v luxusním sídle. Dovedně navrhujeme královské apartmány.
Doporučujeme také obklady stěn a podlah z přírodních materiálů. To ukazuje na postavení majitele. Nejčastěji se rozhodujeme ve prospěch dřeva, keramiky a přírodního kamene.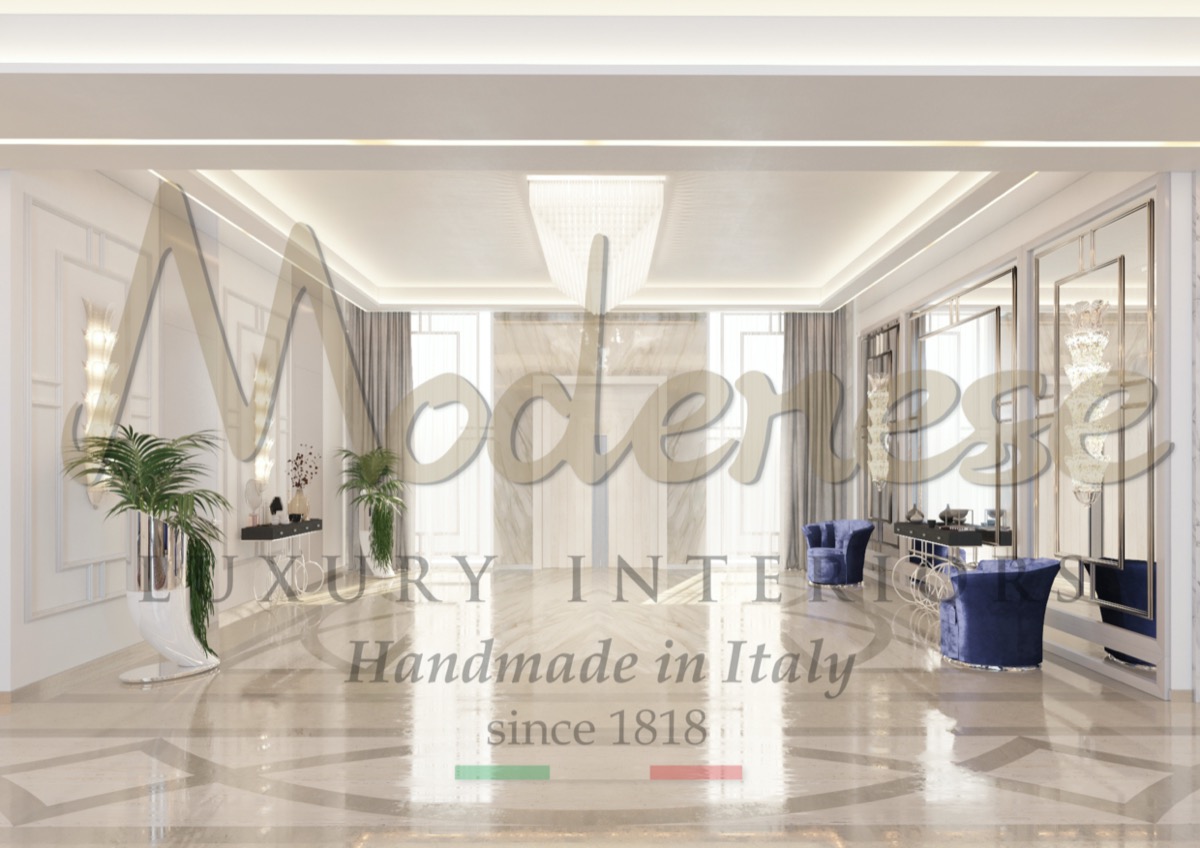 LUXUSNÍ DESIGN VCHODU
Luxusní interiér této prostorné vily v centru Dubaje vytvořili designéři Modenese Luxury Interiors.
Každý host, který vstoupí do tohoto kouzelného prostoru, bude ohromen jeho krásou a elegancí, šarmem a vytříbeným stylem.
Možná je to přesně ten dům, který nebudete chtít opustit a do kterého se budete vždy chtít vrátit. Nádherná rajská oáza v ruchu velkoměsta.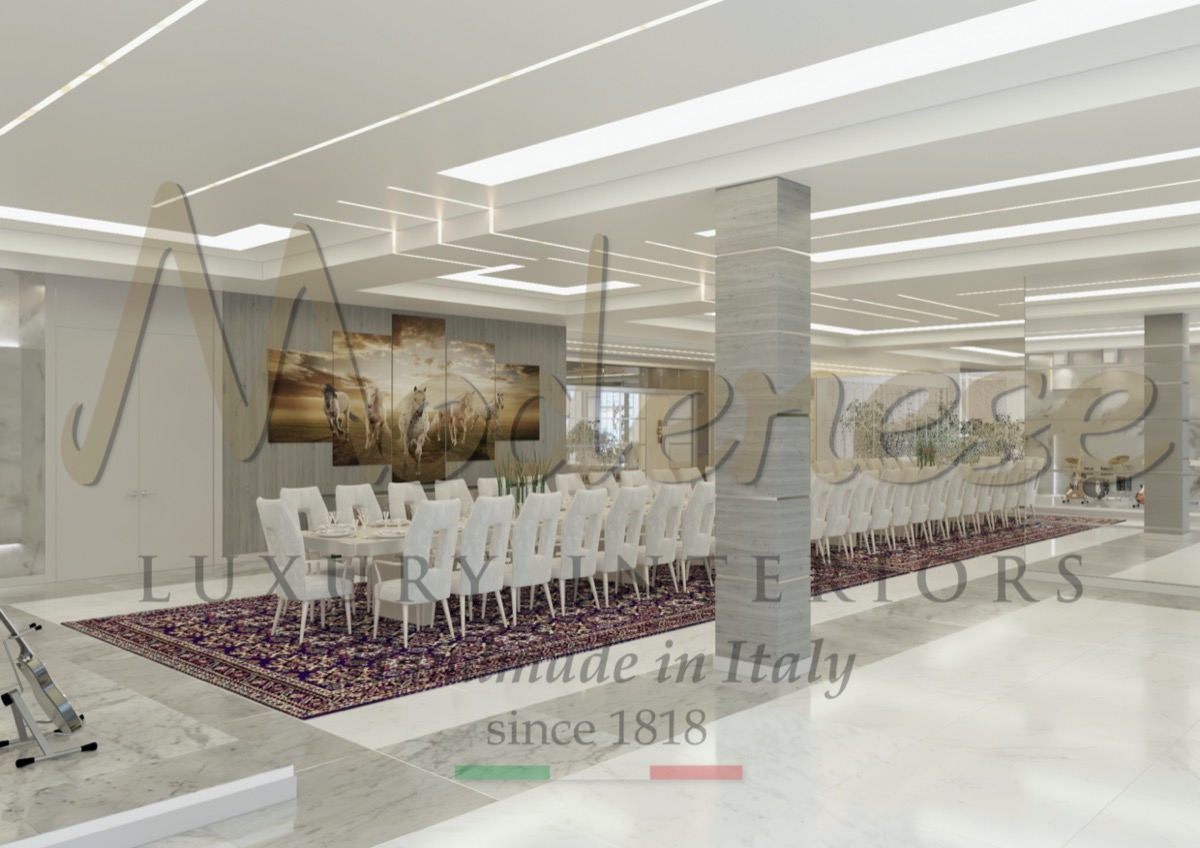 ELEGANTNÍ A RAFINOVANÁ KRÁLOVSKÁ JÍDELNA
Prostor obývacího pokoje přechází do elegantního interiéru jídelny – velký obdélníkový stůl s lesklou deskou a měkké bílé židle dodávají šarm. Samostatný příběh, který si zaslouží zvláštní pozornost – elegantní mramorová podlaha.
Modenese Luxury Interiors nabízí vypracování designového projektu vily na klíč. Ke každému projektu přistupujeme s duší a vytváříme skutečně komfortní interiéry v exkluzivním designu.
SOFISTIKOVANÝ A ELEGANTNÍ DESIGN OBÝVACÍHO POKOJE
Esteticky nádherný interiér obývacího pokoje je laděn do neutrálních tónů. Luxusní prostor obsahuje obrovskou měkkou sedací soupravu – velkou šedou rohovou pohovku, barevný koberec a nádherné lampy, které tuto nádheru dokonale podtrhují.
Obývací pokoj s úžasnými nástěnnými rostlinami je skvělým projevem designu místnosti, která zdůrazňuje luxus a smysl pro nadstandardní styl majitelů bytu.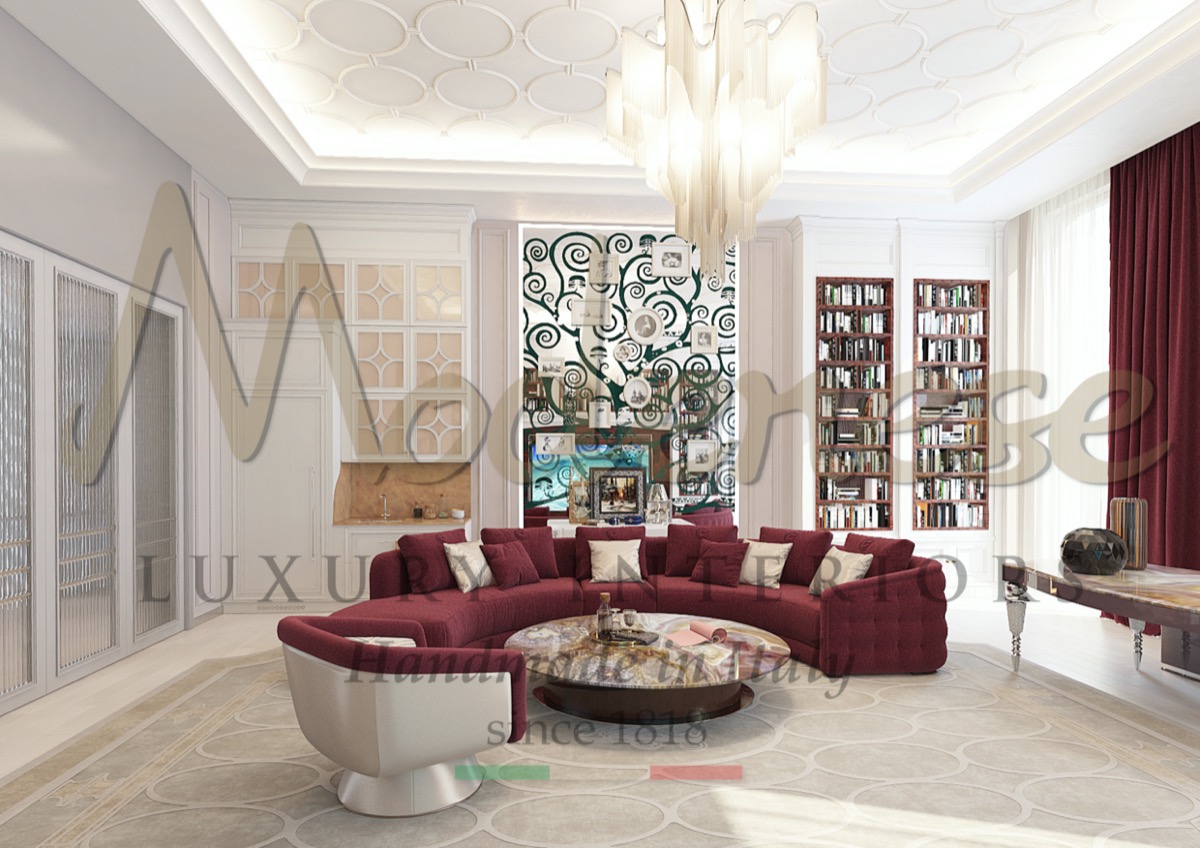 ÚŽASNÝ OBÝVACÍ POKOJ PRO LUXUSNÍ SÍDLA
Interiér, který v sobě spojuje funkčnost a pohodlí, styl a komfort, nejnovější technická řešení v designu nábytku a použití materiálů šetrných k životnímu prostředí – to vše jsou charakteristické rysy moderního interiéru, který byl použitý jako základ pro vytvoření tohoto projektu. Výsledkem je rafinovaný a útulný interiér rezidence v centru Dubaje.
Visit our online showroom

[wps_collections link_to="shopify" limit="15" pagination="false"]