Art Deco si oblíbili majitelé luxusních domů v Rijádu. Ti se rozhodli objednat u firmy Modenese Luxury Interior Design projekt v tomto aktuálním a moderním stylu. Díky slavnostní náladě, která je tomuto stylu interiérového designu vlastní, zůstává design ve stylu art deco na vrcholu atraktivity. V tomto designovém domě v Rijádu je jemně zdůrazněna přátelská a přívětivá osobnost jeho majitelů. Byt vyzařuje lehkost a eleganci, což odráží vysoké postavení a vážnost majitele. Designéři interiéru účinně začlenili aspekty vytříbené ušlechtilé klasiky do elegantního a radostného art deca. Každý projekt je navržen studiem Modenese Luxury Interior Design Studio v Rijádu s úžasnou směsí barev, textur a ornamentálních akcentů. Tato dokonalost se odráží i v designu sídla v Rijádu. Každá křivka a každý obrys se stal důležitou součástí tohoto nádherného portrétu nového aristokratického domova.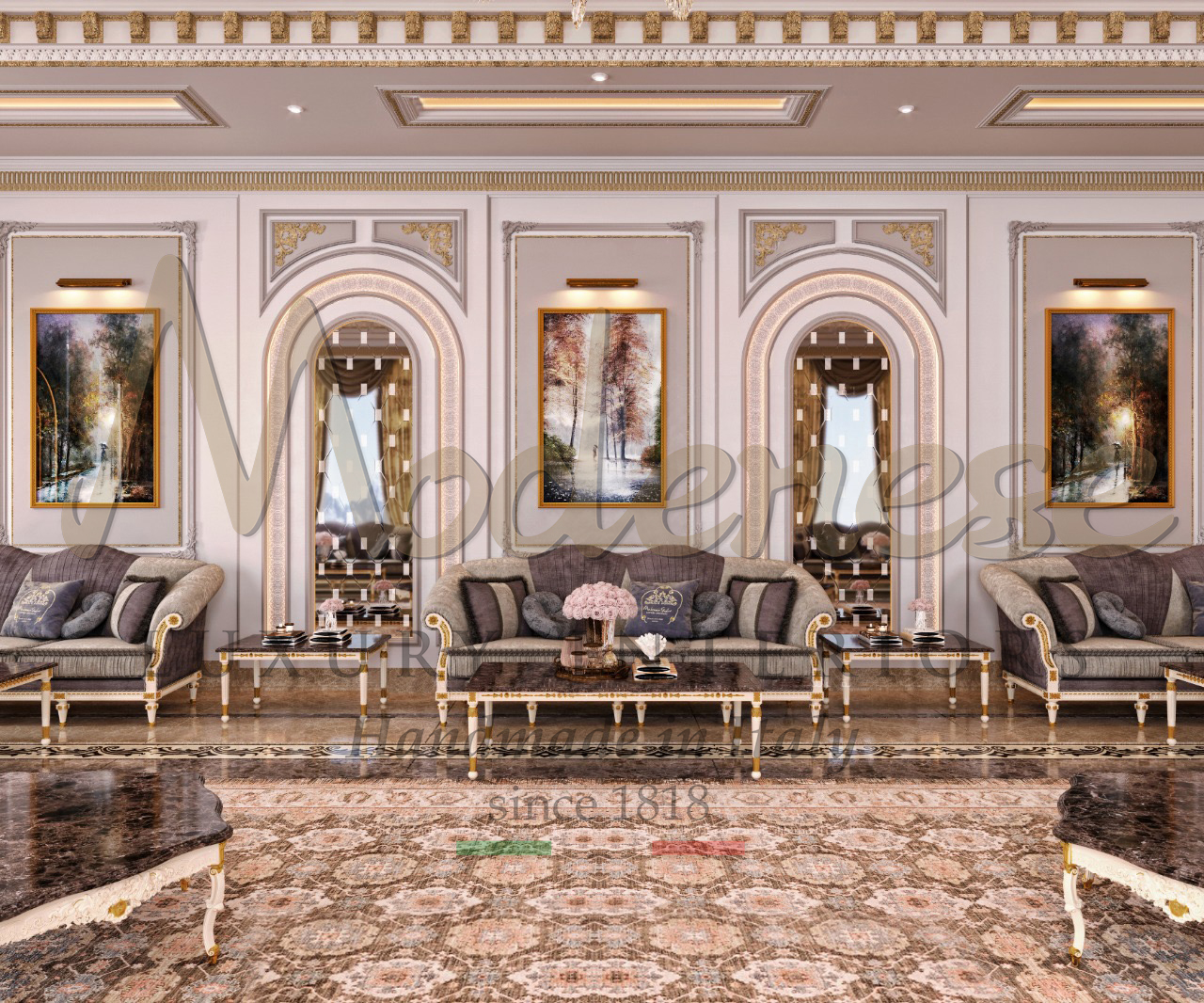 Nádherný návrh obývacího pokoje
Domy v Rijádu jsou navrženy v souladu se současnými designovými trendy.
Jedním z těchto trendů je přitažlivost otevřeného prostoru, který kombinuje halu, obývací pokoj, jídelnu a někdy i kuchyň. Ústředním prvkem haly se stalo krásné schodiště s hladkými křivkami a odborně provedeným zábradlím. Zdobení schodišťového zábradlí a stupňů z přírodního mramoru není hlavní náplní pozornosti interiérových designérů. Dalším skvělým nápadem bylo použití panelů Facet Mirrors ke zkrášlení zadní strany schodů vedoucích do druhého patra. To podstatně zvýšilo zářivost bohatosti interiéru. Nádherné architektonické řešení budovy je v konceptu domu Design Rijád jasně a citlivě zdůrazněno. Dokonale uspořádaný prostor se stal základním kamenem celistvosti luxusního interiéru.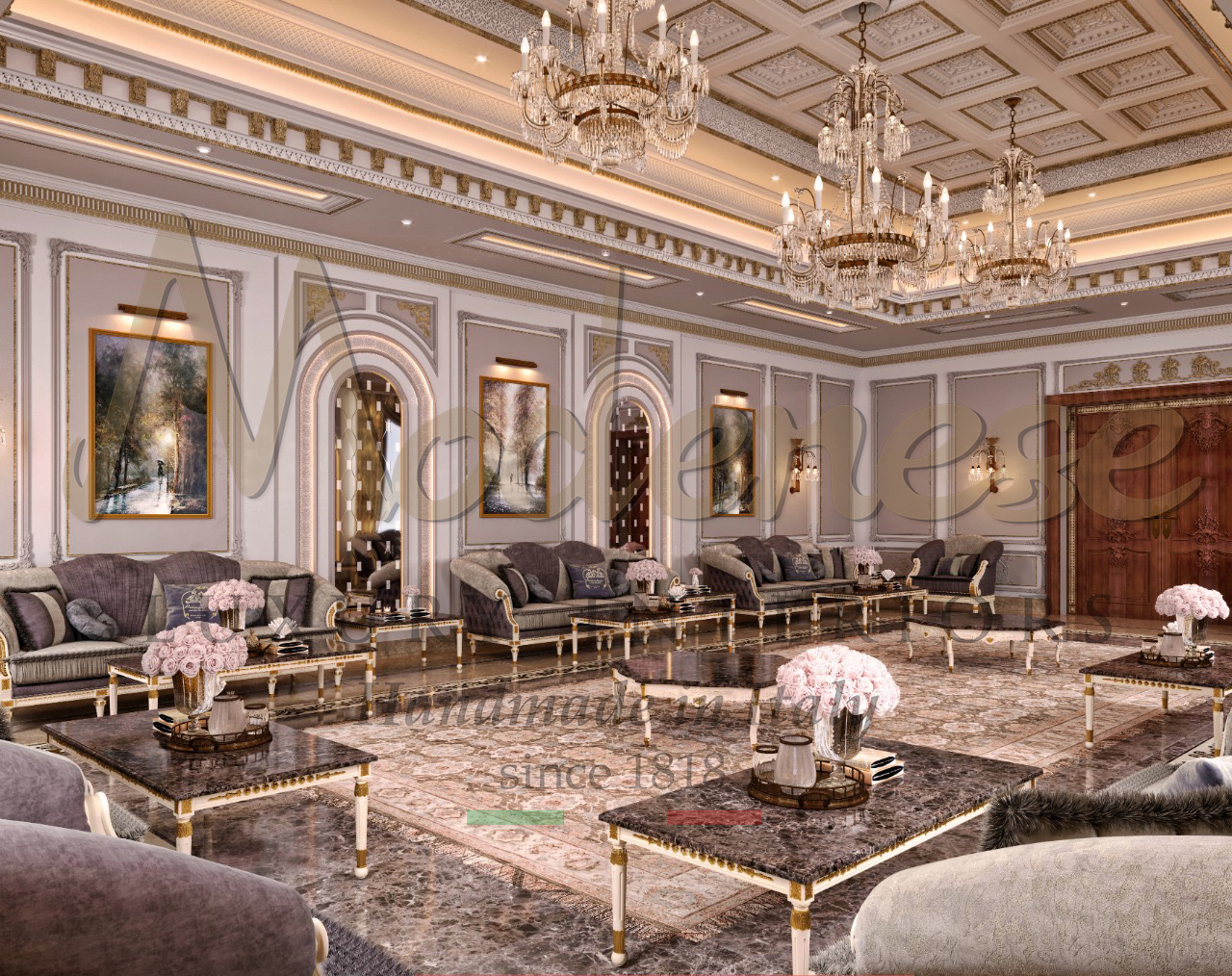 Klasický design interiéru domu
Interiéroví designéři používají hodně mramoru ke zkrášlení stěn a podlah obytného bytu, aby ukázali jeho exkluzivní status. Vynikajícím přístupem k prostoru zóny se staly vyřezávané kamenné vzory na ušlechtilém kameni.
V tomto luxusním novém domě v Rijádu byl důležitý design záclon. Na prvním podlaží, kde se nachází obývací pokoj, se totiž nacházejí četná obrovská okna. Okna, která propouštějí přiměřené množství slunečního světla, a v případě potřeby i závěsy v interiéru jsou nutné pro zjemnění slunečního jasu. Významnou a rozhodující roli v designu závěsů hrají samozřejmě látky na závěsy.
Vše je zde pečlivě zorganizováno tak, aby se každý člen rodiny cítil příjemně a jako doma. Tento návrh designu domu je mistrovským dílem, které zobrazuje novou éru luxusu a krásy.
Návrh domu v Rijádu je definován svým výrazným moderním luxusním vkusem.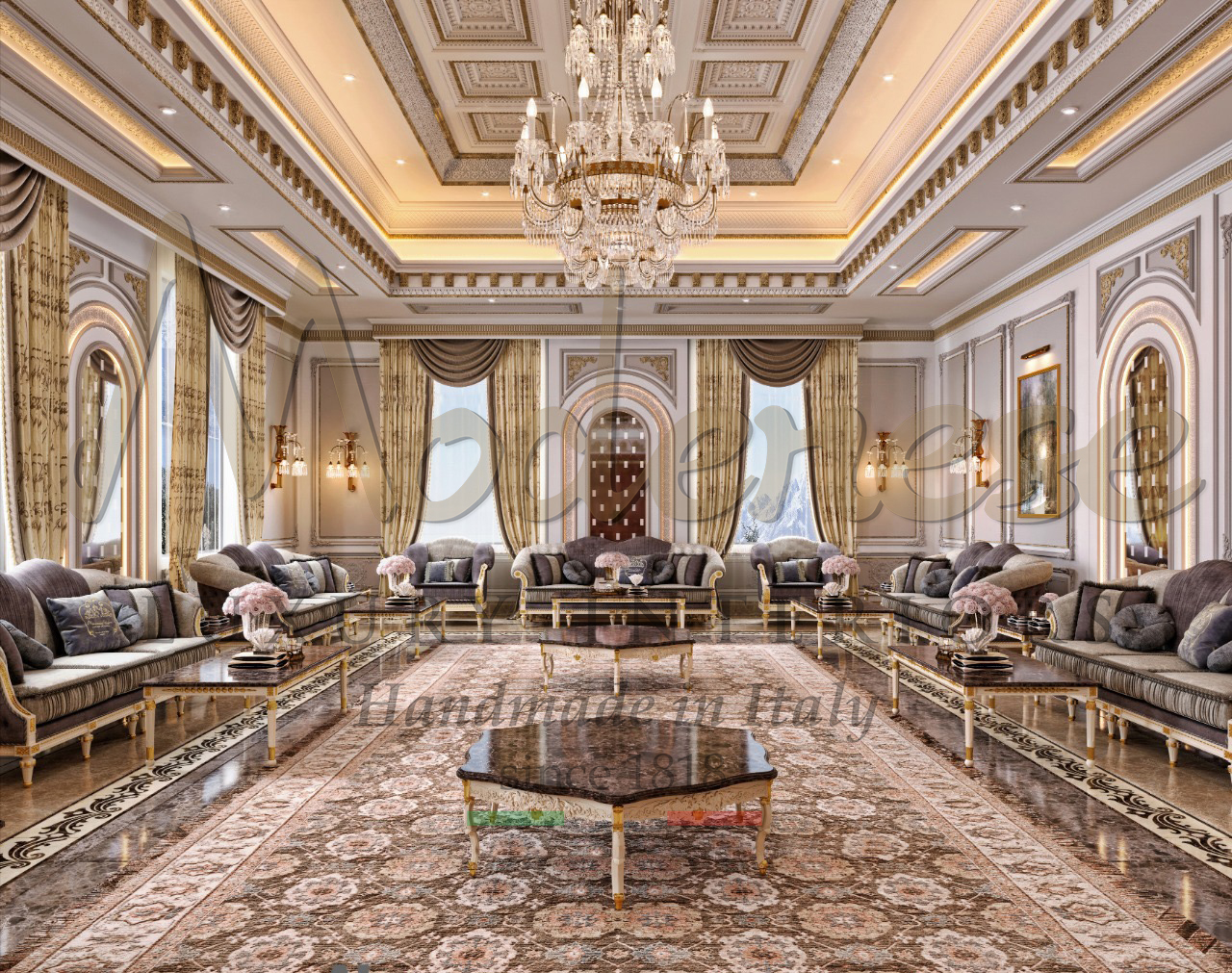 Nejlepší návrhář interiérů v Rijádu
Naše vynikající zkušenosti s přípravou takových projektů slouží jako základ pro optimální řešení interiérového designu.
Práce na projektu zohledňuje všechny jemnosti. Při návrhu interiéru je zohledněn architektonický záměr. Uspořádání nábytku je provedeno v souladu se všemi požadavky tak, aby se každý host restaurace cítil zcela příjemně. Designérům se podařilo dosáhnout nečekaného spojení nekonečné oslavy života a útulného prostředí. Můžete si zde užít příjemnou rodinnou dovolenou, obchodní konferenci nebo romantický večer. Vhodná kombinace nábytku, designu oken, podlah a stropního dekoru, vytváří ideální harmonii. Elegantní a vkusný interiér restaurace v současném klasickém designu vyvolá příjemné vzpomínky na hezké chvíle. Propracovanost interiéru pozvedne úroveň pokrmů a nápojů a každý host se bude chtít znovu a znovu vracet.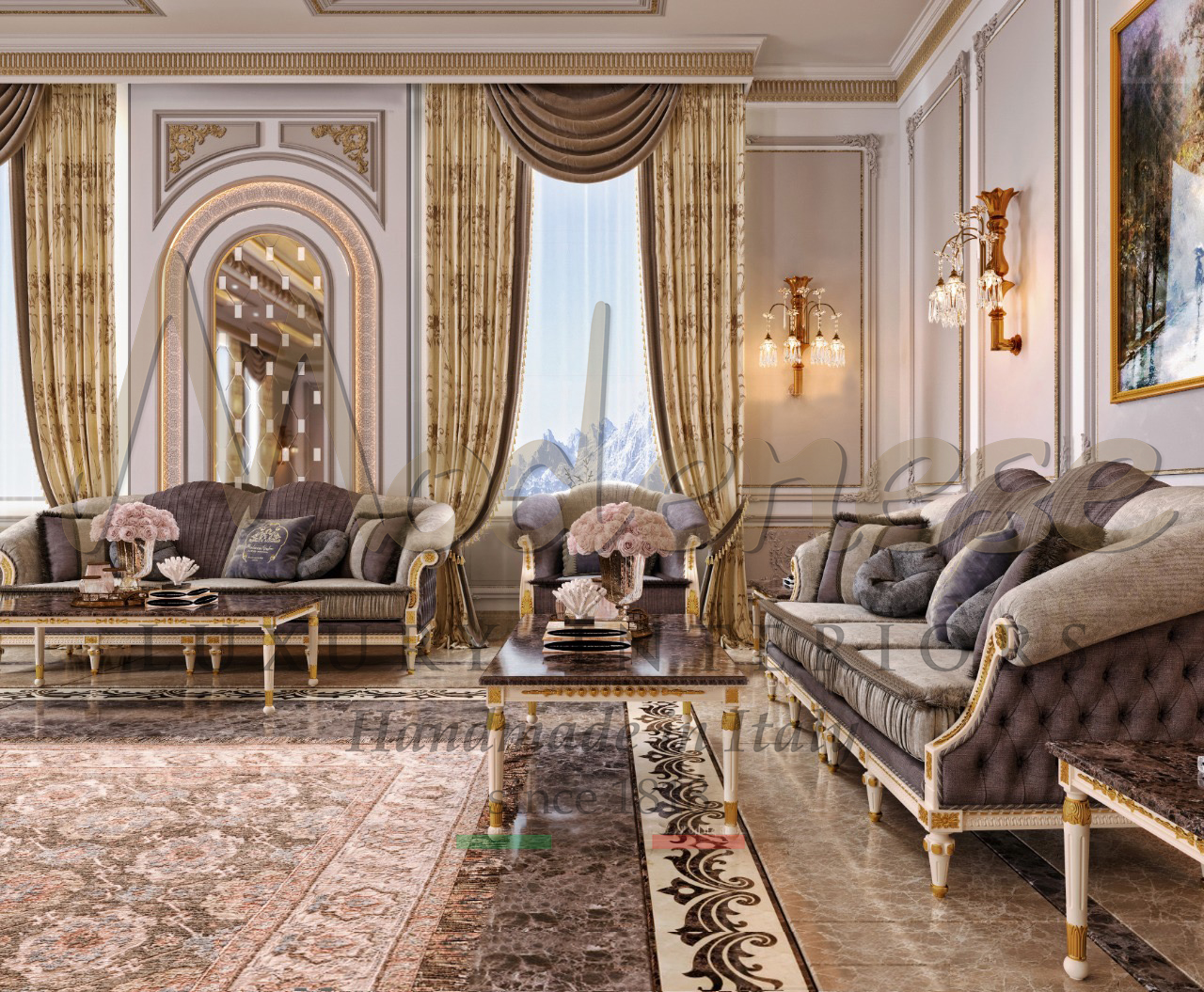 Exquisite Interior Design Ideas
Modenese Luxury Interiors, one of the leading Interior Design Companies in Riyadh, considers all aspects of the job. We construct projects from concept to completion. Restaurant owners, as well as construction and decorating workers, do not have to spend time looking for furniture or décor items. We will address all of your problems as one of the leading Interior Design Companies in Riyadh, providing exquisite settings for valued clients.
Visit our online showroom