Elegantní design společenské místnosti pro vilu v Rijádu, Saúdská Arábie
Arabský interiérový design společenské místnosti je základním prvkem luxusních interiérů vil vytvořených společností Modern Luxury Interiors v Rijádu. Okouzlující kulturní tradice Východu jsou známé svou vřelostí a dobrou vůlí. Velký projekt společenské místnosti navíc pěkně vystihuje přívětivost majitelů vily. Jste zde vždy vítáni a majitelé jsou ochotni poskytnout to nejlepší. Interiérové dekorace pro společenské místnosti často kombinují klasické a orientální designové prvky.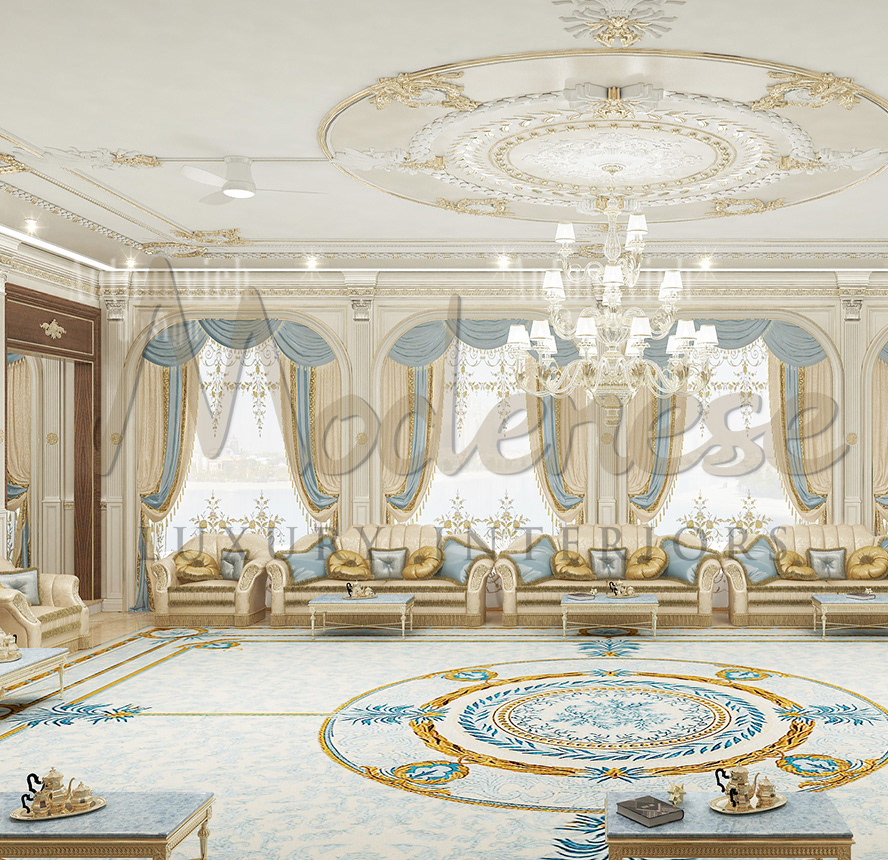 Best Furniture For Majlis
Furniture interior design is significant in the Majlis. In fact, homeowners and their guests should feel at home in this space. Many plush sofas have hand-carved decorations inlaid into them. A silvery silk upholstery serves as the backdrop for the blue velvet cushions, which look lovely. The interior designers provided coffee tables with carved legs and malachite tops to enhance the expressiveness and perfection of this image. This emphasis makes the house's riches and dignity abundantly obvious.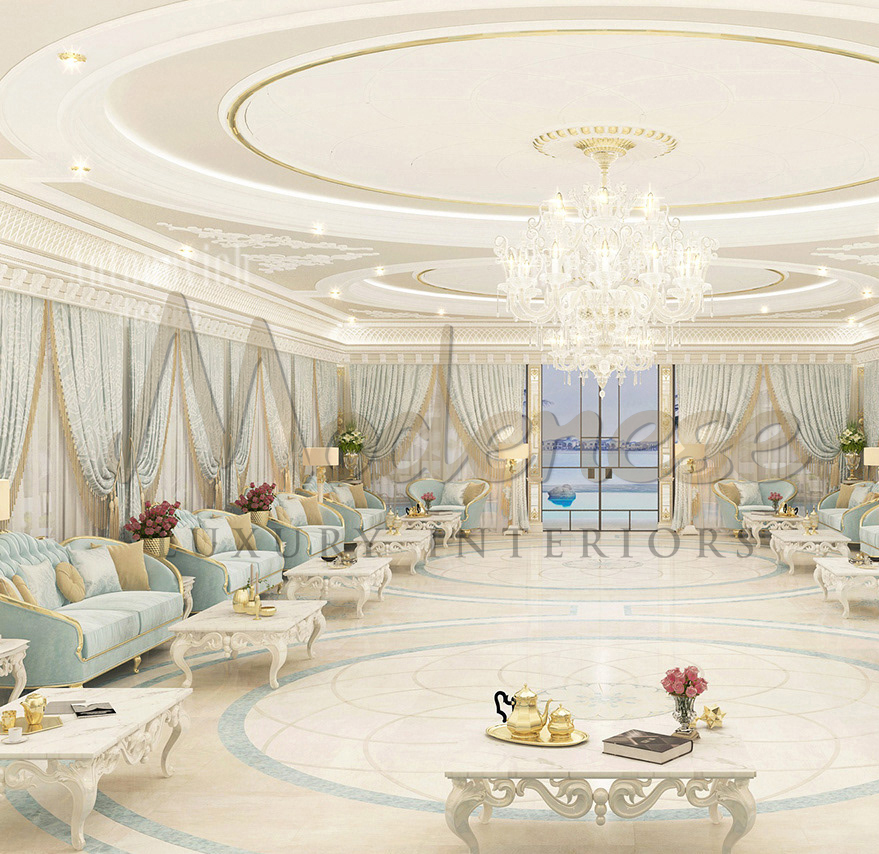 Luxury Décor of the Wall and the Ceiling
The interior designers supplied more subdued decor on the walls and ceiling in order to draw attention to the vibrant elements, such as the drapes, furniture, and carpeting. Exquisite pilasters and stucco decoration with gilt accents finish the decorative creamy plaster. Under the enormous crystal chandeliers and other lighting fixtures, all these lovely images play with light and shadow.
Luxurious Classic Majlis Design
The goal of this project is to create a luxurious environment that showcases the owners' respectability and hospitality.
Modenese Luxury Interiors' interior designer has provided pricey materials including wood, marble, gilding, and fine linens. Another important thing to keep in mind is that the selection of colors had a unique part in the Italian team's design of distinctive Majlis interiors. tones of beige, blue, and gold. Each color blended together flawlessly to create an opulent, respectable mood. The luxurious design is present throughout the large Majlis apartment.
Visit our online showroom