ELEGANTNÍ DESIGN INTERIÉRU LUXUSNÍ VILY
MOSKVĚ – RUSKO
Nábytek do obytného prostoru by měl samozřejmě zapadat do celkového interiéru místnosti, být vyroben ve stejném barevném provedení a odrážet vkus a preference majitelů domu.
Je důležité, aby design nábytku zohledňoval všechna pravidla ergonomie, aniž by ztratil svou vizuální přitažlivost, a také byl kombinován s různými interiérovými předměty a doplňky. Bylo by skvělé, kdyby se na konzolu v obývacím pokoji vešla televize nebo stereo systém – zkrátka veškeré moderní vybavení, které vytváří potřebnou náladu.
Nedílnou součástí nábytku obývacího pokoje je také pohovka – na ní rodina tráví většinu volného času. Proto musí být kvalitní a mít atraktivní design.
Velkolepé schodiště v klasicistním stylu se stalo kompoziční osou sídla. Masivní schodiště se světlými mramorovými stupni působí lehce a ladně.
Design schodiště v klasickém stylu se dokonale snoubí s designem rokoka. Při výrobě je použito umělecké kování, které tvoří zábradlí. Volné části zábradlí jsou navíc zdobeny květinami a krajkami. Použitým materiálem je kov nebo dřevo. Konstrukce je jak zakřivená, tak rovná.
Možnosti provedení závisí na uspořádání. Jídelna může být buď samostatnou místností, nebo může být kombinována s jinou místností: obývacím pokojem, kuchyní nebo oběma funkčními oblastmi současně.
Taková kombinace bude vyžadovat prostor, aby bylo možné vybavit jídelní kout a posezení pohovkou a křesly v jednom prostoru. Dekorace a design jídelny v tomto případě organicky zapadají do interiéru obývacího pokoje a zdůrazňují jednotu stylu. Pomocí dekorativních příček, barevného akcentu a víceúrovňového osvětlení můžete vymezit logické hranice. Účinným způsobem zvýraznění je použití měkkého koberce v oblasti sezení.
Klasický styl miluje volné prostory. Přesto je tento styl dostupný i pro malé prostory. V tomto případě bude hlavním úkolem návrháře opticky zvětšit plochu místnosti prostřednictvím barevného designu a zrcadel.
V klasickém interiérovém designu zřídka vidíte příliš jasné barvy. Tento styl se vyznačuje bílými a pastelovými barvami, stejně jako světle šedými, béžovými a čokoládovými, zlatými a bronzovými odstíny.
Jsme připraveni vytvořit váš ideální interiér s autorskou vizualizací našich specialistů, jako vaše příjemné místo pro život.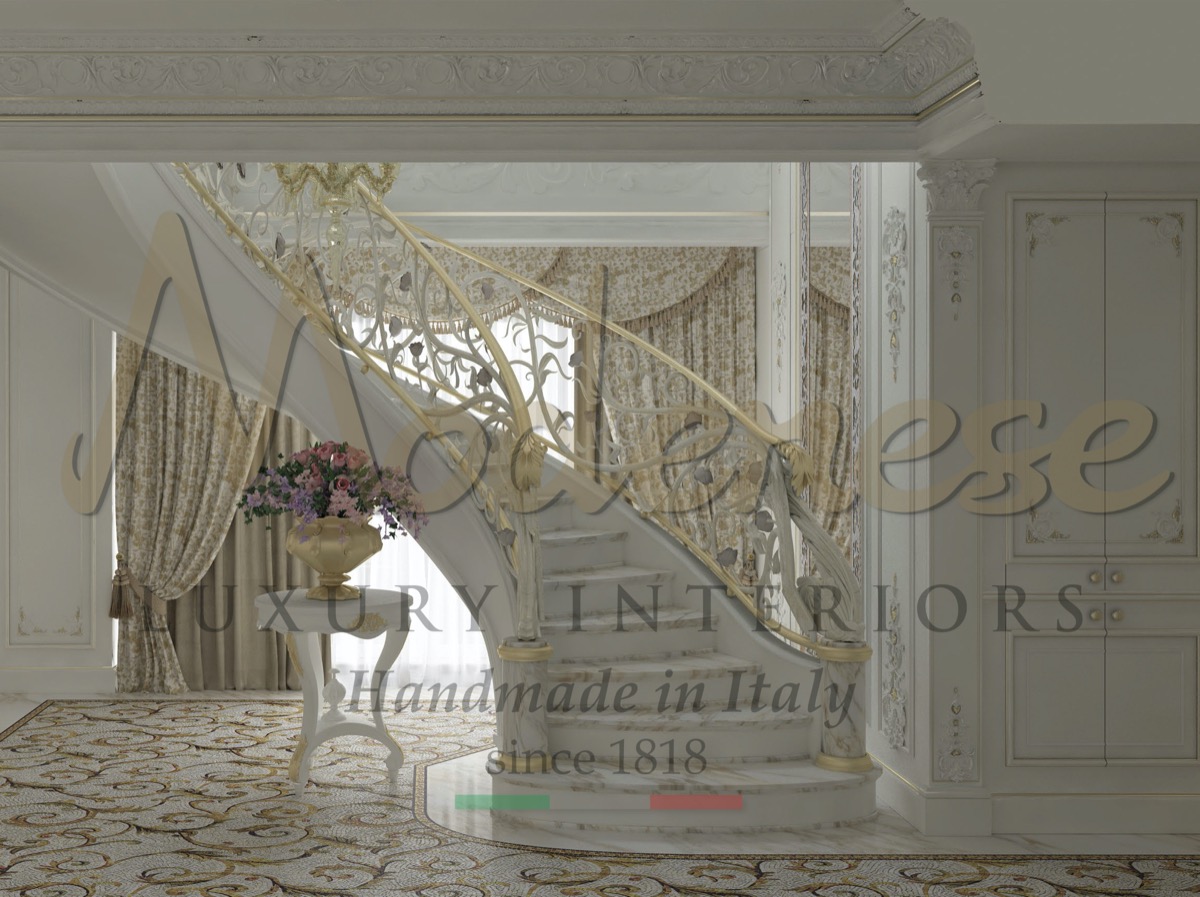 KLASICKÝ A LUXUSNÍ DESIGN ŠPIČKOVÉ KUCHYNĚ
Klasika nikdy nezestárne, neztrácí na aktuálnosti a je vždy známkou vytříbeného vkusu. Proto je kuchyně v klasickém stylu jednoduchým, ale zároveň chytrým řešením, které vám umožní spojit tak důležité vlastnosti této místnosti, jako jsou praktičnost, styl a pohodlí.
Především je tento styl vhodný pro prostorné kuchyně – v něm můžete odhalit veškeré bohatství a luxus detailů.
Kombinace béžové a hnědé barvy byla vždy nejúspěšnější možností pro zdobení kuchyně. Vzhledem k tomu, že tyto barvy mají velké množství odstínů, které se navzájem úspěšně kombinují, otevírá se před designéry nekonečný prostor pro fantazii.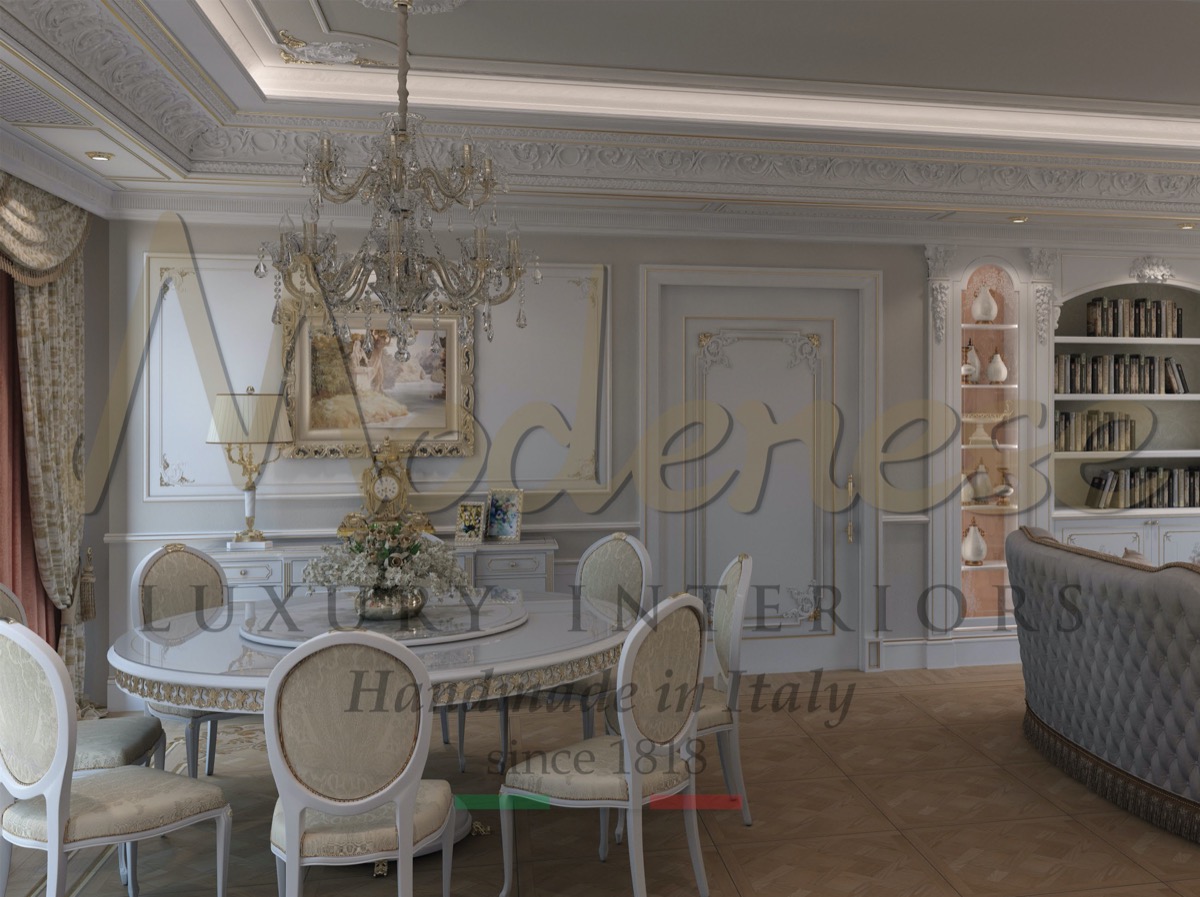 SUPER DINING ROOM DESIGN IDEA
The design options depend on the layout. The dining room can be either an independent room or be combined with another room: a living room, a kitchen, or both functional areas at the same time.
Such a combination will require space in order to equip a dining area and a seating area with a sofa and armchairs in one space. The decoration and design of the dining room in this case organically fit into the interior of the living room, emphasizing the unity of style. With the help of decorative partitions, accent color, multi-level lighting, you can designate logical boundaries. An easy way to highlight is to use a soft carpet in the seating area.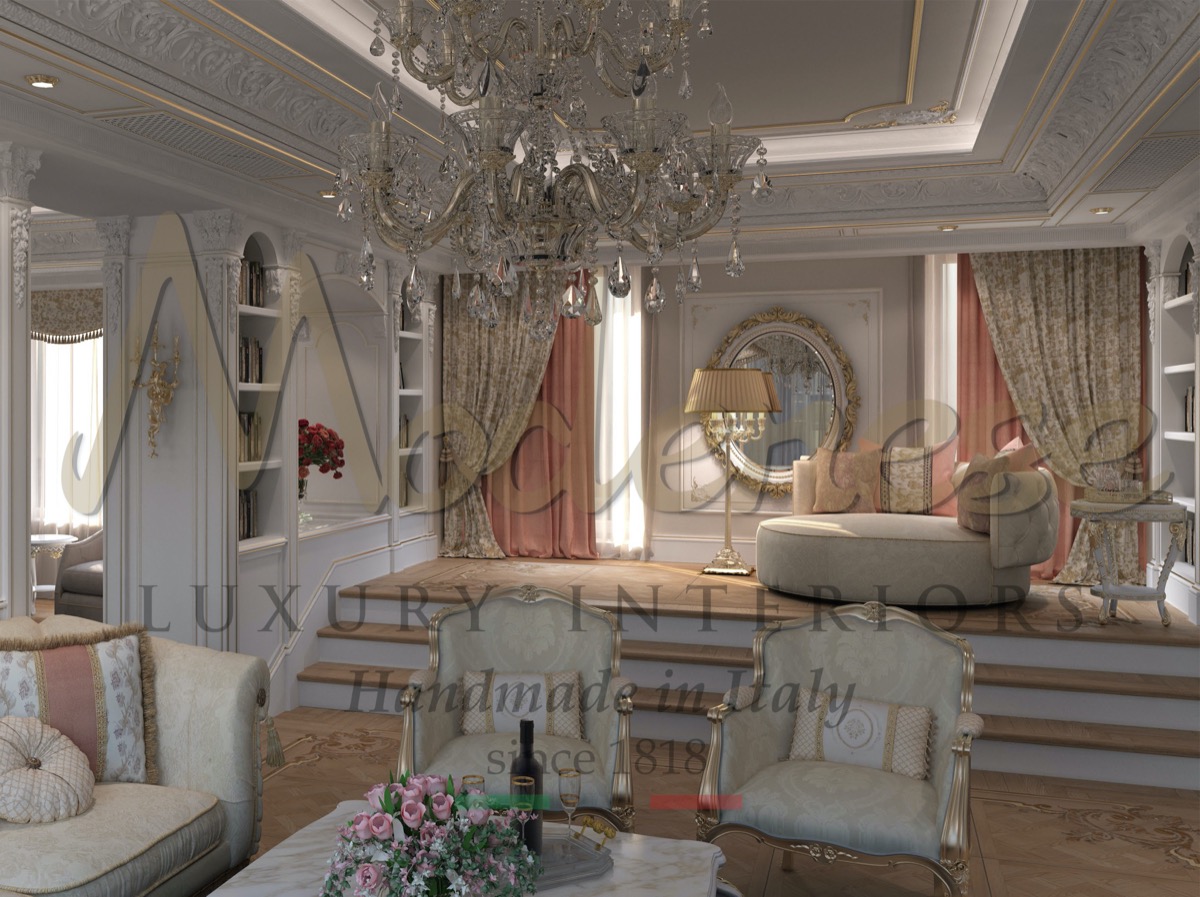 ELEGANT AND UNIQUE INTERIOR DESIGN PROJECT
The classic style loves free spaces. Nevertheless, this style is available for small spaces. In this case, the main task of the designer will be to visually increase the area of the room through color design and mirrors.
In classic interior design, you rarely see overtly bright colors. This style is characterized by white and pastel colors, as well as light gray, beige and chocolate, golden and bronze shades.
We are ready to set up your ideal interior with the author's visualization of our specialists, a comfortable place for life.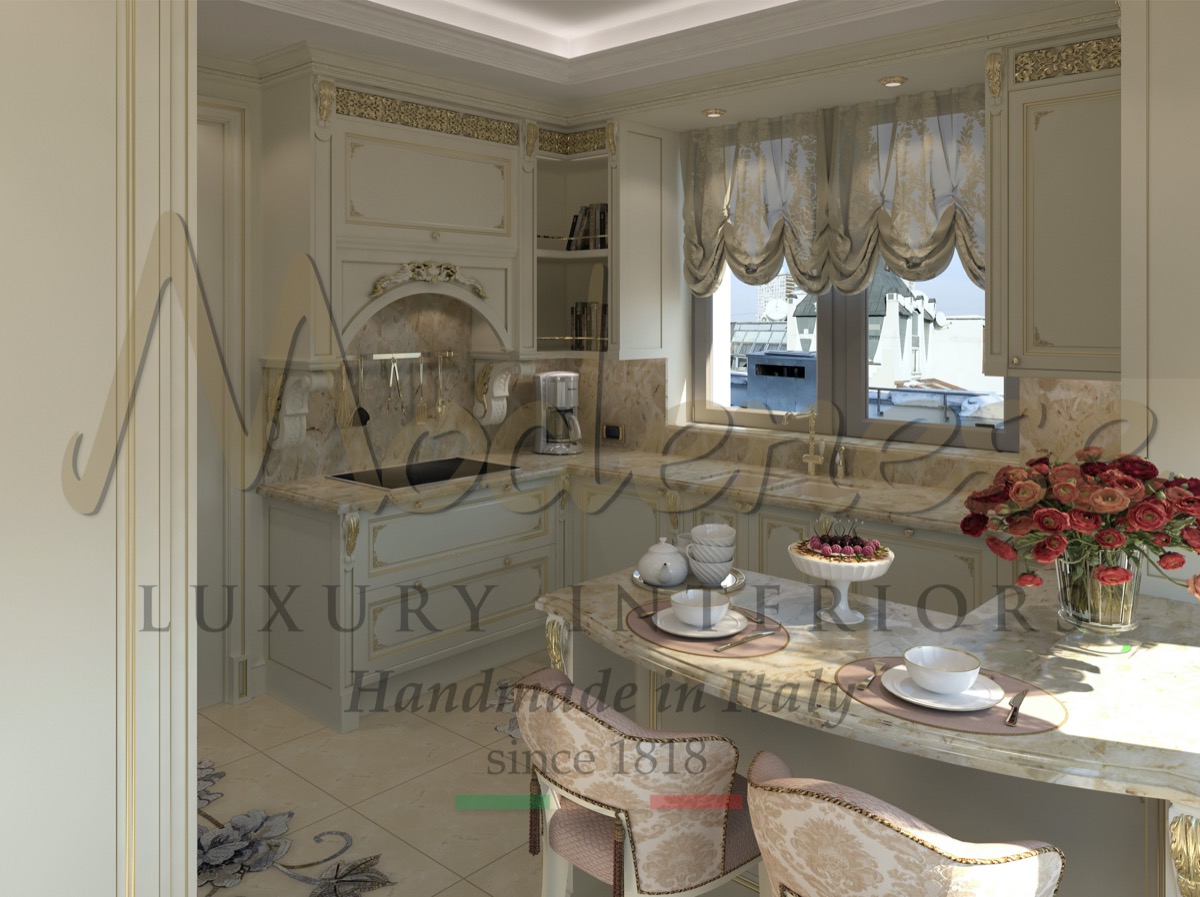 CLASSIC AND LUXURIOUS HIGH-END KITCHEN DESIGN
Classics never get old, do not lose their relevance and are always a sign of sophisticated taste. That is why a classic-style kitchen is a simple, but at the same time, a smart solution that allows you to combine such important properties of this room as practicality, style and comfort.
Most of all, this style is suitable for spacious kitchens – in it you can reveal all the richness and luxury of details.
The combination of beige and brown has always been the most successful option for decorating a kitchen. Due to the fact that these colors have a large number of shades that are successfully combined with each other, an endless scope for imagination is open before designers.
Visit our online showroom

[wps_collections link_to="shopify" limit="15" pagination="false"]