Nádherná klasická ložnice pro sídlo v Keni
Každá místnost v domě má svůj příběh a barva prostoru může pomoci tento příběh oživit. To je obzvláště důležité v ložnici, protože správný odstín barvy může vytvořit vlídnou a uklidňující atmosféru. Bílé stěny otevírají prostor a působí větší, než ve skutečnosti jsou. Vytváří také úžasné pozadí pro barevné akcenty v dekoru. Krémové barvy vypadají skvěle s nábytkem a podlahou ze světlého dřeva, takže prostor působí lehce a vzdušně.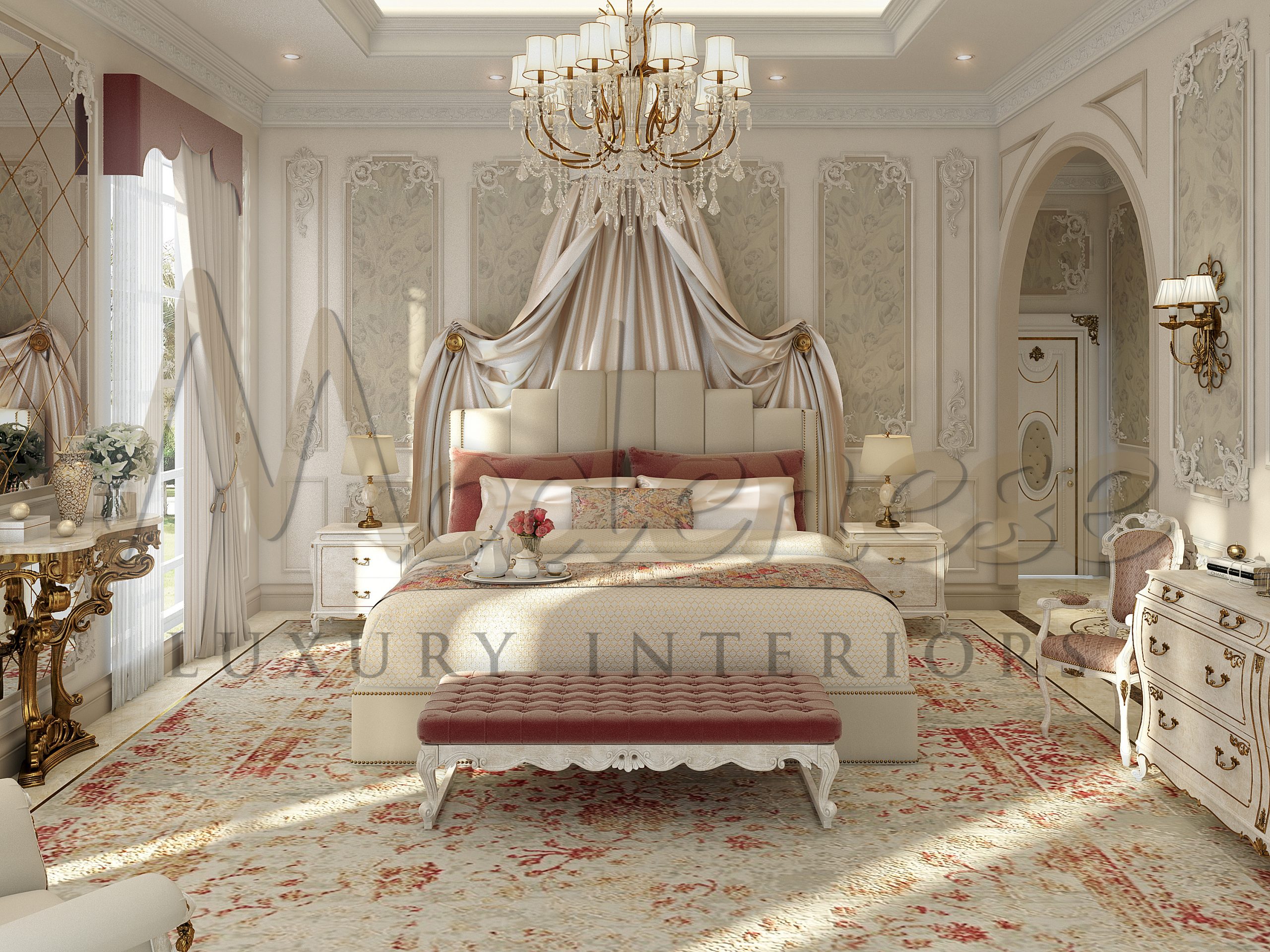 Klasický design ložnice pro dívku
Bílá je univerzální a praktický odstín, který lze použít v malé ložnici. Zabraňuje tomu, aby prostor působil přeplněně nebo stísněně. Pokud ložnici vymalujete bílou barvou, bude se zdát větší. Použití bílé nebo světlejších barev k oživení prostoru, kompenzuje nedostatek rozsáhlého prostoru na stěnách nebo oknech.
Máte obavy, že by bílá barva byla příliš strohá? Vrstvěte bílou barvu s kontrastními texturami a bílými vzory na bílé barvě, aby vaše malá ložnice nepůsobila chladně nebo bez individuality. Přidání vzorovaného přehozu a chromovaných nočních lampiček v ložnici v patře promění prostor z antiseptického na trendy.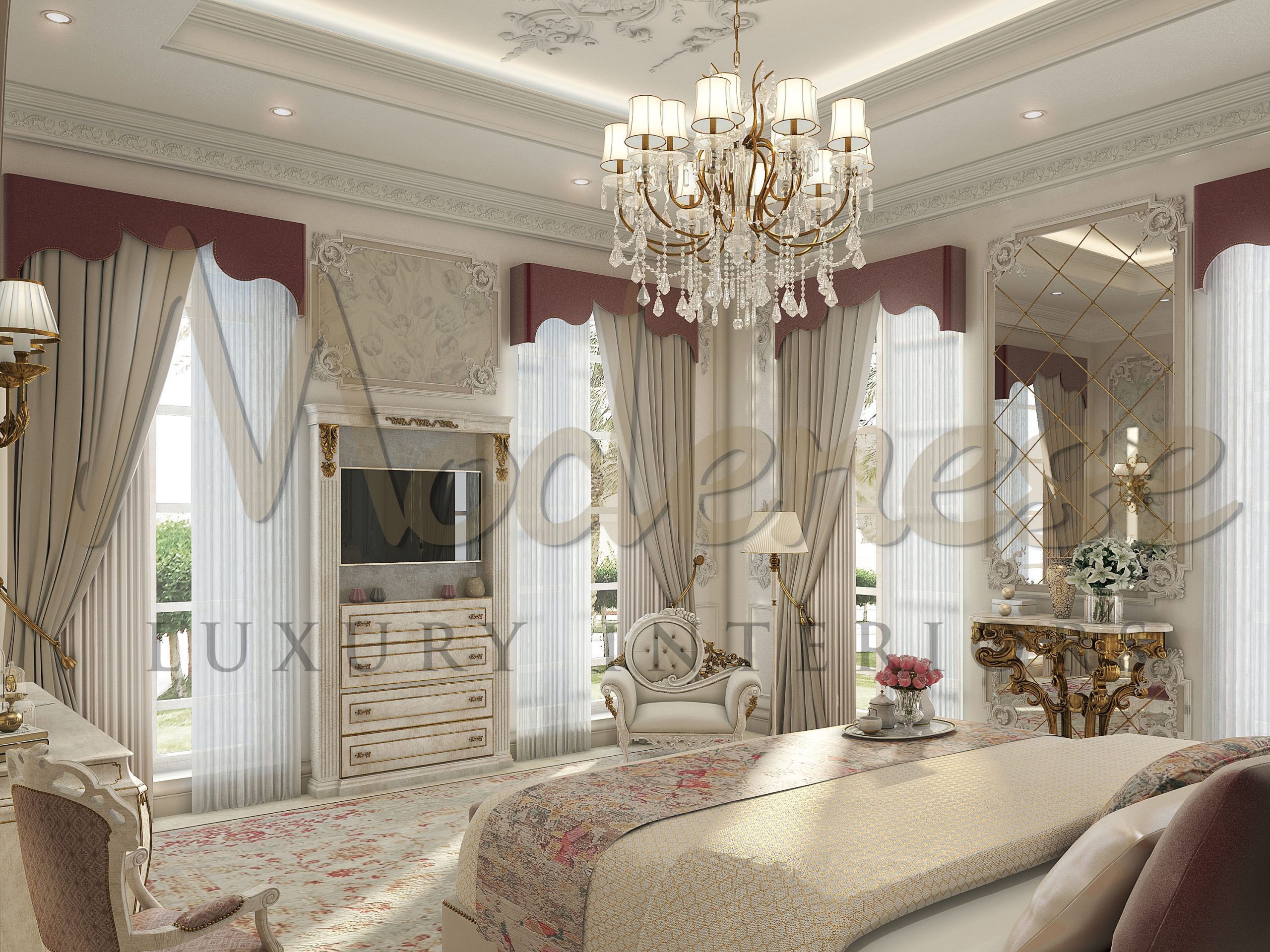 Nádherný design interiéru v klasickém stylu
Nábytek Modenese Luxury Interiors je obohacen o klasické styly, kterým neodolají ani klasické dekory ložnic, a také o jemné vzory z umění zcela přírodního rytí dřeva. Italské tradiční ložnice, které dodávají pokojům eleganci a nádheru, dodávají svým originálním designem prostoru jedinečný šmrnc. Na jednom místě si tak můžete užívat pohodlí i elegance. Klasické typy ložnic jsou vyráběny s nároky na trvanlivost, a to za použití robustních prvotřídních materiálů. Pokoje, které budete moci využívat po dlouhou dobu, přinášejí do vašeho života hodnotu. Pokoje jsou pečlivě navrženy tak, aby kromě poutavých dekorací splňovaly i potřeby daného prostoru.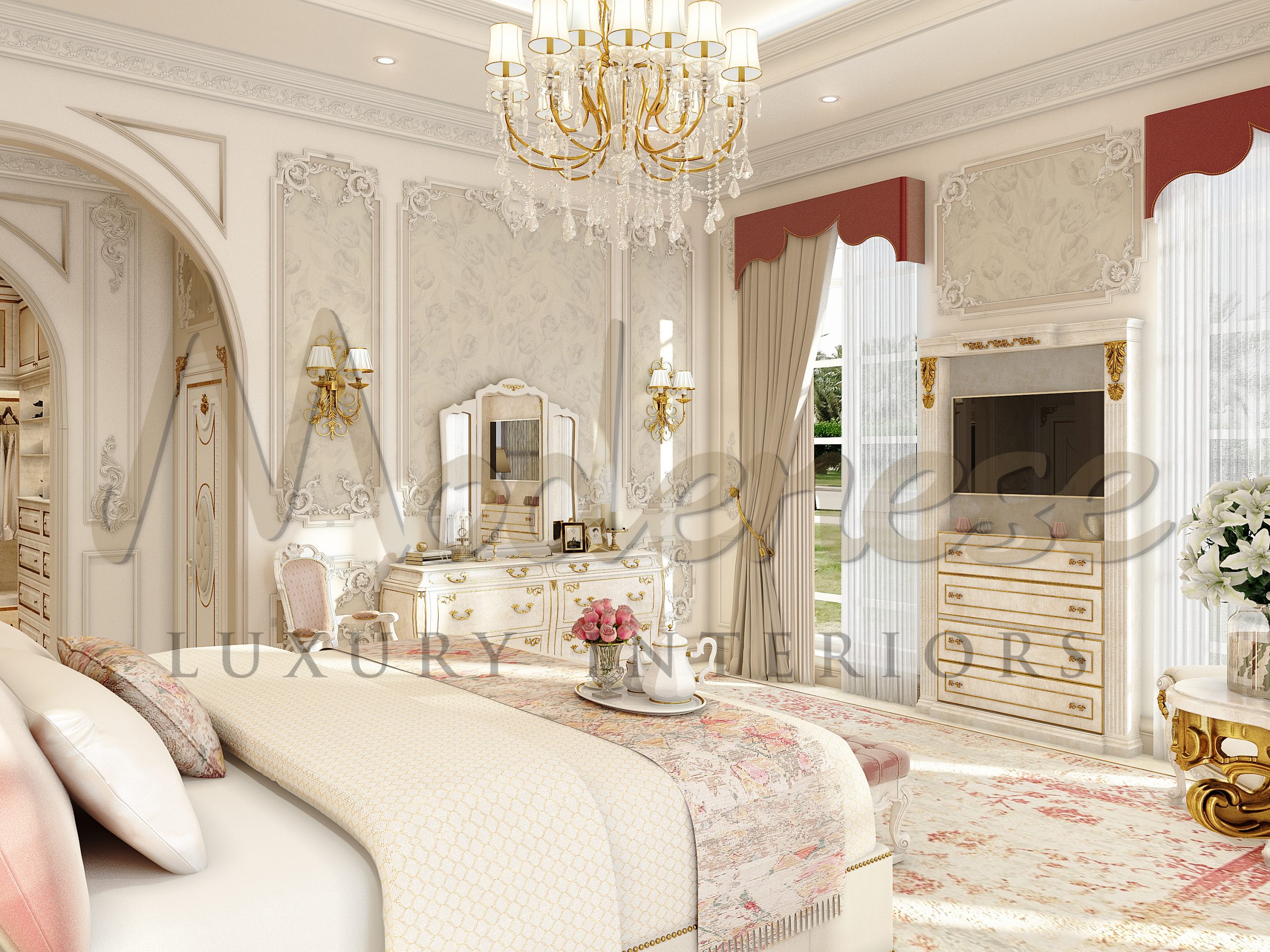 Elegantní klasická ložnice v béžové barevné paletě
Modenese Luxury Interiors představuje ložnicový set v klasickém béžovém provedení. Pokud jde o zařizování ložnice, vynechte konvenční styly a zvolte ložnicovou sestavu Classic od špičkových italských řemeslníků. Díky ztvárnění několika klasických vzorů vytváří velkolepá postel této soupravy eleganci minulého období. Vysoké čelo postele je opatřeno čalouněným panelem. Podobný design mají i komoda se zrcadlem a noční stolky, které jsou pro poutavý efekt vyvedeny ve zlaté barvě.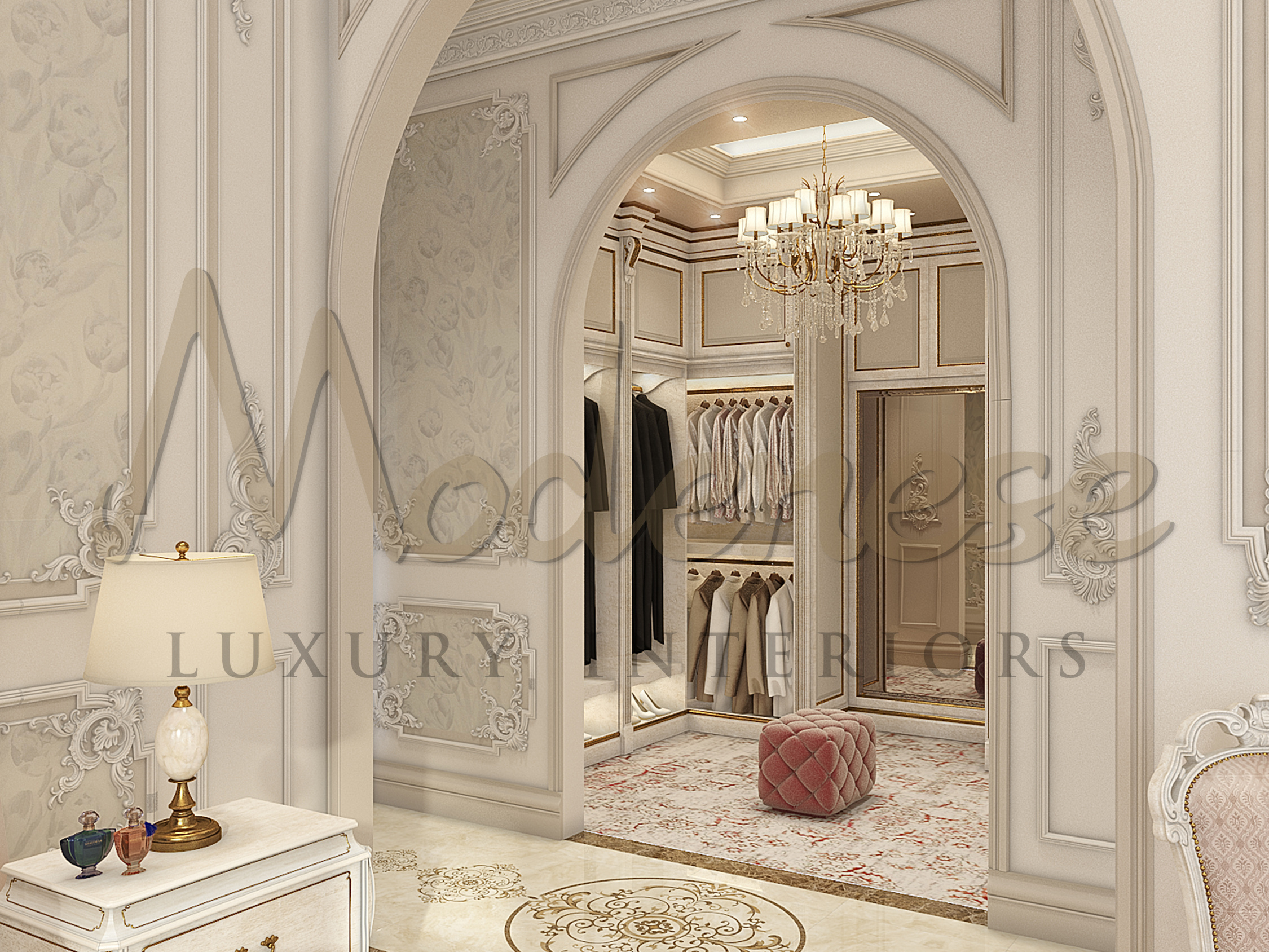 Útulná ložnice v pudrově béžových odstínech
Ačkoli domov je tam, kde je srdce, ložnice je místem, kde je duše. Ložnice je vaším klidným útočištěm, místem, kde si můžete odpočinout po dlouhém dni. Není divu, že rozhodováním o ideálním designu ložnice trávíme tolik času. Ve společnosti Modenese Luxury Interiors si můžete vybrat z mnoha možností designu ložnice. Každý člověk je jedinečný, stejně jako jeho požadavky na úložný prostor. Tento návrh ložnice obsahuje otevřené a uzavřené police ve skříních a úložné zásuvky. Můžete si v nich uložit nejen oblečení, ale také vystavit své suvenýry a sběratelské předměty.
Visit our online showroom

[wps_collections link_to="shopify" limit="15" pagination="false"]