Design luxusního domu v Bahrajnu
Mějte na paměti, že dům by měl být nejen atraktivní, ale také vyčnívat z davu. Móda je výraznější a individuálnější, než kdykoli předtím. Spolu s tím, že v současné době je v módě mnoho stylů a kombinací interiérů, se každý návrh domu od Elite Interior Design Studio Modenese Luxury Interiors stává živým vyjádřením současnosti a skutečnými uměleckými díly architektonického umění. V rámci dané architektonické představy jsme pro našeho zákazníka vytvořili jedinečný projekt novostavby. Návrh fasády a interiéru vily v Bahrajnu byl koncipován, vypracován a realizován interiérovou firmou Modenese Luxury Interiors. Tento konkrétní plán vily je jedinečným příkladem, vytvořeným speciálně pro budoucího majitele nemovitosti v Bahrajnu.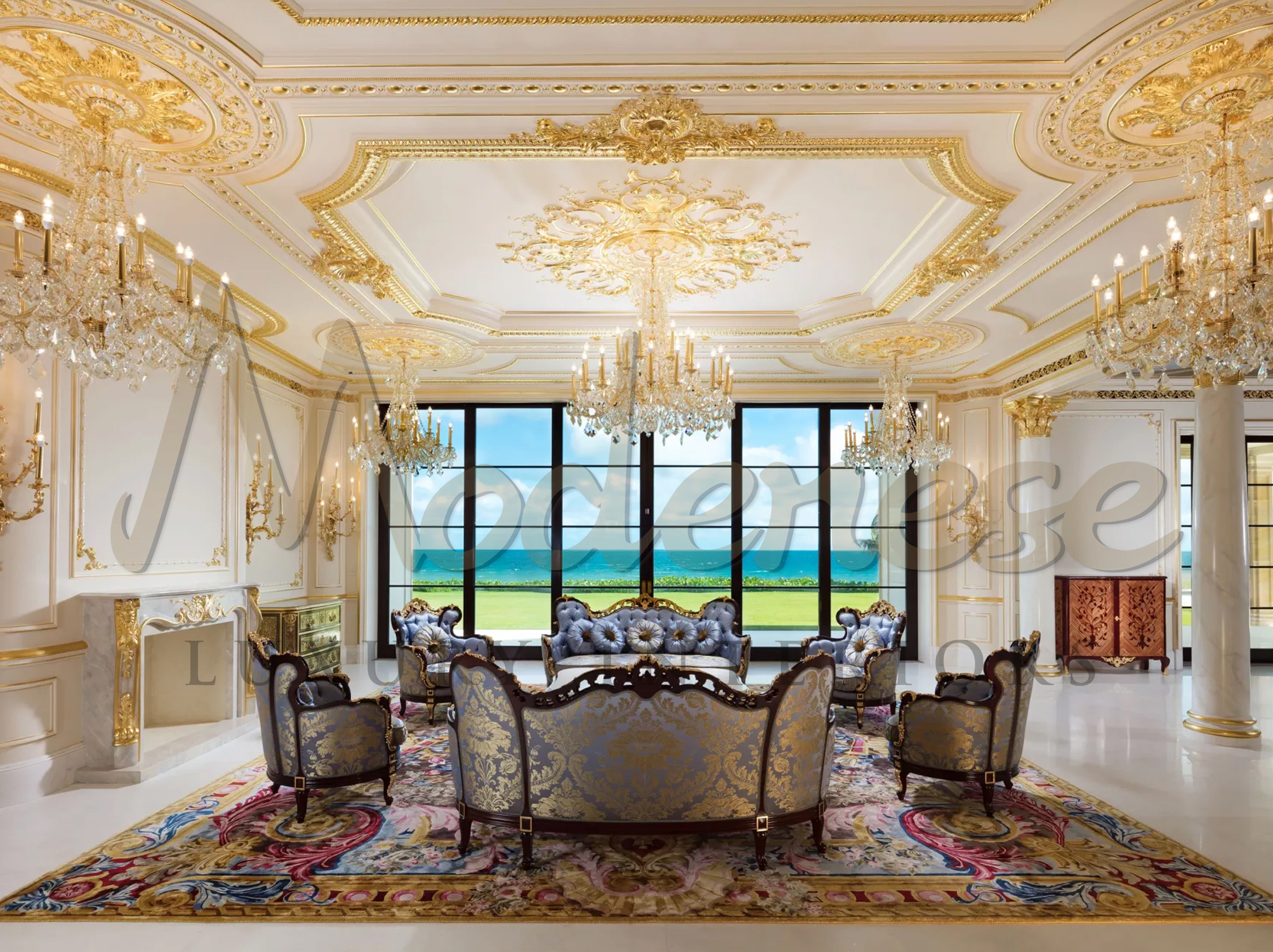 Klasický design interiéru vily v Bahrajnu
Interiér obývacího pokoje je zařízen v tradičním stylu s orientálními prvky. Je to obývací pokoj, kde se schází rodina. Pohovky jsou zahaleny do nejjemnějšího modrého a sametového hedvábí a jsou doplněny měkkými polštáři s modrými vložkami. Firmy zabývající se interiérovým designem v Bahrajnu se stále častěji obracejí k tradičním způsobům designu elitních interiérů. Stupňovitá nika na stropě opticky prodlužuje výšku obývacího pokoje. Designéři interiéru tuto iluzi umocnili osvětlením. Nádherné křišťálové lustry v klasickém stylu zvýrazňují celý strop.
Při navrhování ideálního interiéru využíváme tři hlavní myšlenky:
-Barvy, textury a materiály jsou příjemně kombinovány.
-Ideální rozvržení pro váš pokoj
-použití špičkových materiálů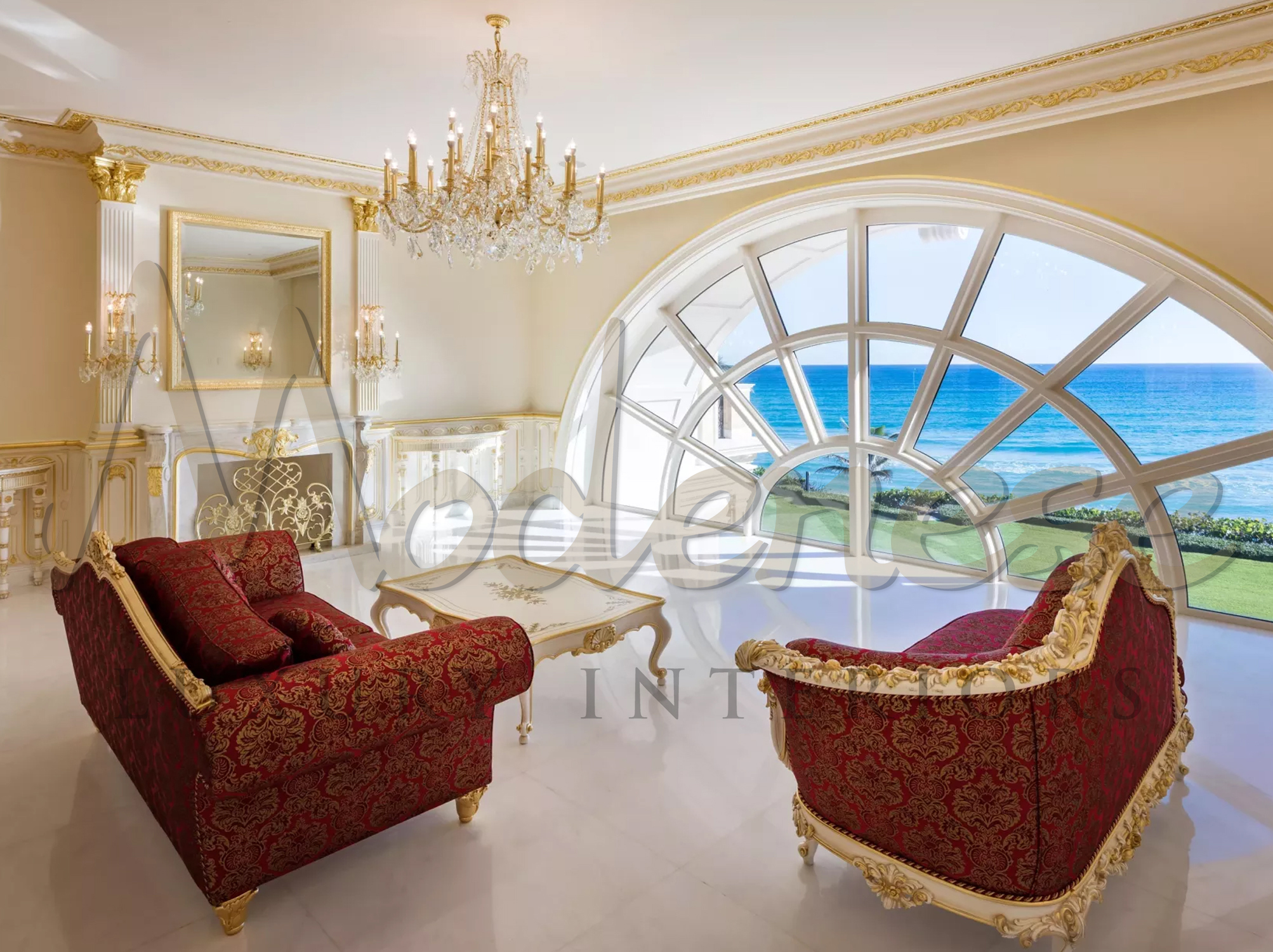 Klasický luxusní nábytek pro design domu v Bahrajnu
Základním kamenem fantastického vzhledu hlavní místnosti v domě je výzdoba obývacího pokoje. Při rozhodování o designu interiéru obývacího pokoje je třeba myslet na užitečnost moderních technologií a jejich harmonickou souhru v prostoru. Interiér obývacího pokoje je uspořádán kolem centrálního bodu. Harmonické zdobení čalouněného nábytku a oken od nejlepších interiérových designérů z Modenese Luxury Interiors. Hedvábné sametové pohovky a křesla v krásné červené barevné paletě. Barevné hedvábné polštáře krásně zdobí pohovky. Bílý mramor na podlaze dokonale kontrastuje s konferenčními stolky ze vzácných dřevin. Vyřezávaný dekor je na nich pozlacený a inkrustovaný. Vedle pohovek je pro větší pohodlí umístěn malý konferenční stolek s atraktivním bílým povrchem.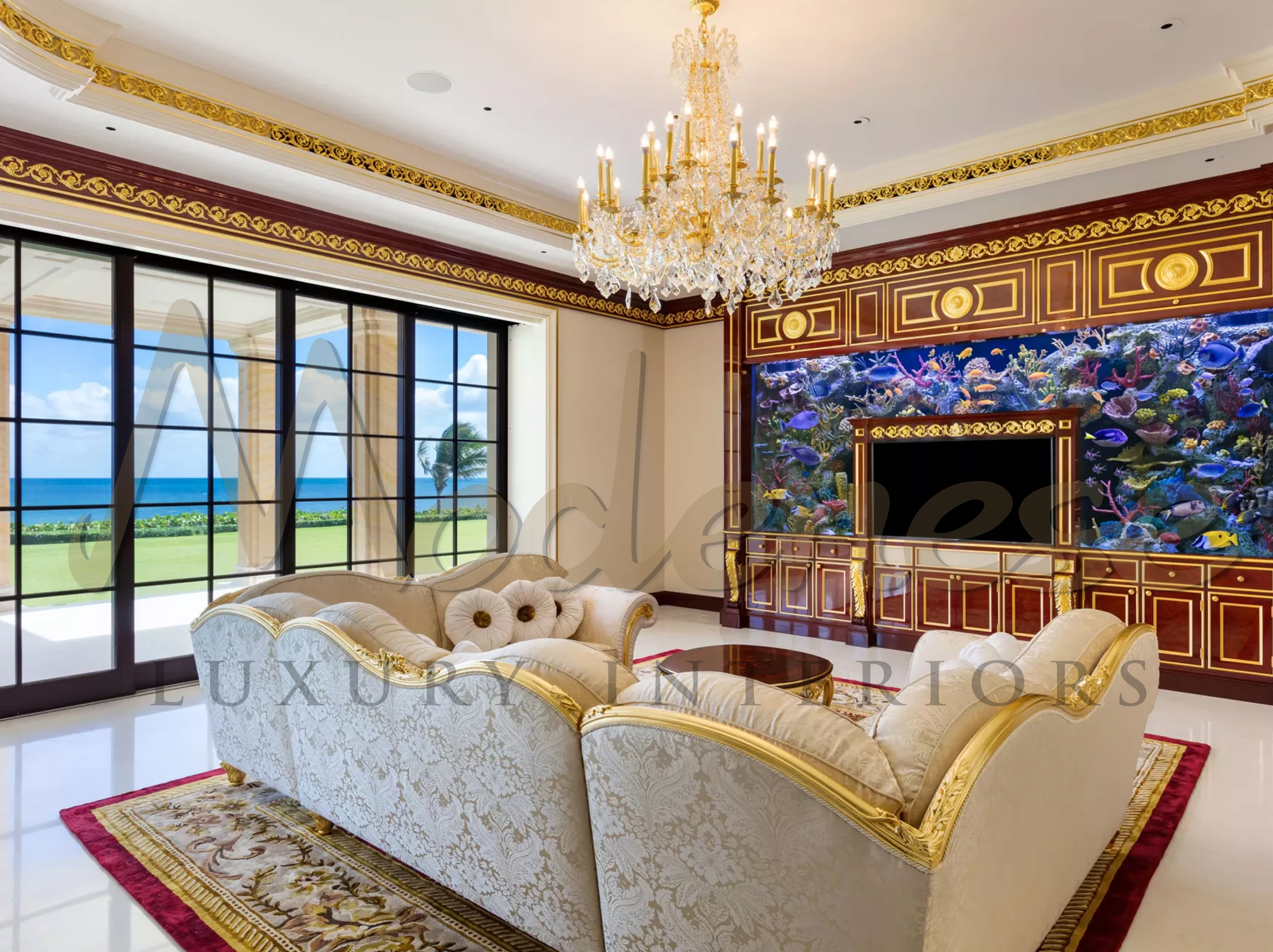 Brilantní nápad na obývací pokoj
Technika domu musí být dobře propojena s koncepcí a designem interiéru. Jinak se může stát, že domácí kino nebo stereo systém budou působit jako cizí komponenty mezi ostatními věcmi, které jsou jinak v souladu. Skryté umístění domovní techniky se používalo proto, aby se nenarušil styl národních, etnických nebo historických koncepcí obývacího pokoje. V tomto scénáři jsou zvukové komponenty umístěny v interiéru, ale vizuální komponenty, například obrazovka, jsou umístěny v uzavřené skříni. V případě potřeby se obrazovka odsune stranou nebo se otevřou dveře. Technické vybavení obývacího pokoje zahrnuje nejen komponenty určené k zábavě, ale také zařízení, jejichž primární funkcí je vytvářet příjemné vnitřní prostředí.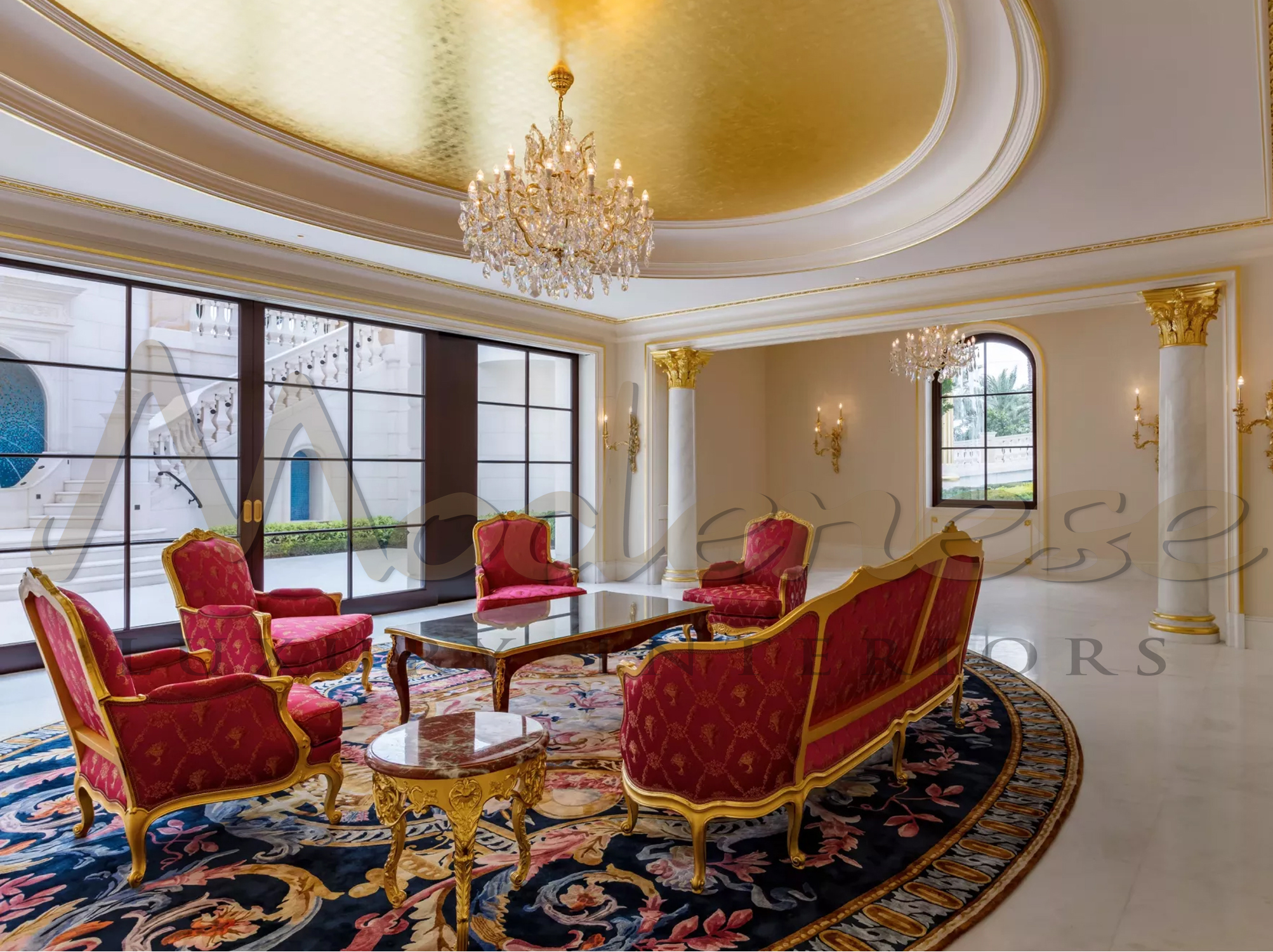 Klasická souprava nábytku do obývacího pokoje
Tradiční obývací pokoj má vždy odlišný vzhled, protože je navržen designérem, nikoli robotem. Barvení, lakování, řezbářské práce a potahování listovým zlatem nebo stříbrem se provádí ručně, nikoli na strojích, takže v tom může být rozdíl. V Itálii se to cení, protože zákazníci dostanou výrobek, který se liší od komerční výroby. Italský ručně vyráběný nábytek od Modenese Luxury Interiors zdobí ty nejluxusnější interiéry. Stane se rodinným dědictvím a potěší nejednu generaci rodiny. Přítomnost těchto klasických skvostných kusů nábytku je zdrojem hrdosti pro každou renomovanou domácnost.
Visit our online showroom

[wps_collections link_to="shopify" limit="15" pagination="false"]