Miami – USA
Vytvoření interiéru bytu nebo domu a efektivní investice do něj, vyžaduje pečlivou přípravu a plánování. Od správného výběru a šikovné kombinace stylu, luxusního nábytku, nádherného osvětlení, kvalitních materiálů a doplňků, které musí být zkombinovány v jednom interiéru. Nemluvě o technologických novinkách, architektonických proporcích, inženýrství, což není vždy snadný úkol ani pro profesionála. Rozhodování komplikuje obrovský výběr možností rozličného nábytku, prezentovaného na trhu. A často zabere hodně času zjistit, které materiály jsou pro vás ty pravé.
Designéři společnosti Modenese Luxury Interiors vám pomohou vytvořit interiér s odrazem vašeho pohledu na svět, vypracují podrobný návrh a úspěšně jej zrealizují, přičemž provedou i odborný autorský dozor.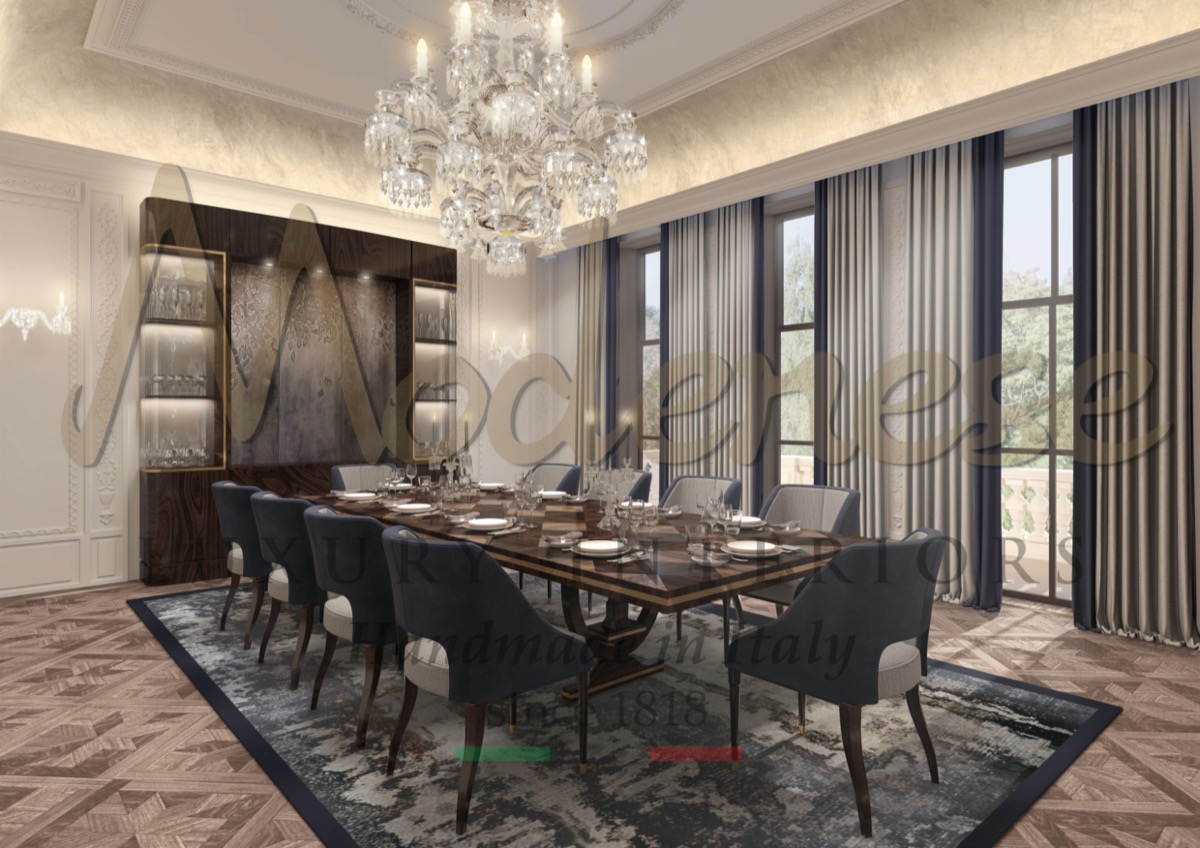 NÁPAD NA SOFISTIKOVANÝ DESIGN JÍDELNY
Jídelna je nádherným místem, kde se po pracovním dni scházejí všichni členové rodiny k večeři. Proto by její interiér měl být pohodlný, útulný a atraktivní. Víme, jak vytvořit dokonalý design jídelny, a jsme připraveni podělit se o naše nápady!
Pracujeme v různých stylech a vždy se snažíme vytvořit něco nového. Nezastavíme se, dokud nenajdeme to nejlepší prostorové řešení.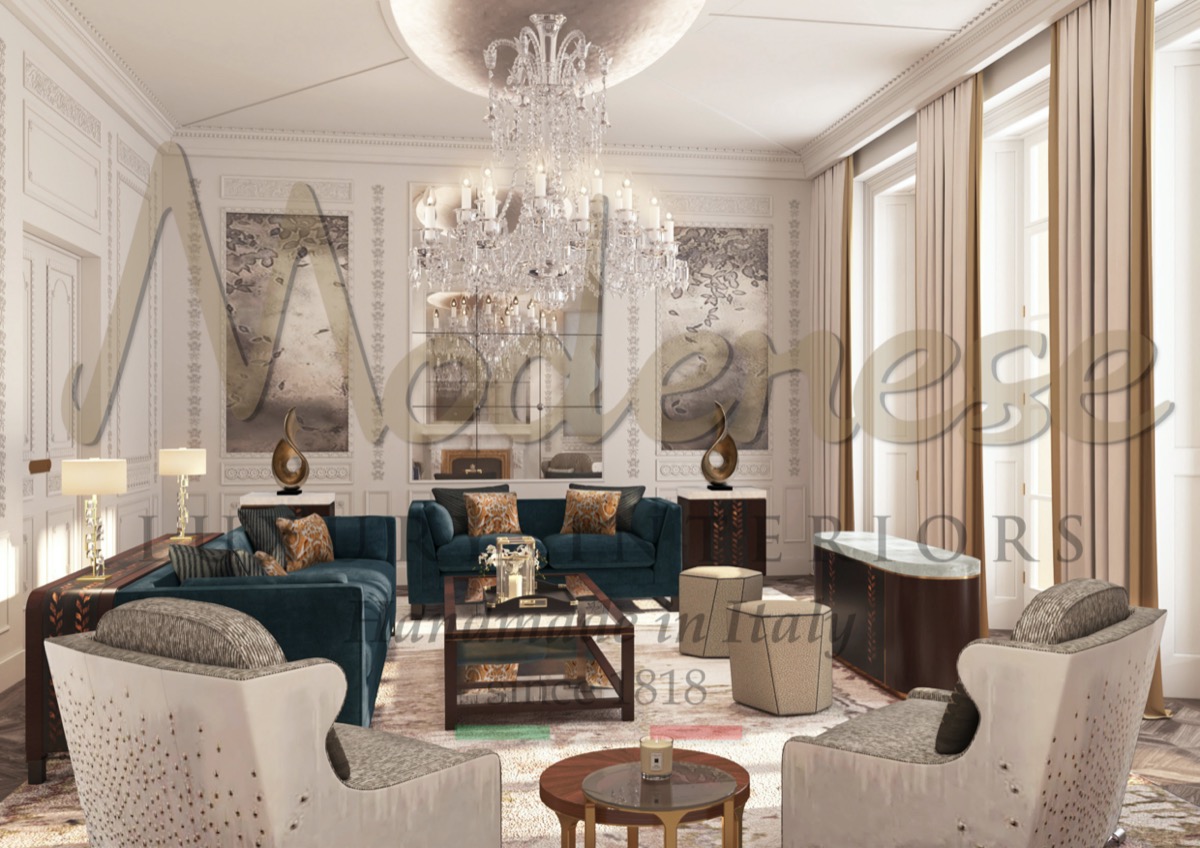 NÁVRH OBÝVACÍHO POKOJE NA MÍRU OD MODENESE LUXURY INTERIORS
Dnešní moderní obývací pokoj je místnost, do které dopadá hodně přirozeného světla. K tomuto účelu se často instalují velká nebo dokonce panoramatická okna. Taková místnost působí velice prostorně.
Velmi potřebný a užitečný trend, který říká, že všechny předměty umístěné v místnosti by měly být vyrobeny z přírodních materiálů. K tomu poslouží mnoho prvků z přírodního dřeva a textilií.
Při výběru nábytku pro obývací pokoj stojí za to vzít v úvahu výhody použití modulárního nábytku, který vám umožní rozšířit funkčnost interiéru a rychle změnit oblast v závislosti na situaci.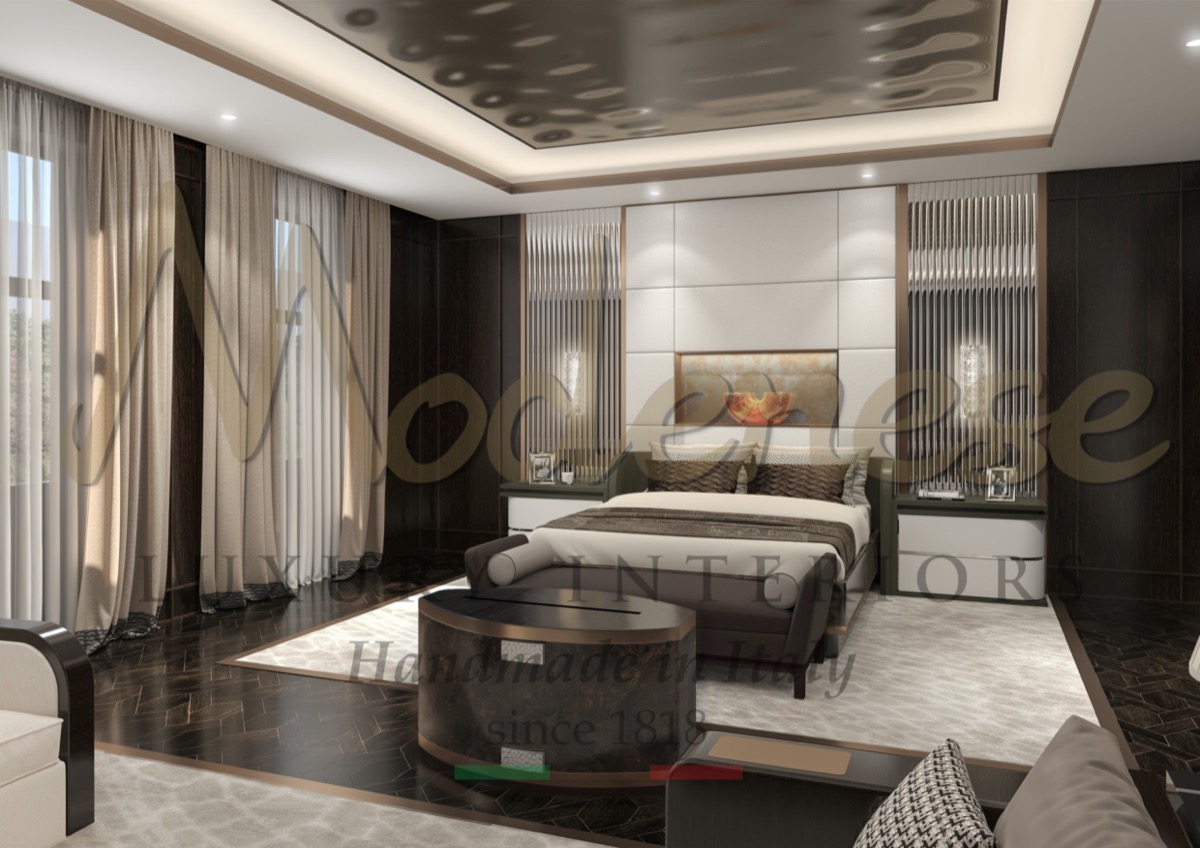 STYLOVÝ MODERNÍ DESIGN LOŽNICE PRO LUXUSNÍ SÍDLO
Ložnice je speciálním místem v domě, kde by měl panovat klid, pohoda a láska.
Proto je návrh ložnice jednou z nejdůležitějších věcí na cestě k vytvoření toho nejlepšího prostředí, ve kterém je příjemné relaxovat.
Nejlepším řešením pro ložnici jsou samozřejmě světlé barvy, ale k vytvoření zajímavých akcentů v interiéru lze použít i tmavé a kontrastní barvy.
Originálního designu ložnice dosáhnete, pokud na stěny použijete měkké čalounění. Design ložnice může být romantický, dynamický, lakonický, v závislosti na zvolených materiálech a prvcích interiéru.
MODERNÍ DESIGN LOŽNICE NEJLEPŠÍ NÁPADY
Krásná béžová ložnice připraví majitelům domu skutečně kvalitní a plnohodnotný odpočinek. Je třeba poznamenat, že béžová je neutrální barva. Kombinuje teplé tóny hnědé a mírně studené bílé. Mnoho lidí považuje tuto barvu za nudnou, ale pokud správně sestavíte interiér místnosti, pak získáte velmi stylový a harmonický prostor.
Béžová barva vám umožní popustit uzdu fantazii a experimentovat s místností. Můžete se například obrátit jak na velmi světlé, tak na neutrálnější kusy nábytku.
Pokoje v béžovo-hnědých a čokoládových barvách působí útulně a hřejivě. Hnědá může být buď tmavší, nebo naopak jemnější.
Visit our online showroom

[wps_collections link_to="shopify" limit="15" pagination="false"]