LUXURY DESIGN & CLASSIC ITALIAN FURNITURE
Modenese Luxury Interiors představuje nejkvalitnější nábytek a dekorace ideální pro váš projekt královské vily. Dvě století historie a tradice výroby klasického nábytku a realizace projektů luxusních interiérů. Jsme vysoce specializovaní na 100% výrobu klasického nábytku v Itálii a na poskytování služeb luxusního interiérového designu pro vaše ideální prostředí.
LUXURY FURNITURE FROM ITALY
Modenese Luxury Interiors již od roku 1818 navrhuje a vyrábí vzácný klasický nábytek vyrobený v Itálii, který se vyznačuje dokonalým řemeslným zpracováním, funkčností a technickým vybavením. Interiéry v barokním stylu z masivního dřeva, precizně ručně vyráběné, představují jedinečnou eleganci a exkluzivní smysl pro šarm, jimiž se vyznačuje výroba nábytku Modenese Luxury Interiors. Každý kus nábytku je detailně prozkoumán od návrhu až po jeho vytvoření. Snažíme se nabízet to nejlepší v oblasti designu i výroby, abychom byli schopni splnit a překonat očekávání našich zákazníků u nejluxusnějších projektů výzdoby královských paláců a vil.
WATCH OUR SHOWROOM VIDEO
Podívejte se nyní na video ze showroomu Modenese Luxury Interiors! To by byl dokonalý způsob, jak ocenit naši řemeslnou ruční výrobu nábytku, vynikající detaily, autentický italský design a řemeslné zpracování, tradiční barokní styl, prvotřídní kvalitu, špičkové standardy made in Italy, to vše dokonale propojené pro nejskvělejší zážitek z luxusního bydlení. Nečekejte dále a spolehněte se na nás při realizaci vašeho exkluzivního projektu klasického bytového vybavení a interiérového designu.
MODENESE LUXURY INTERIORS DESIGN STUDIO - INTERIOR DESIGN PROJECT
Elegantní interiérový design pro nejnáročnější zákazníky! Modenese Luxury Interiors je hrdá na to, že vám může představit nejexkluzivnější nápady, tipy, schémata, rozvržení, ručně vyrobené náčrty pro dokončení vašeho elegantního domu snů. Náš odborný tým interiérových designérů vás pečlivě provede celým procesem od zaměření na místě a vypracování dispozice prostoru až po výběr podlah, dveří z masivu, oken, stěn, dekorací stropů, včetně všech ozdobných detailů na míru a vašeho oblíbeného nábytku. Vše přesně sladíme s nabídkou možností designu nábytku, látek, osvětlení a doplňků. Dokonalý projekt interiérového designu se skládá ze 3 základních fází, které jsou dobře definovány prostřednictvím následujících stručných tipů. Vyzkoušejte nás: vyzkoušejte právě teď autentický klasický styl made in italy.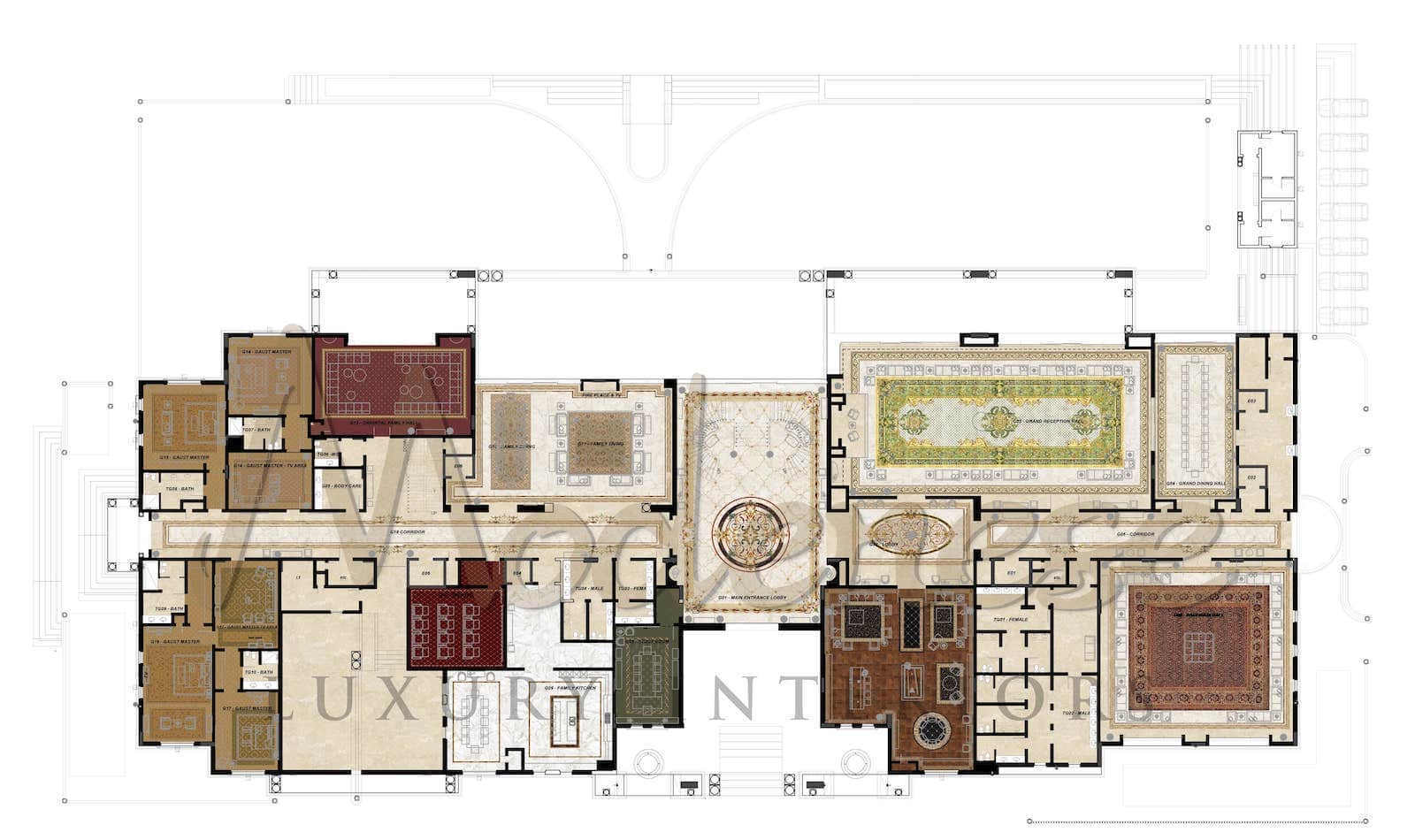 FIRST STEP: MEETING & BRAINSTORMING WITH THE CLIENT
01
Prvním krokem je úvodní schůzka mezi naším týmem designérů a zákazníkem s návštěvou přímo na místě, kde se zhodnotí stylové reference, preference klienta a vnímání samotného projektu. Tento první krok procesu navrhování je pouze průzkumnou fází, která prochází různými inspiracemi, vkusem, originálními a na míru připravenými nápady, objevováním a plánováním. To je naprosto zásadní pro plné pochopení požadavků klienta a dosažení vývoje projektu s cílem vytvořit ideální uspořádání pro nejrafinovanější projekty luxusního klasického interiéru, elegantně podpořené prvotřídním nádechem italského designu.
SECOND STEP: DESIGN CONCEPT & MOODBOARD CREATION
02
Druhý krok představuje tvůrčí fázi, ve které se snažíme vyhovět specifickým požadavkům klienta. Zásadní je zohlednit všechny architektonické prvky, kulturní otázky, lokalitu, plánování prostor, dispoziční řešení a všechny potřebné prvky, abychom dosáhli ideálního konceptu návrhu, který bude odrážet váš individuální způsob bydlení. Na této cestě je autentický italský design klíčem k úspěchu pro dokonalý a velkolepý projekt luxusního interiéru. Návrhářský tým Modenese vám s hrdostí poskytne tu nejlepší podporu, vytvoří vhodné moodboardy, skici a návrhy interiérů, abyste dosáhli posledního kroku tohoto inspirativního průvodce.
THIRD STEP: FINAL DESIGN PROJECT & ITS REALIZATION
03
Třetím krokem této umělecké cesty a exkluzivního poslání je dosažení nejluxusnějších výsledků klasického interiérového designu pro rafinovanou realizaci projektu made in Italy. Tato fáze se skládá z exkluzivní realizace projektu s různými rozpočtovými možnostmi, aby se vyhovělo různým potřebám klientů, a zahrnuje předložení 3D renderů, skic a technických výkresů pro vynikající realizaci práce. Naše služby v oblasti interiérového designu jsou zcela šité na míru, což dokonale vyhovuje vaší osobnosti a oblíbeným představám. Návrháři a architekti Modenese Luxury Interiors budou vaším ideálním partnerem a průvodcem při realizaci projektu interiéru v dokonalém italském stylu.