Stylish Bathroom Design Idea
There are various trends in luxury bathroom design
These sections are closely connected to the function of each room. Design the living room, the bathroom, the kitchen, the children's room, and the primary office. Each direction necessitates a distinct strategy. The interior design of an apartment or house is unimaginable without a bathroom and toilet. Today, similar premises are frequently seen in luxury homes and flats. The interior of a bathroom near the master bedroom may be significantly different from the interior of a bathroom near the children's room. All of these details are crucial in creating an appropriate level of comfort for each family member.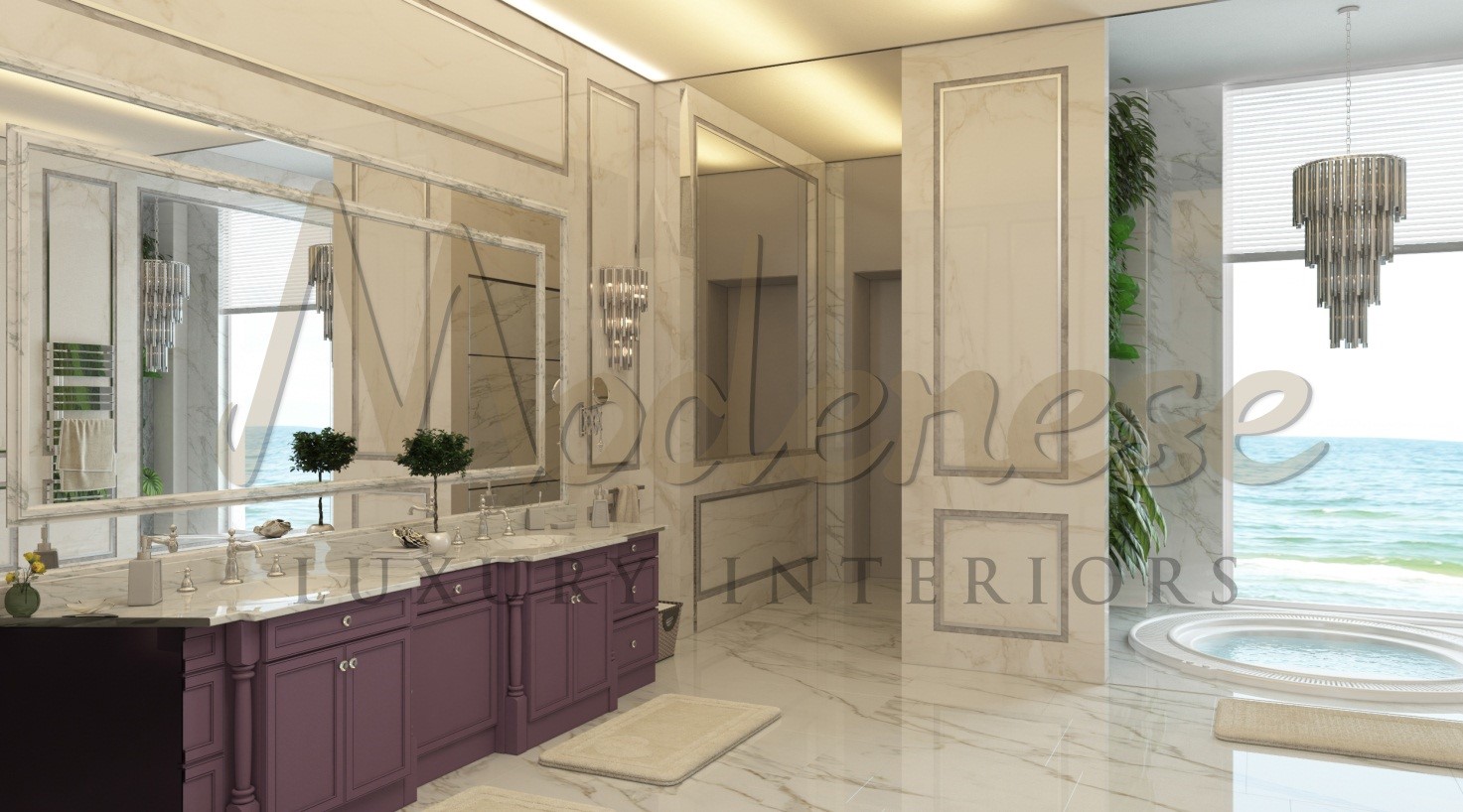 To preserve stylistic direction and accentuate the interior status, bathroom designs Dubai should be in harmony with the entire interior design idea. Exactly same strategy is used in the job of designing premium class interiors. Simple bathroom designs with all of the chances that we are offered with the newest technology are included in the design of luxury houses and flats. Each square meter of luxury provides comfort and aesthetic enjoyment. Bathroom design in the traditional style may be as lavish and luxuriant as the rest of the house. Even a little bathroom space may be designed so that the decor is tailored to the sombre mood and provides extremely pleasant sensations at any time of day.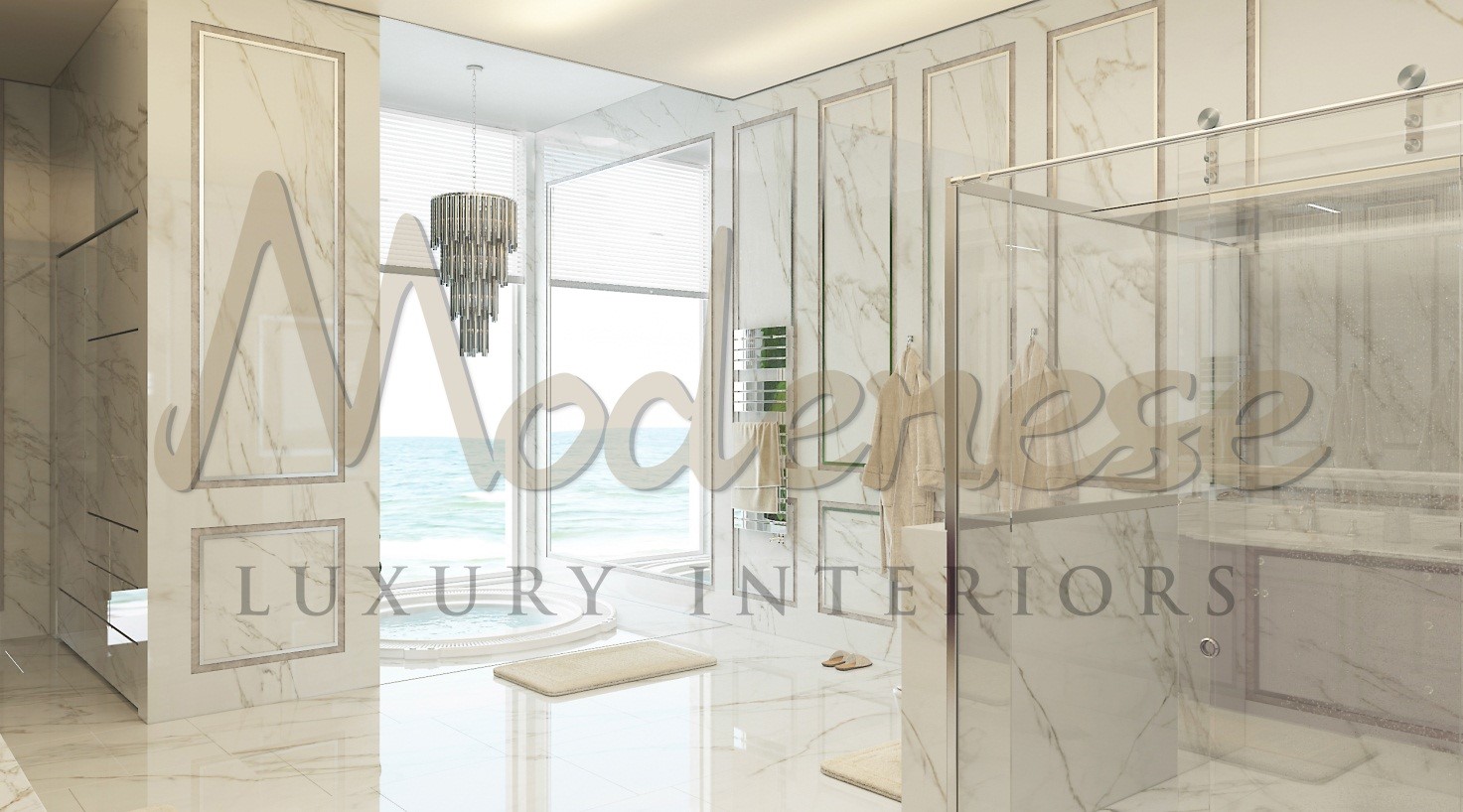 In this post, we will show you a restored bathroom in a traditional design with gorgeous art deco details. The sumptuous beauty that prevails in the living room and bedroom has been mirrored by interior designers. The toilet ceiling design incorporates classic elements such as plaster and an attractive chandelier. Designers utilize light elements to create a bright and joyous atmosphere. A line of LED backlighting outlines the circumference of the ceiling. Soft blue lighting enhances the expressiveness of the furnishings in the bathroom interior. The beautiful baroque mirror with carved frame with gilded completes the bathroom style. The walls are adorned with brightly colored natural marble tiles. The main door, which is studded with carved handwork design, provides a beautiful indication of internal decorum. The exquisite décor accents are very nicely incorporated into the modern bathroom design.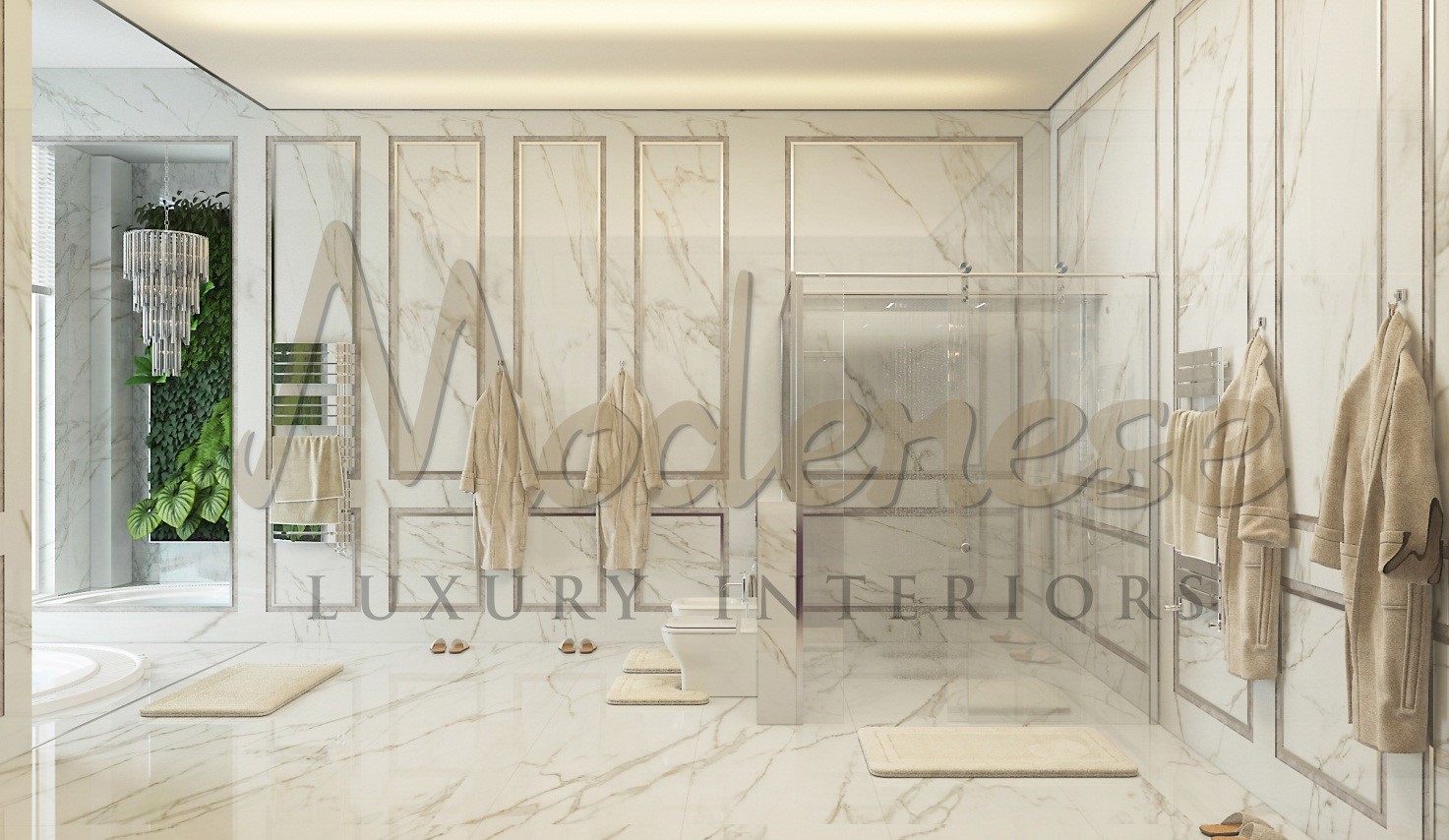 Every component of the bathroom design is flawless
Modern shower booth surrounded by a clear glass system that surrounds the carefully carved frame. You may change the illumination in the inside with additional ceiling lamps. Interior design for a luxury bathroom that is matched by exquisite furniture. Elegant objects such as a fashionable bra near the mirror and ornamental components in the décor of walls and floors have been applied laconically by interior designers. In today's world, bathroom interior design is an art that needs a good awareness of fashion trends as well as technological skills. Beautiful bathrooms are an art form that provide both sensual and aesthetic pleasure.
Visit our online showroom