Exquisite Villa Interior design Project in Doha, Qatar
Style is essential for making the components of your living environment function together. To make your house seem completely constructed with great aesthetic design, you must consult an industry specialist for everything from furniture choosing to wall painting. We're here to make your lodging a comfortable haven for you and your loved ones. To maintain the beauty of the Modenese Luxury Interiors-designed décor, our trained crew employed milk and creamy. It's a warm and safe color that perfectly represents our desire to be surrounded by necessities.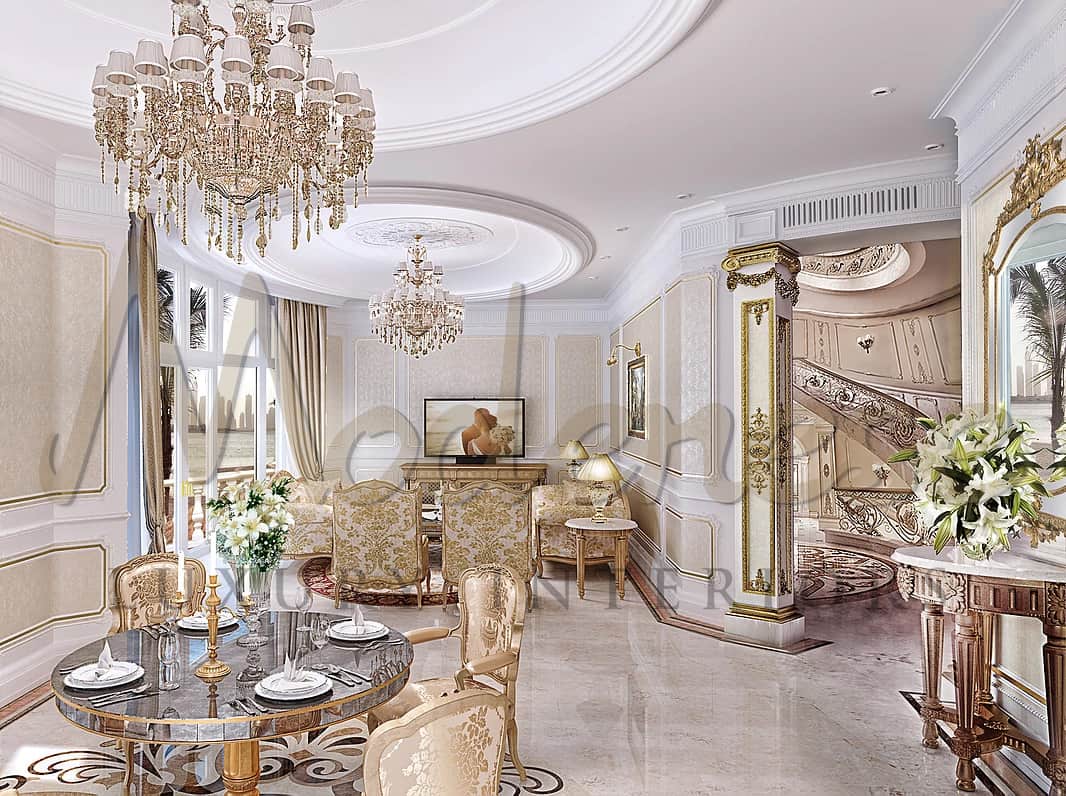 Interior Idea For Luxury Living Room
The organization of the space so that everything in it contributes to maximum relaxation is the distinctive characteristic of the interior created by Modenese Luxury Interiors in the lounge style. Every interior detail has been carefully considered and contributes to the relaxing atmosphere. The major purposes of the lounge are rest and entertaining activities. Giving someone a good night's sleep may appear to be an easy task, but it is actually rather difficult. As a result, while producing interior designs, Modenese Luxury Interiors exclusively works with experienced and competent designers, architects, and even engineers. They respond to complex questions on the best color, lighting, furniture kinds, and space design for relaxation.
Best Interior Design Solutions in Doha
The living room is one of the most commonly utilized sections of the home nowadays. Modenese Luxury Interiors can assist you in creating the right setting. A living room is well-known for its visually appealing arrangement. They have more room now. With the aid of this interior design, more people may be entertained. We double-checked to make sure there were enough comfortable chairs. We provide customized tables and chairs that are not only functional but also aesthetically pleasing. We make certain that it does not seem crowded or unorganized. Our objective is to improve the living space's balance and harmony. Every living room we design has comfy furnishings. The massive lights are excellent and offer opulent illumination to the room. When determining how many seats and tables to put up, keep your visitors in mind. This home design concept also included a couple stunning coffee tables.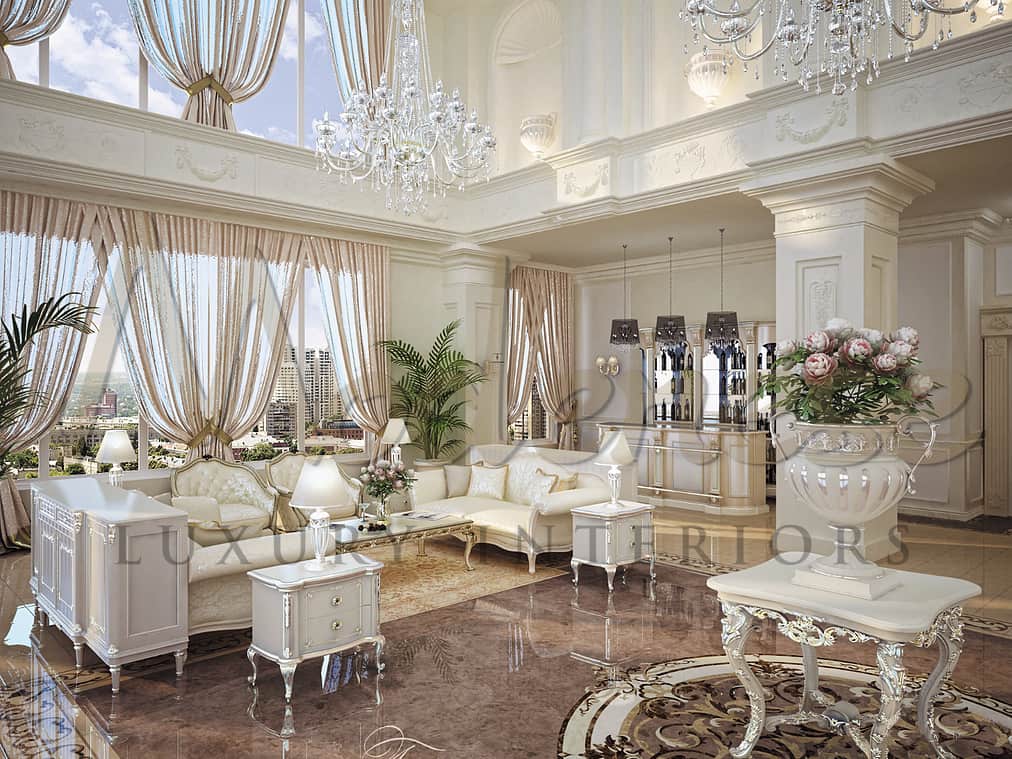 Noble Living Room Design
One component of this design is the gorgeous curves of the marble flooring and crystal chandeliers. It also has to do with the planters we choose to add a natural vibe to your area. The space is open, enabling your visitors to explore it. In the living room, everyone has a spot. From gorgeous lighting fixtures to one-of-a-kind furniture pieces, our staff makes everything seem perfect for your house. Each stage of the living room design is important to us. Before producing the design, we evaluate the size and shape of your living space. We are exploring the foundations of your location for the best interior execution, from accurate lighting design to building expertise. Please let us know what you think about our amazing villa projects. You may always contact us for a price on the ideal interior space you want.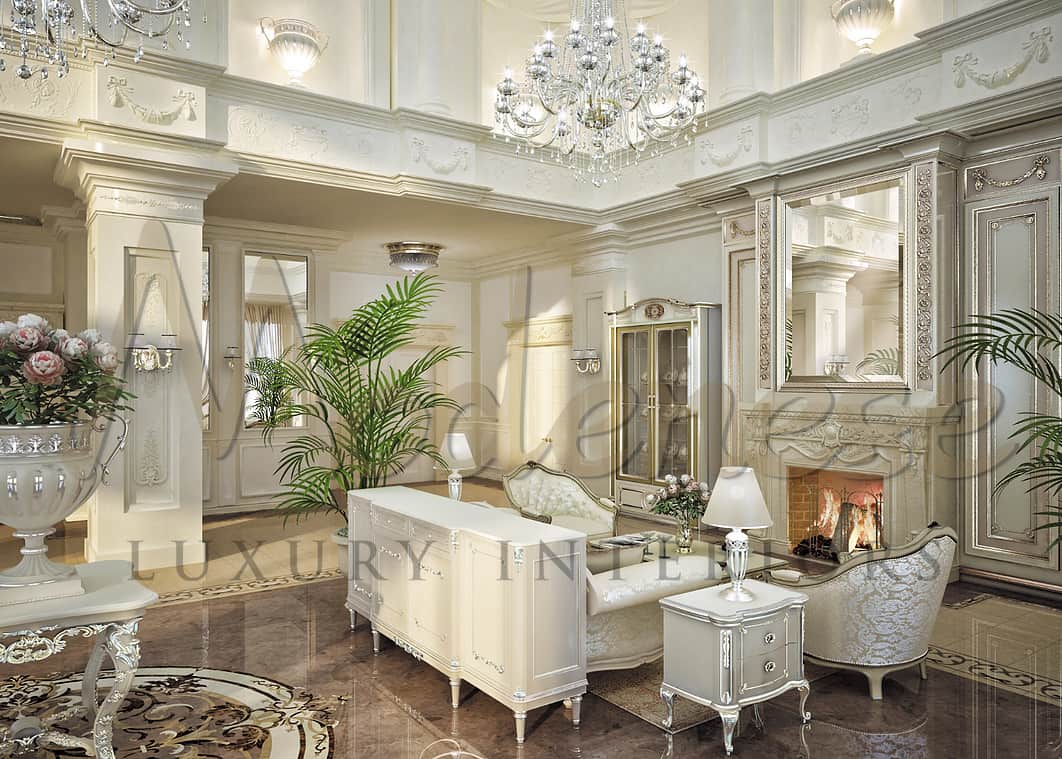 Gorgeous Girls Bedroom Closet Decoration
Most little girls adore pastel colors, and this soft pink bedroom for your heavenly princess is wonderful and dreamy. The luxury mirror compliments the child-sized wardrobe wonderfully. Take note of the pull-out drawer at the bottom of the closet, which may contain toys and is easily accessible even when the shutters are closed. The open pegs adjacent are ideal for displaying ruffled frocks.Children flourish in environments designed just for them, where they may play freely and work hard. If you need more ideas or want to customize your child's unique environment, our interior designers are here to assist!
Visit our online showroom