Luxury Furniture For Majlis, Dubai,UAE
When you go into a furniture store, the first thing you'll notice is the range of colors offered. Sofa design for majlis come in a variety of colors and sizes. But don't get too worked up over it. The first step is to select the model that most appeals to you, then explore the various colors while keeping in mind where it will be displayed in your Dubai house design. If you're still indecisive, stay with neutral colors. These may be used in nearly any design style and will not wear you out as quickly as more showy colors will. The next step is to sit or even lie down on the sofa sitting room design you have chosen to ensure that it is comfy! In this case, you must use prudence and, above all, remember your preferences.
Gorgeous Family Sitting Design
It is critical to select the couch or armchairs that will stay with you for the next eight years. And if you don't do your homework and think things through before coming to the store, you can be anxious when the salesman starts asking you questions in order to give you the best advice on your new purchase. While choosing a lovely fabric for your couch is vital, when decorating a sitting room, utility is as crucial. Cotton and linen are natural materials that are softer and work well for bespoke upholstery, although they fade and pill more easily. Acrylic and nylon are stain-resistant and long-lasting synthetic fibers. The arms and legs of a couch used to decorate a sitting space say a lot about its style. More structured arms and legs—perhaps wooden rather than upholstered—are more contemporary, whereas rounder arms and skirted legs are more casual. You can create a space around a new sofa sitting room design, but first you should price out the room basics. The backing is another factor that is influenced by style and application. Pillow backs are common on the most comfortable—and traditional—couches.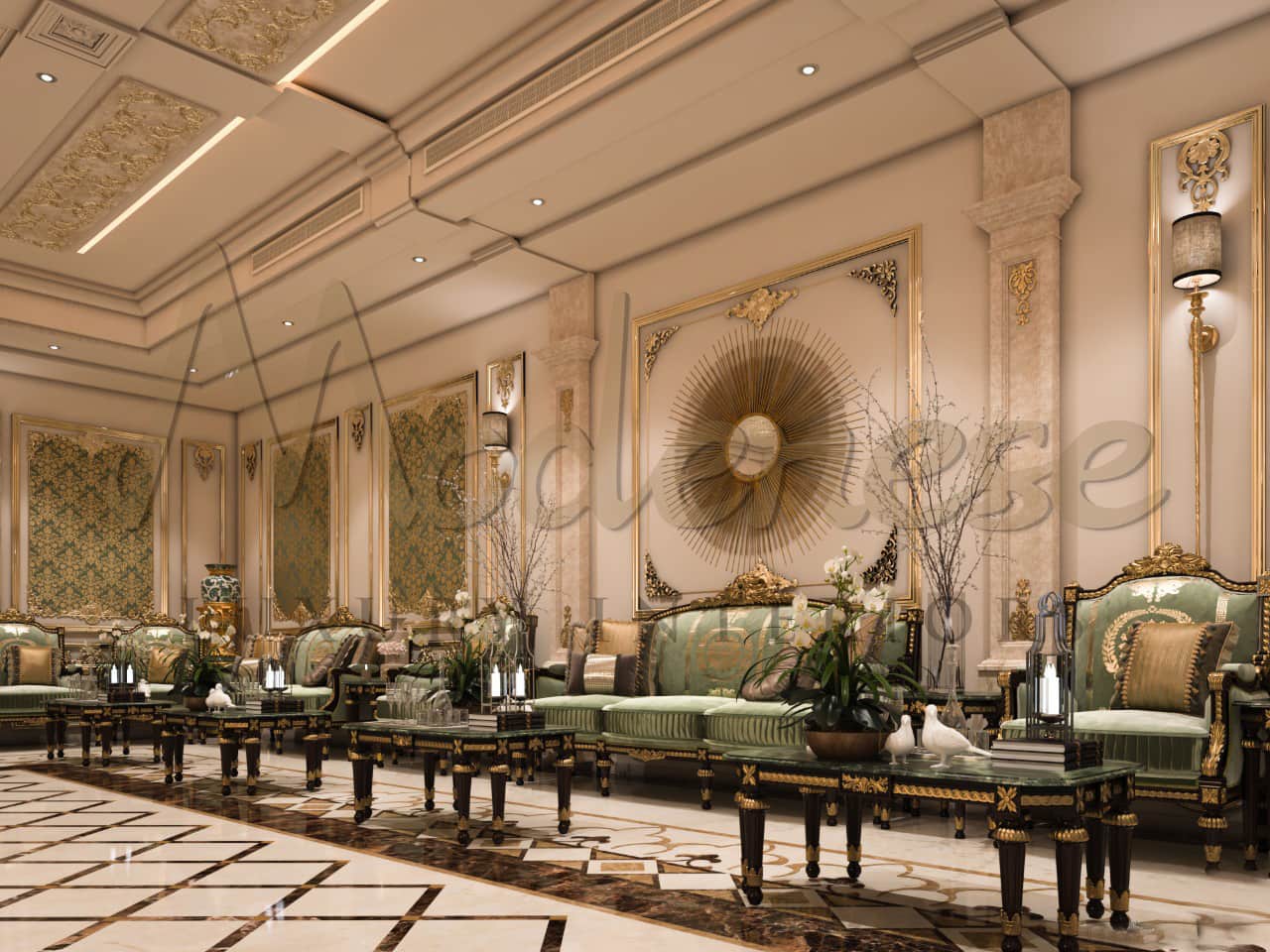 High-Quality Furniture Design From Italy
The filling of your couch or armchair is made from a variety of materials, so think about how you want to utilize it. Is it likely to be utilized frequently? Will it be used by youngsters or animals? Or are you and your partner the only ones? The more details you provide the salesman, the simpler it will be for him or her to close the purchase. Make sure you have properly measured the contemporary house interior design where your new couch or armchair/s will go before you go to the store. Measure the length and width of the sofa sitting room design as well, because your retail viewpoint may lead you to believe it is smaller than it is. This is because most merchants have huge showrooms, which causes us to feel that the sofa sitting room design would be appropriate.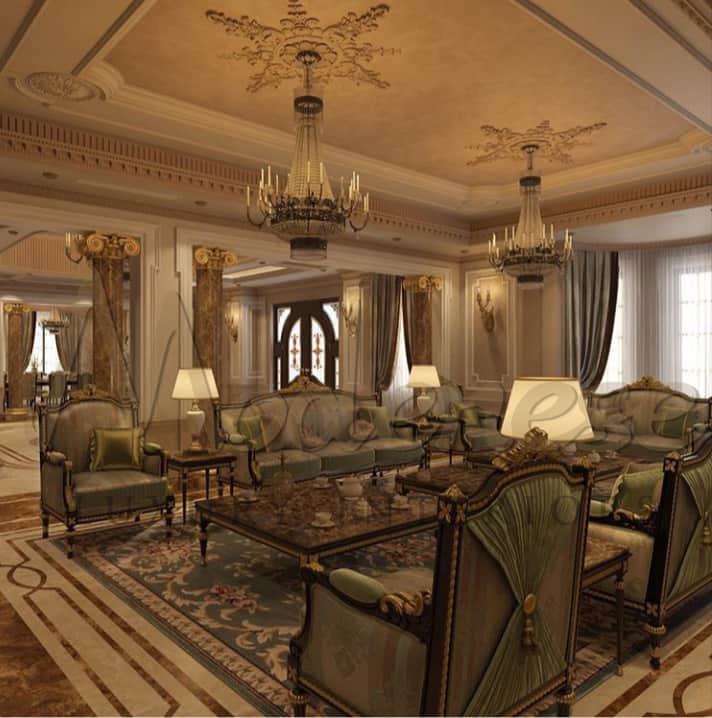 Noble Sofas For Majlis
You must pick if your sofa will be an accent or a neutral hue after choosing whether it will be light or dark. The color of your sofa is heavily influenced by the color of your floor. Will your potential sofa stand out amid a sea of dark wood flooring or carpet, or will it blend in? Because a coach is often spacious and upholstered, and because most materials absorb light, it may significantly darken the Dubai interior design. When you place a dark sofa on a dark floor, it appears to fade into the background. Make a dark sofa as noticeable as possible if you're intending to use it on a dark floor. A black sofa with light wood or metal legs may create perceived space between the sofa and the floor. Brighter carpeting beneath the front of your couch can help to break up the gloomy tones and bring the color of the sofa to life. To separate the sofa from the floor, a coffee table made of light wood or metal might be employed.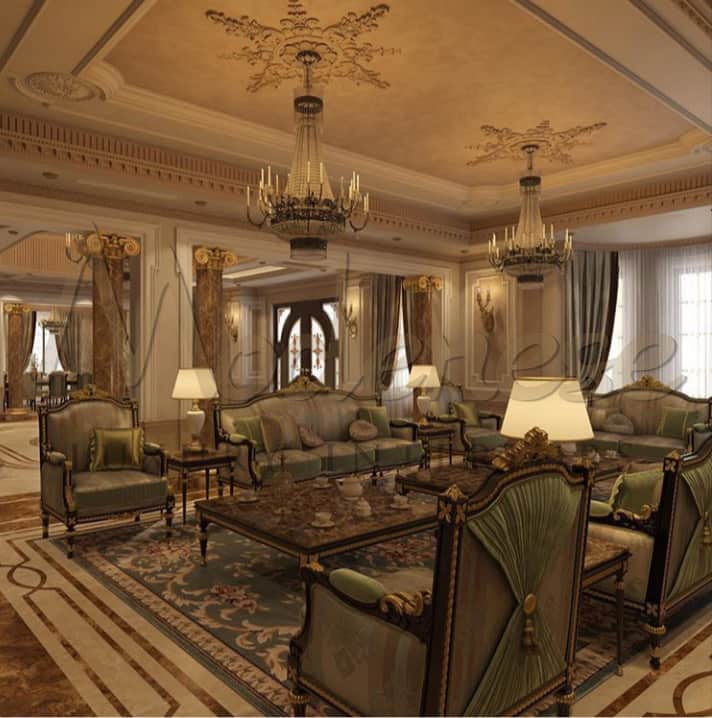 Classic Furniture Made in Italy
If you're starting from scratch, start with a sofa and then build the rest of the space around it. A showcase couch for Dubai interior design might be upholstered in a vibrant quality fabric or covered in a remarkable pattern. It is the room's focal point. If you're adding a couch to an already-decorated Dubai house design or if you want the sofa to play a supporting role, color selection is critical. When selecting a new couch to complement an existing color scheme, you must first decide if the sofa will be neutral or emphasized. Interior designers in Dubai employ a couch that compliments the wall color to unify the Dubai interior design and make it appear larger. This is an innovative method for creating a color palette. If you choose a couch that matches the color of your walls, it may be difficult to change the color of the walls in the future. The most typical approach is to select a sofa that matches the overall decor of the space rather than becoming the focal point. As a result, most Dubai house design ideas recommend neutral sofa colors.
Visit our online showroom