Luxury Living Room Design – Dubai, UAE
Luxury interior design project begins with an idea of the vision, which includes picking the most complimentary components and styles Interior design by Modenese Luxury Interiors is a time-consuming process that requires the designer's unique skills and expertise. At first glance, everything appears to be going easily and without trouble, but in reality, every step takes exact control to accomplish the intended result. The creation and execution of a layout are both critical components of the draft project. All work is completed in accordance with the project designs, which contain information on wall placement, floor covering options, electrical project and lighting arrangement, door and window position, water supply system, ventilation, and air conditioning. Interior designers in Dubai produce unique designs for villas, flats, workplaces, and hotels based on the function of the premises. The greatest interior design for spectacular house in Dubai was created as a result of the precision of the selected proportions, the purity of lines, and the expressiveness of color solutions.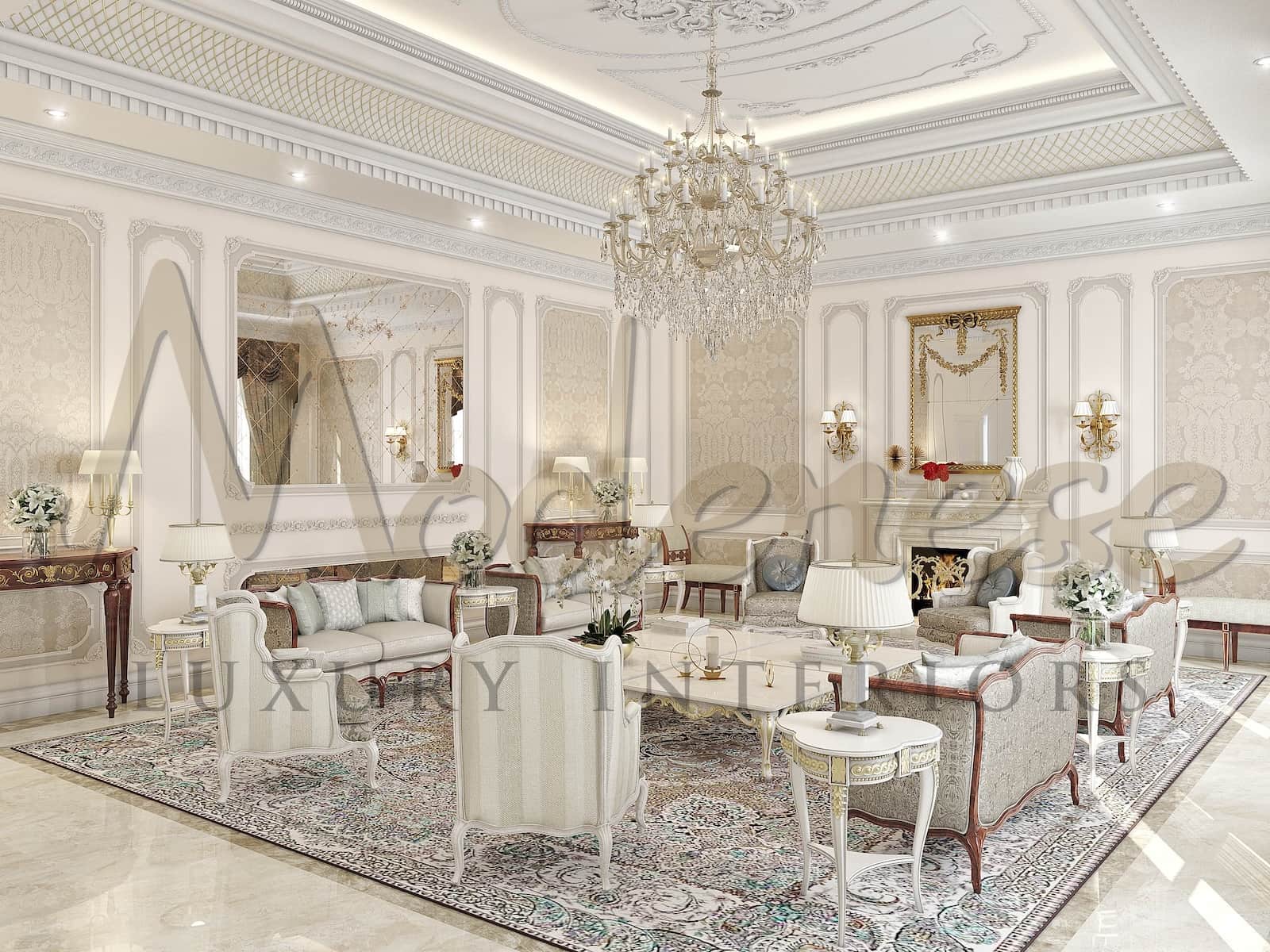 Classic Living Room & Refined Home Décor
Modenese Luxury Interior's expert designers employed expensive materials such as wood, marble, gilding, and luxury décor. Another thing to keep in mind is that color plays a vital function in the traditional distinctive design of the living room. Golden and light tones, white, brown, and beige. In the living room design, each color was meticulously matched.
The décor has a festive sense to it as well as a coziness. For visitors, there are lovely sofas upholstered in exquisite materials. Because of the furniture design, the space is rich and bright. In the center, near the sofas, is a lovely coffee table. The natural marble floor with carved patterns is the project's actual centerpiece. Because of the crystal chandelier and pendants that are set around the perimeter of the ceiling, the interior is gleaming and lovely.
Modenese Luxury Interiors' best interior designers meticulously chose and structured all of the décor components to guarantee that the magnificent interior shines through.
The design team at Modenese Luxury Interiors accomplished this feat in the conceptual design of this classic home in Dubai.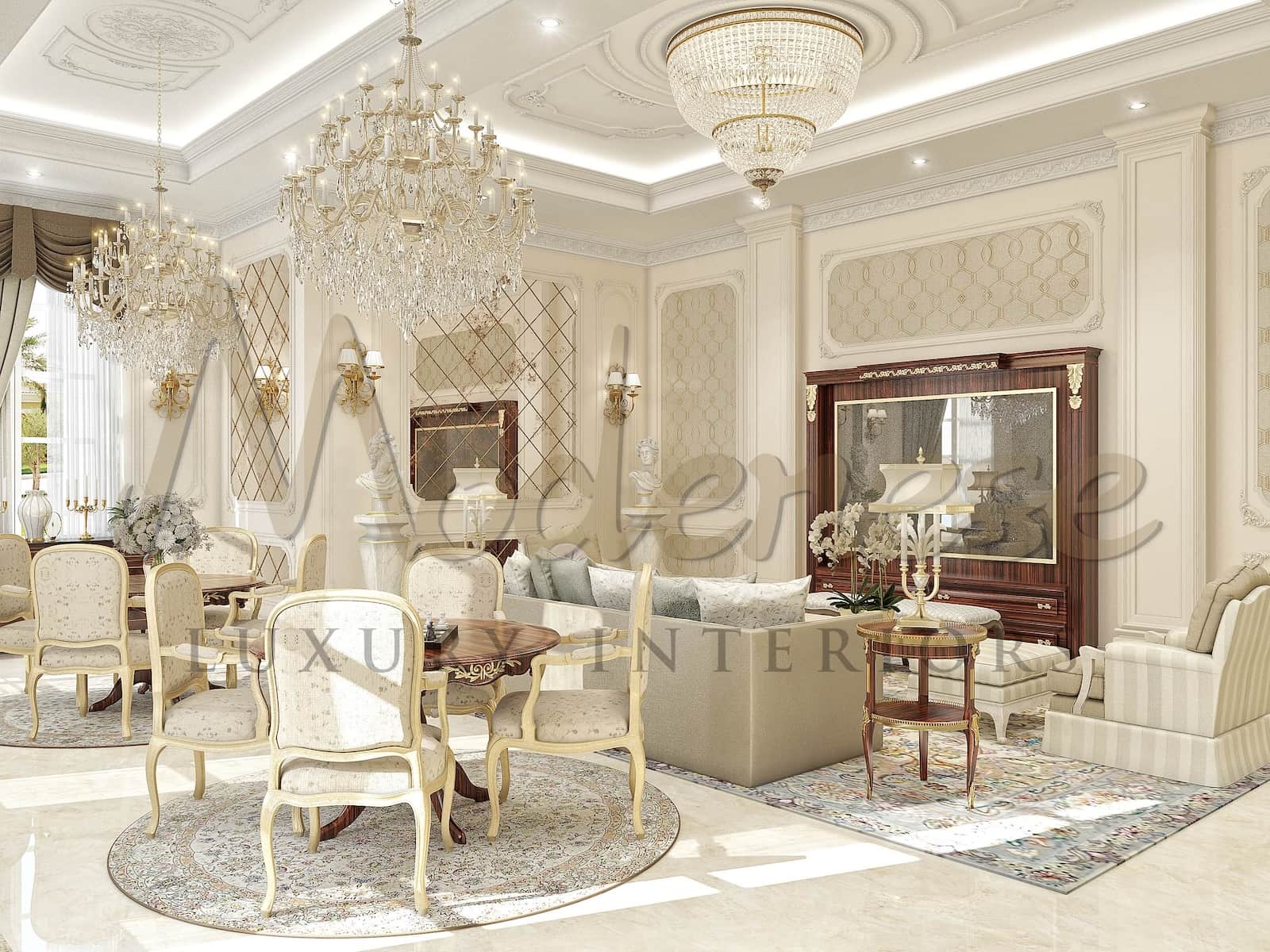 Classy Refined Living Room Furniture Set
Interior furniture from Modenese Luxury Interiors is the central notion, through which you may unveil the entire concept of designing this or that interior. Furniture items are frequently used as the key emphasis for the complete design concept. Walls, flooring, drapes, finishing materials, and colour palettes are all used to enhance the beauty and create an artistically expressive image. Upholstered furniture and luxury home decor had a significant role in this example. When two equally powerful elements complement each other, this is a fascinating alternative. Beige velvet upholstery on the sofa and armchairs complements elegant accessories in the living room.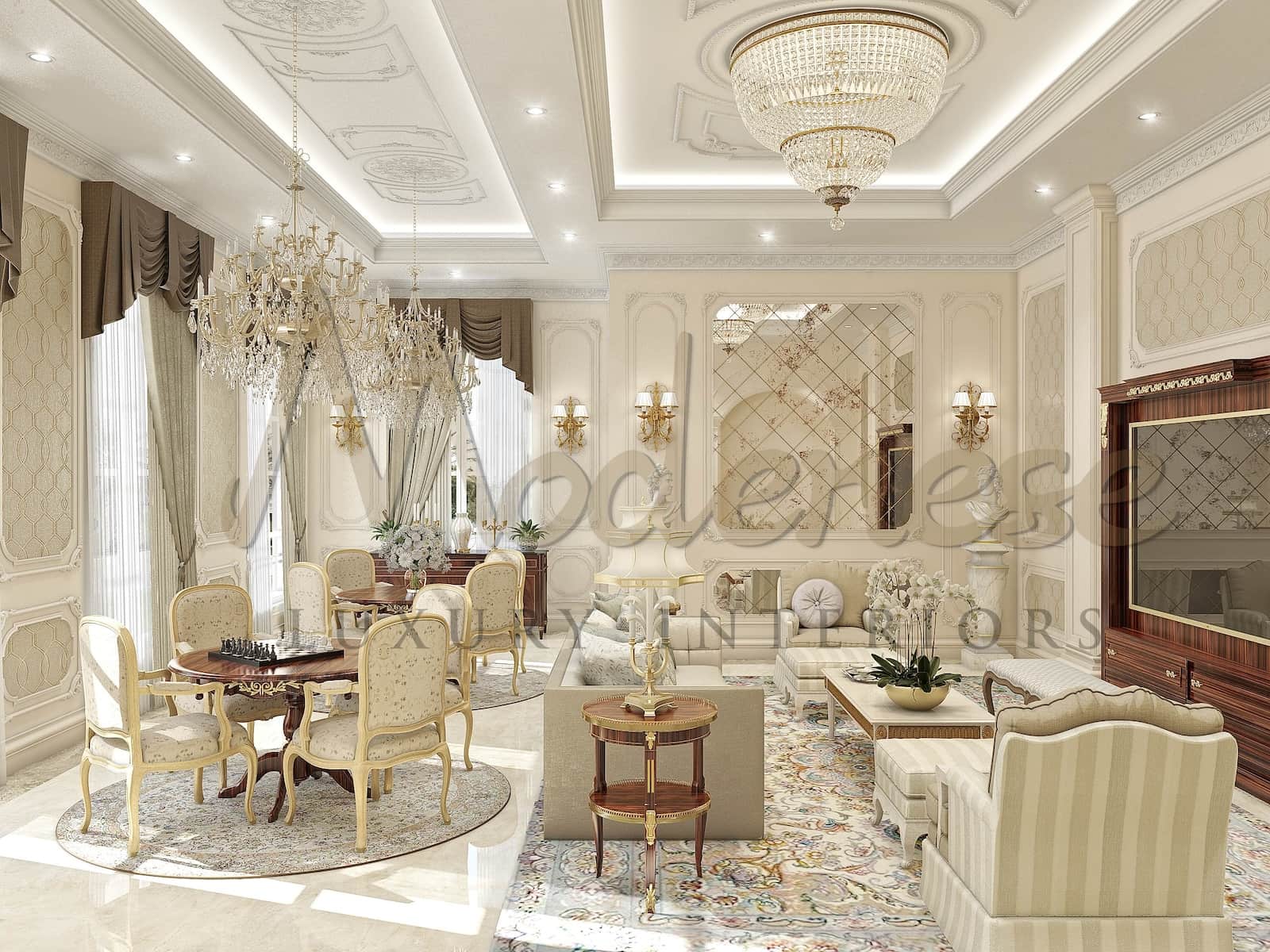 Exclusive Style Of Elegant Living Room
Modenese Luxury Interiors' best living room interior design – vital elements for producing comfort. The living room is the most pleasant place in your house and serves several functions. The key guidelines for establishing comfort functions in a living room include using it as a location for family gatherings and as an office or home theater. Regardless of the shape or size of your living room, our Moscow interior design studio will create a pleasant area for enjoyment and meetings. To make your return home more pleasurable, we'll go through the fundamentals of sitting room interior design.
The right lighting and positioning of upholstered furniture will create a distinct pleasant atmosphere in your home leisure rooms. As a result, delicacy in interior design is critical. In any space, especially the living room, one chandelier is insufficient. Because a chandelier is generally perceived as an interior item, its placement determines the composition's unity.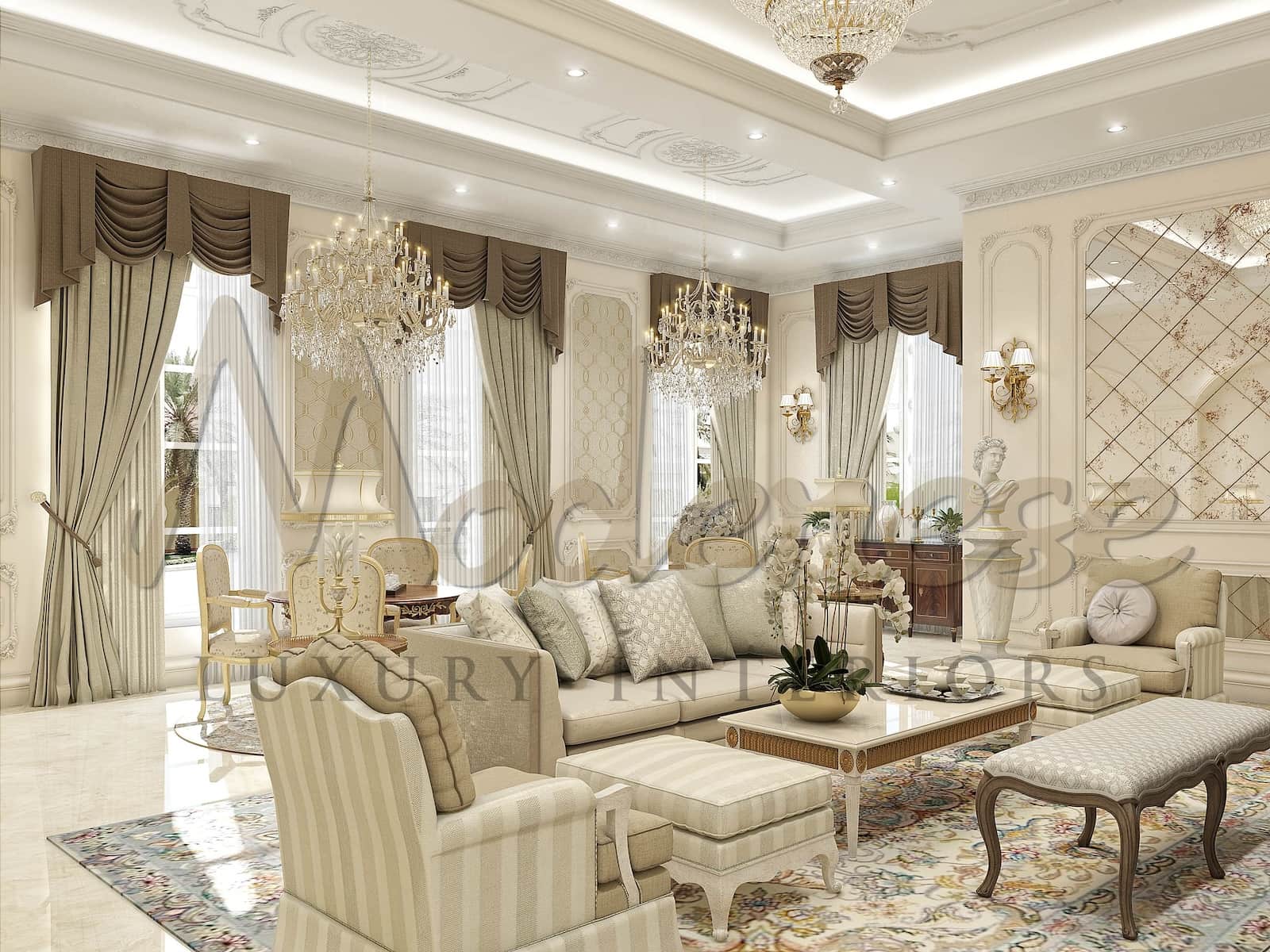 Traditional Luxury Sitting Room Area
Principles of furniture arrangement
There are a few general guidelines to follow: -even in a small living room, each thing – it could be a combination of different items of upholstered furniture – should be organized as comfortably as possible; -seats should preferably be placed based on those present conversations, i.e. facing each other or at an angle of 90 degrees; -if a living room can accommodate two sofas – it is better to put them at an angle, and chairs placed side If space allows, a desk or bookcase can be placed behind a compact sofa; the length of the desk or bookcase may be limited by the size of the sofa, or it may exceed it; -if the furniture is facing the wall, the composition's focal point could be any item on the wall: a screen, a fireplace, or a window.
Visit our online showroom