Cinema Home Design For Villa In Bahrain
What separates a smart house from a typical private residence? A smart house is furnished with technology that makes living simpler for everyone. Today, there is a growing need for technology that exemplifies a smart home appliance. Smart phones and other smart gadgets have technology that can be linked together. Our company has worked on smart house building and is constantly improving our knowledge of smart houses. We allow smart appliance and device systems to operate in the current environment. We made it possible for all gadgets and appliances to interact with one another, allowing them to be controlled directly from a single device. Modenese Gastone Interiors leads the market in smart home solutions, providing ready-to-use semiconductor devices and applications to operate all smart home equipment. Our creative engineers have devised smart home solutions that are both safe and energy efficient. We make ensuring that all of the components necessary for your home are located. Our fantastic smart home solutions are really simple to incorporate into your home's design. This is also a great way to create a simpler dwelling that is pleasantly easy to manage.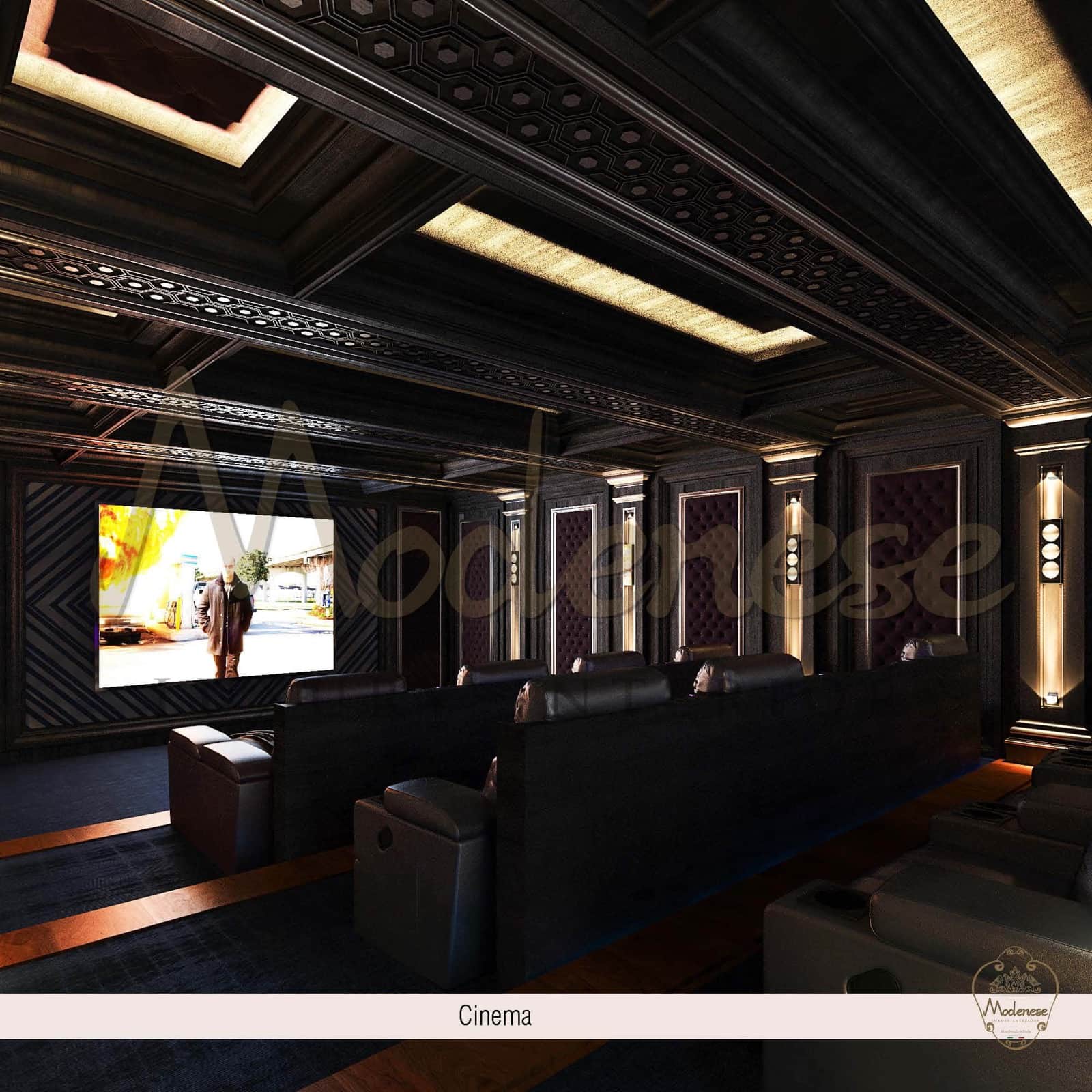 Luxury Cinema Home Design
Do you have an extra room in your house that you want to make into something spectacular? A spare room may be utilized for a number of things. You may turn it into a home theater, similar to the one we completed in Bahrain. A home theater is an excellent way to add a relaxing leisure area to your home for you and your family to enjoy. Our company offers a choice of interior design options for home theaters. Our team's original design will make your home theater look more personal and private with a magnificent aesthetic. Every homeowner's desire is realized by our team when they design a comfortable and stunning home theater. A spectacular home theater is without a doubt one of the most beautiful spaces anybody can imagine, regardless of who you are or where you live. It would be an awesome enormous and airy place to accommodate family and friends if you had enough space. It might also be a small and intimate setting to create an intimate and private mood. We can help you design your home theater in dazzling and vibrant colors, subtle neutral tones, or Hollywood-inspired themes.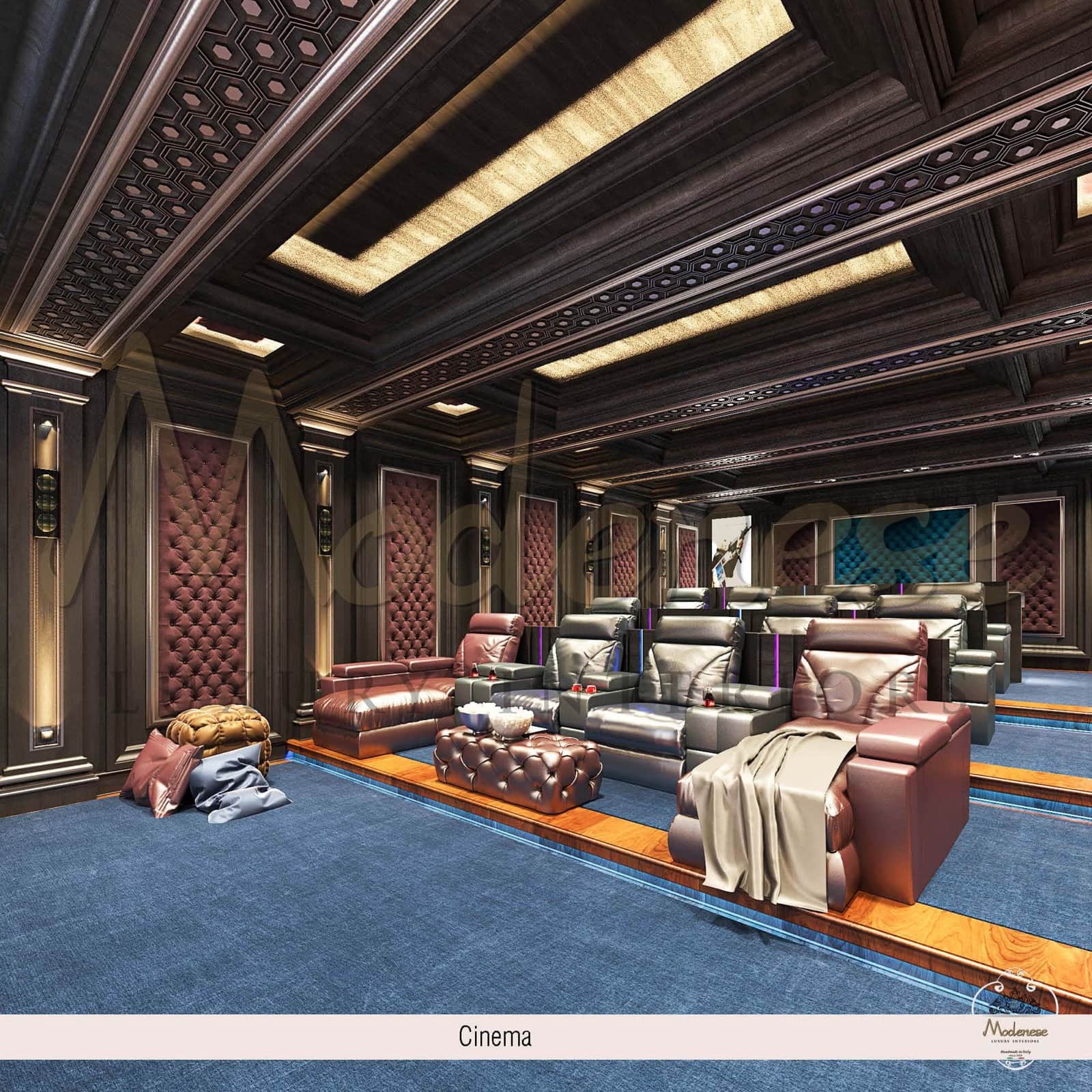 Home Theatre Interior Design
Building a media room may be both difficult and pleasant. Our team will devote a significant amount of time and effort to making your home theater amazing. Modern home theater systems involve a range of components. One of the most important aspects to consider when creating a home theater is the spacing between the displays. Here are some of the amazing objects we utilize to construct home theaters and hope they inspire you.
The hue of this home theater is a warm and pleasant neutral shade. It's fantastic to add a touch of color to bland settings since it truly stands out.
Seating: There are a total of twelve seats in this home theater. The grey lazy boy provides a cozy and sumptuous ambiance to the area due to its leather upholstery.
Lighting in a home theater should be kept to a minimum. It should help set the tone and mood for successfully lighting the home theater.
Soundproof: In order to provide you with a high-quality movie-watching experience, the home theater is soundproof. These walls are soundproofed to prevent sound from escaping the home theater room.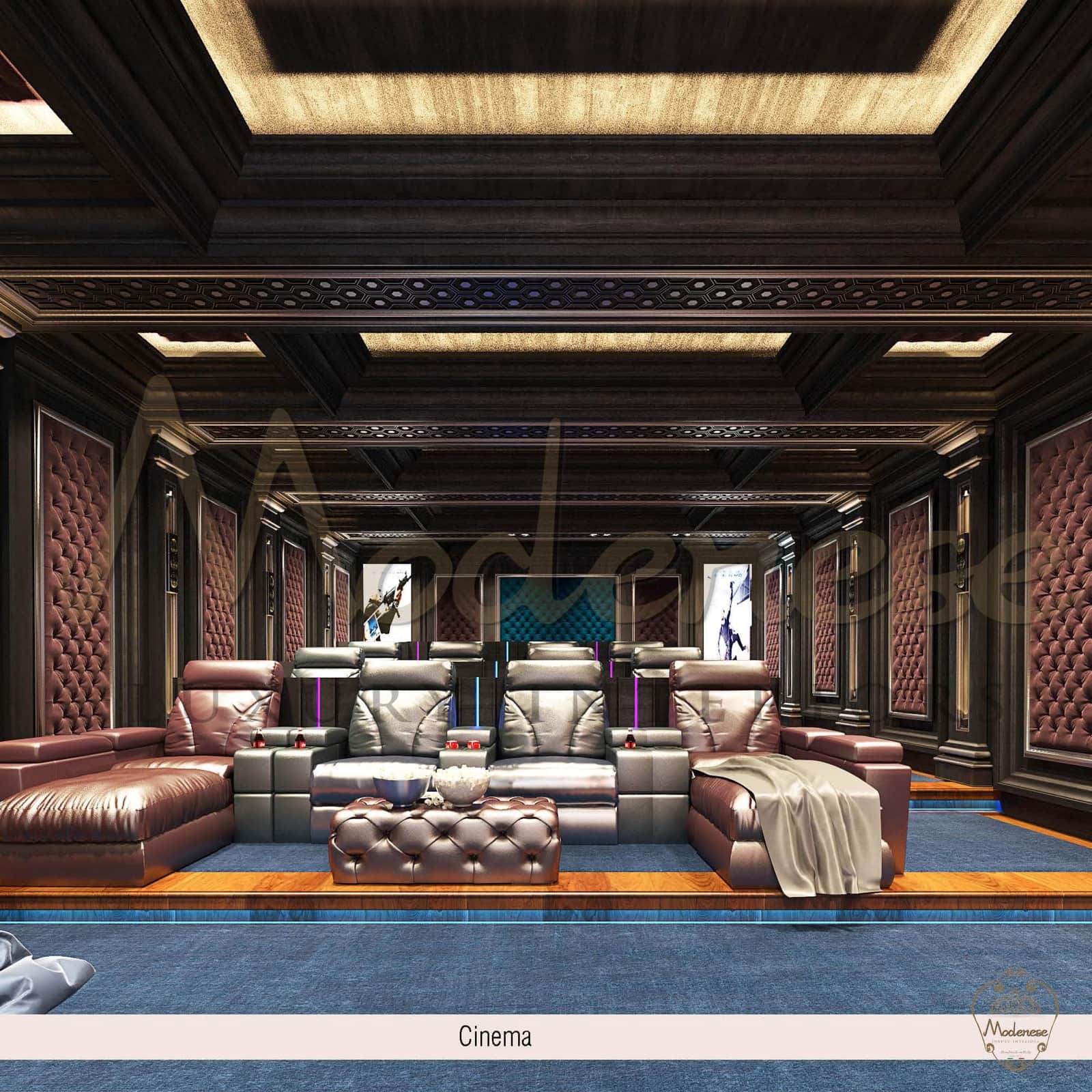 Comfortable Furniture For Home Cinema
The fabric upholstery of the walls by Modenese Luxury Interiors serves several functions at once: improved noise insulation, interior aesthetics, and concealment of defects in the walls and electrical wiring. To darken the room, shut the large window with heavy Roman curtains. For lovers who wish to watch movies in maximum comfort, our designers chose a soft beige couch with a large number of pillows, as well as magnificent brown leather armchairs for an additional number of seats. The sleek, clean home theater design by Modenese Luxury Interiors, with a natural color palette and smooth lines, is great for modern houses with a hint of minimalism. The color scheme of the home cinema room, which features seats and a bar, is well-thought-out. The screen is integrated into a wall and has precious wood locking shelves.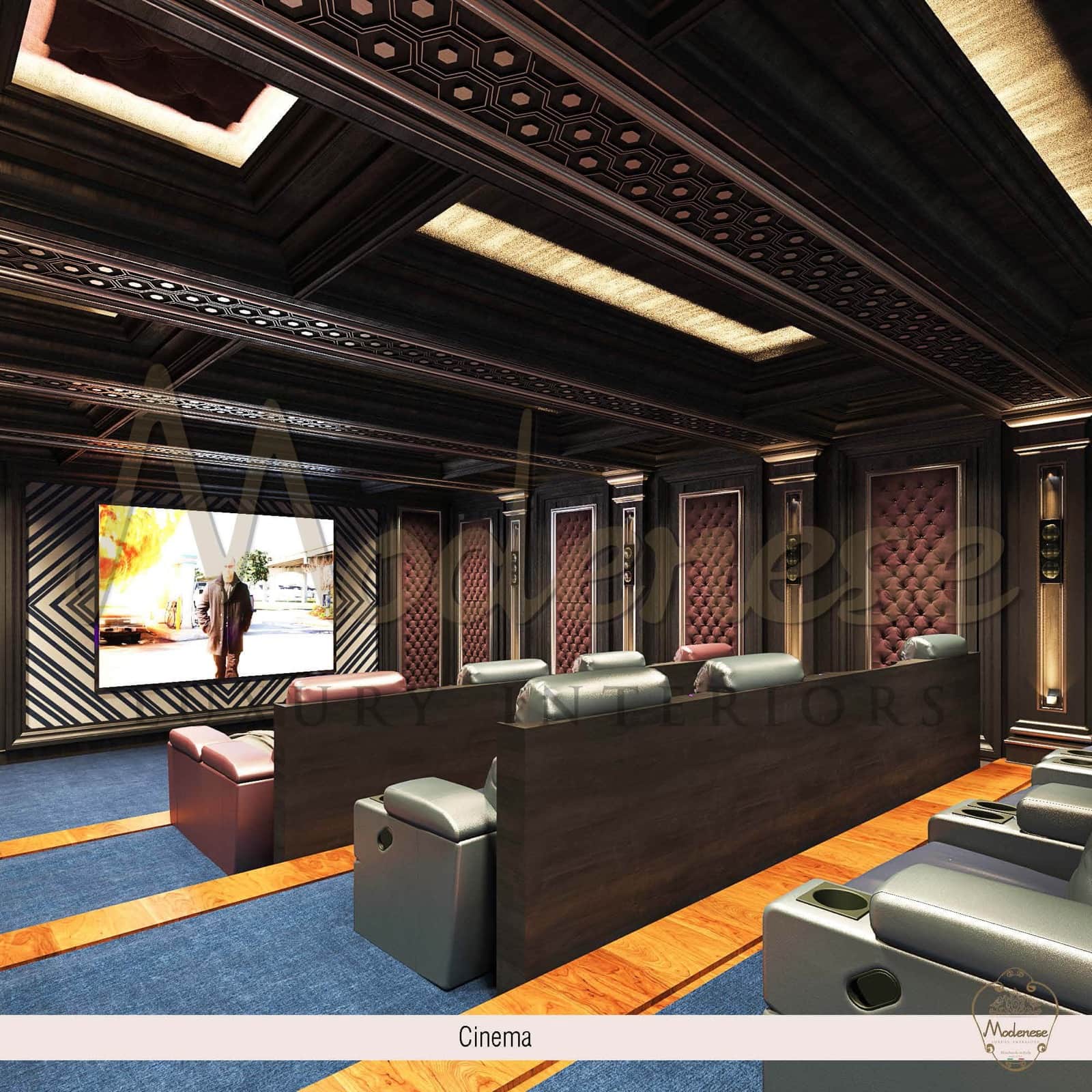 Smart Interior Design
Our architects effectively conceal all of the engineering features behind the upholstery and other design elements. Modenese Luxury Interiors professionals analyze the location and masking of acoustic panels, sound insulation, heating and ventilation systems. The interior perfectly accommodates the speakers to create surround sound while retaining the balance of the design elements. The location of upholstered furniture and how the theater may be structured to make it comfortable and enjoyable to watch movies indoors give various opportunities for interior design innovation. This design suggestion is more than just a place to watch videos; it is also a full-fledged cinema. A video projector is installed on the ceiling, and the screen is positioned on the wall. On the sidewalls, our designers installed a modern acoustic system.
Visit our online showroom