Morocco Restaurants with Italian furniture
Moroccan food is renowned for being delicious and has attracted tourists from all over the world. This is due to the wide variety of spices, regional veggies, and tender meat that are utilized in each dish.
Many of the eateries, which serve a variety of cuisines, are found in Marrakech, Fez, and Casablanca. They include traditional meals as well as French, Mediterranean, and international fusion eateries.
You'll find a variety of restaurants here, including stunning fine dining establishments housed within hotels, historic mansions renovated into modern restaurants, and cafes perched high above the street, providing mint tea with a view of the sunset.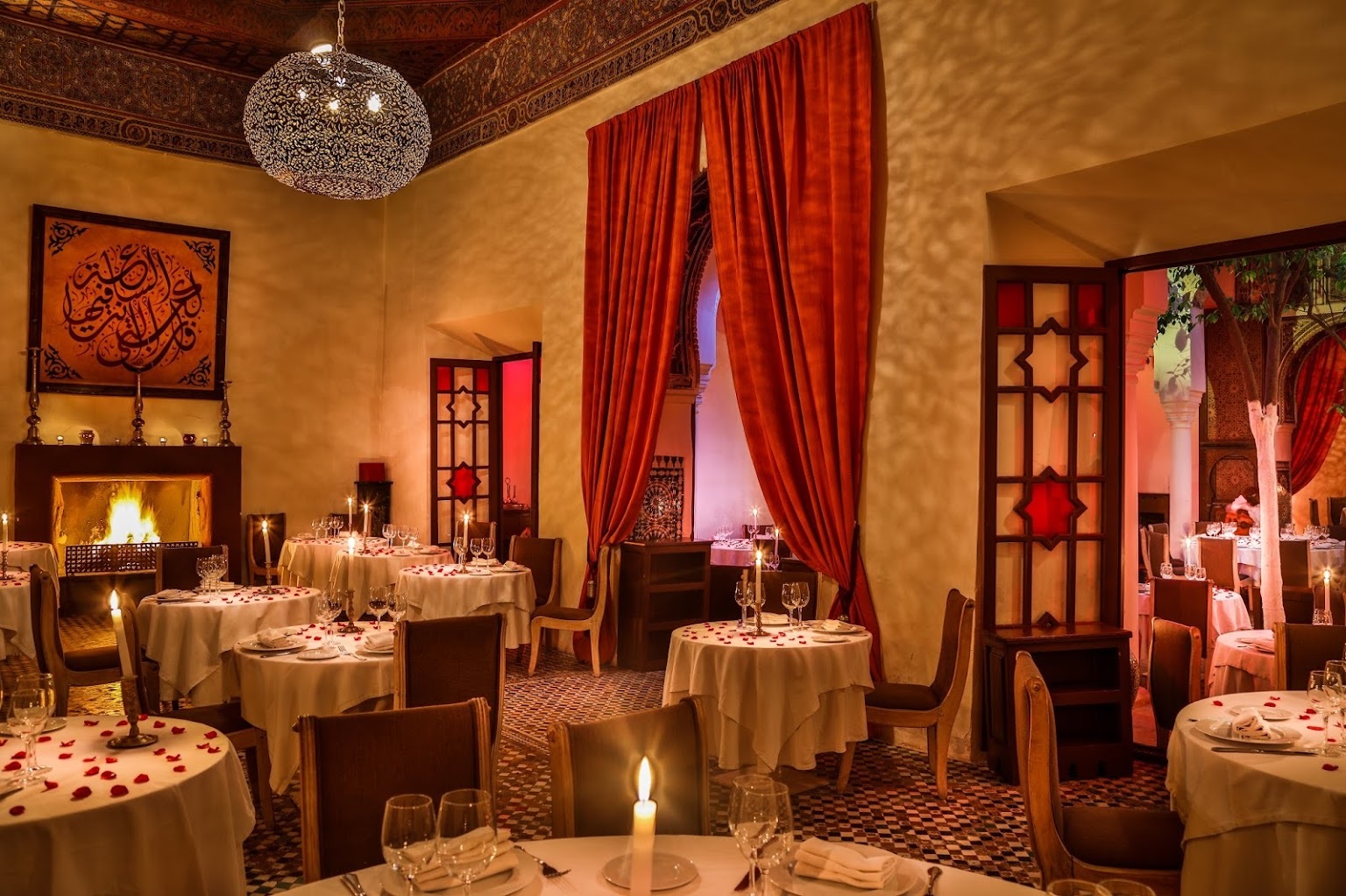 Dar Zellij
One of Morocco's top restaurants for dinner, Dar Zellij, stands out for its exquisite Moroccan decor. It is housed in an exquisitely renovated riad from the 17th century and features authentic painted ceilings and stunning zellij mosaics. Request a table for two in the middle courtyard and sit among the orange trees, or choose the roof terraces for an unparalleled view and atmosphere. You can also enjoy traditional entertainment while dining, such as belly dancing.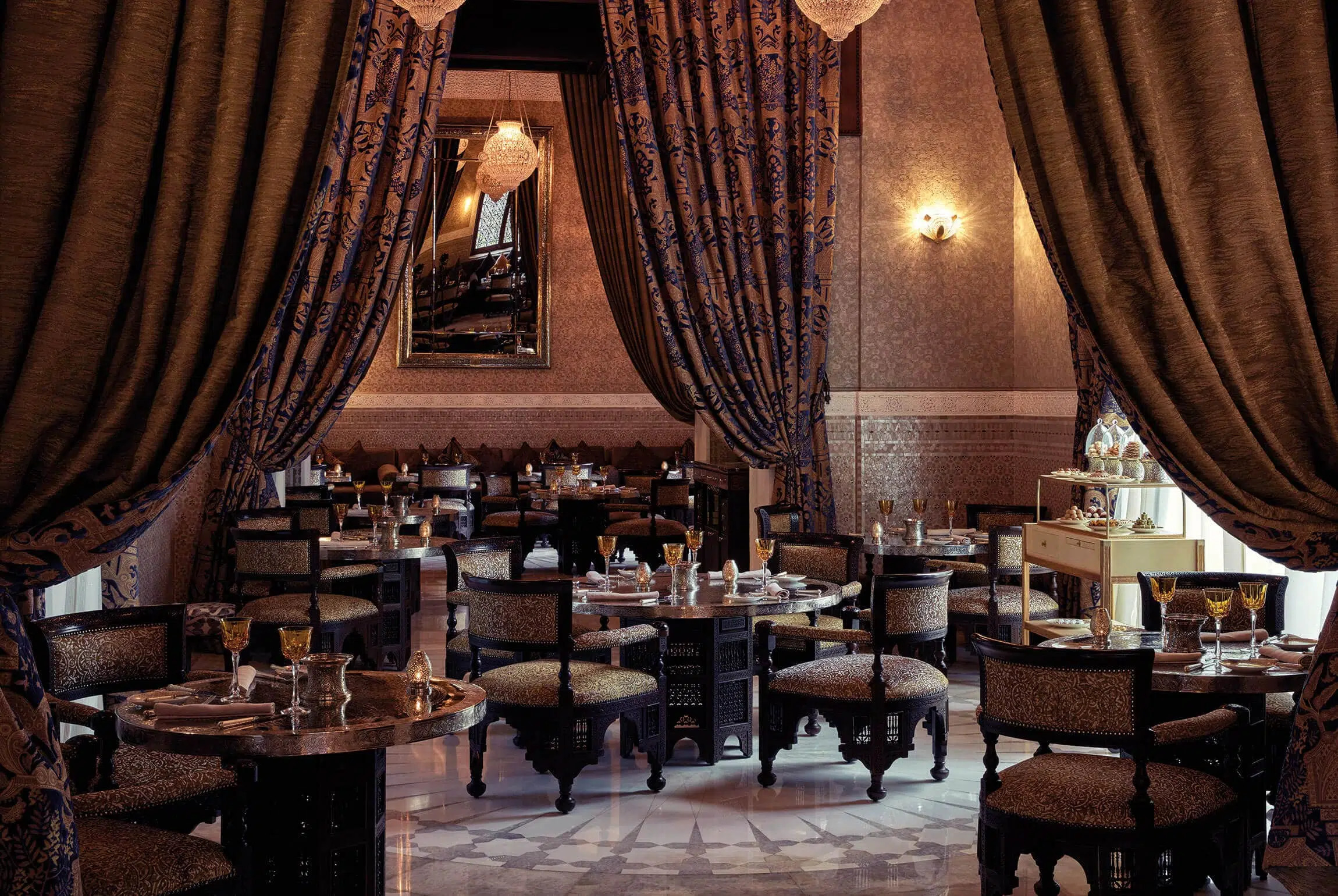 La Grande Table Marocaine
This opulent restaurant of the Royal Mansour hotel is one of Morocco's top-rated eateries and offers the most upscale Moroccan food in all of Marrakech. With lofty ceilings, unique artwork, lovely filigree metalwork, and fine linens, the wonderful dining room is entered through a brass door and is situated in the lapis-floored riad. It's richly decorated, staffed by people wearing traditional garb, and set to a calming soundtrack of traditional instruments.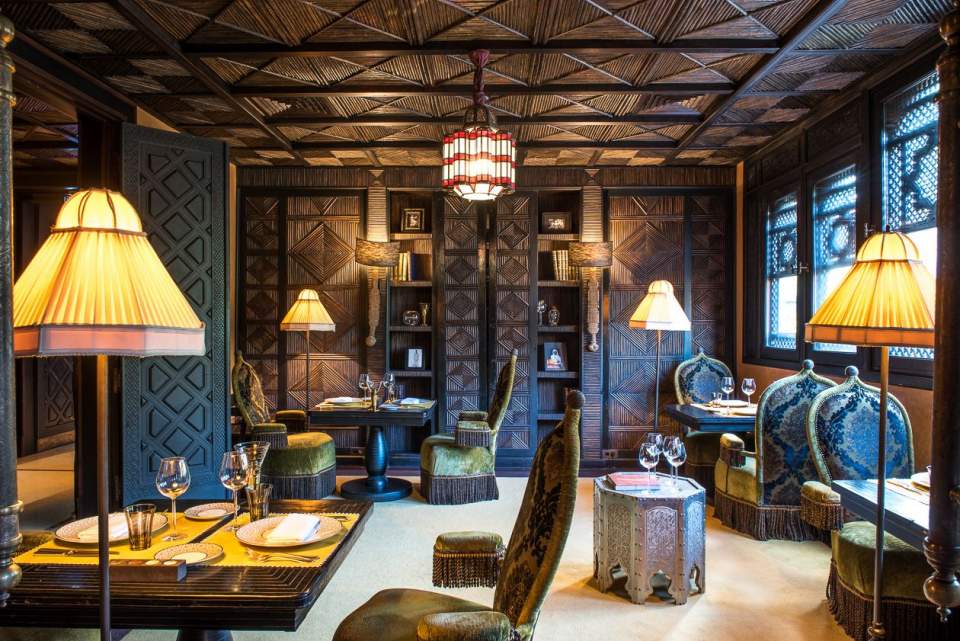 Le Marocain
The Moroccan restaurant is magnificent, including zellij on every available surface, exquisite Moroccan furniture and rugs, and a knowledgeable staff dressed in traditional attire. You can take a stroll in their wonderful garden, which is filled with amazing plants and flowers, after your meal.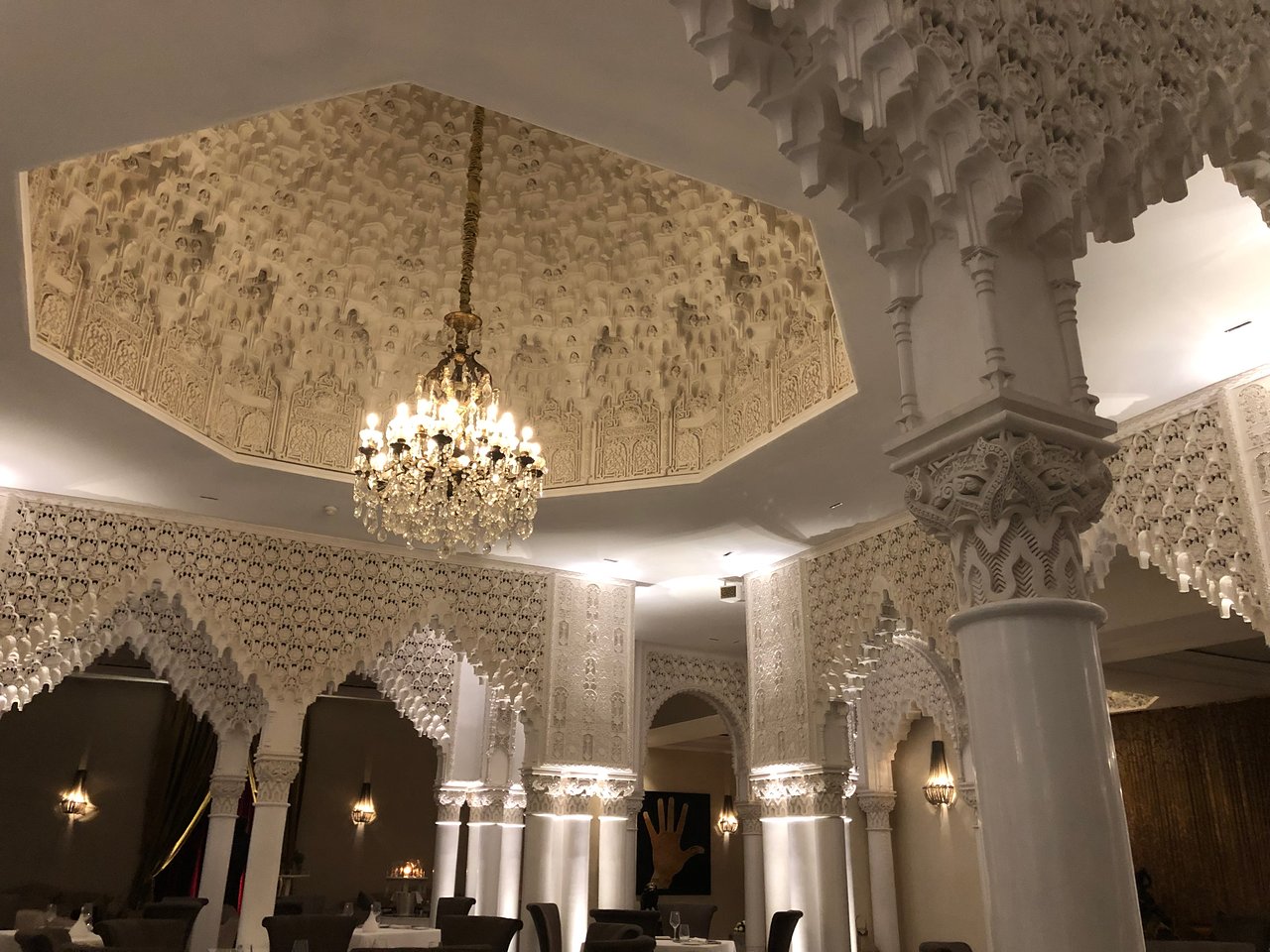 La Cour des Lions
At the Es Saadi Marrakesh Resort, the outstanding chef Fatéma delivers delicious traditional Moroccan food in the restaurant La Cour des Lions. It's a beautiful setting for supper because it resembles something from Aladdin, and because it's on the top floor, the terrace offers views of the garden and pool.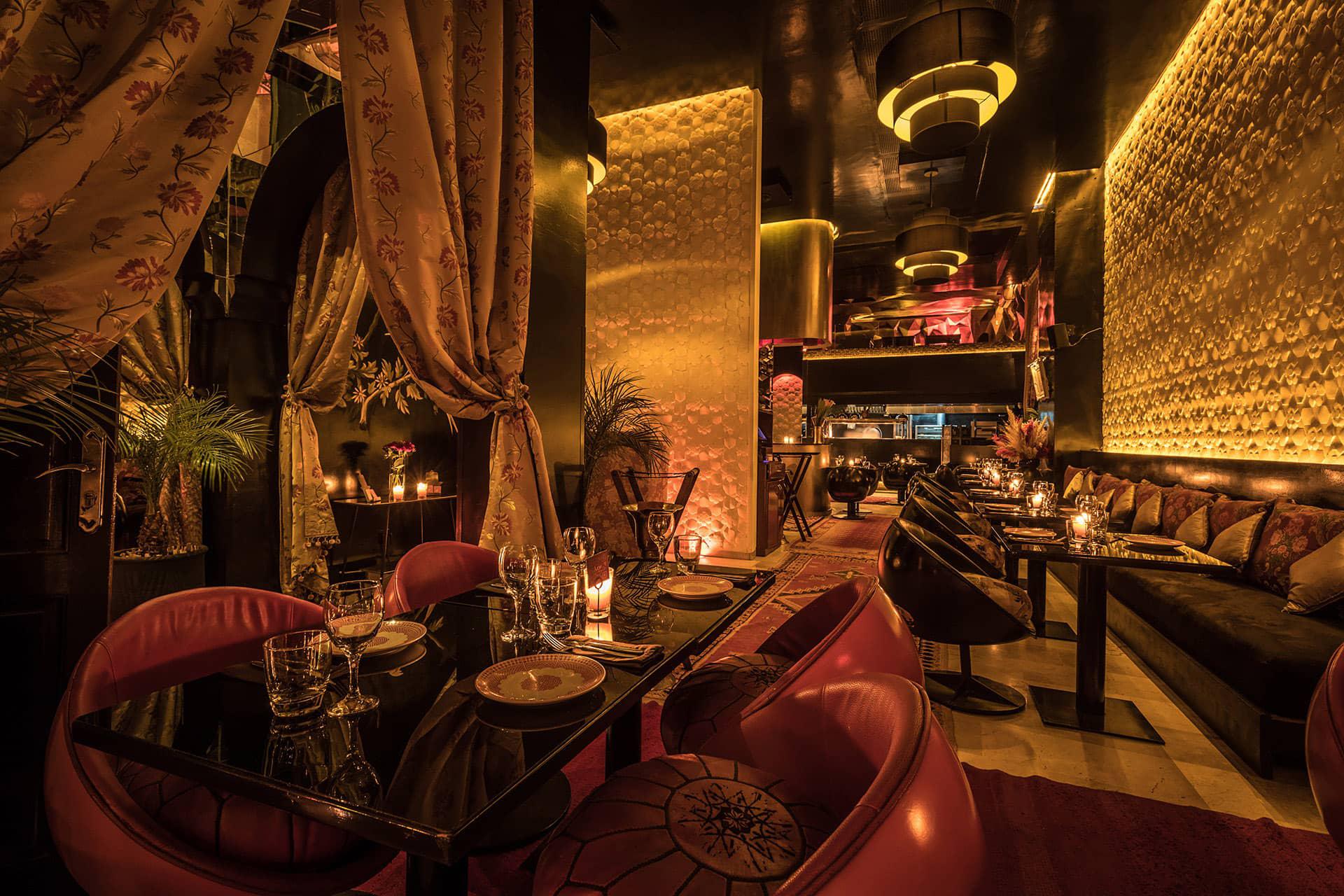 Azar
The distinctive and fashionable Azar, a haven in the center of the busy Gueliz area, provides visitors with a contemporary Moroccan experience.
This vibrant restaurant serves Moroccan, Lebanese, and international cuisine made with locally sourced ingredients, and offers a large beverage menu as well as many shisha flavors.
Beautiful belly dancers, an in-house orchestra, and well-known DJs play every weekend, making the entertainment worthwhile to mention.
Because of its appealing design, lively atmosphere, and mouthwatering menu, it's one of the best birthday restaurants in Morocco to take a loved one or the whole family.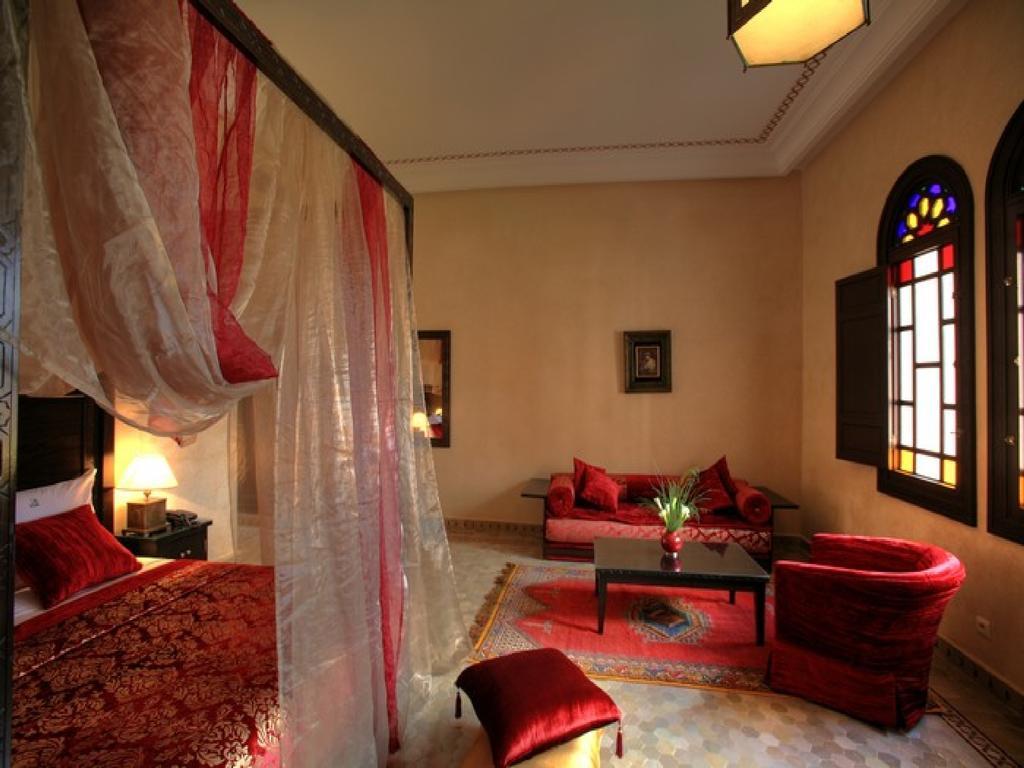 Al Fassia Aguedal
Al Fassia, which opened in 1987, has earned a reputation as one of the best restaurants in Morocco because to its inviting dining space with cushion-covered banquettes and immaculate white tables. They only employ women to manage the Fez food they provide, which although being simple on paper is rich in flavor and texture. In Gueliz, where the atmosphere is finer and the food is more consistently good, there is another Al Fassia restaurant.
Visit our online showroom

[wps_collections link_to="shopify" limit="15" pagination="false"]