Creative Kid`s Bedroom Interior Design – New York, USA
It is our responsibility as parents to assist our children in developing their creativity, intelligence, and discovering their potential from an early age. Giving them the greatest area in the house to call their own will be a terrific first step in making them feel and know how important they are. Every child, like adults, deserves their own space in the house where they may feel so at ease that they can refer to it as their own refuge.
That is why, when it comes to creating an interior design for a child's bedroom, Modenese Gastone Interiors has been extremely focused and insuring every attention to detail to be able to execute the style and atmosphere for the bedroom based on the kids' interests. Modenese Gastone Interiors was undoubtedly the perfect firm, capable of producing the greatest interior design in New York.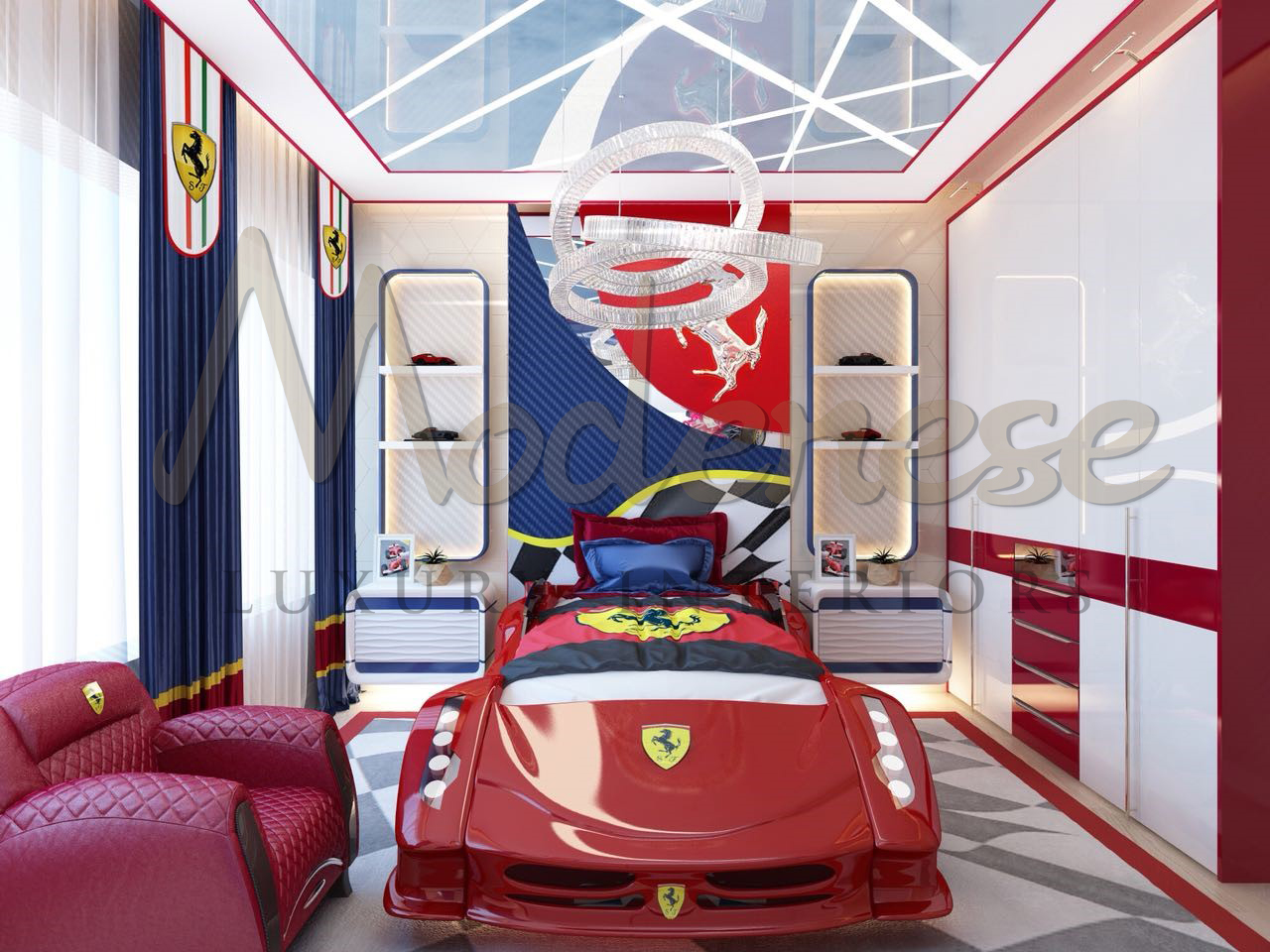 Stylish Bedroom For a Boy
The child's creativity and imagination will be developed and increased once they are exposed to a bright and cheerful environment. This magnificent bedroom interior design New York has been filled with the most innovative decorations and children's toys that are likely to meet the children's interests and favorite hobbies. Another significant factor to consider when designing a child's bedroom decor is the material and composition of each piece of furniture. When it comes to selecting each furniture design, the Modenese Gastone Interiors team is extremely attentive when it comes to each composition, quality, style, and finishing of each piece of furniture in order to produce the greatest and most practical interior design for the kid's bedroom.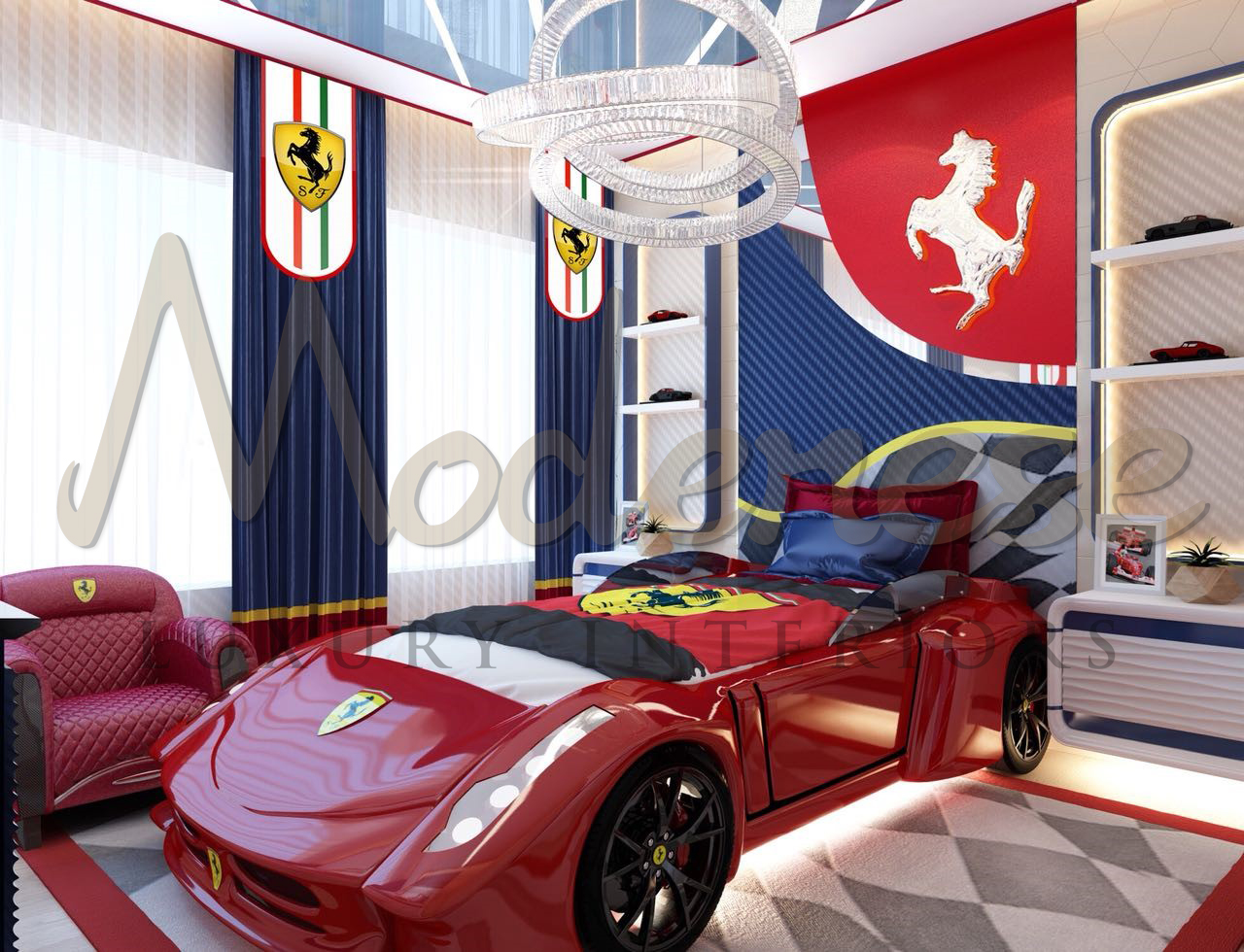 Sophisticated Boys Room Idea
Modenese Gastone Interiors has been chosen as the most attractive curtain design with the most exquisite features of the most renowned racing vehicles – Ferrari – to increase the boys' interest in race cars. The curtain is composed of the finest textiles in a blue colour that complements the galaxy ceiling design's night sky. To obtain the most attractive interior design, Modenese Gastone Interiors meticulously picked each furniture design for the bedroom. The flooring are beautifully covered with a racing car carpet design that completes the bedroom's most magnificent ambiance. Despite the fact that this bedroom has been designed with various concepts, the organization has managed to generate the most fulfilling interior design atmosphere that any boy will undoubtedly enjoy.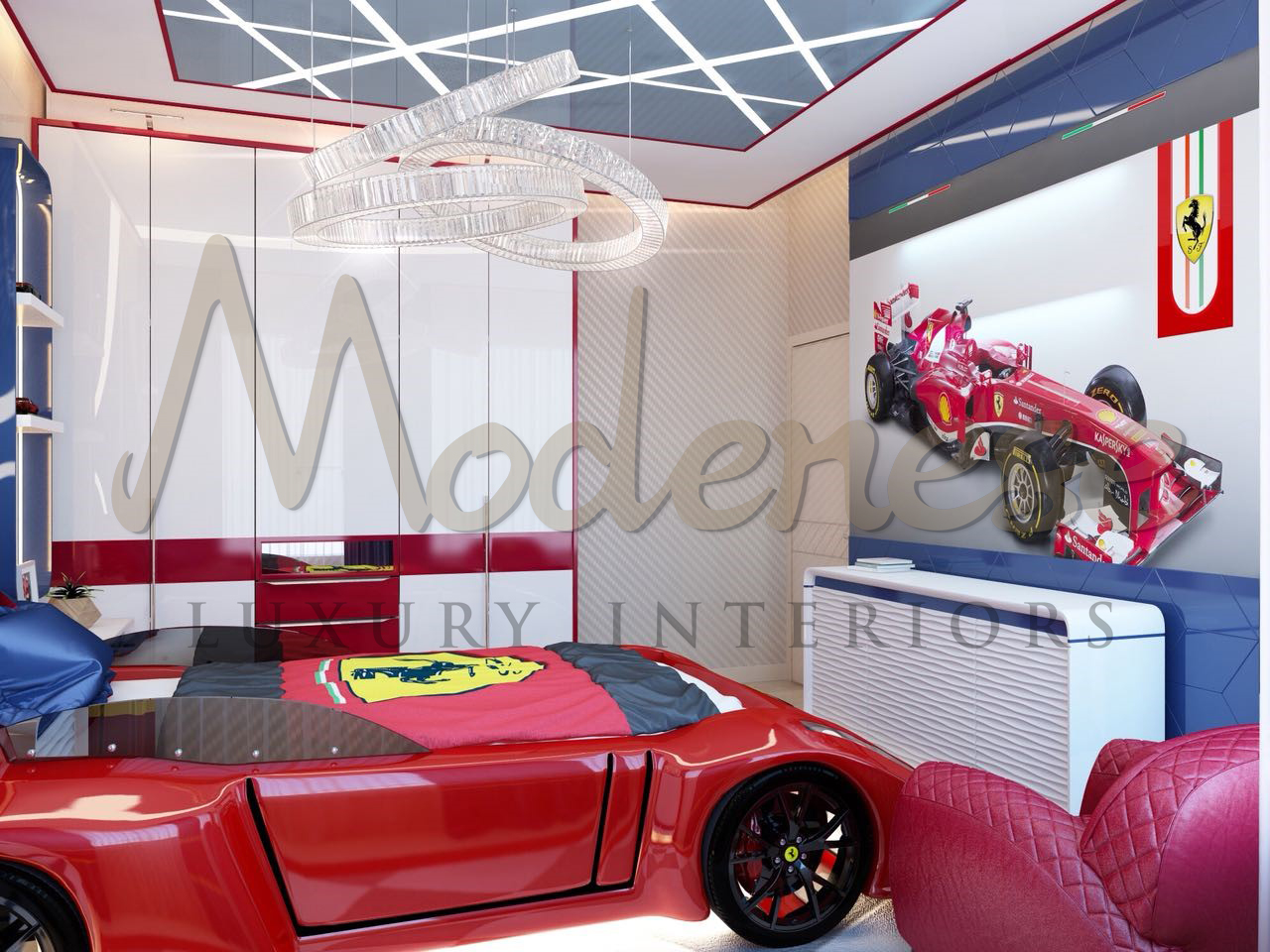 Children`s Room Interior Ferrari
The boys' room is completely themed around Formula One racing. The room's youthful owner is a motor enthusiast who has visited Ferrari WORLD park in Abu Dhabi several times. And this boys room décor was the fulfillment of his fantasies. Interior designers have given great consideration to every element of the interior. All of the boy's room ideas accentuate the topic while also creating a really pleasant and comfy atmosphere. This vibrant and opulent color palette is ideal for a youngster of this age. For the project, a unique furniture design was created. Lighting has a distinct part in the boy's room decor. We supplied adequate lighting for the child's eyes using LED lighting lines and contemporary ceiling lights, which can be changed based on the natural light. The interior designers developed a premium environment with a vibrant personality for the property owners' youngest kid in New York.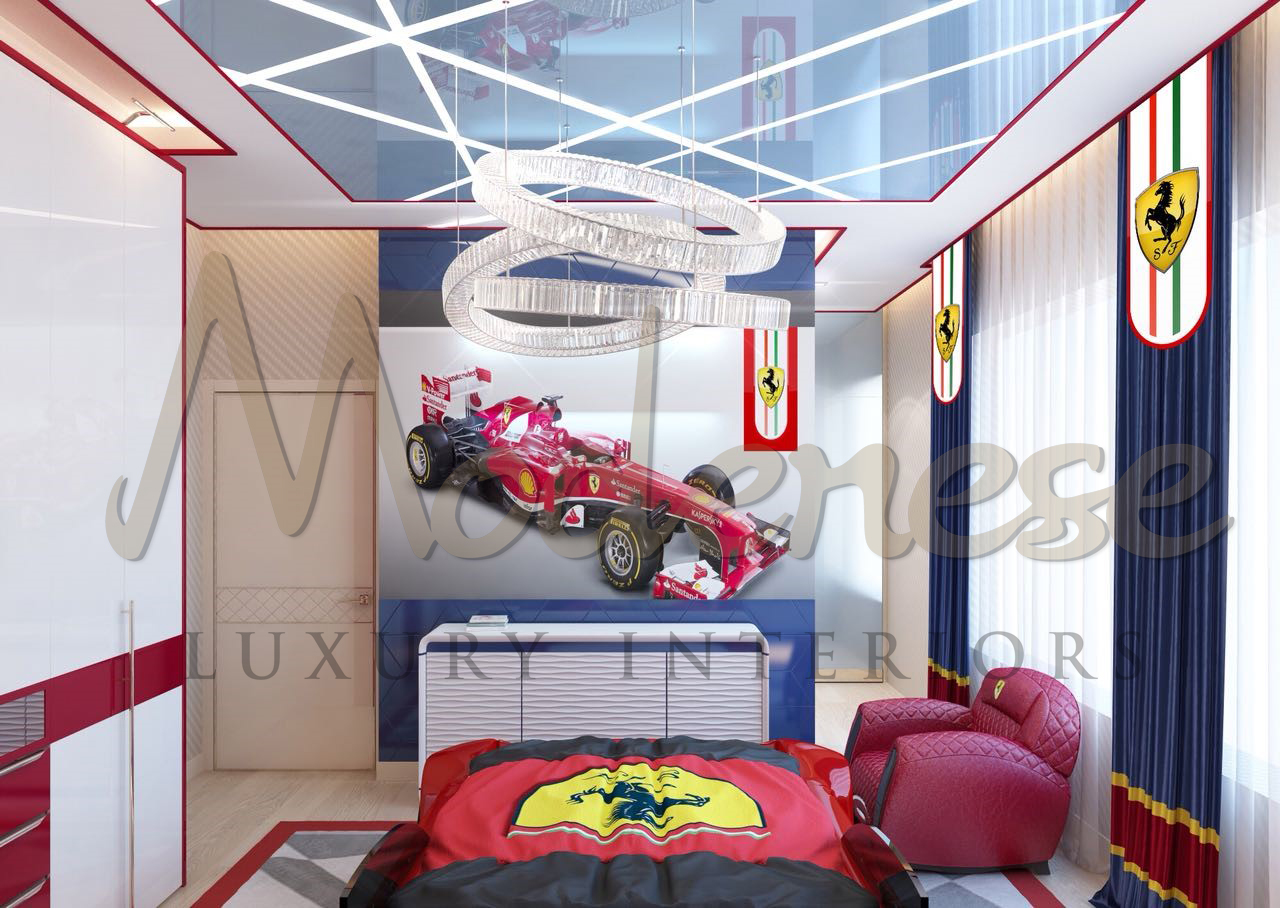 Luxury Furniture For Your Kids Bedroom
They spend the most of their time in their bedrooms playing, studying, sleeping, and engaged in different mischievous behaviors. As a consequence, it should be a setting that reflects their unique personality. The essentials of bedroom interior design, as well as a creative flare to ignite their imagination — a loving and growing atmosphere — should be incorporated. Continue reading to get inspired by our experienced kid's room interior designers' greatest suggestions! When designing a children's bedroom, it is vital to create a space that reflects your child's interests and style. It should encourage kids to improve their cognitive talents while having fun. Make a setting that reflects their personality and that they would enjoy to spend time in. Include a study table for children to encourage them to read or draw. As kids become older, they'll need it for homework and school materials.
Visit our online showroom

[wps_collections link_to="shopify" limit="15" pagination="false"]