LUXURY DESIGN & CLASSIC ITALIAN FURNITURE
Modenese Luxury Interiors represents the best quality of furniture and decorations perfect for your royal villa project. Two centuries of history and traditions of classic furniture production and luxury interior design project realization. We are highly specialized in 100% classic furniture made in Italy, craftsmanship and in providing luxurious interior design service for your ideal ambiences.
LUXURY FURNITURE FROM ITALY
Modenese Luxury Interiors, since 1818, designs and produces precious made in Italy classic furniture, which are characterized by impeccable artisanal workmanship, functionality and technical equipment. Baroque style interiors in solid wood, rigourously handcrafted, represent the unique elegance and the exclusive sense of charm which distinguish Modenese Luxury Interiors furniture production. Each piece of furniture is studied in detail from the design to its creation. We strive to offer the best in both design and manufacturing of luxury furniture Italy in order to be able to meet and exceed our customers' expectations for the most luxurious royal palaces and villas decorative projects. Our luxury furniture store showcases the work of professional designers with an emphasis on quality craftsmanship and high-end materials. The company Modenese Luxury Interiors offers interiors furniture services and personalized consultations to help clients create a cohesive and stylish look for their home or space.
WATCH OUR SHOWROOM VIDEO
Watch now Modenese Luxury Interiors showroom video! That would be a perfect way to appreciate our artisanal handmade furniture production, excellent details, authentic Italian design and craftsmanship, traditional baroque style, premium quality, high-end made in Italy standards, all perfectly joined for the most magnificent luxury living experience. Don't wait further, rely on us for your exclusive classic home furnishing and interior design project.
MODENESE LUXURY INTERIORS DESIGN STUDIO
Elegant interior design project for the most demanding customers! Modenese Luxury Interiors is proud to introduce you to the most exclusive ideas, tips, schemes, layouts, handmade sketches to complete your classy dream house. Our expert interior design team will carefully support you from the measurements on-site and space layout development to the selection of floors, solid wood doors, windows, walls, ceilings decorations including all bespoke ornamental details, and your favorite furniture. Everything accurately matched with excellent options of furniture design, fabrics, lighting, and accessories. The perfect interior design project is composed of 3 fundamental stages which are well-defined through the following brief tips. Put us to the test: try right now the authentic made in Italy classic style. We offer interior design services and classic furniture in
Miami
,
Los Angeles
,
Kuwait
,
Dubai
,
New York
,
London
and
Jeddah
.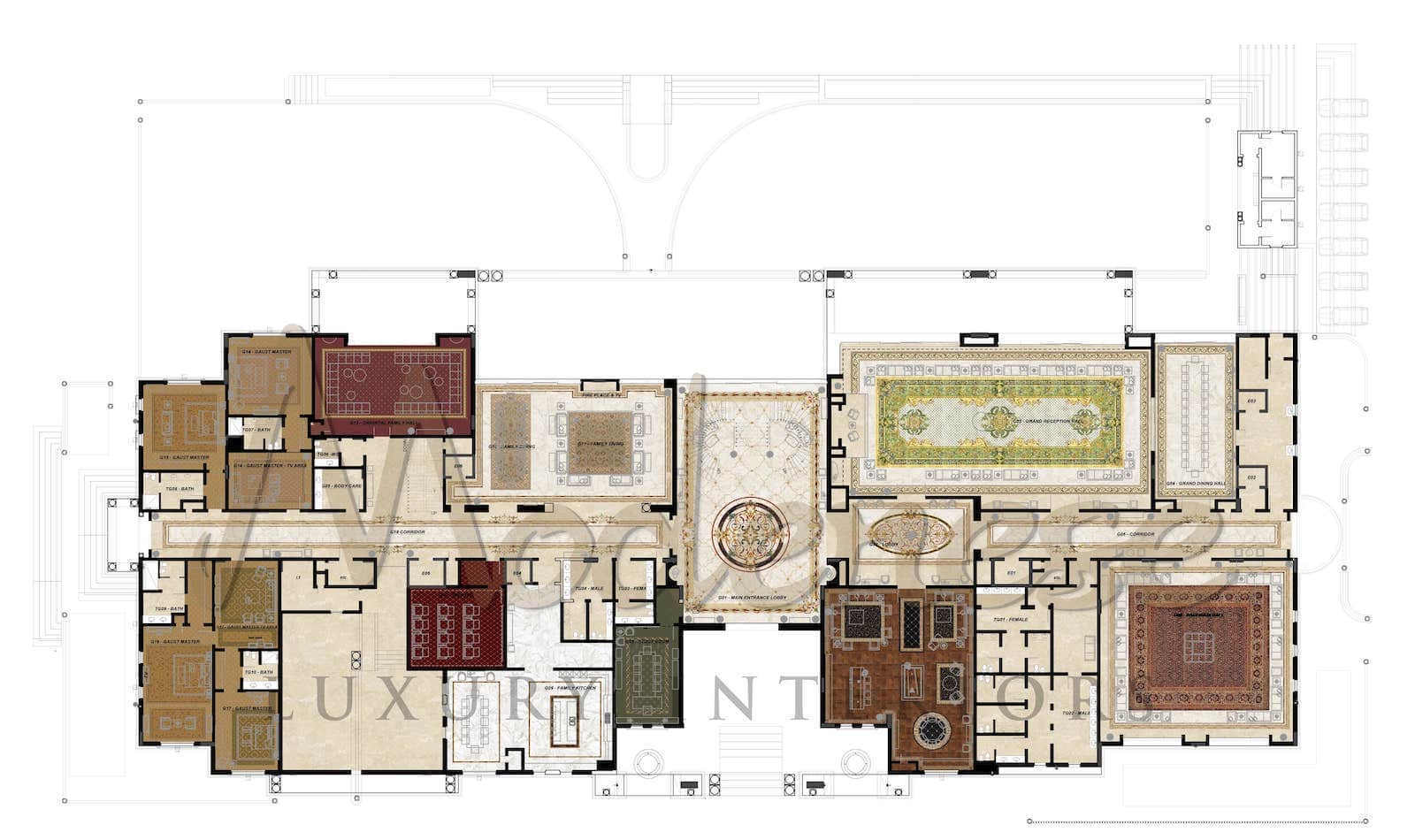 FIRST STEP: MEETING & BRAINSTORMING WITH THE CLIENT
01
The first step is represented by an introductory meeting between our designer team and the customer with an on-site visit to evaluate the style references, the client's preferences, the experience originated from the project itself. This first step of design process is just an exploring phase which goes through various inspirations, tastes, original and bespoke ideas, discovering and programming. That is absolutely crucial to fully understand our client's requirements and to reach the project development in order to create the ideal layout for the most refined luxurious classic interior design projects, elegantly supported by the premium touch of Italian design.
SECOND STEP: DESIGN CONCEPT & MOODBOARD CREATION
02
The second step's focus represents a creative phase where our target is to meet the client's specific requirements: what is fundamental here is to take into consideration all architectural components, cultural issues, location, spaces planning, layouts, all necessary features to reach the ideal design concept which will reflect your individual way of living. In this journey, the authentic Italian design is the key to the success for a perfect and magnificent luxury interior design project. Modenese design team will be proud to provide you with the best support, creating suitable moodboards, sketches and interior proposals to reach the last step of this inspirational guideline.
THIRD STEP: FINAL DESIGN PROJECT & ITS REALIZATION
03
The third step of this artful journey and exclusive mission is to reach the most luxurious classic interior design results for a refined made in Italy project realization. This phase is composed by exclusive project implementation with different budget options in order to meet various clients range needs and it includes the submission of 3D renders, sketches and technical drawings for an excellent work execution. Our interior design service is completely tailor-made which perfectly suits your personality and favorite notions. Modenese Luxury Interiors designers and architects will be your ideal partner and guide to achieve the impeccable Italian style interior project.