What is the highest quality fabric?
Nowadays, there are many varieties that manufacturers use. In this article, you will learn about all the subtleties of the right choice of quality products. And we will disclose the features and nuances in the use of the most popular materials.
The range in this category is impressive in its diversity. All manufacturers offer consumers different origins of the matter: natural and artificial. Natural options for sofas have their advantages, among which is an excellent ability to ventilate. But this property has its negative side – the fabric relatively quickly loses its attractiveness and the appearance becomes a bit unaesthetic.
To prevent this effect, manufacturers offer special care products. This allows you to keep your furniture in a beautiful and natural state for a long time.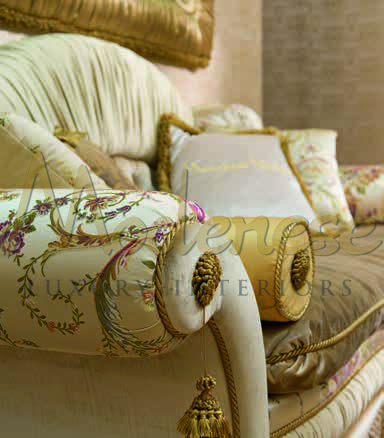 Types of Natural Upholstery Fabric
Natural upholstery textiles are ones composed of natural materials. This includes plant fibers and animal-derived materials. Some of the most popular natural textiles for upholstered furniture are mentioned here.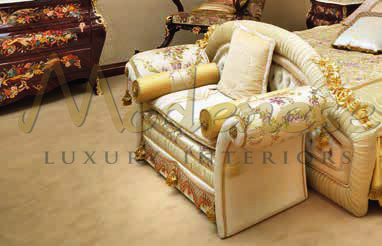 Cotton
Cotton fabric with blended fibers is widely used to upholster furniture. Cotton has been known to mankind for more than a thousand years. It has been used to upholster furniture since the advent of upholstered armchairs and sofas. It is a fiber of cotton, a plant growing in the southern regions. The most valuable are Egyptian and Uzbek cotton. Currently, pure cotton fabric for sofa upholstery is practically not used, since, despite its natural strength, it is less durable than synthetic fiber.
Therefore, mixed cotton fabrics are actively used. The percentage of synthetic fibers in them can be different: from 10 to 90%. If a fabric has more than 40% cotton fibers, it is considered to be a natural cotton fabric. Cotton fabrics are soft and pleasant to the touch. They absorb dyes well, so they can be given completely different colors. This expands the design possibilities to infinity. But in its pure form, cotton quickly burns out when exposed to sunlight.
Due to its distinctive features, cotton fabric is preferred if high demands are made to the materials for safety and hypoallergenicity. Cotton upholstered sofas always look stylish and aesthetic, and the variety of colors allows you to fit the furniture into any interior.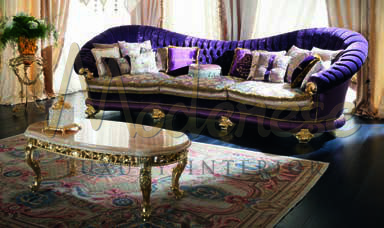 Silk
Silk is a lightweight, plasticky and yet dense material. It drapes perfectly, with graphic broken folds. The extravagance of the folds can be emphasized by laying the fabric on a plane, for example, on the floor. Crumple to varying degrees, depending on processing – textiles made of twisted and long silk threads practically does not crumple.
The main characteristic of natural silk is a moderate lustre. The play of light reveals texture, shimmering in different shades. Silk fibre has a triangular cross-section, thanks to which, as a prism reflects and refracts light reflections. Due to the shiny glossy surface, it visually expands the space. Natural silk in furniture upholstery is used very rarely, due to low abrasion resistance.
It is not desirable for everyday items such as furniture covers and tablecloths. Silk textile in the interior is more decorative than utilitarian in nature and is appropriate as accents: paintings, panels, lampshades, hand-woven carpets, bedspreads and pillows painted or embroidered with beads.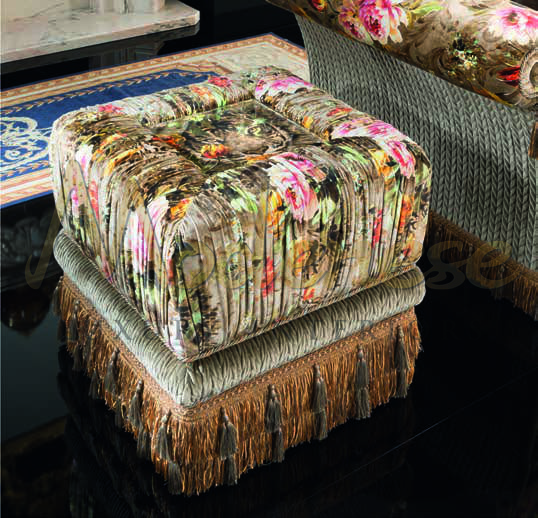 The type of furniture upholstery material determines the appearance of sofas, armchairs, and the interior as a whole. Artificial wool gives a cosy environment, causes a desire to enjoy the home atmosphere. Soft fabric harmonizes well with items of furniture, made of natural wood. Frosted glass, dull metal will also combine with this upholstery. Synthetic polyester fibre is used to produce faux wool.
Wool
Advantages:
Unlike its animal counterpart, the fabric is durable, durable. It is easy to take care of.
Artificial wool practically does not abrade, it is optimal for upholstery of those parts of upholstered furniture, which are intensively used.
The material is pleasant to the touch.
The furniture upholstered with synthetic wool makes the atmosphere much more cosy and homely.
Artificial wool is much cheaper than its natural counterpart.
Sofas, armchairs can be placed in sunny corners of the apartment without fear: upholstery fabric is resistant to UV radiation, does not burn out.
Soft fabric will be a good choice for people who want to make their home cosy and relaxing. The rich range of colours makes it easy to choose the best option for different rooms.
Leather
Some varieties of fabrics may seem too flashy or complicated in their design. In this case, it is worth looking at natural leather. It is also used for furniture upholstery. This classic option is great for office sofas. It is worth noting the main advantage of such matter – the ease of use. Thanks to its unpretentiousness, it has won the hearts of many owners. The product, decorated in this way, will last for many years. But despite the whole range of advantages, it still has certain disadvantages. The material is available in a limited number of colours and shades. Leather is slippery and it will be uncomfortable to sleep on it. Not everyone will be happy with the high cost of such goods. Such furniture buys mostly lovers of traditional style in the interior design of the cabinet or living room.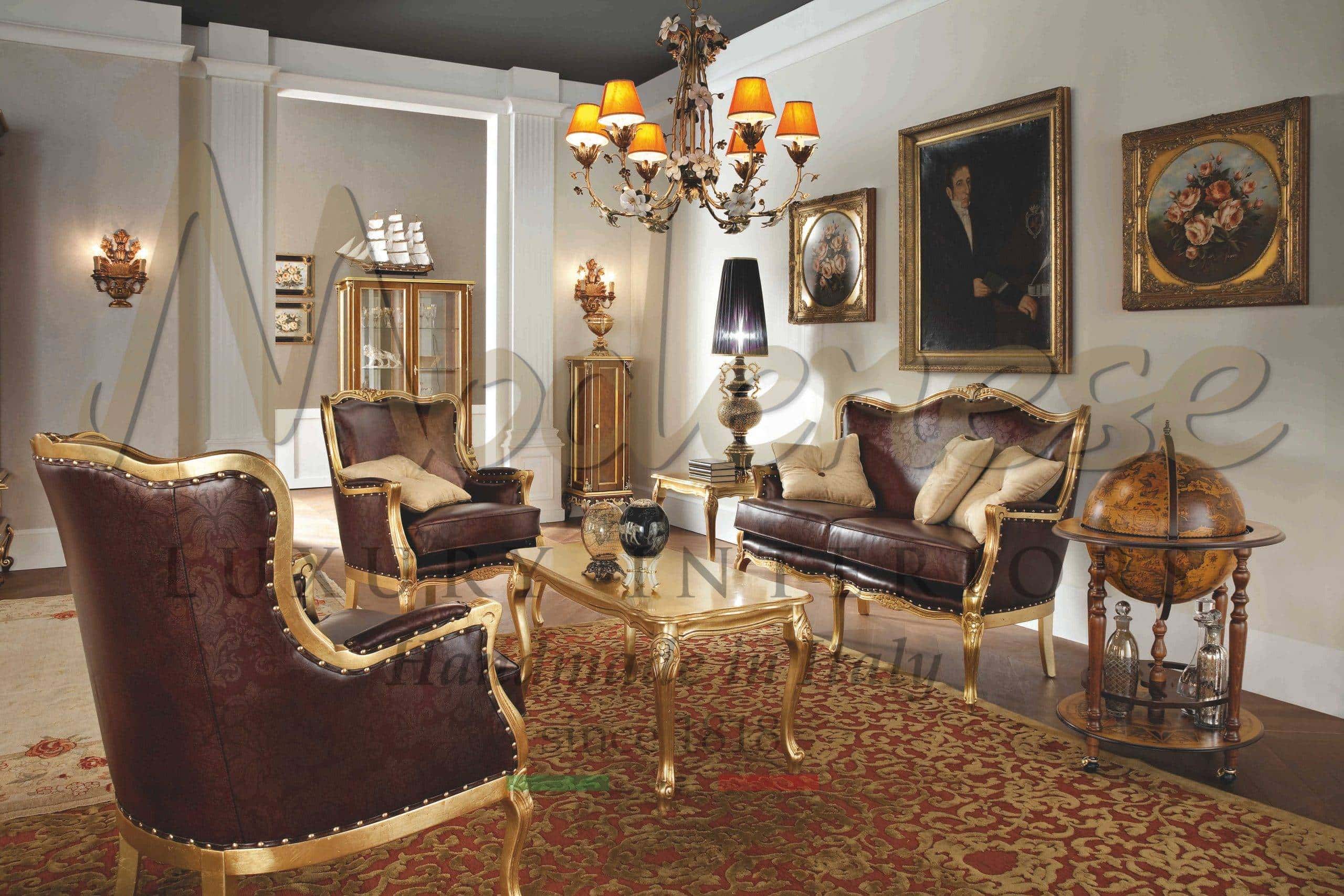 If your couch will be used regularly by a big family, a patterned alternative, no matter how modest, will hide spills better. If you believe you'll get tired of the pattern and the covers are readily detachable, it's worth looking into the cost of new covers when you buy the couch – and, if it's inexpensive and you have the storage room, investing in a second, plainer set. This is useful when purchasing light-coloured coverings that will need to be replaced before your sofa.
Visit our online showroom