TOP DESIGN IDEAS FOR CREATING A LUXURIOUS HOTEL
The Aesthetics Are Important
Hotels are often connected with distinct aesthetic styles, often associated with wealth and grandeur. It makes no difference what technique you use. Victorian styles, for example, are just as valid as more contemporary styles. What matters is that your hotel's interior and external design speak to high quality and elegance on every level. Building an opulent structure, to begin with, is critical, as it will demonstrate your attention to detail to individuals who might be looking for a place to stay.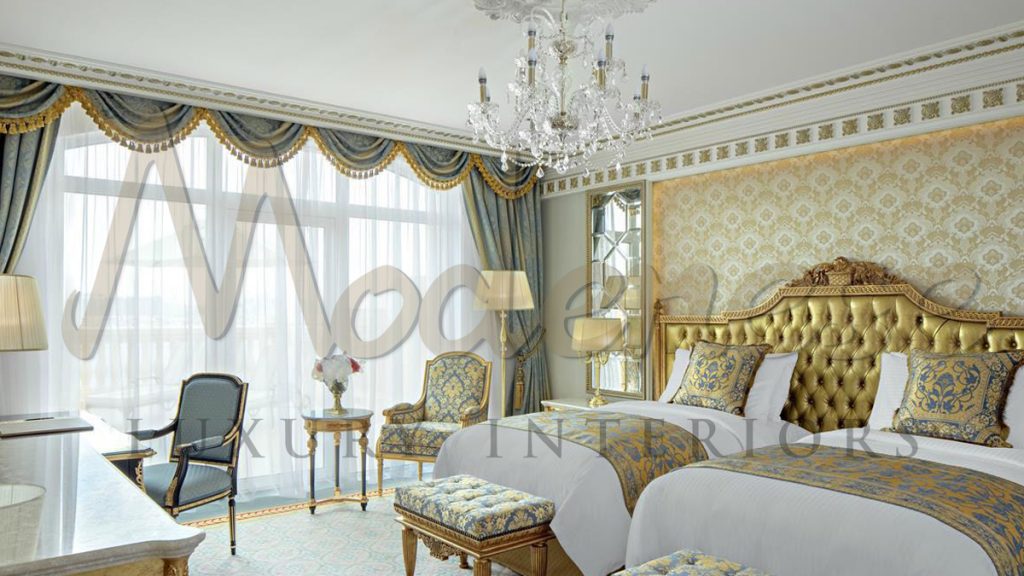 On the other hand, the inside should not be overlooked because it is where your customers will spend the majority of their time with you. Elegant wallpaper and an equally magnificent carpet are required to bring life to the everlasting halls that characterize a hotel. Don't overlook things like light fixtures, railings, and even the basics like furniture when elevating a hotel from adequate to luxurious. Curating a consistent look is also crucial. While there are no hard and fast rules, sticking to a reasonably strict theme will prevent your hotel from having a discordant sense, which can destroy a lot of your hard work.
Interior design gives a space personality, and in the hospitality business, this is very crucial. Guests are encouraged to relax and luxuriate in their surroundings, which are innovative and opulent. Here are the top design ideas to consider if you want to improve your hotel's appearance.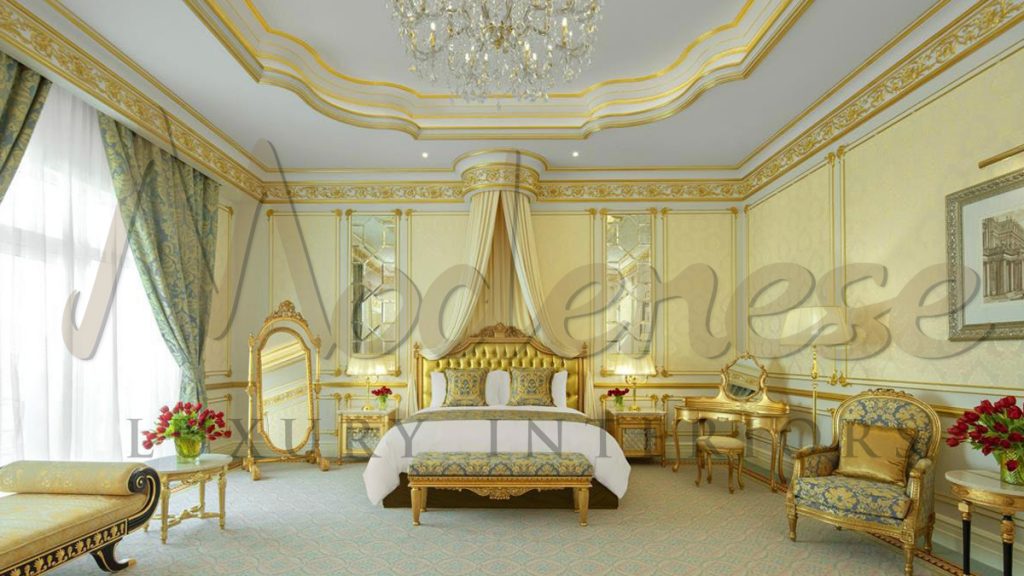 Organic Elements Should Be Used
Creating green spaces has recently become fashionable in high-end hotels. Greenery in hotel interiors is an economical yet elegant method to design a place, as many tourists are looking for venues that allow them to escape the strains of the city.
Start with living walls, also known as eco walls, which are vertical gardens that can be used to complement industrial or contemporary aspects. Use artificial greenery instead of plants for a low-maintenance solution. There is no need for sunlight or water if you do it this way.
Other natural features you can use in your hotel layout are terrariums, hanging or potted plants, organic materials like seashells, and floral arrangements. Use dracaena, birds of paradise, and banana plants to create a luxurious look. Designers can use modern lighting that references organic shapes like plants in current structures.
Panels or Walls to Upholster
Upholstery adds warmth to spaces, ideal for rooms, bars, and lobbies. Upholstery can be used to cover a single wall, a panel, or a whole room, depending on your budget. Another advantage of upholstery is that it reduces noise. Upholstered walls, sofas, and headboards muffle noise, reduce voice echo, and provide hotel guests with an intimate and relaxing environment.
Using dark colors to create drama is a great way to start
Giving a room a new coat of paint is one of the simplest ways to change it. Dark colors like charcoal gray, midnight blue, or chocolate brown, combined with metal fixtures, give a sophisticated effect frequently seen in hotel restaurants and lobbies.
Dark paint also adds a sense of coziness and drama to the room. Painting ceiling beams, moldings, baseboards, and doors in glossy black color, for example, gives the area a glitzy feel.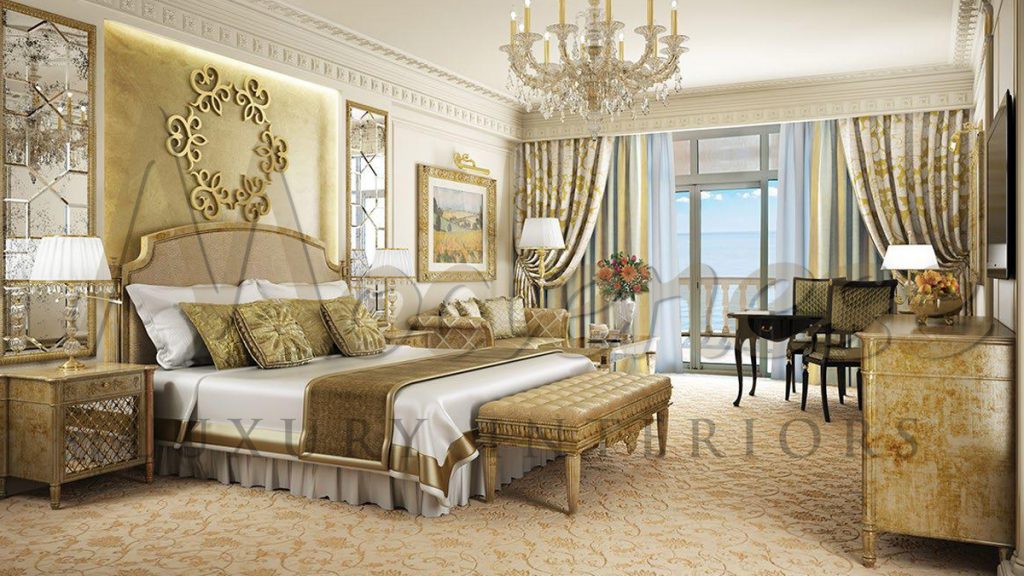 High-Quality Italian Furniture
Perceptive customers recognize quality when they see it, and they can notice high-grade furniture in businesses right away. When you know you're catering to a specific type of customer, you need to know how to deliver the level of comfort they're used to. A well-made piece of furniture won't be a waste of money because it will last for many years.
Create a Spa Environment
With their vast tubs, high-end amenities, and unmatched views, hotel bathrooms have become synonymous with grandeur for many travelers. In hotel bathrooms, guests have come to anticipate marble surfaces, ceramic backsplashes, and high-gloss flooring.
This area can benefit from stylish elements like vintage lights or wall art and larger pieces like cushioned sofas, enormous plants, and full-length mirrors. Finally, amenities such as rain showerheads and heated floors provide a spa experience right in the comfort of guests' rooms.
Stone and Tiles as ART
Tiles are available in a wide range of rich patterns that can be used as art in the bathroom, adding intriguing colors and patterns to the space. Frances Ford Coppola owns the Palazzo Margherita in Italy, a stunning example. Jacques Grange, the designer, gave each room and bathroom its distinct style. The exquisite tiling, sponge-painted walls, marble moldings, and soaring lavishly patterned ceilings create a captivating atmosphere.
Use a Herringbone Pattern to Liven Up Your Floors
Rich wood flooring adds warmth to any room but is often overlooked. A herringbone pattern creates an eye-catching twist to the typical wood floor at the Viceroy Central Park designed by Roman and Williams. The graphic design makes flooring far too beautiful to be covered in carpet.
Glossy black paint for the doors and trim
For doors and trim, semi-gloss white is the traditional, but black is a less-expected yet exquisite alternative. The ceiling beams, doors, moldings, and baseboards in a suite at the Merchant in Salem, Massachusetts, were painted in a high gloss black by Boston-based designer Rachel Reider, instantly adding a polished edge. The lampshades are also black to match the overall design. It's a low-cost way to change the mood of a space completely.
In a hallway, be daring
A bold pattern is ideal for livening up a dark, tight corridor. A marbelized wallpaper lends pizazz to the area at Hotel Palisade in Sydney, Australia. Charcoal gray doors and trim complement the striking design.
Visit our online showroom