Regency is a style of furniture that combines elegance and gracefulness of forms. With the help of this furniture, you can create a relaxed secular interior. Italian upholstered furniture, shown on our site, are worthy products of elite quality, which have appropriate characteristics. Italian upholstered furniture Regency of Modenese Luxury Interiors factory is aristocratic sofas and armchairs, which are made of expensive wood, and natural textiles and are famous for their elegant decor.
Elegant carved legs and armrests, impeccable wax polishing, elegant gilding elements, and gorgeous inlaid. The company specializes in the production of furniture products in classic style and designs real furniture masterpieces. Italian upholstered furniture Regency of Modenese Luxury interiors factory will be a pertinent addition to a living room, cabinet, or dining room, and thanks to the excellent quality of the filling and good ergonomic properties, they provide homeowners with unique comfort. Classic products are a luxury set of sofas, which do not lose popularity due to the variability of interior trends.
History of origin
Chronologically, the time of the appearance of this style coincides with the period when the Duke of Orleans was regent under the young king. After the death of the previous King Louis the Great, a series of dynastic wars, and depletion of the economy, the royal treasury was empty. The solemn and ceremonial "great age" was a thing of the past, and tasks comparable to the setting of Versailles were out of the question. The ceremonial art of the French aristocracy was replaced by salon intimacies and refinement. Secular life became more relaxed, which was immediately reflected on the interior and, above all, on the furniture design.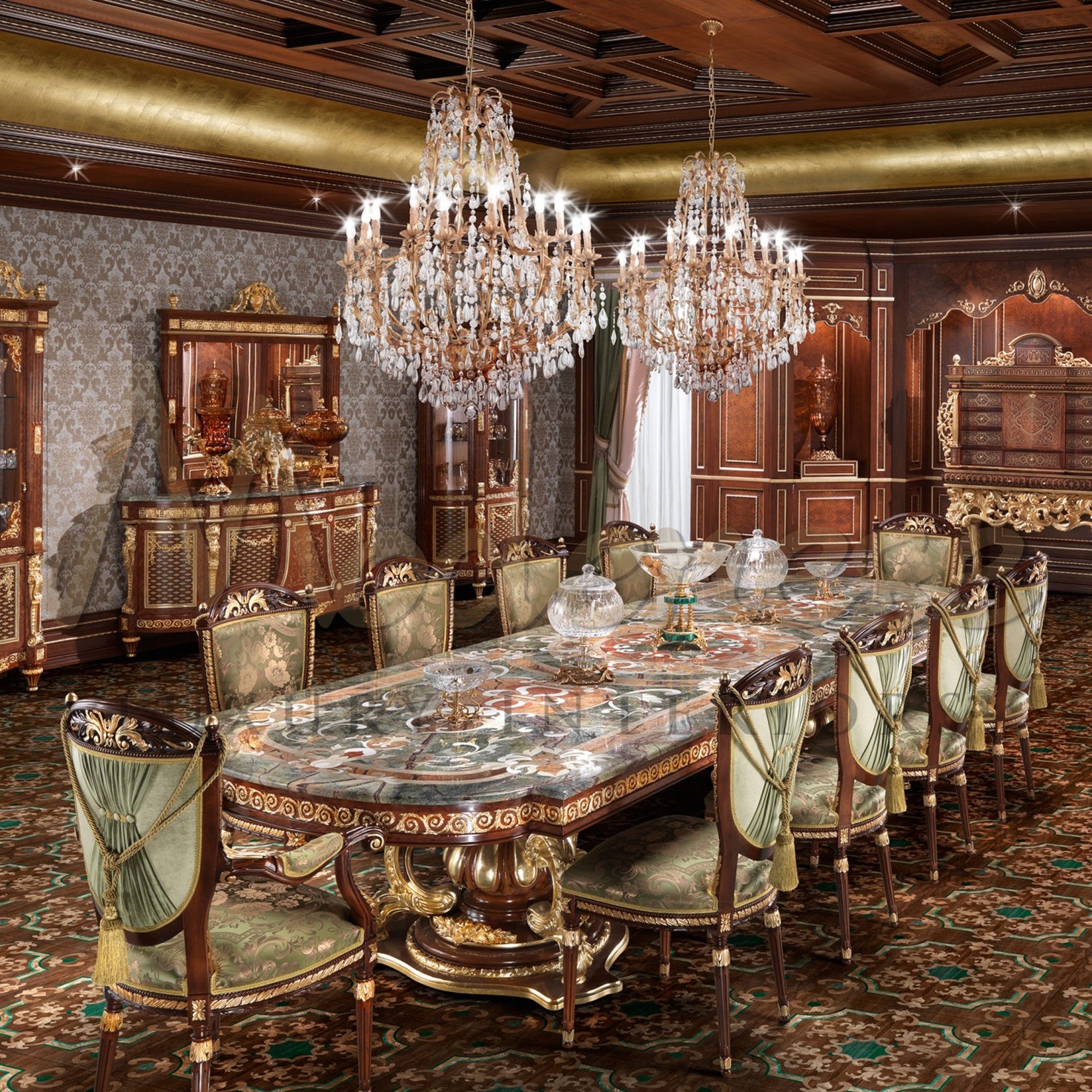 Features of the style
In its essence, the Regency style is a transition from the cold parade of the Baroque to the more light and welcoming Rococo. The peculiarities of the style are:
The nature of the decoration of products. The favorite ornaments are whimsical scrolls, ribbon weave, the most intricate character has a shell motif;
Materials of manufacture. In addition to traditional natural materials, exotic materials are in fashion;
Lightness, airiness of finishing;
Surface segmentation with the help of frames with smooth angles;
The symmetry of patterns and at the same time the free placement of curls, and figures, creates the impression of lightness.
Regency-style furniture is decorated with paintings in pastel colors: pale, pink, blue, and others. The seats of sofas, armchairs, and chairs have rounded shapes and turned, and bent legs are decorated with finishings in the form of stylized leaves and female heads. The backs often resemble ancient Greek vases in form of slotted openwork ornament. An elegant chest of drawers is raised on high legs, and usually has three drawers.
An elegant bed with a half baldachin differs markedly from the bulky bed of the Baroque era. The dressing table is elegant and richly decorated. Multifunctional furniture allows the designers of the Modenese Gastone Luxury Interiors studio to create a beautiful and comfortable living environment for each client, taking into account their needs and capabilities. And then an ordinary apartment turns into the apartment of your dreams.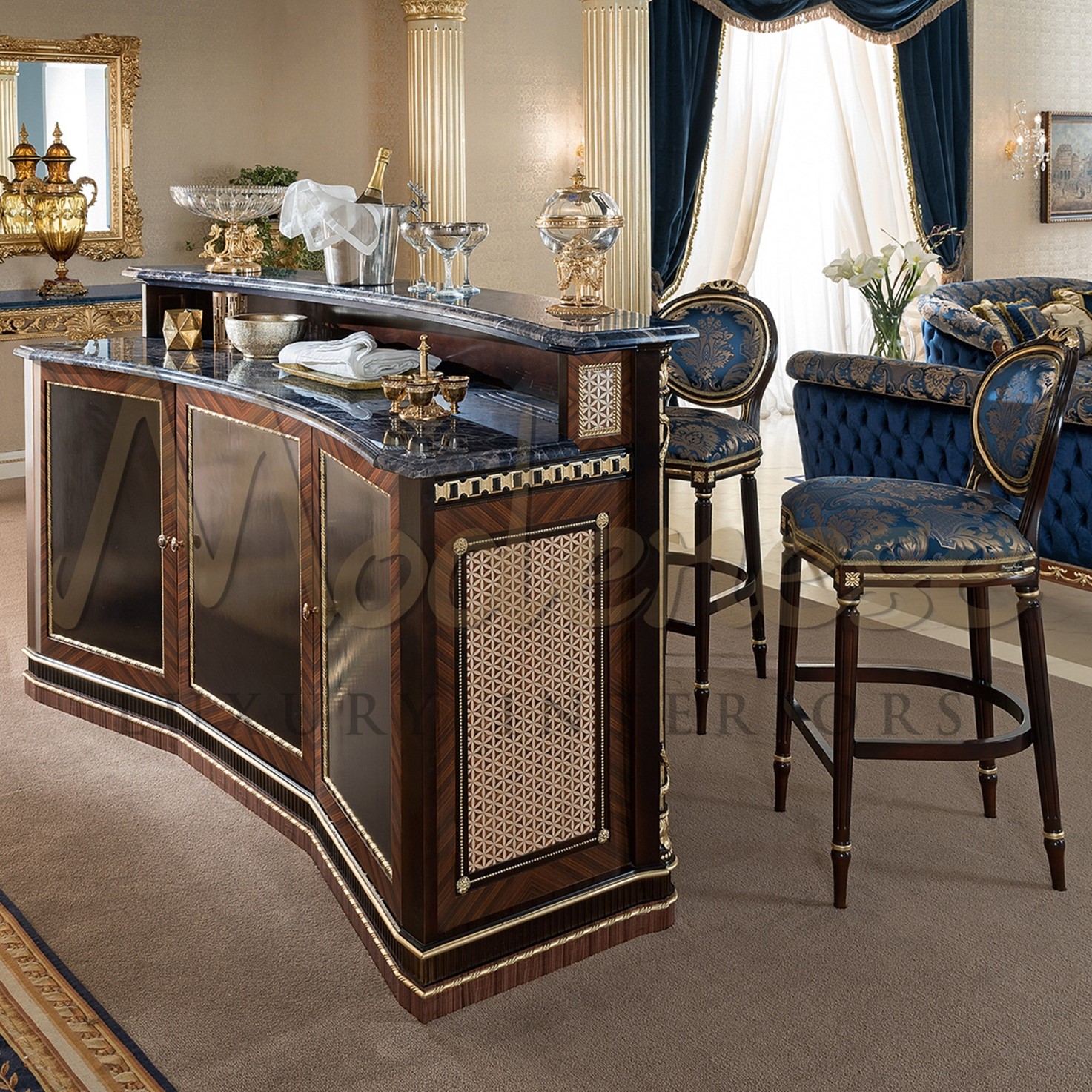 Our advantages:
Managers of our furniture showroom will help with issues related to design, engineering, manufacturing, assembly, and delivery.
Our team has an individual approach to each customer. Our designers will choose the best design for your room. We can show you samples of materials, and you can see some collections in our furniture showroom.
If you want to have a customized design, we are always at your service. We take into account your desire and location, terms and conditions of payment. For us there are no priorities, we will listen to everyone and find a compromise.
For warranty obligations and customer peace of mind, there is a legal contract, which you can sign in our furniture showroom or via e-mail.
Furniture collection upholstered furniture Regency has all the necessary certificates of origin and environmental quality goods that we provide as soon as possible. -Thanks to the original design, carved decoration, and style, the furniture will suit the tastes of true connoisseurs of classics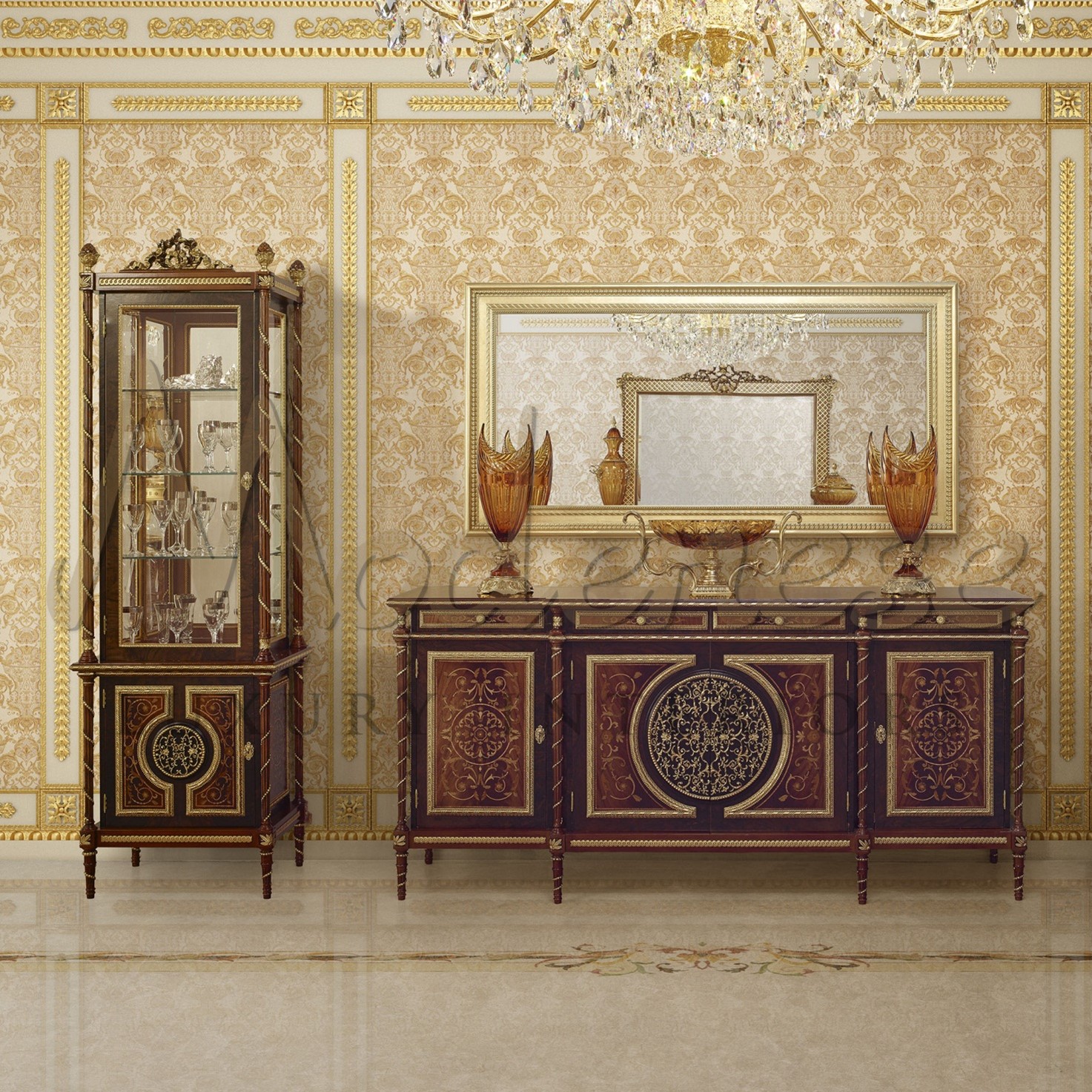 Looking for a Regency-style dining table, set of dining chairs, or accent item to complement your home's décor? Call or email our furniture professionals at Modenese Luxury Interiors today to schedule a free consultation at your convenience.
Visit our online showroom