Classic style luxury villa interior – Kuwait city (Kuwait)
The exclusive villa interior design from Modenese Luxury Interiors dazzles with the beauty and splendour of a timeless classic-style decor. Interior design from Italian designers is the art of bringing opulent ideas to life in a comfortable environment. The house's decoration is the signature of its owners at all times, and it emphasizes their prestige and good taste, as well as their distinct family history. The Modenese Luxury Interiors team are not only making a pleasant and harmonious interior, but they are also changing the lives of each family to the best embodies the aspirations of a beautiful house. We can also provide you with professional experience in architectural and interior design in Kuwait.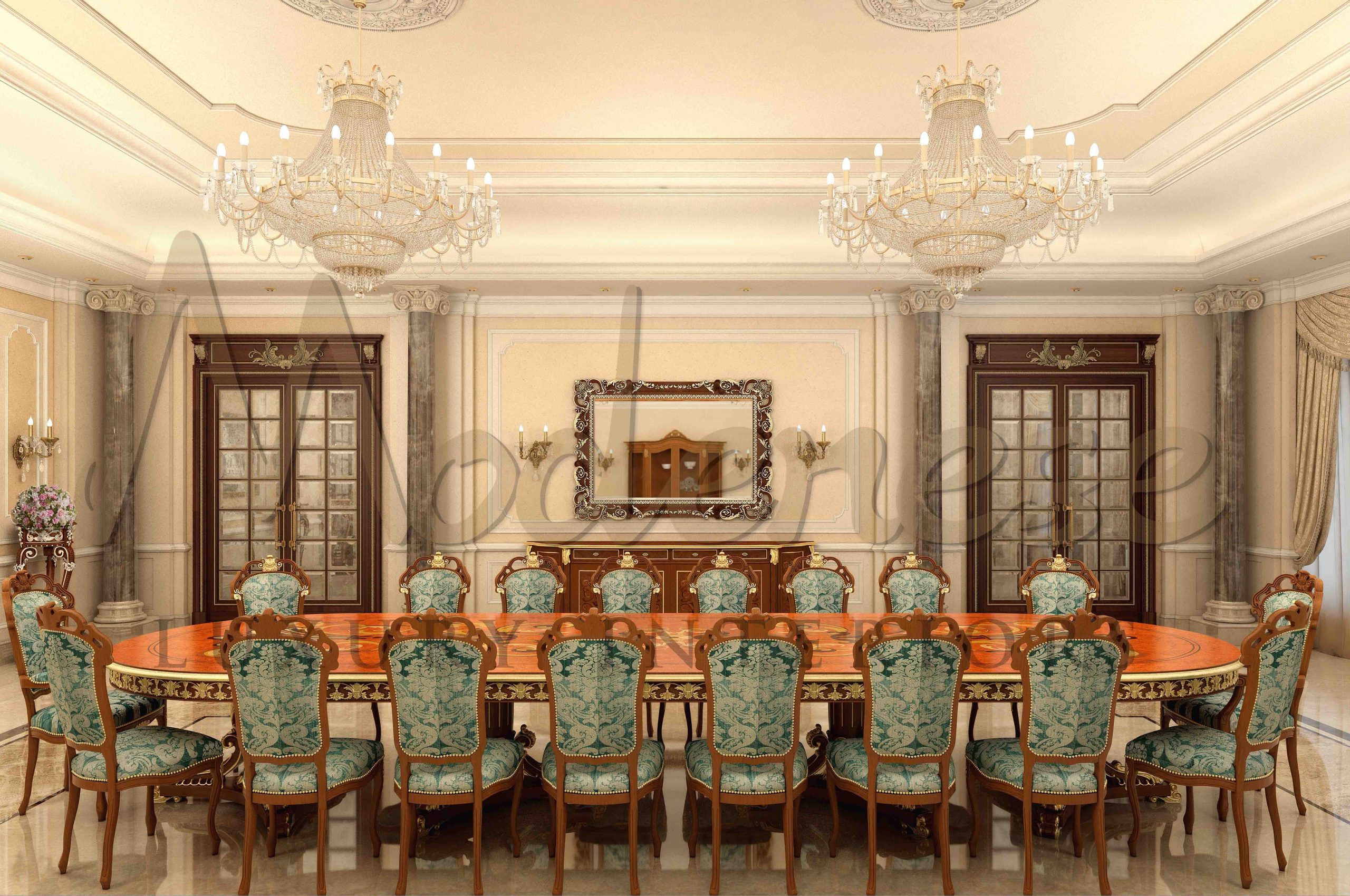 Fabulously Attractive Classical Dining Room Design
The dining room's colour scheme influences not only a person's mood but also his or her appetite. This colour scheme of dining room design Kuwait supports the style of the excellent interior design by Modenese Luxury Interiors. Our firm provides you with reliability, stability, and loyalty by using the brown hue and its nuances in the home interior. Brown is now regarded as a design leader in the dining room. Any dining room can benefit from the addition of chocolate or cappuccino tones to provide elegance and warmth. The dining room in this lovely home design is appealing. The brown colour of the table and the cappuccino walls create an impression of dignity and a good appetite. You will always feel at ease here. The interior of this highly elegant dining room design features a brown colour scheme that works well with other warm tones. It is very enjoyable to gather with friends and family in such a room.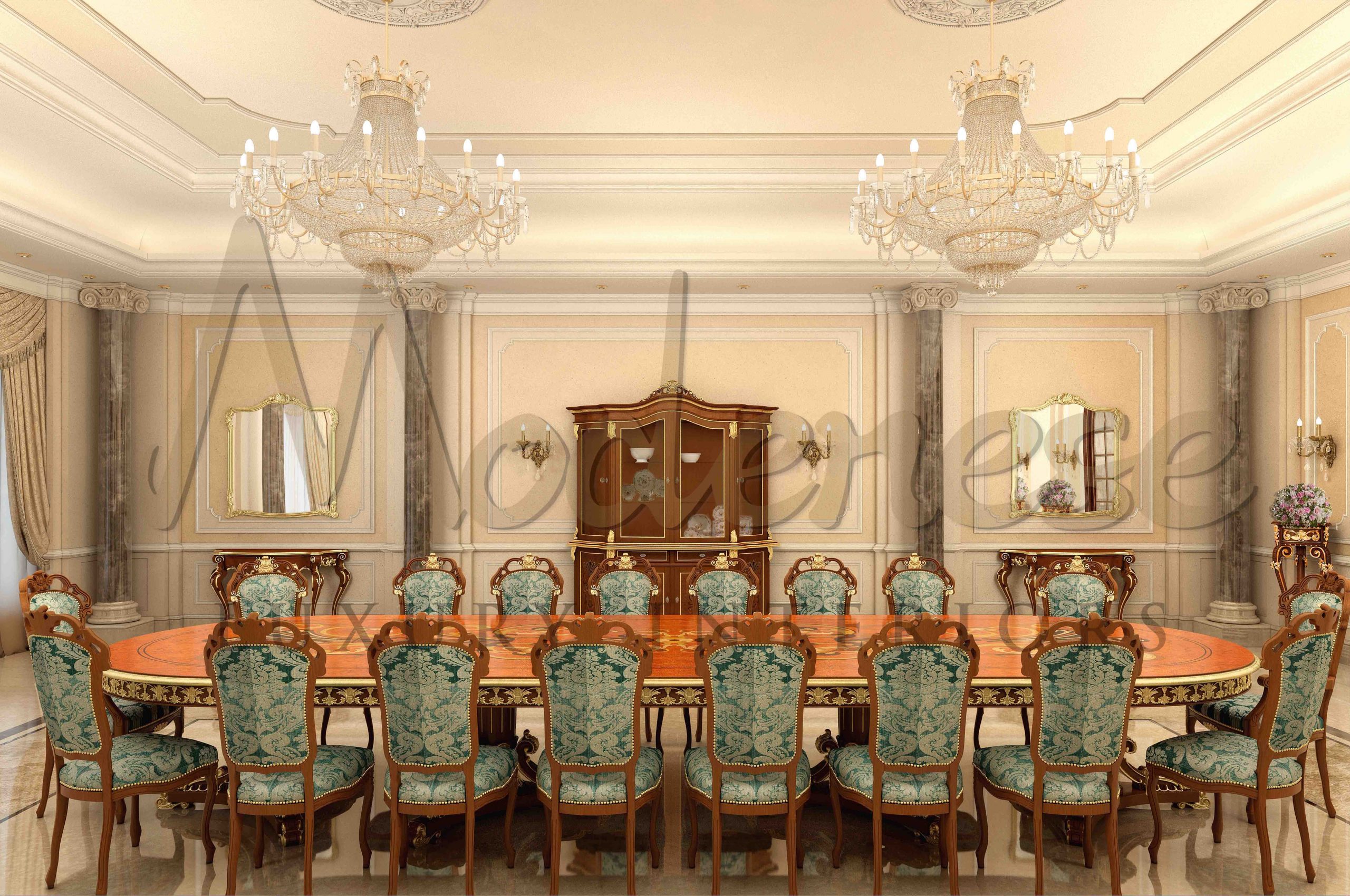 Luxury Dining Room Furniture
When it comes to classic style villa design in Kuwait, we endeavour to make thei unique, innovative and tailored to the tastes and needs of the people who will live there. Furthermore, every square centimetre of available space was efficiently utilized, and every aspect of the house design contributed to the creation of the image, which was created by our professionals and accepted by the client.The dining room's design reveals a lot about the home's owners, including their hospitality, generosity, and social standing. Furniture is the most important aspect of the dining room design. We provide direct furniture delivery from Italy to our consumers. Luxury tables and chairs with hand-carved decorations add a touch of opulence to your space. The dining room will be finished off with fine glass showcases for utensil storage. We will also assist you in selecting the appropriate dishes and accessories.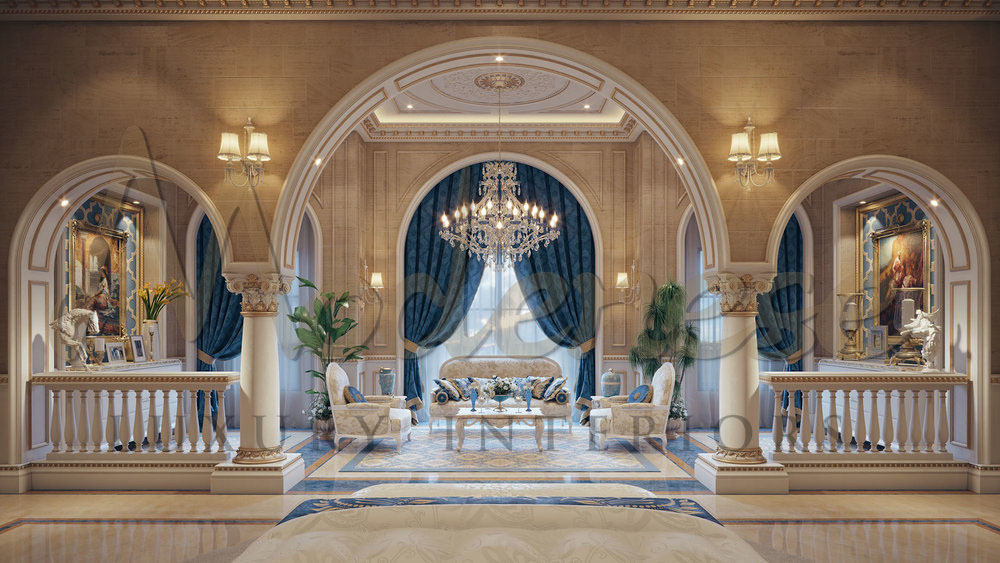 Classical Interior Design Style
Each project's development is a long process, made with sophisticated taste, imagination, and true talent. In the gallery of completed projects, you can view the work results of the Modenese Luxury Interiors interior design studio. An embodiment of dream prosperous people who have decided to convert their homes into an oasis of comfort and refinement. This is – a well-balanced mix of colours, textures, materials, and forms. Every aspect is important in such projects. Exclusive interior design, made by true artisans, is always in style. Modenese Luxury Interiors is the option of individuals who respect beauty and elegance as well as comfort and functionality.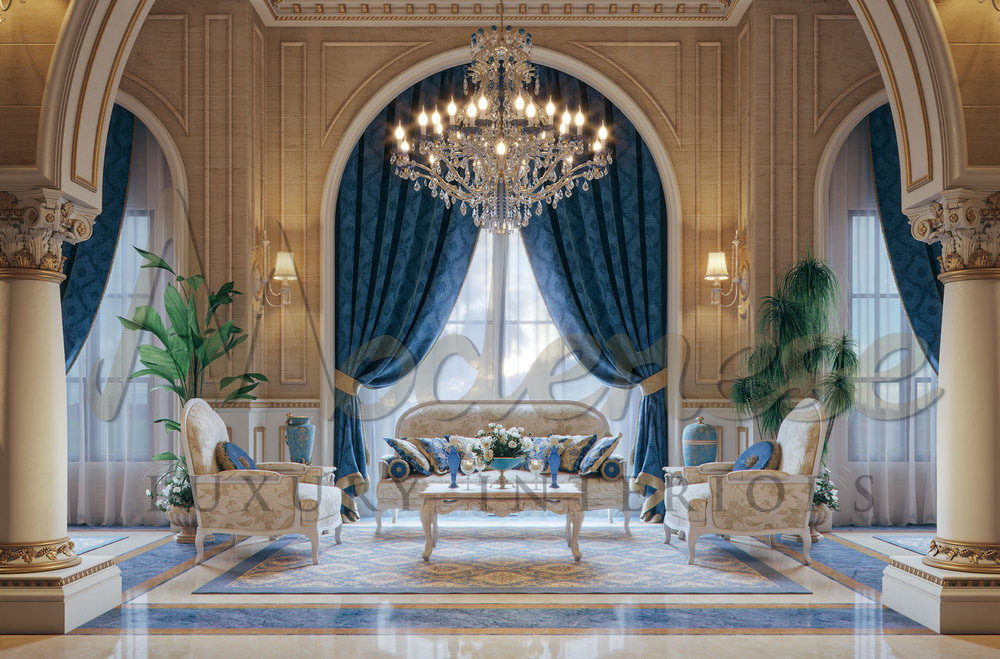 Classic Style Interior Decorating
Without sufficient illumination, a unique design project for the area is impossible. Elite interior lighting design does not consist of a single chandelier in the centre of the ceiling with several lamps. Lighting fixtures create zones in the room, drawing attention to the finer points. When it comes to designing an exclusive interior, Modenese Luxury Interiors always provides 3D visualization to clients. This will allow making the necessary adjustments after "placing" lamps (and other items) as desired. Classic Villa Style entails the personalization of all interior aspects. From doors and floors to furniture and other accessories, including stucco moulding. We also provide furniture delivery to the site from Italy.
Visit our online showroom