YOUR PERSONAL OFFICE SHOULD BE GORGEOUS WITH A LUXURIOUS HOME OFFICE INTERIOR AND STUNNING FURNITURE
Have you ever considered working from home to avoid the city's daily buzz and bustle? Think no farther since Modenese Luxury Interiors has taken care of all the specifics! We can design the most stylish and effective home office for you to increase productivity and save time. We have expanded our talents and experience to include not just bedrooms and kitchens, but also home offices. This highly expensive interior design will give you CEO emotions from every part of this space.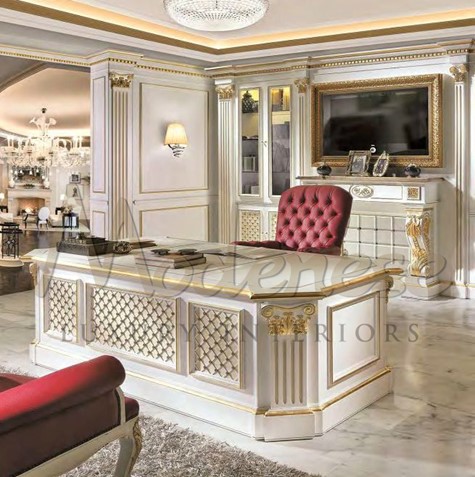 From the aesthetic to the furnishings utilized, we made certain that the interior design of this stunning and luxury home office will be one of a kind. We gathered the best materials from across the world to create a stunning piece of home office furniture. The walls contain lit patterns that add to the room's elegance. Its forms and holes are handcrafted and designed by Modenese Luxury Interiors's creative staff. We are experts in luxury interior design, and you will not be disappointed!
This black, gold, and silver squad is essential for all wealthy individuals. It is a fantasy that lives up to its name: beauty in luxury. It's lovely and outstanding creation and color combination is just magnificent when combined. The marbled pattern is simply stunning. And it doesn't end there since the materials also have a lovely wood finish for added beauty and elegance. Modenese Gastone and its crew have the necessary tools to create such beauty.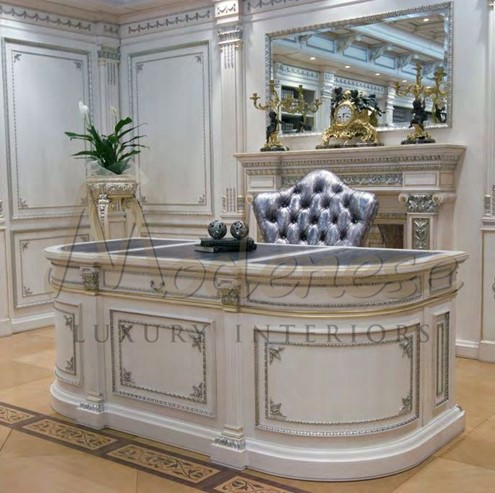 Because it is built of long-lasting materials, the chandelier will become your new favorite. The circular form is wonderfully designed, and the illusion of circles is undoubtedly rich and opulent. Its fantastic utility for your home office goes beyond its lovely aesthetic. The interior design also includes sleek and effective furniture set with everything you need. This home office's perfection does not end with its gorgeous design. Each piece of furniture that Modenese Luxury Interiors has included in this home office is just another proof to our commitment to providing the most attractive and award-winning interior design for people who desire to work from home. We are attempting to improve the way we work by providing superior home office interior design that includes all of the required furnishings for daily job efficiency. We appreciate work-life balance, which is why we aspire to be the industry leader in creating luxury office interior design that everyone will like.
Visit our online showroom