Houses are specially created for a comfortable existence in a stunning high-end interior with noble and aristocratic elements. Interior design in Jeddah from the best design studio – Modenese Luxury Interiors is usually stunning in scale and craftsmanship. Eternal gorgeous classics take on a fresh appearance of refinement, passion, and elegance in the works of elite design studio Modenese Luxury Interiors.
Classic Villa Design In Jeddah
The classic interior design never goes out of style; no modern design can compare to the elegance of the classics. This design emphasizes the property's dignity and the owners' exquisite taste; it was chosen by people who know exactly what they want out of life. The traditional style living room by Modenese Luxury Interiors is both attractive and functional. Traditional living room design is tough to achieve, yet it is one of our favourite designs.
When creating the project, our team at Modenese Luxury Interiors evaluated and brought to life all of the important features of a classic living room design:
the use of less contemporary technologies;
high-end designer furniture made of natural wood, as well as antique furniture and antique interior design accessories;
the presence of artworks in ornate frames;
the improvement of furniture fabrics and curtains;
a variety of accessories (porcelain figurines, candlesticks, live flowers in cooper flower pots).
When you order the classic design from Modenese Luxury Interiors, you get natural and rich materials, exquisite colours, finishing that evokes natural elements both to touch and sight, and a relaxing ambience, welcoming guests with soft architecture, curvy fashionable furnishings, and delightful lighting. The ceiling design in our design and classic living room emphasizes the centre, which is emphasized by the amazing designer chandeliers placed in it, which are made of expensive crystal with imitation candles and elegant crystal pendants framed by a stucco decor in the shape of a rosette, and the entire perimeter of the ceiling is decorated with ceiling stucco as a complex pattern and borders, which are used in pairs.
The living room design by Modenese Luxury Interiors has luxury wall panels with gold-plated embellishments that combine well with the beige sofa and armchairs with characteristic curved legs with beautiful carvings. Beautiful English-style consoles and a black coffee table constructed of expensive wood species complement the furnishings.
The curtains for the living room, which are made of fine and noble silk in a gorgeous shade of purple with artistic additions in the shape of lambrequins, were chosen following the décor by Modenese Luxury Interiors decorators; they are made of fine and noble silk in a gorgeous shade of beige with artistic additions in the shape of lambrequins. The remainder of the living room's fabrics, as well as the colour of the walls, is complemented by graceful and magnificent traditional drapes.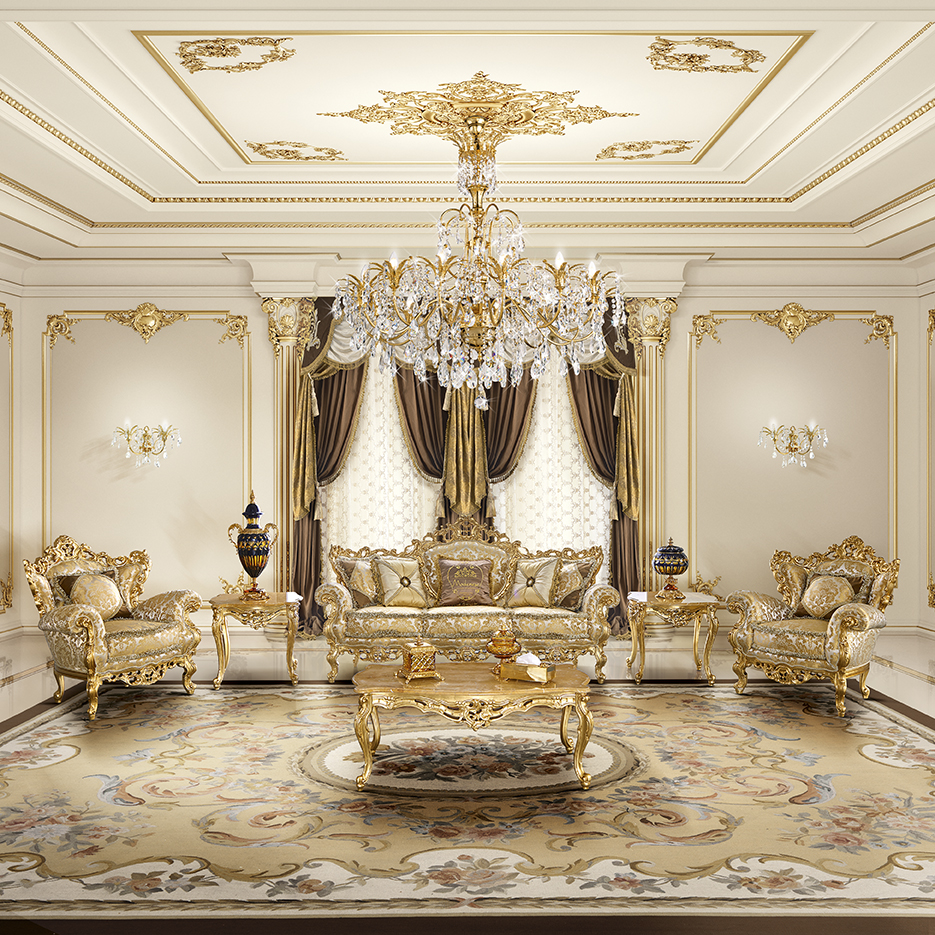 Luxury Interior Design in Jeddah
Every home should include a space where a person can decompress after a hard day at work, sleep, and disconnect from the outside world. This stunning project by Modenese Luxury Interiors is designed to calm both the body and the mind. We developed the greatest house interior, which our designers established by all modern style rules, to make the rest more joyful. Conciseness, completeness, and attention are the main focuses of this exquisite interior design project.
The modern classic style is suitable for individuals who place a premium on convenience and comfort, as well as the utility and simplicity of a well-designed home interior. In such a project, luxury style is a wonderful option for bedroom décor. The delicate and pleasant beige color palette, in conjunction with gilded embellishments of stucco moldings and decorative furniture pieces, reflects the personality of the bedroom's owner and makes the space as comfortable as possible.
Traditional classical decorative components were effectively blended with contemporary processing technology by the interior designer in Jeddah. The use of plaster ornamentation is required in Modenese Luxury Interiors' classical luxury interior design. In this sumptuous living space, the ceiling design is exquisite.
The ceiling is adorned with a beautiful plaster molding created from the author's creative sketches. Plaster in a creamy tone with pearly glitter adorns a portion of the ceiling's surface. New lighting put along the edge of the ceiling adds to the brilliance. Some people believe that creating a huge space is simple; however, this is not the case.
Following the guidelines may result in a house that seems empty and simple, yet rushing with the furniture may result in a crowded room. Because they try to be the best at all they do, Modenese Luxury Interiors is the finest choice for your interior design needs! The owners of this home enjoy a large living room with plenty of floor space.
The color scheme of the rooms was critical since it is an essential part of interior design because all colors influence the ambiance and emotions generated. Blue is a relaxing color that looks great in living rooms and dining rooms.
The color palette used by Modenese Luxury Interiors was beige and cream. It not only offers the ideal backdrop for the artworks, but it also gives the clients the tranquil, hotel-like ambiance they seek. The space is extremely well-designed, with magnificent decorations, high-end accent walls, and luxurious furniture that add to the area's extra-elegant ambiance. Visitors will appreciate the tranquility and luxury of the living area.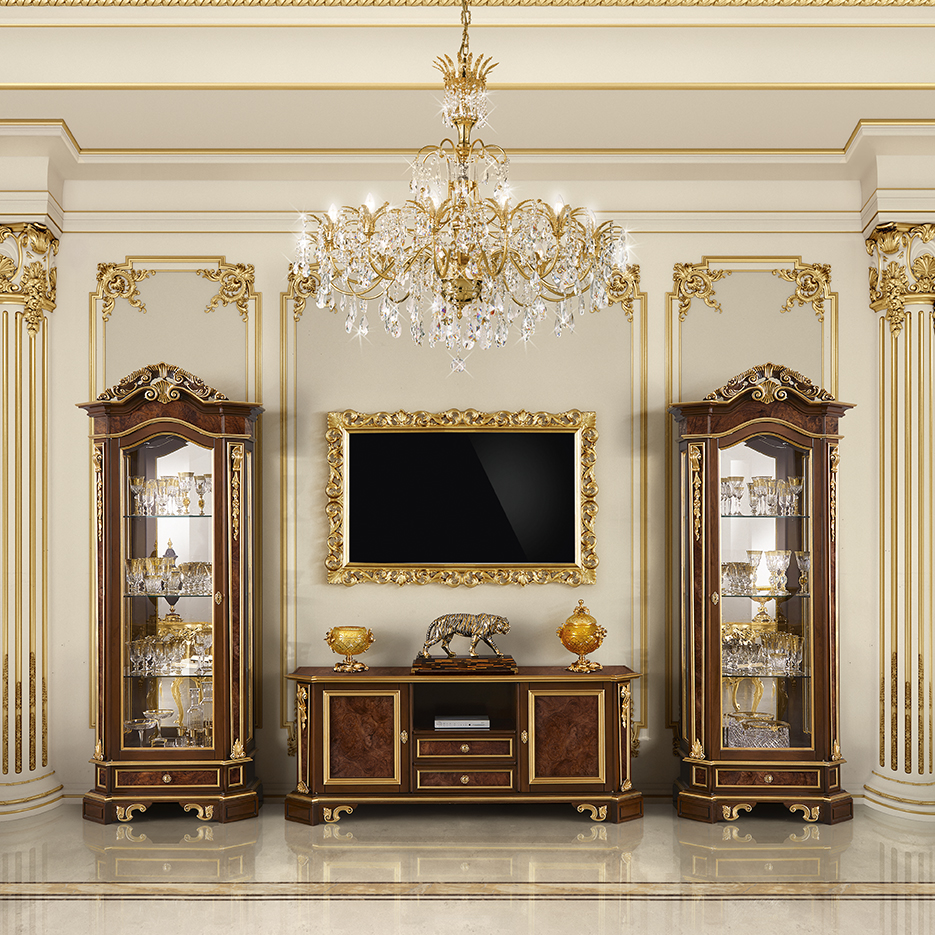 Luxury Villa in Jeddah
Italian furniture has won the hearts of millions of admirers of quality and beauty all over the world with its unique blend of comfort, functionality, and great style, magnificent design, and meticulous attention to detail. Italy's high-end furniture has its distinct style. It mixes experienced cabinetmakers' old traditions with the most up-to-date findings and technology in modern furniture design. In our store, you may buy luxury furniture from Italy with a quality guarantee and first-class service, or you can order things online. Each item is a one-of-a-kind piece of furniture that exemplifies the highest level of craftsmanship.
Original sketches of brilliant designers are employed while manufacturing furniture using the most relevant and creative production technologies. Furthermore, premium-class Italian furniture is distinguished by its extreme strength and durability, ensuring that it will last for decades. Skillfully handcrafted ornamentation, flawlessly chosen color schemes, and graceful design, which have long defined Italian premium class furniture, will be unmistakable evidence of your home's respectability and high status.
Purchasing Italian furniture is similar to purchasing heirlooms. Such sets do not go out of style, nor do they deteriorate with age; instead, they get more noble and costly. The secret of aristocracy is simple: the Italians still make some of their work by hand, as they did centuries ago, so each item is unique, and you won't find an equivalent among your friends and acquaintances. Hard or precious wood is used to create elite furniture in Italian companies. This is not a replica of oak, cherry, ash, chestnut, or any other entirely natural, ecologically beneficial, and long-lasting wood. Modenese Luxury Interiors has a large selection of luxury Italian furniture lines. Modular systems, sofas, cupboards, beds, closets, kitchen sets, and ornamental lighting are all on sale. Customers can choose between modern and traditional types of merchandise.
How we work with clients from Jeddah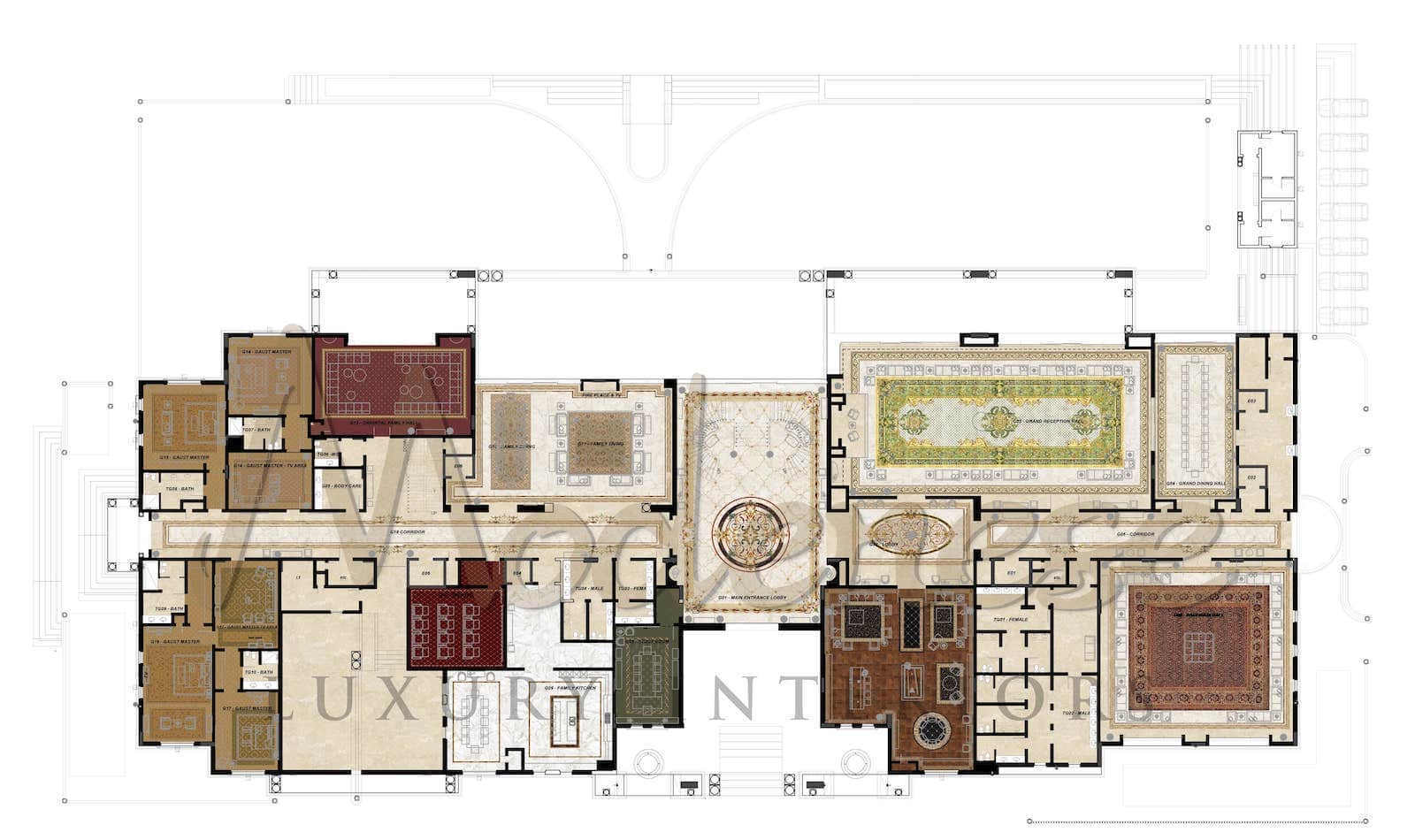 FIRST STEP: Meeting with the client in Jeddah
01
The initial stage in the process is to meet with your designer to discuss your concept for the desired interior project. Continue reading to find out more about what to think about when selecting an interior designer.
During the initial discussion, the nature of the project will be reviewed; are you building a villa, castle, apartment, beach house, or rebuilding a piece of an existing property? The location, purpose of the spaces, appraisal of construction designs, and project budget will all be considered when evaluating the best design possibilities. At this point, you'll begin to form a personal relationship with the designer, which will assist in the selection of the most appropriate style for your project, as well as a comprehensive inspection of the designer's portfolio for inspiration. Following the first design brief, your designer will provide you with an estimated completion date for your project.
SECOND STEP: DESIGN CONCEPT & MOODBOARD CREATION
02
It will be an exciting moment when you are shown the future design idea via mood boards and sketches, elevation plans, and samples, as well as discussing all parts of the future interior. With so many possibilities, interior design might be frightening. You may take use of an interior designer's knowledge to uncover unique décor items, materials, and other resources to assist you transform your thoughts into reality in a shorter length of time by hiring one. Once you've agreed on an idea and a first design proposal, your project will go forward. After the final design and budget have been approved, you'll go on to the last step of the design process.
THIRD STEP: FINAL DESIGN PROJECT & ITS REALIZATION
03
At this time, furniture ordering and fabrication begin. Keep in mind that some things may require a significant amount of time to prepare. Obtaining all components, furniture, analyzing, and refinishing may take some time. Allow for any delays that may arise as a consequence of unforeseen circumstances. After installation and final touches of décor, project handover, and a few processes, you will be the proud owner of one-of-a-kind magnificent interior design. A little house, a two-story villa, or a palace design will all have varied lifespans. Keep in mind that high-quality villa designs take time, but with the support of a skilled design team that will walk you through each stage step by step, the process will be pleasurable and completed as fast as possible.
Interior Design Studio In Jeddah – Modenese Interiors
Modern Luxury Interiors is an interir design company that builds high-end interiors in a variety of styles for clients all around the world. Among our clientele are well-known business entrepreneurs, politicians, and artists. The design of large business offices is one of our main areas of expertise. Our organization has brought together some of the most talented people in the disciplines of exterior and interior design. The professionals at the Modenese Luxury Interiors Studio only utilize the best materials from the most prominent European brands for exterior and interior décor.
Modenese Luxury Interiors Studio only works with high-quality, environmentally friendly materials. Our products are all one-of-a-kind by nature. The company outfits interiors and exteriors in Jeddah and offers a wide range of fit out services. Design work in all styles and architectural orientations may be completed with experience. Our design choices are boundless, as seen by the work on the website. We value all of our clients, but especially those who commission one-of-a-kind works made of high-quality materials with a distinct style.
Luxury Furniture from Italy
Things that are one-of-a-kind speak of their one-of-a-kindness, infusing the area with live warmth, opulence, and personality. Exclusive furniture by Italian masters – the world's model of style for the select few – is included. For the creation of premium furniture, the highest standards are set. Its quality is rigorously controlled at all stages of manufacture. As a consequence, we obtain goods that are not only beautiful, but also useful and utilitarian, and may last for generations, becoming a type of family heritage. Handmade furniture has an impact on both its beauty and the energy that permeates the area. It's not for nothing that it's regarded a work of art, and Italian furniture manufacturers were well-known in the Middle Ages alongside great painters. Even today, aficionados of the beautiful choose to surround themselves with such opulent furnishings.
Customers may anticipate complete comfort from the greatest interior design firm Modenese Luxury Interiors. All furniture and decorations will be delivered on time to the destination. The interior design of your home will be a source of pride for you. And all design decisions will be flawlessly followed out.
Contact us today to get more information!