DESIGN OF WARDROBE. ZONING, STYLE, AND PLANNING
Wardrobe Design by Modenese Luxury Interiors is a dedicated room for clothing – it's a practical, efficient, and elegant way to store anything from shoes to hats.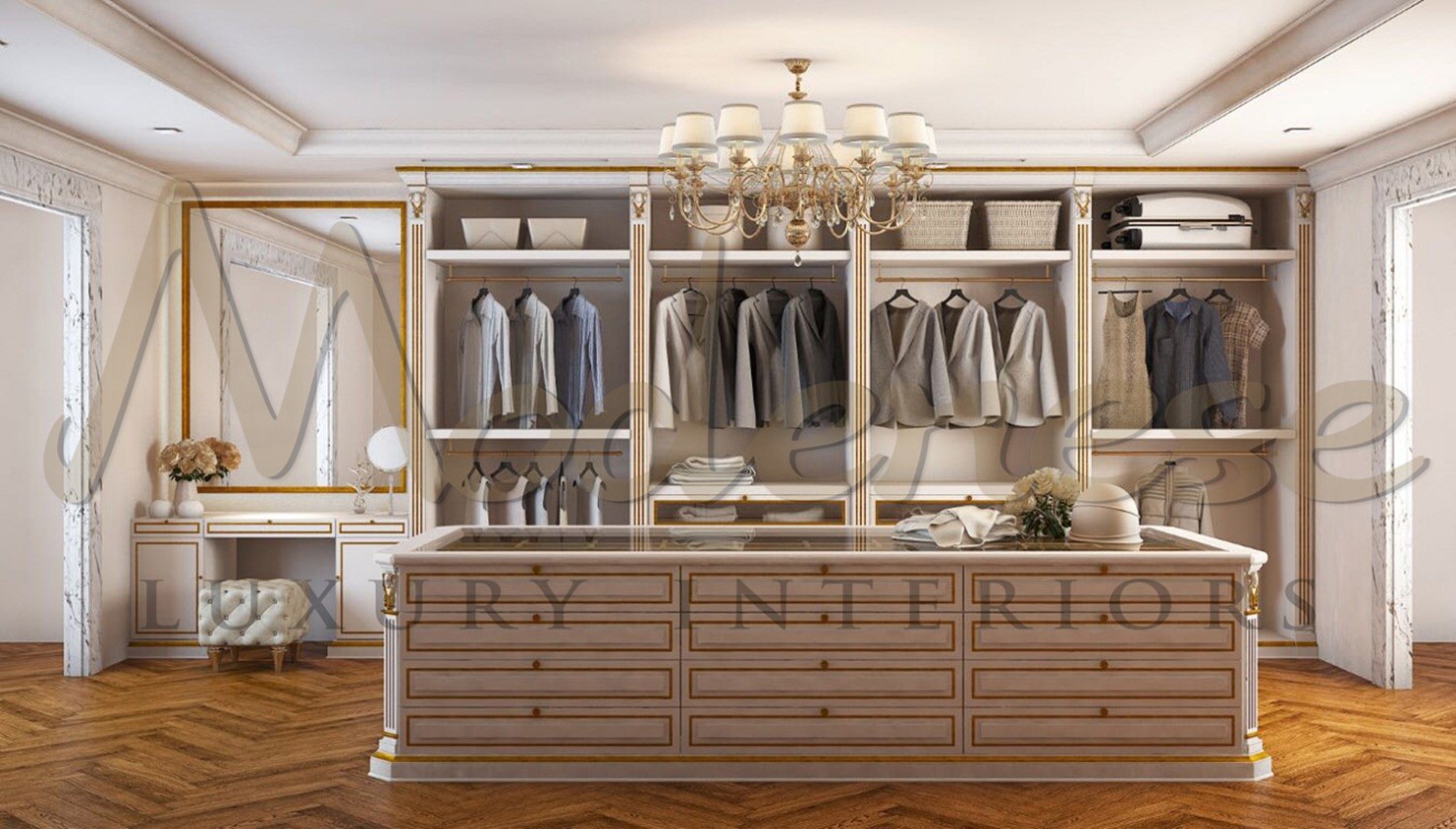 There are several benefits to using a dressing room. First, there is the order; if everything is properly organized, it is known that it is simpler to find the right stuff, especially when there is no time. Second, it is the ideal way to preserve things: nicely hung garments and suits on hangers keep their shape, do not crumple, and therefore serve their masters much longer. Finally, the dressing room's attractive, ergonomic form will perfectly fit into any area, eliminating clutter and freeing up valuable meters for other uses. Where will the storage space be located? The solution to this question is dependent on the premises under consideration. If the dressing room is to be built in a private home, the space for items should be considered ahead of time before re-planning or building. Typically, a clothing room with mirrors and shelves is incorporated in the design, and after construction, just the interior décor remains.
Design of a bedroom dressing room and a children's room
A decent dressing room in the hall may be made in a more extensive real estate, such as an adequate by area apartment, but many people now construct a mini-dressing room right in the bedroom or the children's room. This is especially useful if the flat is occupied by a big family. The design solution for such a dressing room is worked up in line with the room's parameters. For example, in the bedroom, the wardrobe can be hidden behind the headboard barrier. It has a very harmonious appearance and may be used as an art piece or a colorful accent in the space. The child's room wardrobe is extremely pleasant. A youngster can always dress himself since he knows where his belongings are. The child would desire to keep order and cleanliness in a beautiful and neat wardrobe. Children's wardrobes can be installed as finished furniture units under bunk beds (if high ceilings are present) or behind a partition.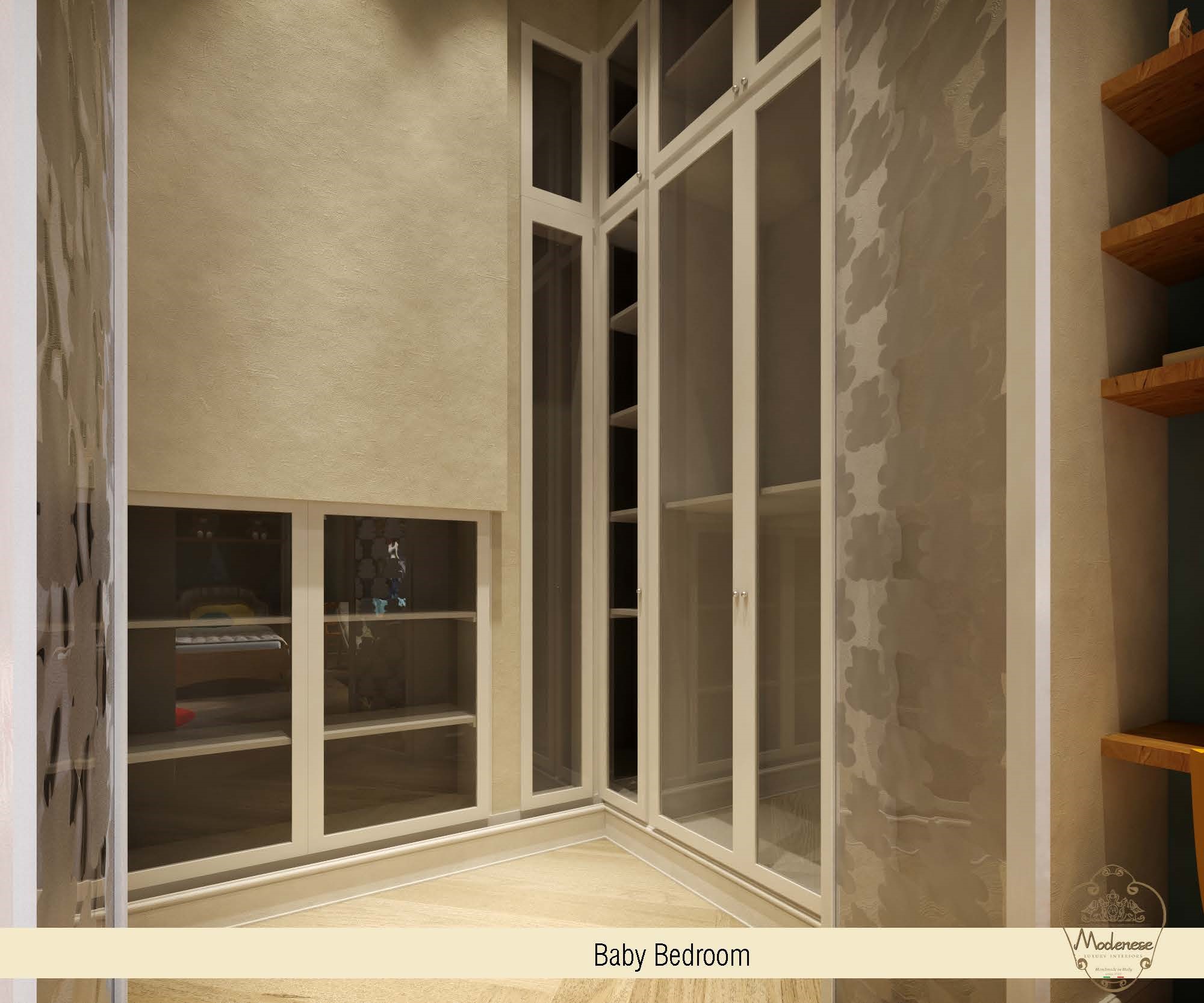 The sorts of design projects of dressing rooms
Many design projects for dressing rooms have been established to date, appropriate for various room sizes and including as many items as feasible. All dressing rooms are classified into many fundamental kinds based on their design and size:
The dressing room is angular. This shape is ideal for compact spaces. The idea behind its placement is to fill a vacant area of the space.
Another alternative for a tiny area is a linear dressing room. This room is created according to the notion of a sliding wardrobe.
The dressing room is U-shaped. This layout is regarded as the most practical and functional, yet it is only appropriate for large, extended spaces.
There are two dressing rooms. This space is also relaxing. The parallel layout of shelves and racks is one of its distinguishing features.
Outerwear must meet certain specifications, including a height of at least 1.5 meters and a depth of at least 0.5 meters.
Design of the dressing room
These are the fundamental guidelines that must be followed in the design of a dressing room. Let us now discuss its many sorts. There are several design possibilities for dressing room projects available today. They all, in general, satisfy the general standards of planning and safety, but they differ in character and style. So, here are the fundamental guidelines for dressing room organization: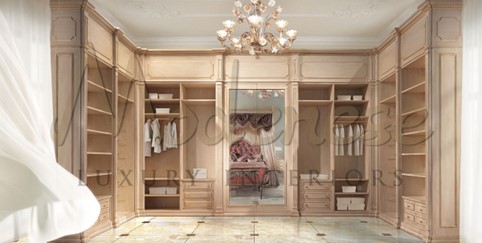 Dressing room decorated in "neoclassical" style
It is not difficult to set up a dressing room in this way. It is sufficient to order ready-made cabinet furniture that is installed on-site and put in accordance with the layout. In this scenario, it will be formed of wood parts, the inherent structure of which will be highlighted by a particular treatment.
Dressing room in the "Provence" style
The key advice for Provence-style furniture is light pastel colors and vibrant juicy paintings. There are not only open portions in this area, but also locked lockers for various types of trifles. The Provence-style dressing room's calling card is a chest of drawers with metal forged accents.
Dressing area in "loft" design
The loft design is perfectly suited to the arranging of premises for stuff. Loft – an industrial premise, big and expansive by nature. This style's dressing room is filled with metal shelves and racks, allowing us to propose it for a tiny space. So we investigated the many sorts of dressing rooms, as well as their aesthetic elements, furniture, and accessories.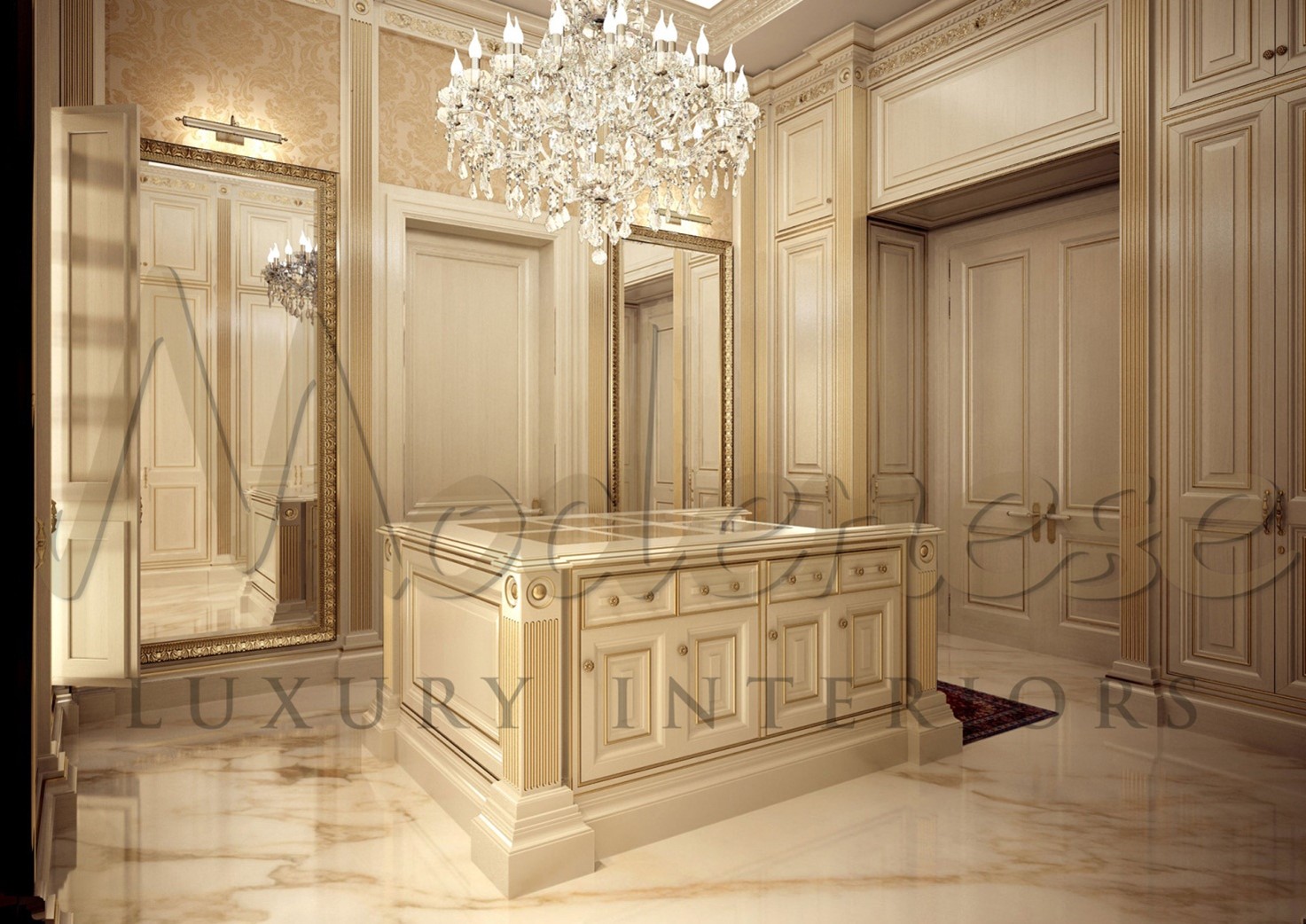 Finally, I'd like to emphasize that the design of the dressing room should primarily reflect the owner's particular tastes, as everyone has different ideas about how and where items should be arranged. You will love the order and comfort every day after organizing the clothing placement in the most practical form for ourself.
Visit our online showroom