我们的室内设计团队能够通过3D可视化制作壮观的室内风格设计作品。 我们为我们出色的产品作品集感到自豪,这其中包括华丽的设计、一流的室内设计以及可爱的外观和感觉。 Modenese Luxury Interiors在世界各地拥有大量客户。 我们的室内设计师打造美丽的室内设计,让您可以从精心策划的最佳计划和家具系列中进行选择! 我们专业且受过良好教育的团队随时可以帮助您实现从头开始任何设计的目标! 我们提供卓越的房屋内部结构设计、华丽的外观和设计理念,以帮助您为您的房子做出最佳选择。 请尽快与我们联系,以便我们合作!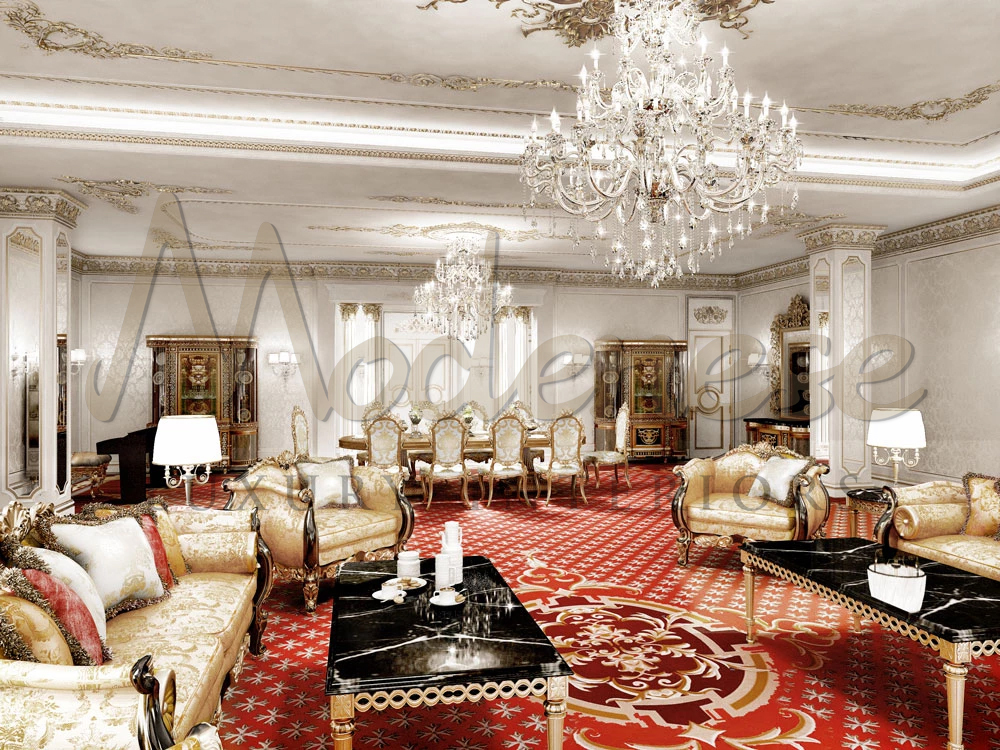 Stunning Sitting Room Design
There are several elements in traditional interior design. When Modenese Luxury Interiors creates an interior design, they take into account all of the factors, including the house owner's taste preferences, aesthetic viewpoints, housing technology features, and so on. Every space has a functional purpose, as do color schemes and lighting preferences, as well as materials, furniture, equipment, and even technology. We are pleased to present the classic living room interior design, which is highlighted and manifested by elegant furnishings and antique decor items, amazing expensive textiles- velvet, cashmere, silk, and great fabrics for soft padded sofas, elaborate stucco mouldings in a mix of wood panelling, and intricate floor marble patterns. In this great UAE house design project, unique wall decorating is used.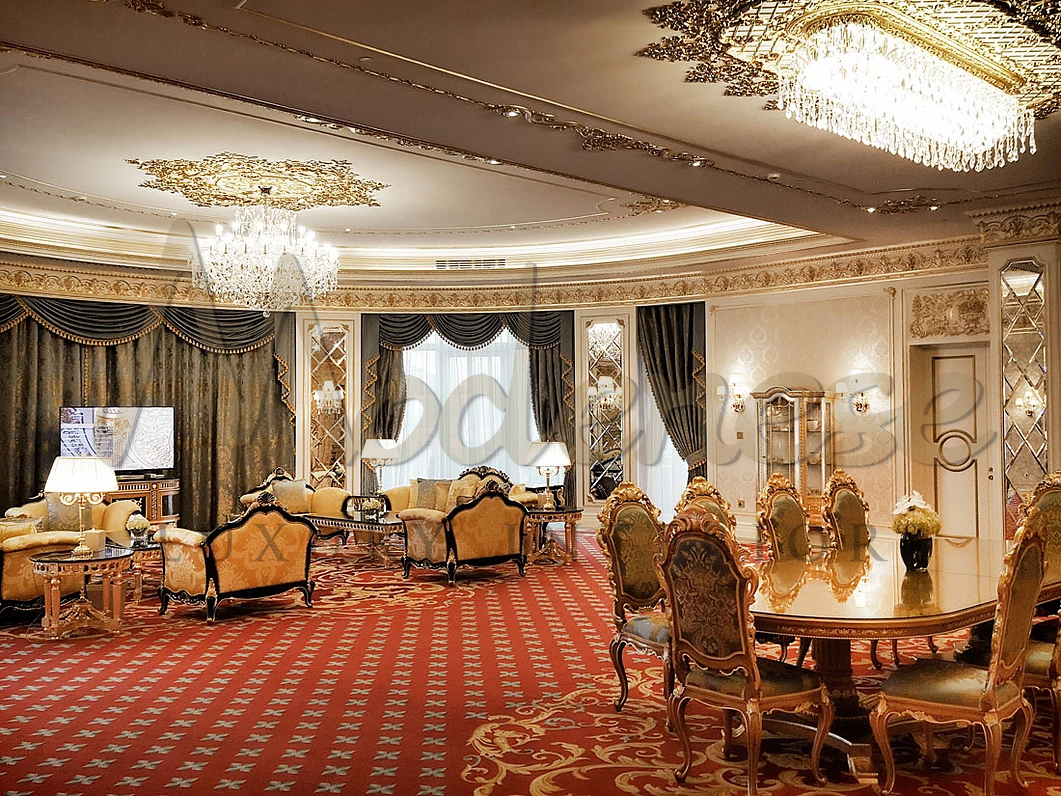 Elegant Furniture Design For Living Room Area
Modenese Luxury Interiors has one purpose in mind: to make its clients happy with the rooms they design. The wonderful wall carvings provide character to the otherwise bland area. The greatest interior designers pay close attention to even the slightest details. The custom upholstery provides a great texture to the space, forming a soft, warm layering that is both attractive and comforting. The marble accent adds a classy touch to the design while also creating an outstanding pattern. Adding glittery accessories to your living space may suddenly transform it from a plain to an opulent setting. Our talented designers will handle all of your interior design needs and will certainly guide you through the process.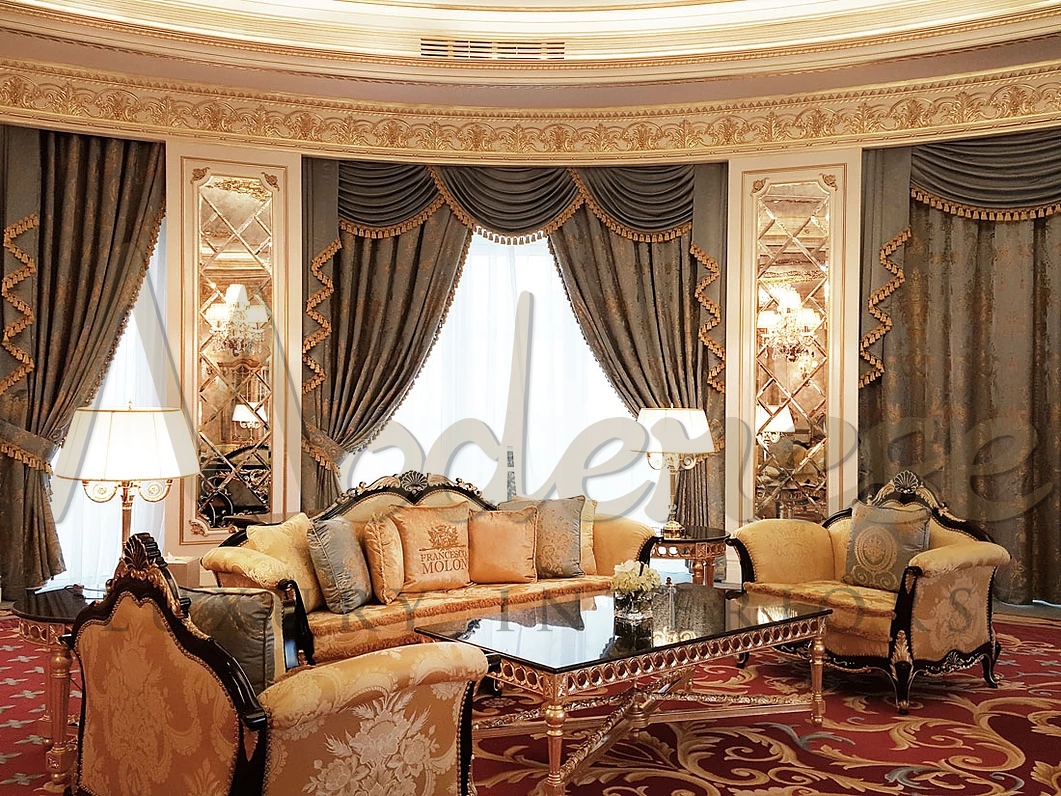 Classical Interior Design Style
Classic Living Room Design by Modenese Luxury Interiors represents the taste of self-assured individuals. Every aspect of the space reflects the owners' wealth, luxury, and natural presence in traditional interior design. Every aspect of the décor exudes excellent taste and flare. Everything emanates a serene dignity. Modenese Luxury Interiors is ready to assist you in creating a more comfortable and visually appealing interior design! You'll feel amazing with our finest interior designers. We have the knowledge and expertise to create your dream house! In actuality, even a plain space may be converted into a spectacular work of art.
Visit our online showroom