要使生活空间的各个组成部分协同工作,增加风格至关重要。为了让您的家看起来完美地由美妙的美学设计组成,从家具选择到墙面绘画,咨询业内专业人士是至关重要的。我们在这里为您和您的亲人将住所变成舒适的避风港。我们精湛的团队使用牛奶色和奶油来色延续Modenese Luxury Interiors室内设计的优雅。这是一个舒适和安全的色度,完美地抓住了我们想要被必需品包围的需求。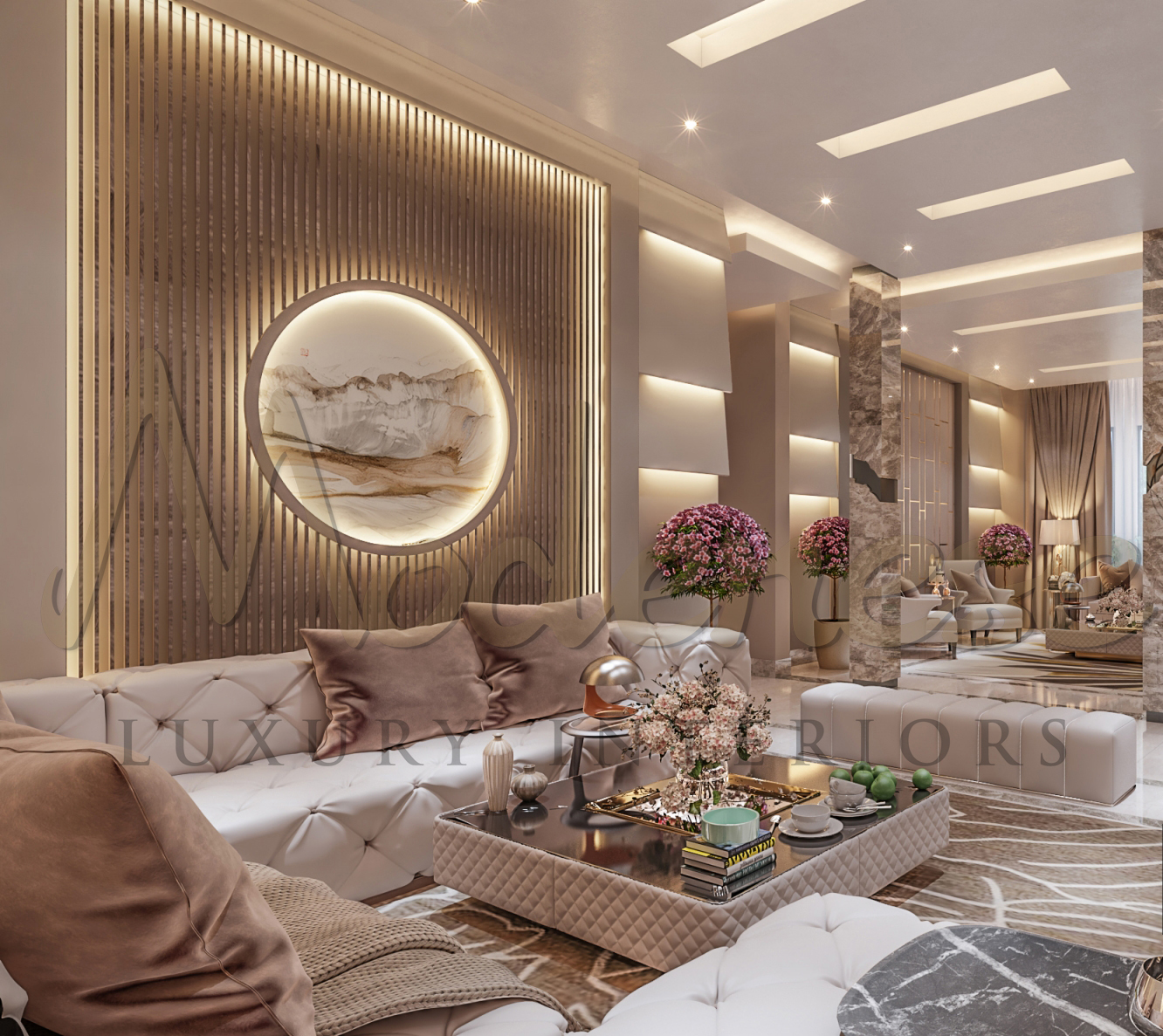 Interior Idea For Stylish Living Room
The layout of the space so that everything in it contributes to optimum relaxation is the distinguishing feature of the interior in the lounge style designed by Modenese Luxury Interiors. Every interior feature has been thoughtfully designed and contributes to the calming ambiance. The lounge's main functions are relaxation and enjoyable activities. Giving someone a good night's sleep may seem like a simple effort, but doing so is actually extremely complex. For this reason, Modenese Luxury Interiors only works with experienced and qualified designers, architects, and even engineers when creating interior designs. They provide answers to difficult concerns regarding the ideal color, lighting, furniture types, and space arrangement for relaxation.
Residential Interior Design Solutions
One of the areas of the home that is used the most frequently today is the living room. You may plan the ideal environment with the assistance of Modenese Luxury Interiors. A living room is renowned for its aesthetically pleasing layout. There is more room for them. More individuals can be entertained with the help of this interior design. We checked to make sure there are enough cozy seats. We offer specialized tables and chairs that are not only useful but also beautiful. We make sure it doesn't feel crowded or disorganized. Our goal is to improve the balance and harmony of the living space. Every living room we create has comfortable furniture. The huge lights are first-rate and add lavish lighting to the space. It's a good idea to consider your guests when deciding how many chairs and tables to set up. A few of exquisite coffee tables were also incorporated into this interior design model.
Spectacular Living Room Design
Consult the right artisan and administrator to oversee the construction when planning your interior design inside. The interior designer at Modenese Luxury Interiors keeps in touch with the architect. If your interior design is warm and soothing, your visitor will want to stay with you longer. We use an elegant aesthetic to maintain the glitz of your interior. Your living room will be improved by our team to be clearer and more complete. The exquisite shapes of the marble floors and crystal chandeliers are just one aspect of this design. It also has to do with the planters we employ to give your room a natural feel. The area is open, allowing your guests to wander around it. Everyone has a place in the living room. Our team makes everything appear ideal for your home, from exquisite lighting fixtures to one-of-a-kind furniture items. We consider each stage of the living room design to be crucial. We inspect the size and shape of your living room design before creating the design. We are researching the foundations of your place for the right interior execution, from the precise illumination design to the proficiency of building. Please tell us what you think about our incredible villa projects. You can always get in touch with us for a quote on the ideal interior space you desire.
Visit our online showroom