在这个美丽的住宅项目中,我们的设计师遵循了一种传统的、优雅克制的美学。它基于各种图案的精确展现以及正确的几何形式和形状。我们需要大量的开放空间来创造这种优雅的传统环境。因此,它显得华丽而精致。我们在这里成功地融合了舒适、美丽和时尚:精致的装饰项目为家庭聚会和鸡尾酒会提供了一个豪华的环境,柔和的色调和和谐的装饰触感有助于营造轻松的氛围。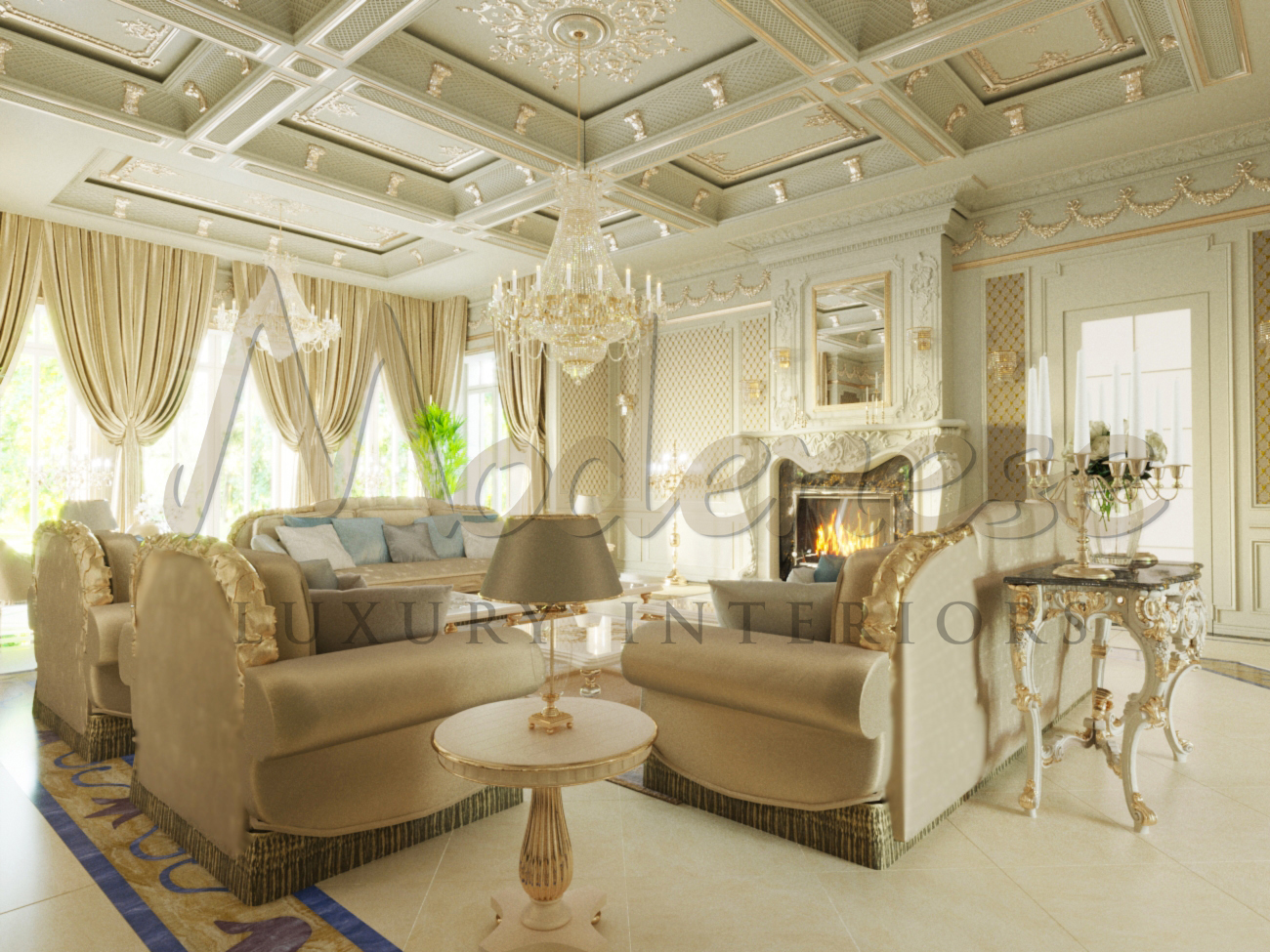 High-quality classic furnishing from Modenese Luxury Interiors
The furniture, which includes spectacular and elegant sofa sets in a stunning beige color, coffee tables made of natural wood, and decorative moldings, forms the room's compositional center.Living room in a classic style is the perfect idea. The traditional concept of beauty endures. There is an underlying lightness and elegance, quality, and richness here. High-quality standards are consistently followed in everything by Modenese Luxury Interiors.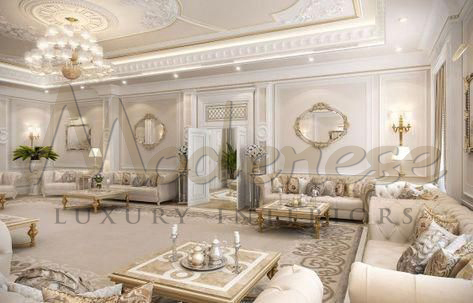 Cozy Living Room in Classic Style
The foundation of classic interior design is delicate pastel colors. Our team of interior designers in this living room made the decision to finish the walls and ceiling in a beige and cream color scheme, combining it with golden accents and stucco moldings. It helped us in establishing a peaceful, comfortable atmosphere in this living area. However, the accent pieces are also composed of furniture. Luxury upholstery furniture made in Italy perfectly complements the interior of the room, draws attention to the advantages of the space.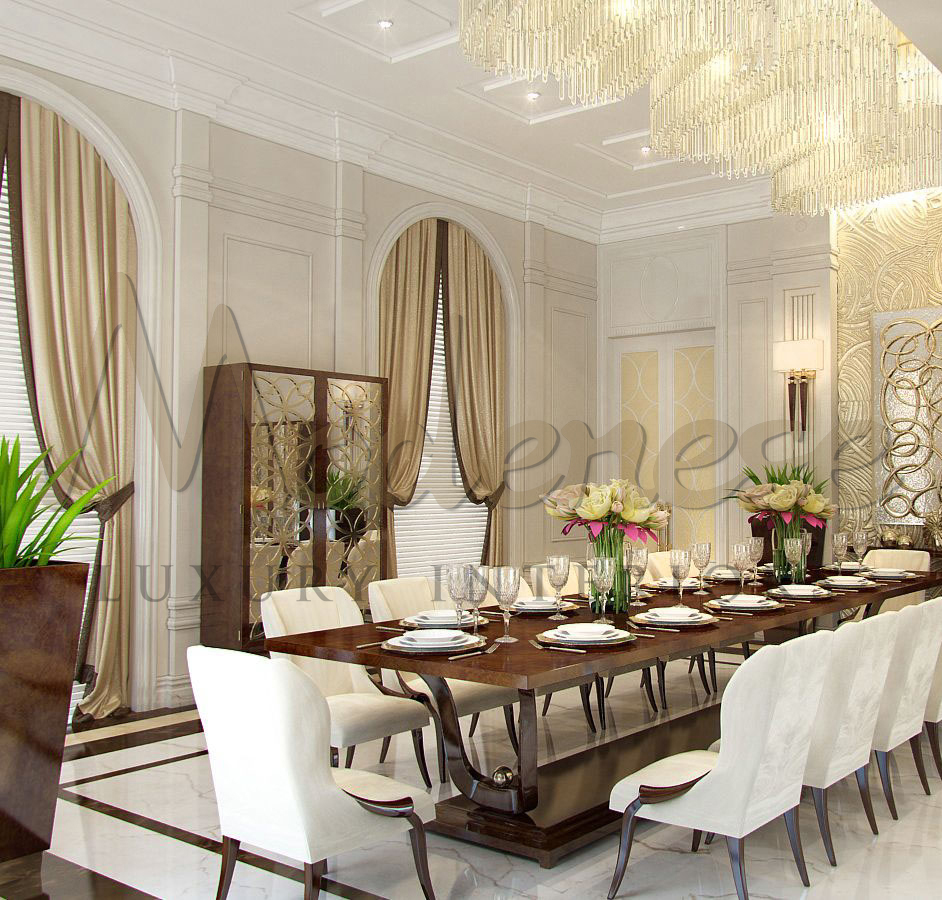 Exquisite Dining Room Design
For this project's design, we stuck with calming, neutral tones. The dining room should be decorated in soothing tones and colors. Our designers chose a marble that is light in color, nearly white, with lovely delicate inclusions of dark patterns for the floor ornamentation.
These tones, along with milder milky and sandy hues, are frequently used in furniture design. Our group decided on a similar color scheme for the drapes that serve as the dining room's textile décor. Plasterboard structures in a delectably creamy color and exquisite stucco molding in the same color tone cover the area above the ceiling. Just have a look at this astonishing and stunning chandelier! It incorporates elements of the art-deco style, which is regarded as being very aesthetic.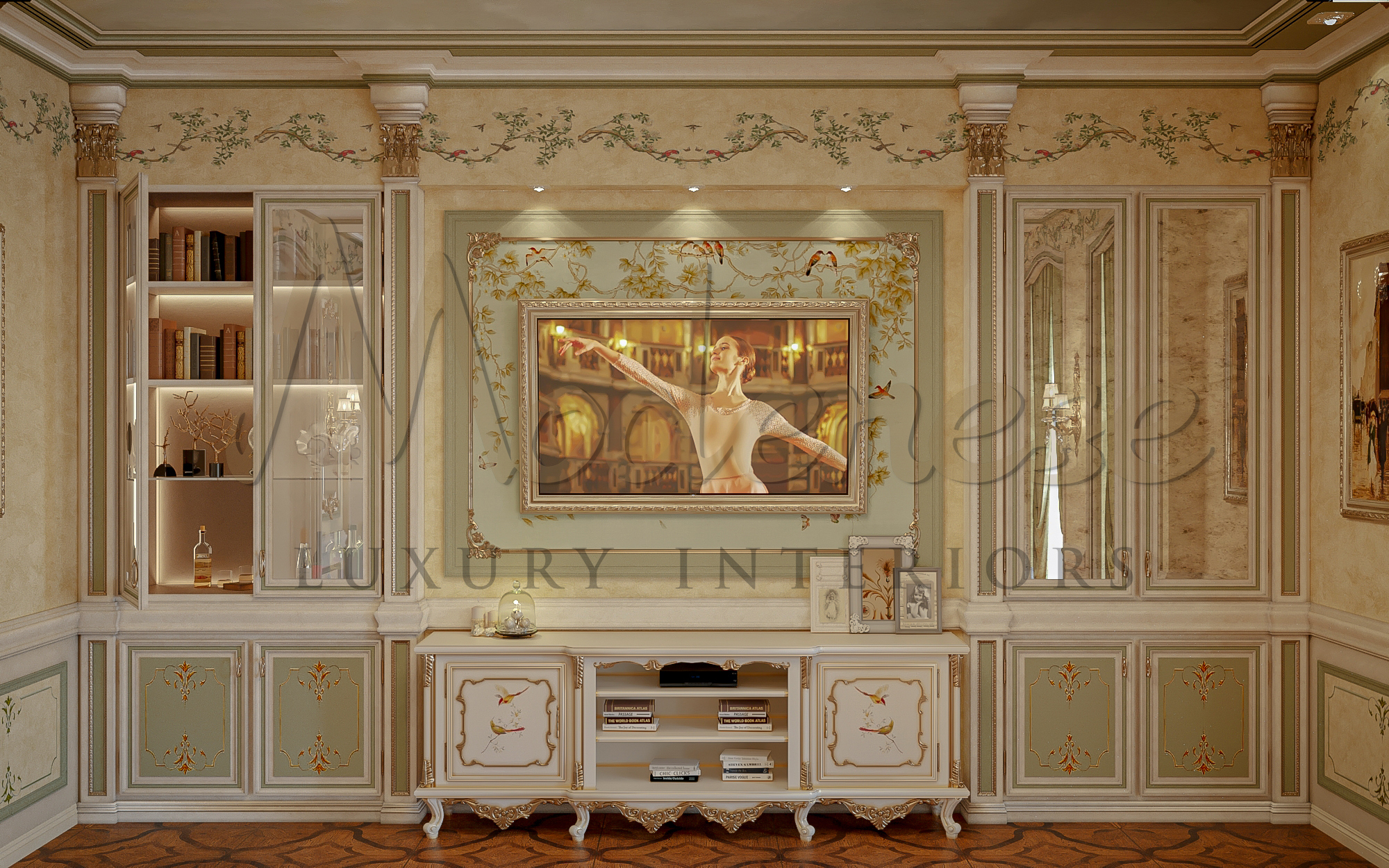 Elegant High-End House Decorating
The overall appearance and functioning of every home are influenced by a variety of factors that are combined to form interior design. It is crucial that every element—color, filling, and lighting—work together to create a unified, cohesive image. Our designers at Modenese Luxury Interiors have all the engineering and creative know-how necessary to produce a quality project. A design project requires a variety of tasks, including the creation of schemes, plans, drawings, and three-dimensional pictures.
Visit our online showroom