Conception élégante pour un salon et une salle à manger de villa
Russie
Les classiques sont toujours attrayants bien que créer un tel intérieur n'est pas une tâche facile. Il faut tenir compte des traditions, investir beaucoup de temps et de talent pour réussir. Le style classique de l'intérieur est le plus apprécié par ceux qui ont atteint la prospérité absolue. C'est un style respectable, luxueux et solennel que peu peuvent se permettre. La création d'un intérieur de style classique est l'une des tâches les plus difficiles et les plus intéressantes pour le designer. Il doit combiner parfaitement le luxe et la sophistication des détails avec la simplicité des lignes tout en utilisant correctement des matériaux nobles et en y intégrant habilement la technologie moderne.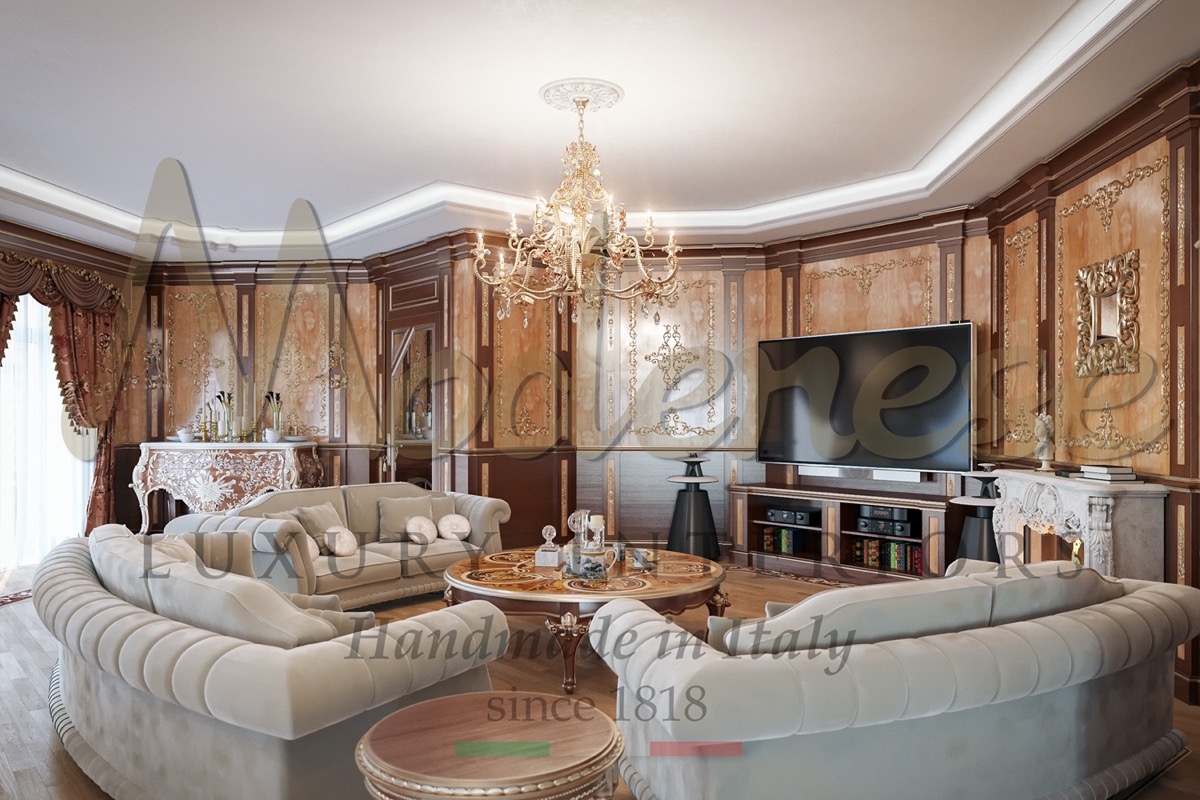 COZY LIVING ROOM DESIGN BY SPECIALISTS OF MODENESE GASTONE INTERIORS
Le salon est la pièce centrale de chaque maison. La plus grande pièce d'un appartement ou d'une maison est toujours utilisée comme salon car c'est l'endroit où toute la famille se réunit chaque jour pour se détendre dans une atmosphère agréable et confortable. En outre, le salon est la pièce où les invités célèbrent les fêtes ou d'autres occasions spéciales. Le plus souvent, c'est le salon qui est la première pièce dans laquelle les invités entrent, son intérieur permet donc de se faire une première impression sur les propriétaires de la maison. Par conséquent, la conception du hall doit être abordée avec une méticulosité particulière de sorte à ce que tout dans la pièce semble harmonieux et en même temps confortable et douillet. Tout est important pour créer un bon design : l'éclairage, la mise en place de l'espace, l'association des couleurs et la décoration. Cependant l'élément le plus important est bien sûr le mobilier du salon. Étant l'élément principal de n'importe quelle pièce, ce sont les meubles qui attirent l'attention en premier donc leur choix doit être abordé avec une grande responsabilité.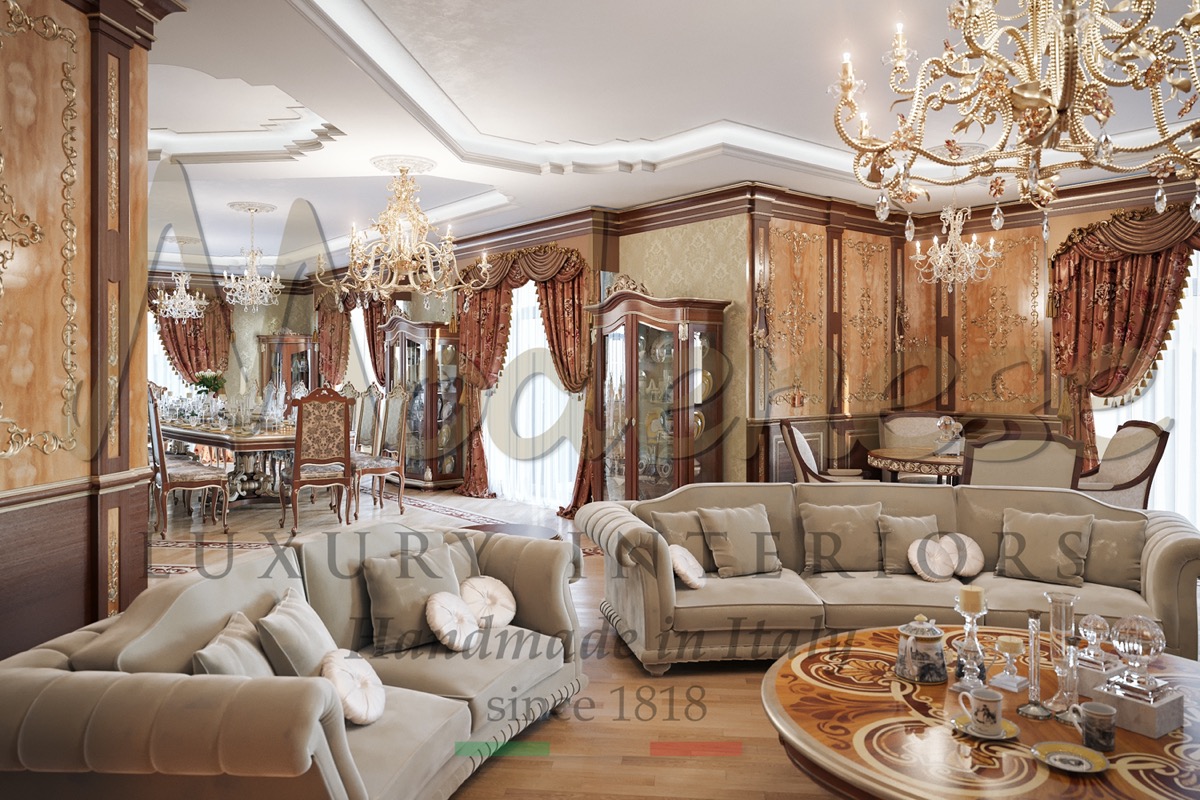 REFINED INTERIOR DESIGN SOLUTIONS FOR LIVING AREA
Il existe plusieurs raisons d'acheter des meubles de salon classiques. Le salon est le visage de votre maison, le choix des meubles qui le composent doit donc être réfléchi et équilibré. Par conséquent, si vous ne savez pas ce qu'il vous faut, achetez des meubles séparés pour le salon ou un ensemble complet, décoré dans le style classique. Les meubles classiques présentent un certain nombre de qualités :
– le goût raffiné des propriétaires ;
– la richesse de la famille ;
– la conception originale avec un décor et des sculptures élaborés ;
– meubles attrayants et fonctionnels ;
-nombreux espaces de rangement ;
– les classiques sont éternellement vivants et ne se démodent jamais.
COMFORTABLE AND STYISH LIVING ROOM AMBIENCE
Les meubles de salon rembourrés haut de gamme ont un aspect présentable et une qualité irréprochable. Les canapés luxueux et moelleux peuvent devenir le point clé de votre intérieur attirant l'attention des clients et des partenaires. Les meubles rembourrés de haute qualité créeront une atmosphère chaleureuse aussi bien pour vos réunions familiales que pour vos réunions avec vos associés. La gamme de meubles de salon de luxe présentée dans notre showroom séduira ceux qui entendent allier esthétique et confort. L'accent principal de l'aménagement de votre salon sera mis sur les meubles de luxe venant d'Italie.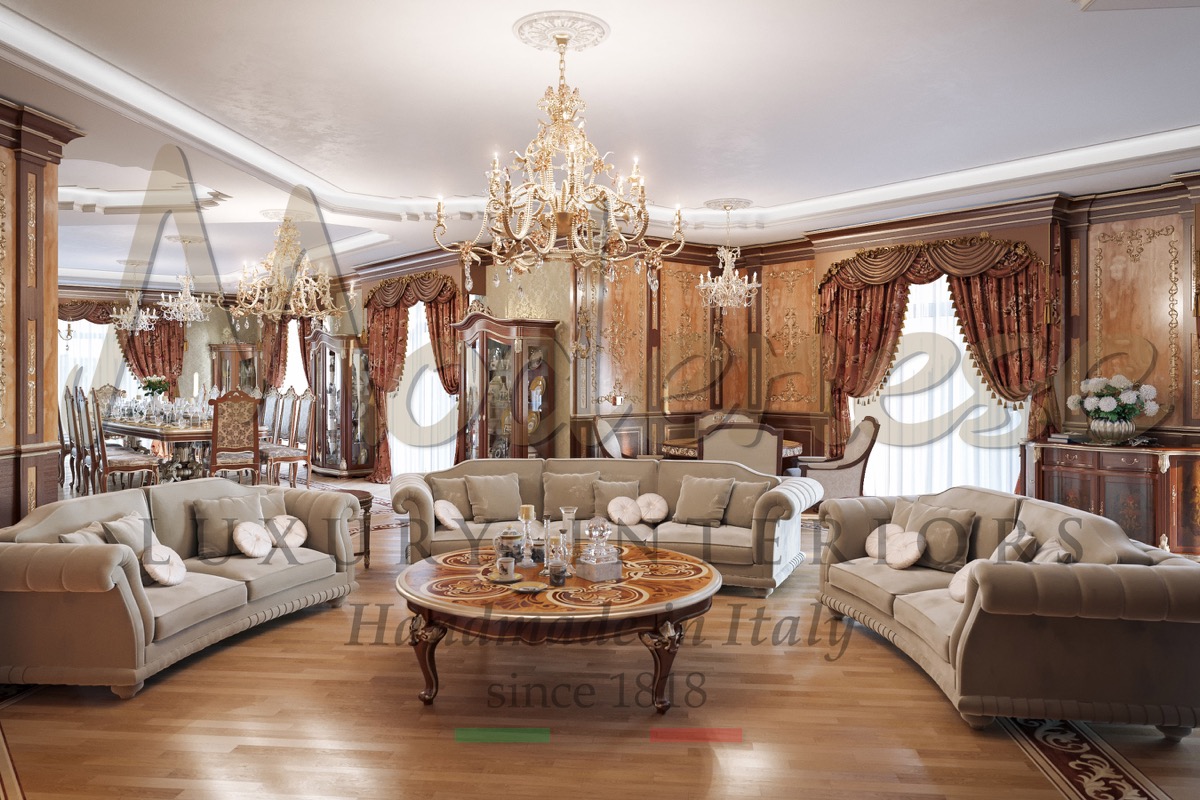 Conception d'un salon et d'une salle à manger classiques pour une villa sur mesure
La caractéristique principale de nos offres n'est pas seulement de vous proposer une collection entière de meubles de salle à manger mais aussi de vous montrer la possibilité d'inclure des éléments de différentes collections qui peuvent se marier aux autres éléments de votre choix. Des meubles de cuisine classiques en bois naturel aux ensembles de meubles de salle à manger modernes pour une maison de bord de mer, nous proposons une gamme très large pour les salles à manger. Les meubles de salle à manger de luxe, c'est avant tout l'exhaustivité, la qualité, le design et la fiabilité. La fiabilité est la marque de fabrique des meubles haut de gamme. Disponibles en différentes formes, tailles et couleurs… En bois ou en verre et métal… La salle à manger est un point de rassemblement pour toute la famille et les amis. Modenese Gastone Luxury Interiors vous offre l'occasion de choisir votre mobilier de luxe.
Visit our online showroom