我们的设计师为这个梦幻项目的客厅、餐厅和厨房提供了家具。对他们来说,把家具规整好,使其可以用于多种用途是至关重要的。因为靠窗,用餐区位于最明亮、最舒适的空间。自然光通过装饰有流动织物窗帘的大窗户照射进房间。例如,一套沙发和扶手椅采用与这些窗帘相同的配色方案进行装饰。该区域的功能是增强内部,并借助独特的装饰,帮助将空间划分为多个区域。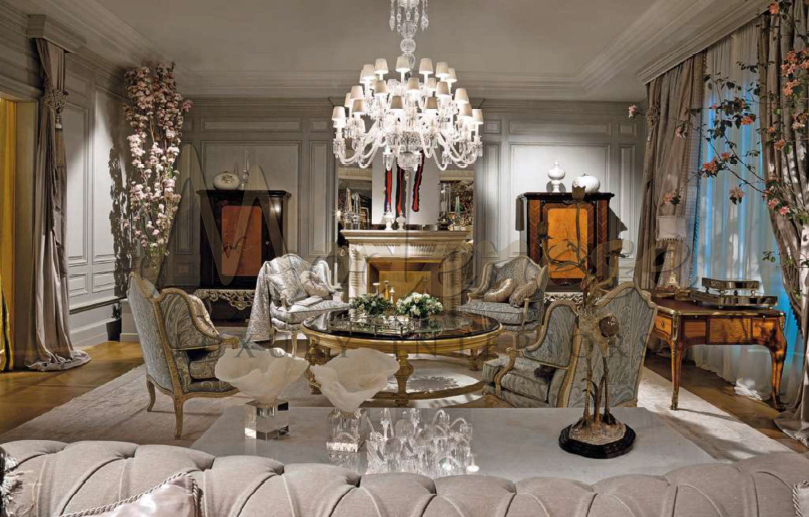 Luxury Calm Living Room
The living room from Modern Luxury Interiors embodies the tranquility and comfort that individuals require to cope with the continual deluge of information and stress. The major goal of our designers is to maintain harmony between the newest super-fashion trends and a sense of style, taste, and personality.
This expressive living room is a beautiful illustration of how well-balanced color accents, delicate classical form outlines, and organic materials like textured wood may be combined. The availability of open space is fundamental to designing the interior of this living room. The living room's arrangement is displayed without walls or other substantial divisions and is visually separated into zones.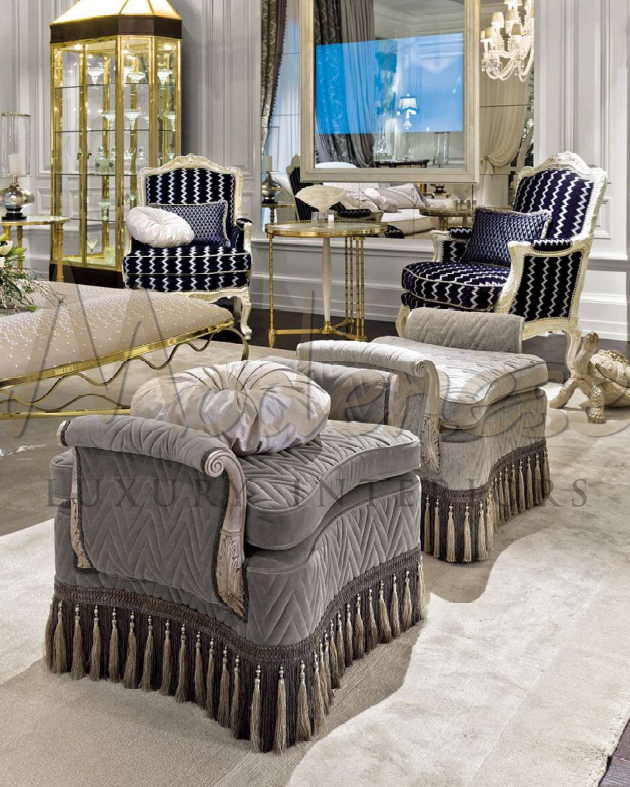 Magnificent Living Room Interior Decoration
The effective living room design by Modenese Luxury Interiors is developed in accordance with contemporary design principles and distinguished by a natural play of tones and shadows. The light hues were muted by our designers' use of highlights on vibrant textural details. Two sofas in a grey tone with ornamental pillows, let us create a free place for a vibrant rest. Amazingly, decorative wall panels in a tree's natural shade highlight the originality and freshness of the design strategy. A large number of incredible designed LED backlights and magnificent chandeliers made by our design and shown as hanging lamps enlighten the elegant modern environment.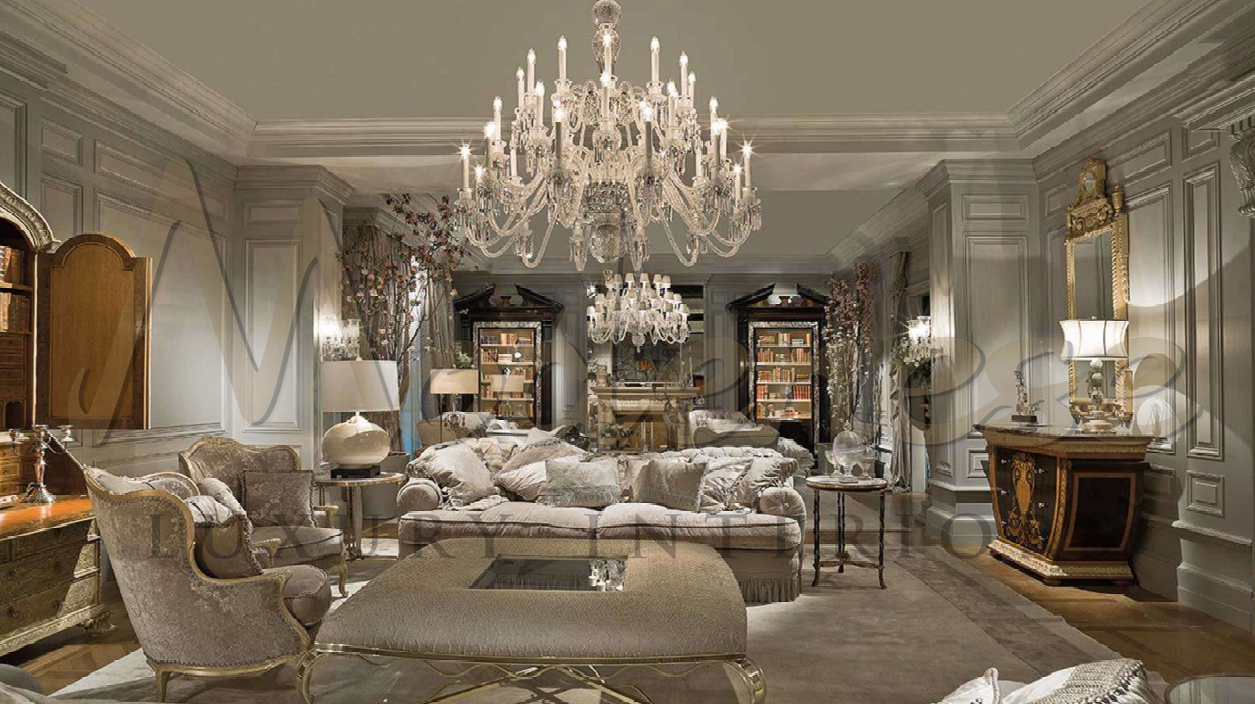 Classic Living Room Design
If you order a classic design from Modenese Luxury Interiors, you'll get natural and luxurious materials, exquisite colors, finishing that calls to mind natural elements both to the touch and the eye, and a relaxing atmosphere that welcomes guests with soft architecture, curvy fashionable furnishings, and delightful lighting. The ceiling in the traditional living room from our design and architecture studio emphasizes the center, which is enhanced by the magnificent designer chandeliers installed there made of pricey crystal with imitation candles and elegant crystal pendants framed by a stucco decor in the shape of a rosette. The entire perimeter of the ceiling is decorated with ceiling stucco as a complex pattern and borders, which are used in pairs.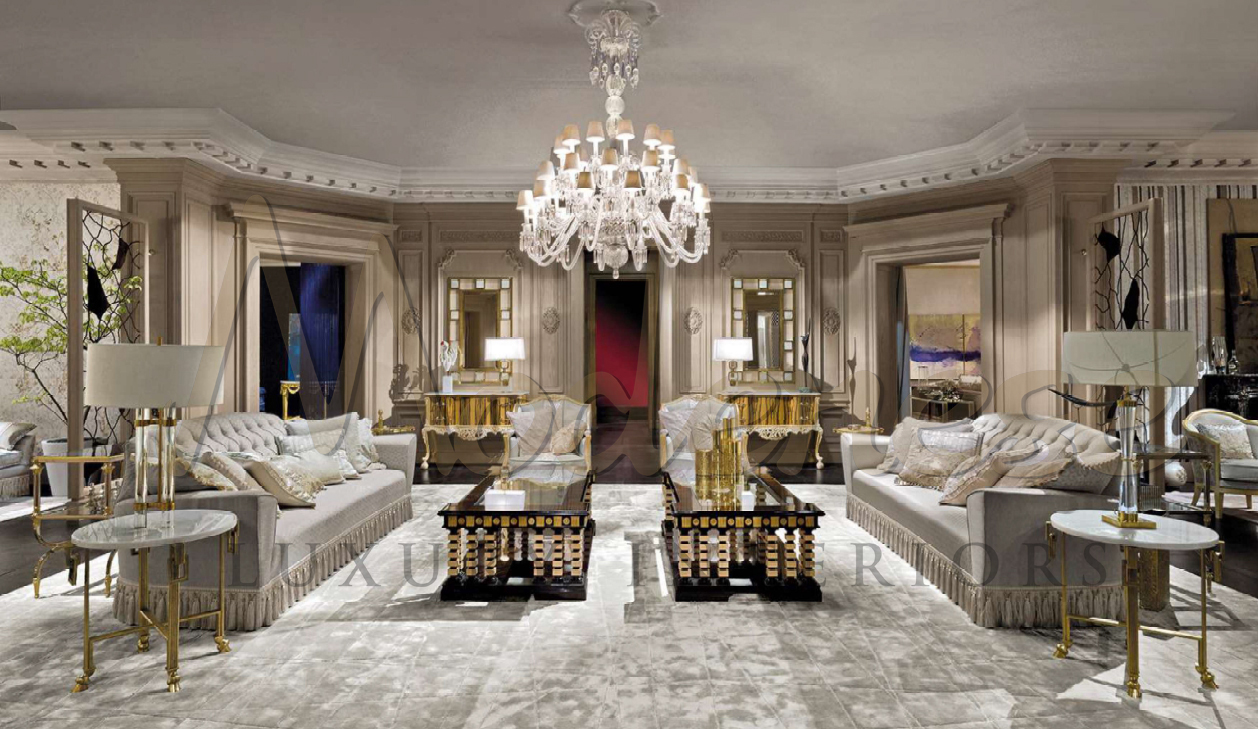 客厅奢华经典家具
Modenese Luxury Interiors设计的客厅有着令人尊敬的镀金装饰墙板,带有殖民地时期的特色,并与灰色调的沙发和扶手椅完美融合,腿部弯曲异常,雕刻精美。令人惊叹的英式控制台和一张由昂贵木材制成的深色茶几完善了家具选择。
Modenese Luxury Interiors的装饰师根据室内设计,选择了传统风格的客厅窗帘;它们是由华丽高贵的丝绸制成的,呈令人惊叹的灰色色调,带有兰布昆(lambrequins)的艺术气息。优雅而高贵的传统窗帘与客厅的其他纺织品和墙壁颜色完美协调。
Visit our online showroom