Luxury Interior Design in Dubai
Modenese Luxury Interiors is a well-known company that specializes in professional luxury interior design in Dubai. The work of the interior design studio exemplifies the highest qualities of originality, talent, and competence. The luxury interior design company in Dubai, Modenese Luxury Interiors is capable of creating a classic design that exceeds our clients' expectations, supervising construction teams, approving budgets, and collaborating on projects with exceptionally skilled and experienced teams.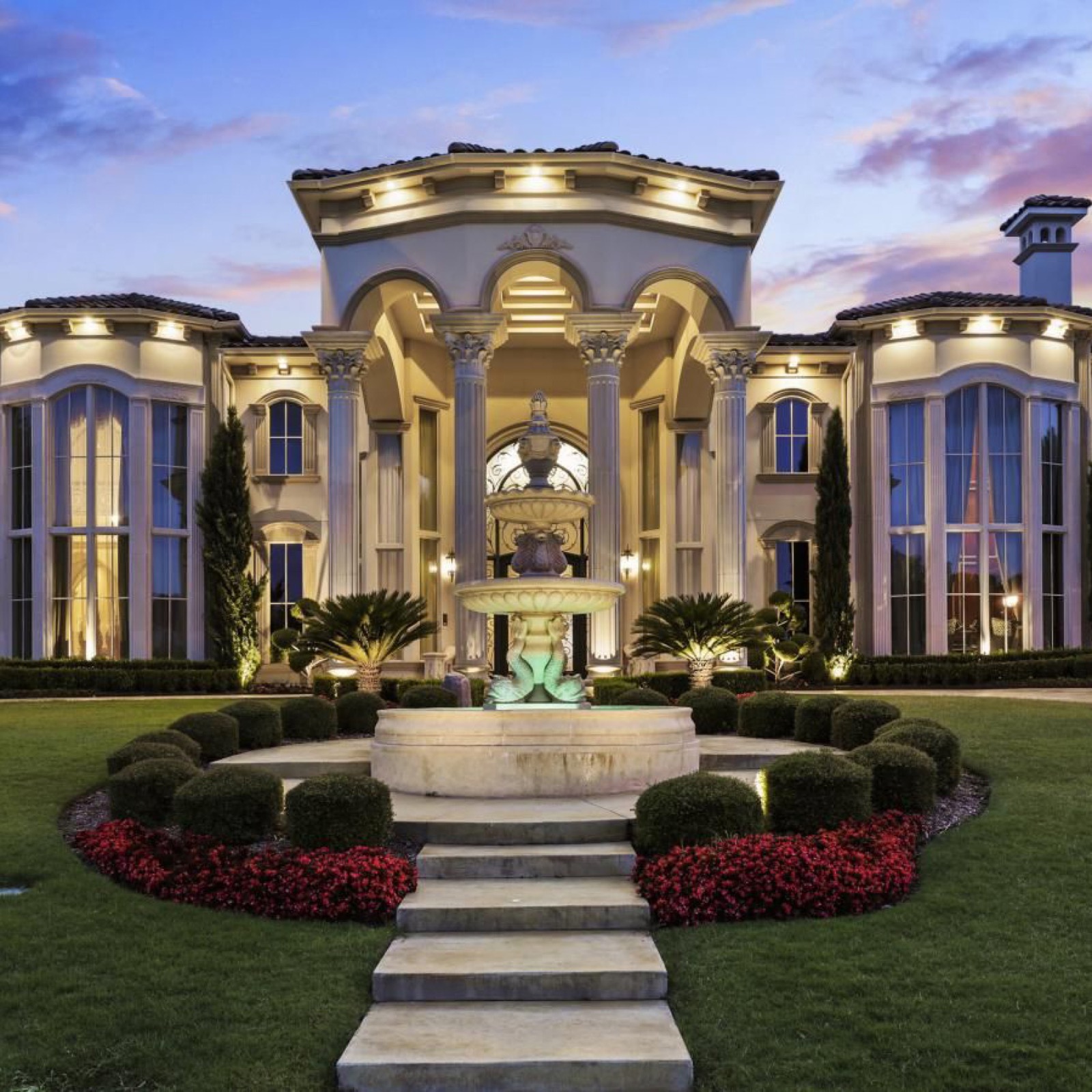 Classic Villa Design In Dubai
Buying luxury property in such a prestigious city as Dubai, every real estate owner should strive to build a beautiful and comfortable world that is a worthy continuation of the city's architectural idea and a harmonic reflection of each family member's character. Villas in Dubai are comparable to owning a home in a technologically advanced paradise.Let's have a look at a house design in Dubai. It's lovely themes in the classical style that have developed their own distinct charm.
The essential aspects through which the owners sought to convey their ideas on life and knowledge of beauty are all contained in the living room area. Warmth was represented in a warm palette of colors. There is no unnecessary glitz and flare, yet every element speaks to the house's dignity. Matte plaster in warm beige tones used to decorate the walls complements ornamental features such as bas-relief and paintings. Velvet has a significant part in textile design. Luxury velvet curtains are elegantly paired with white Roman curtains made of translucent silk. The main goal of luxury design project in Dubai is to create a welcoming atmosphere with a touch of respectability and  comfort.
Luxury Classic Interior Design In Dubai
The term "luxury house design" refers to a home where perfection and the ideal blend of materials, textures, and colors reign supreme. Luxury materials are, of course, used in the most expensive interiors. Wallpapers of the highest quality, parquet flooring, marble, and the finest textiles. Each of these materials is intriguing and adaptable in its own right. All of these materials are used by the designers of Modenese Luxury Interiors to create comprehensive pictures of warm and sumptuous interiors.
Living room design in classic style. Because it is the main room in the house, the living room is always at the heart of a luxury story. Everything about the house owners screams aristocracy, hospitality, and the capacity to afford the best. The inside appears to be both simple and elegant. The space is filled with comfort and peace thanks to the muted color palette. The ceiling's design has proven to be an effective technique to divide the area. Because the living room and dining room are united. The zones are defined by two symmetrically positioned chandeliers. They are encircled by luxuriant stucco embellishment in the form of curls. In the inside of this magnificent castle, gypsum stucco molding adds a touch of luxury. Interior designers have embellished them with delicate pilasters in the wall decorating. Luxury parquet is a continual source of warmth and coziness in the decor. When you add a natural carpet to the mix, the picture of comfort and warmth is complete.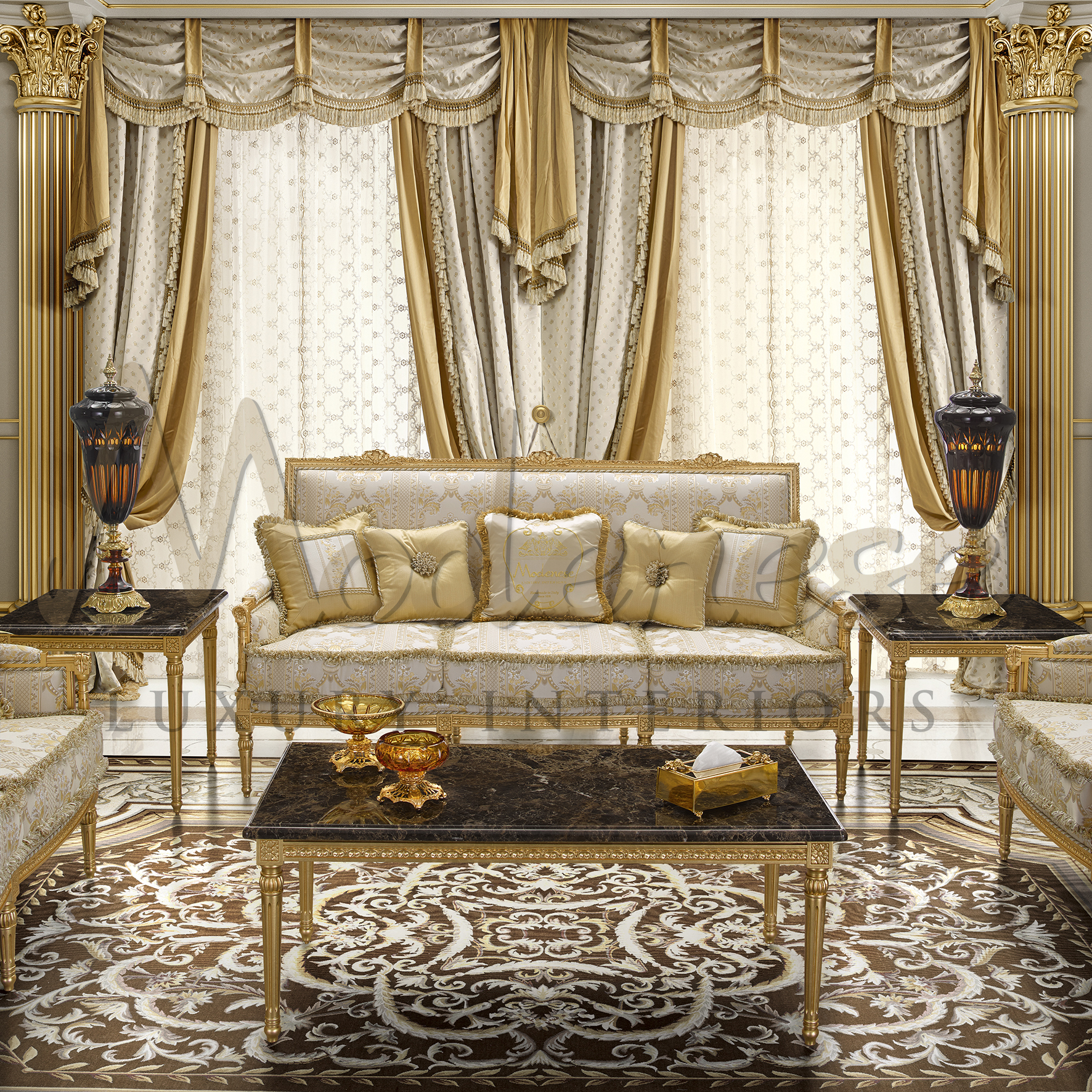 Luxury Furniture In Dubai
With our experienced and expert designers and furniture makers, Modenese Luxury Interiors can change your home into a totally new environment. We conduct considerable research and have a comprehensive style guide to assist you in achieving the house of your dreams. Our designs can be simple or sophisticated, and we have it all here at our company. The designs are fantastic, and the attention to detail is impeccable. Every nook and cranny has been meticulously examined in order to create a place full of surprises. We have an excellent design approach and practice it frequently.  A leading furniture manufacturing can come up with royal furniture designs that may be termed masterpieces thanks to the great abilities and vast expertise in furniture design. Modenese Luxury Interiors team creates high-quality items to have a meaningful furniture item. The works of art go a long way, and the masterpieces generated are praised all around the world.
We have everything, from luxury furniture to various home décor that you require to complete your house interior design. To be able to meet the total house decoration needs, Modenese Luxury Interiors combines its manufacturing skills with research into diverse trendy materials. Italian brand Modenese Luxury Interiors has been developing and modernizing decorations and furniture with the originality of natural softness, warmth, and tactile quality for a long time. Our showroom in Dubai is the only one-stop furniture shop that offers a full range of luxurious and trendy furniture as well as complete home décor to accomplish the royal style furnishings in every home. Modenese Luxury Interiors is the epitome of luxury classic design, with a selection that will elevate any space.
How we work with clients from Dubai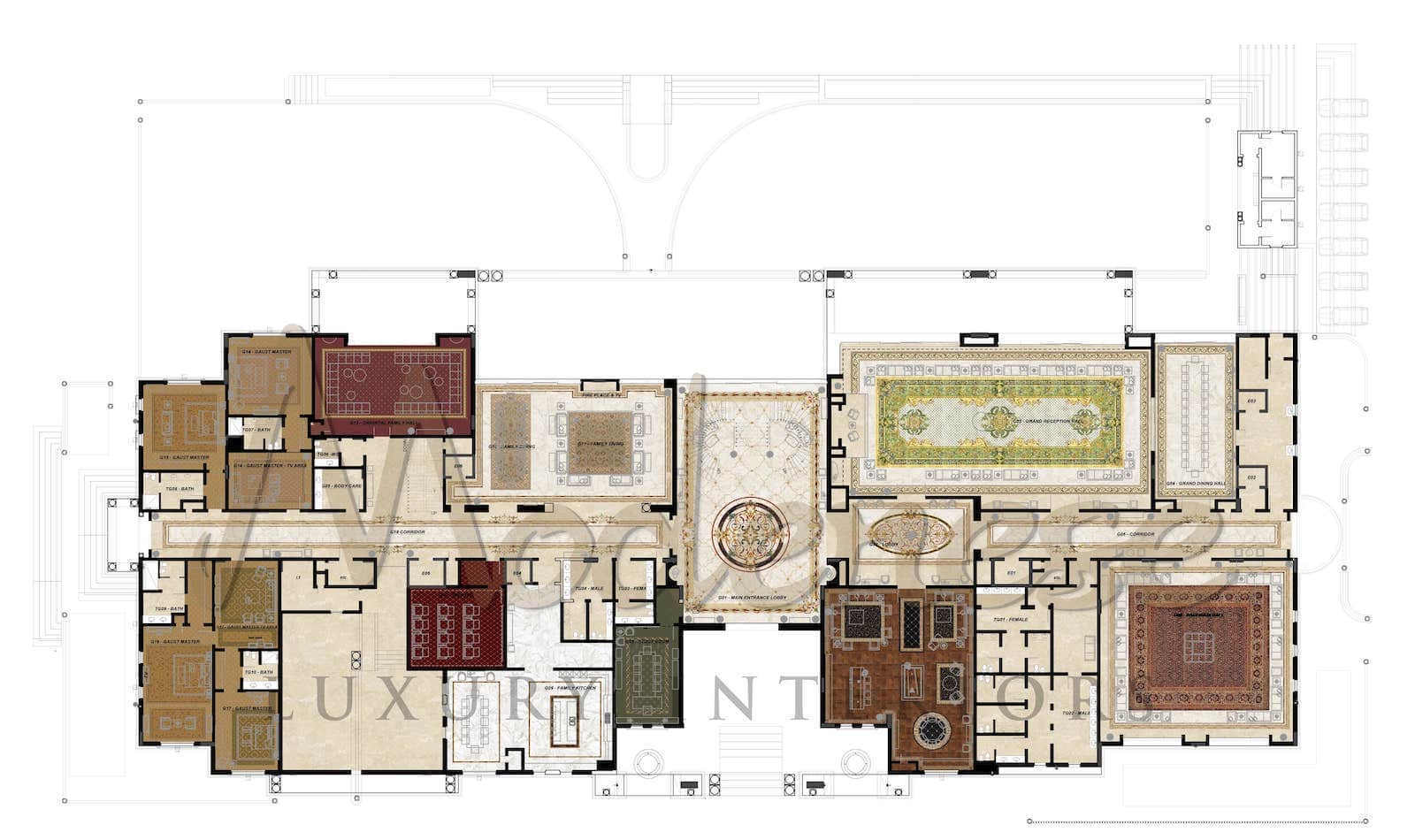 FIRST STEP: Meeting with the client
01
Meeting with your designer and discussing your concept for the desired interior project is the first step in the process. Read on to learn more about what you should know before hiring an interior designer. The nature of the project will be discussed at the initial meeting; are you creating a villa, palace, apartment, beach home, or even redesigning a portion of an existing property? The location, the purpose of the spaces, the evaluation of building drawings, and the budget for the project will all be discussed in order to discover the best design alternatives. You will create a personal relationship with the designer at this stage, which will aid in the selection of the most appropriate style for your unique project, as well as a thorough examination of the designer's portfolio for inspiration. Following the first design brief, your designer will give you an estimate of when your project will be completed.
SECOND STEP: DESIGN CONCEPT & MOODBOARD CREATION
02
Presentation of the concept and design proposal. Exciting moment when you'll be shown the future design concept in mood boards and sketches, elevation plans, and samples, as well as have a discussion about all the elements of the future interior. With so many options, interior décor may be intimidating. By employing an interior designer, you may take advantage of their abilities to find unique decor pieces, materials, and other resources to help you turn your ideas into reality in a shorter amount of time. Your project will proceed to the next level once you have agreed on the concept and initial design proposal. Space planning First architectural designs including space planning, furniture arrangement, electrical, and switch power points are included at this stage. If you are building a new villa, it is best to contact interior designers as early as possible so that the designer can coordinate such concerns with the builder, saving you time and eliminating any restrictions on the intended interior. At the same time, furniture designs and décor choices are being made. At this stage, you can still make modifications to your project. You will be able to envision your future dream house in its entirety after obtaining three-dimensional plans. You will proceed to the final step of the design project once the final design and budget have been approved.
THIRD STEP: FINAL DESIGN PROJECT & ITS REALIZATION
03
The ordering and fabrication of furniture begins at this point. Keep in mind that some things may take a long time to make. Receiving all components, furnishings, evaluating, and refinishing might take up some time. Allow for any delays caused by unanticipated situations. You will be a pleased homeowner of unique exquisite interior design after installation and finishing touches of décor, project handover, and a few formalities. The lifetime of a small villa, a two-story villa, or a palace design will differ. Keep in mind that high-quality villa designs take time, but with the help of a competent design team that will walk you through each stage step by step, the process will be enjoyable and completed as quickly as possible.
Modenese Interiors – Interior Design Studio In Dubai
The interior design studio in Dubai, Modenese Luxury Interiors is involved in architectural design and interior design projects and furniture manufacturing.
Professional interior designers provide a comprehensive variety of major and project interior design services throughout construction. From concept sketches through functional drawings and project implementation, we've got you covered. Each of our projects is the product of a one-on-one meeting with the customer and consideration of the conditions. The greatest method to accomplish your desires is to take an unconventional approach to design. Our knowledge allows us to provide a high quality of interior design and architecture to our customers, including normal, standard facilities as well as one-of-a-kind interiors with custom designs and decorations. We create  homes and apartment interiors, as well as offices, stores, restaurants, and cafés, as well as public and sports facility rehabilitation projects. The work begins with the design assignment, which defines and explains the customer's requests in terms of the entire area, the number of floors, the size, quantity, and purpose of the premises, requirements for the design of facades, and customer preferences in selecting aesthetic interiors.
High-quality Furniture From Italy
GORGEOUS FURNITURE DESIGNS FOR ANY TYPE OF ROOM. Do you want to have a lovely home but don't know where to begin? Furniture manufacturing in Dubai, Modenese Luxury Interiors can assist you in creating the house of your dreams. We cater to a variety of clients that are looking for high-end furniture designs. The company offers everything, whether it's furniture arrangement, details, or custom-made designs. Our furniture spans in size from the tiniest to the largest, ensuring that you will find exactly what you are looking for.
Are you ready to begin your interior decorating adventure with us and get the most out of the process?
Contact us!
Customers may expect full comfort from the best interior design company Modenese Luxury Interiors. All furniture and decorations will be delivered to the location on a time. Your home's interior will be a point of pride for you. And all design selections will be carried out flawlessly.