The living room in many flats is tiny. When creating such a space, it is essential to account for the multifunctionality of furniture arrangement. Lamps that distribute light to the walls would be the ideal lighting choice for such a living room design. At the same time, thick curtains should not be used to close windows. Also, do not restrict the passage of natural light into the space.
It is important to note that while decorating a tiny living room, you should follow the rules of minimalism and carefully position the highlights in the lighting and furniture layout.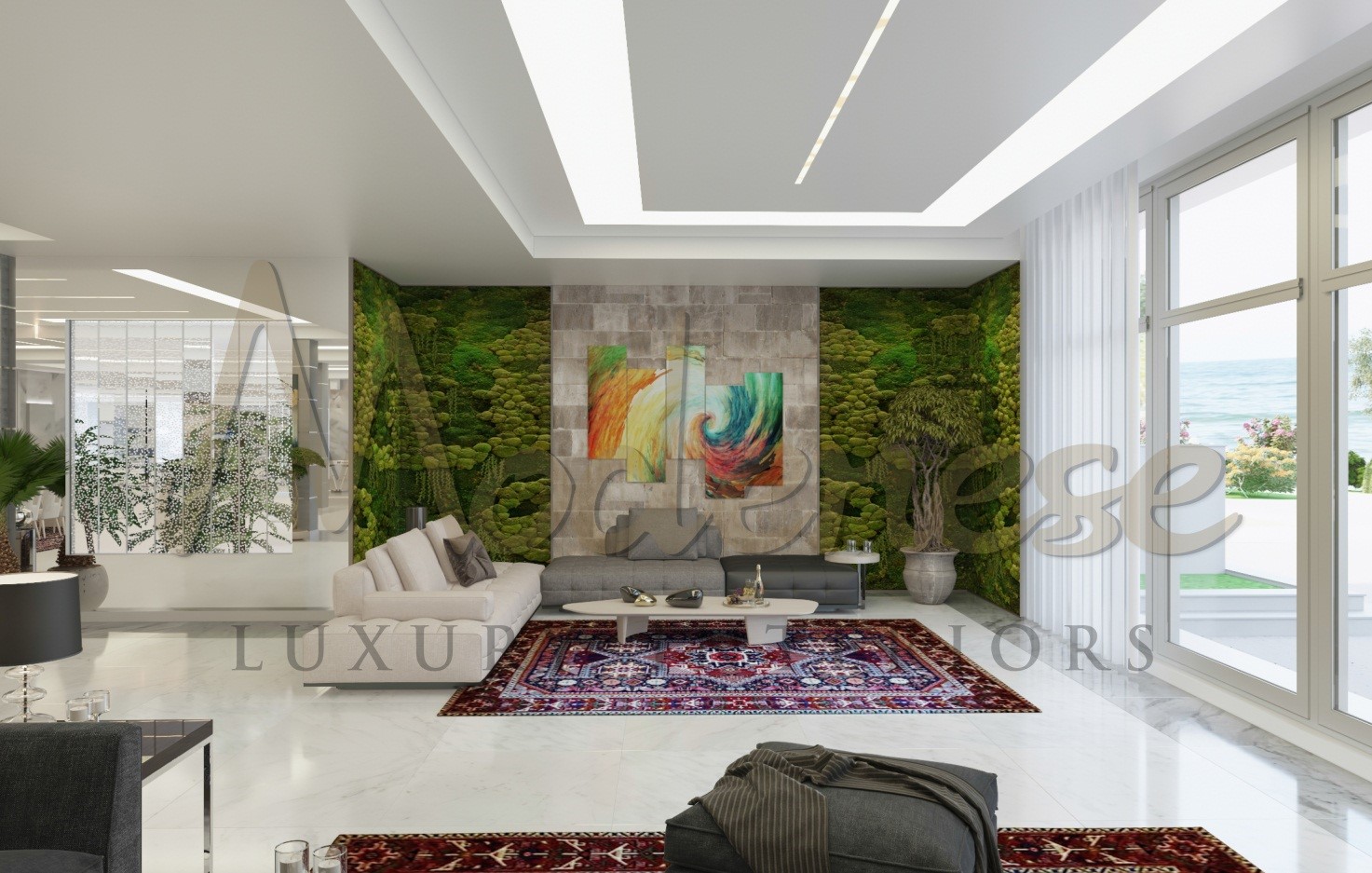 Decorating styles in private residences
Living rooms in private homes are often big. In the design of a comparable living room, furniture and lighting fixtures should be distributed uniformly over the full area of the space.
It makes appropriate to add a few touches, such as choosing furniture in a vivid hue or emphasizing the fireplace design. In this instance, there are various possibilities. You might choose a traditional style or a trendy presently hi-tech design.
Because wide windows are put in large living rooms, they may be styled with fabrics and accessories. The main constraint in selecting a living room design for a large property is to avoid going overboard with embellishments.
Choosing a Design for a Living Room
You should begin by decorating the walls and ceiling. These are the tasks that are completed initially, followed by the second and final steps in the process of purchasing and arranging furniture.
Modern materials allow you to be as creative as you want. Wallpapers differ in terms of material, characteristics, moisture resistance, and light reflectivity. Wallpaper may sometimes be a prominent component in the design with simplicity, or it can quietly complement the wonderful home.
It is critical not to make a mistake when selecting a ceiling design because there are now a plethora of possibilities available on the market. In tiny spaces, it is essential to avoid employing overly intricate designs, as this takes up a lot of space. It's best to avoid using vivid colors and mixing methods.
In order to define the basic style of the space, you must first identify the qualities. For example, if you like high-tech, you should concentrate on straight uncomplicated shapes, metal parts, and smooth surfaces.
Classical style devotees, on the other hand, like interiors with multiple décor pieces and large furniture. Natural materials will dominate the design of the premises. The size of the living room influences the style choice. Small living rooms require light materials to preserve space, but large rooms allow you to experiment with the layout and add much more.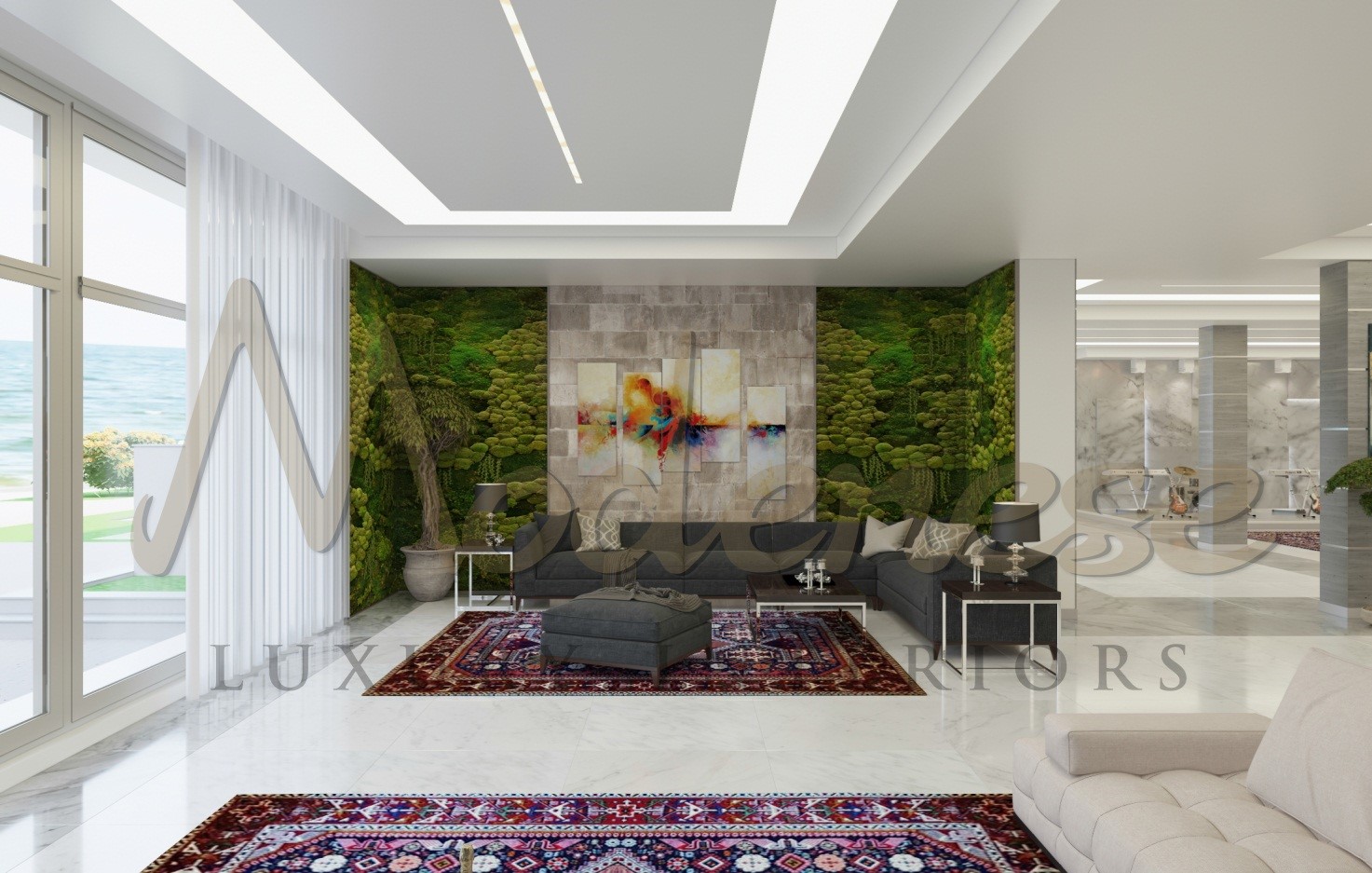 Living Room Decorating styles
Partitioning the living room allows you to separate the zones for relaxation and reception of visitors from the entertaining and eating area. The combination of a living room and a kitchen, which provides one vast zone for relaxation and eating, appeals to young people. Distinct color schemes and materials for adorning walls and floors might help to define different zones.
To summarize, any design may be changed to your unique tastes, so all advice should be utilized in conjunction with their own wishes and thoughts about the ideal living room.
Our experienced design team creates the interior in a professional and efficient manner.
A one-of-a-kind design job does not have to be pricey. People who have booked a design project are frequently confronted with the reality that the restoration of their apartment or house has been delayed. How can this be avoided?
We know how to produce one-of-a-kind internet interior design:
the perfect style (classical, modern, loft, minimalist);
distinctive furniture and expressive décor (bright accents, art paintings, fabrics, lighting);
the right color combination;
the right material combination;
and much more.
OUR INTERIORS ARE AVAILABLE WHILE THEY ARE BEING IMPLEMENTED!
Visit our online showroom